The Apple ecosystem is known for a seamless experience. And, AirPlay (along with iMessage and AirDrop) has long been a popular component of Apple's highly impressive ecosystem. For those unfamiliar, it is designed for wirelessly streaming content like photos, videos, and music from iDevices like iPhone, iPad, and Mac to Apple TV as well as compatible smart TVs and speakers. With the arrival of AirPlay 2, iDevice users can play audio to multiple speakers in perfect sync and also individually control the speakers. Unfortunately, Microsoft Windows lacks a feature that can compete with Apple's wireless streaming protocol. And that's exactly what has led me to explore the best AirPlay alternatives to mirror screen in Windows 10.
If you are looking for an app that can enable you to not only steal some pie out of Apple's wireless streaming service but also add some extra goodies on top of the basic functionalities, this roundup is for you.
Best AirPlay Alternatives for Windows 10
Before exploring the apps, be sure to check out a few pivotal points as they can play a big role in helping you choose the right app that can ideally live up to your task:
Which AirPlay Alternatives Can Suit Your Needs Better?
There are many screen-mirroring apps in the market. While some apps excel in streaming content from a mobile device to a Windows computer, others work spotlessly in beaming content from PC to modern devices like Apple TV, Chromecast, PS4, etc. And then, there are the ones that go well beyond the basic features. To ensure you can find the right answer to your needs, I have included all of them. As to which app can be perfect for your requirements, it all comes down to what you are looking for and how much you can spend. That all being said, let's find out what these top AirPlay alternatives have in store, shall we?
Best AirPlay Alternatives to Stream Content to Windows PC
1. ApowerMirror
ApowerMirror is feature-rich and works seamlessly in letting you stream content like photos, videos, and other media from your Android device (running Android 5.0 or later and compatible with Chromecast) or iOS device (with AirPlay compatibility) to your Windows PC. The screen mirroring app has a pretty neat interface and is quite easy to set up. With the support for full-screen or landscape mode, it's designed for great wireless streaming just like AirPlay.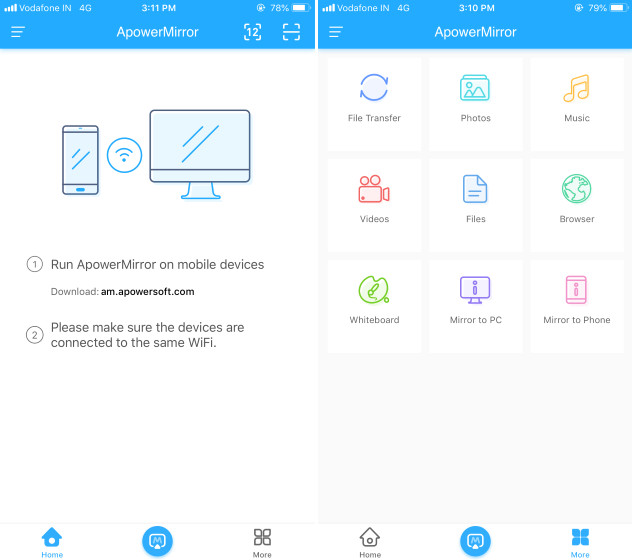 Aside from seamless screen mirroring from your mobile device to PC, the software has got some pretty cool features for Android users. For instance, you can use this tool to control your Android device from a computer using a mouse and keyboard. If you are a gaming aficionado, you can get the most out of this feature to play your favorite Android games on your Windows 10 PC.
Unlike AirPlay, ApowerMirror can also allow you to record your phone screen and even capture screenshots. As for price, ApowerMirror comes for free. But the freemium version is quite limited in functionality and you will need to go for the pro version to unlock all the goodies.
Pricing: Free, premium version is available for $12.95/month
Visit: Website
2. AirServer
When it comes to mirroring screens across devices with the maximum efficiency, AirServer is the one you can fully trust to stand up to your pro demand. The app makes the best use of Miracast/Wi-Di technology to stream high-quality content. As it also supports AirPlay and Miracast-enabled Android devices, you will be able to mirror your device screens across multiple platforms, unlike Apple's wireless streaming protocol that's quite limited.
Today, many new Windows PCs come with support for Miracast. Hence, this software can let you mirror screens between PCs as well. Another feature that has caught my eyes in this software is that it can allow you to stream multiple devices to your receiver. Therefore, you can monitor multiple screens without having to switch between devices.
If you are a gamer, you would really appreciate the functionality to not only stream the game from your mobile device but also record your action for sharing with your friends or followers. Talking about price, AirServer is a bit more expensive $40 than most of its counterparts. But if you want a versatile screen mirroring receiver, you can't go wrong with it.
Pricing: $39.99 (business license for one Windows 10 PC)
Visit: Website
3. Mobizen
Though not as powerful as some of the notable names mentioned in this article, "Mobizen" is a good mirroring software. With the help of it, you can easily stream your photos and videos to your Windows PC. Apart from allowing you to mirror your device screen, it also lets you transfer files between your computer and mobile device. Therefore, it can safely claim to be a fine alternative to not only AirPlay but also AirDrop.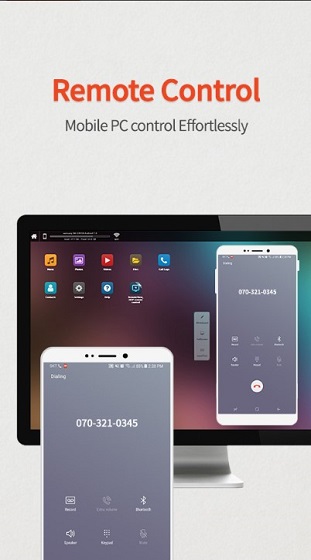 You can use the mouse and keyboard of your computer to take control of your mobile device. Times when you are busy working on your computer, you will find it really convenient to receive your entire phone notifications right on your computer. Better yet, Mobizen is also very handy at screen recording and instant messaging.
Pricing: $2.99/month
Visit: Website
Best AirPlay Alternatives to Stream Content from Windows PC
1. Reflector 3
In terms of functionality, "Reflector 3" is probably the most versatile AirPlay alternative for Windows. The software excels in mirroring phone, tablet, and even PC to the big screen – pretty much like AirPlay. So, whether you want to stream music from your mobile device to your Windows computer or mirror videos from your PC to your TV, this app can live up to your billing without any problem.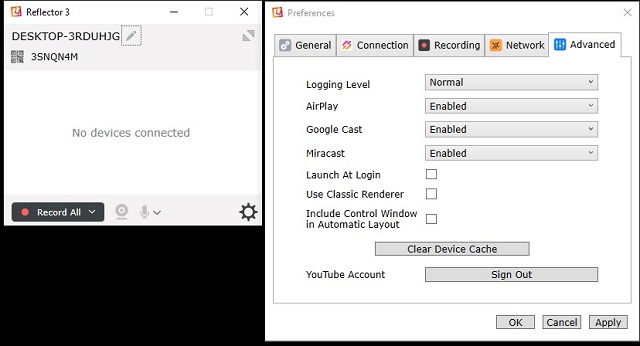 Reflector 3 boasts an impressive user-interface, ensuring you can comfortably master it without going through a lengthy learning curve. One of my favorite features of this software is the ability to mirror multiple screens of any types simultaneously. This feature could come in really handy when playing top-notch multiplayer games.
Not to mention, the live streaming feature that can let you share your screen activity on YouTube. As a YouTuber, you would like to have this app to become more interactive. Though I'm really pleased with this software, I would appreciate it more had the app been for free without limited trial.
Pricing: Free-trial for 7 days, the premium version comes at $14.99
Visit: Website
2. Squirrels AirParrot 2
Developed by the same company as Reflector (mentioned above), AirParrot is equally impressive. You can use this software to wirelessly stream media files or your device's screen to a wide range of media receivers. The app makes the most of Quick Connect technology to instantly connect a device running Reflector. Therefore, you can conveniently beam audio, video, screen, presentation and more to a number of media receivers at one go. Without mincing my words, I would say that AirParrot is far superior to AirPlay in this aspect.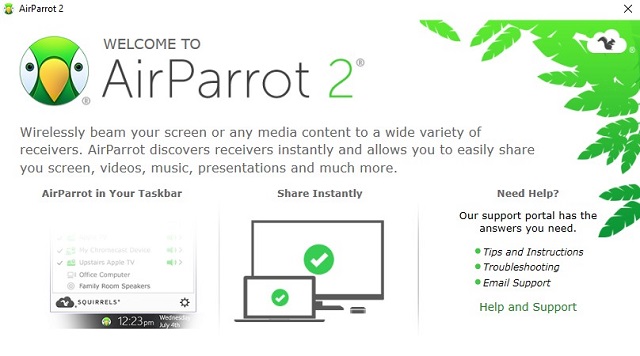 To me, the biggest highlight of AirParrot is the ability to stream media files in 5.1 surround sound and without any loss of quality. It's this quality that has made it a firm favorite for those who love to enjoy high-quality sound.
The company also offers an iOS app to let you remotely control the software on your PC. For instance, you will be able to take control of everything that's being screamed from your Windows PC to Apple TV or Chromecast. Thanks to the playlist support and live previews, it enables you to deal with media files more comfortably.
Pricing: Free trial of 7 days, the premium version comes at $12.99
Visit: Website
3. Airflow
The thing that makes AirPlay stand out is the ability to mirror videos spotlessly without any quality loss. Should you want an app to deliver the best video mirroring or be very close to what Apple's wireless streaming service has to offer, Airflow has to be your top bet. It has got all the qualities to compete with Apple's wireless streaming protocol – as far as wireless video streaming is concerned.
Unlike many other similar apps, it doesn't have to transcode videos to show text subtitles. As a result, the video appears crisper and clearer. More importantly, the CPU doesn't have to deal with the heavy load.
Besides, it also has the support for 5.1 audio support (surround sound) and DVD and Bluray subtitles. Additionally, you can organize your video files into playlists so that they remain in the right order and are easily accessible.
Pricing: $18.99
Visit: Website
4. iTunes
If you are looking for an AirPlay alternative just to stream audio from your Windows PC, look no further than Apple's iTunes. The software comes with basic AirPlay audio streaming and works efficiently in streaming music from PC. More significantly, it's available for completely free and quite easy to get started.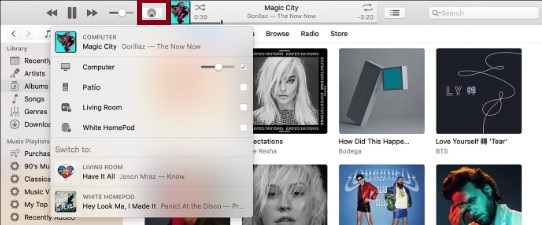 As for requirements, make sure your PC is running the latest version of iTunes and your devices must be connected to the same Wi-Fi or ethernet network. To kickstart the wireless streaming, simply fire up iTunes on your computer and then click on the AirPlay icon to the right of the volume slider. After that, choose the speaker or TV you would like to play the audio to. Then, you know pretty well what you have to do, don't you?
Pricing: Free
Visit: Website
5. Tubecast
This one is a must for YouTubers! Should you want a YouTube-based app for Windows 10 to cast your videos on most devices like Apple TV, smart TVs, Roku, XBox 360, XBox One, PS4, Amazon Fire TV, DLNA and Chromecast, Tubecast would be worth taking a close look. Moreover, you can also use this software to download your YouTube videos and even play the sound of the videos under lock.
Keep in mind, it doesn't have a standalone screen mirroring feature and is specifically designed for casting YouTube videos to many devices. Besides, the app is available for a free trial of just 7 days. After that, you will have to buy the premium version (around $1) to continue.
Though not an ideal AirPlay alternative, Tubecast could prove to be a game-changer, if you are on the hunt for an app that can let you cast YouTube videos.
Pricing: Free-trial of 7 days, the premium version is available for around $1
Download Tubecast from Microsoft Store
SEE ALSO: 12 Best Plex Alternatives You Should Try
Stream Media Wirelessly with Best AirPlay Alternatives for Windows
Now that you know the hacks about how to mirror screen in Windows 10, make the most of them to not only liven up media viewing but also spice up gaming. With reliable performance, these best alternatives to AirPlay can go a long way in enhancing your user experience. Anyway, let me know which app has caught your eyes and the features that have impressed you the most.