Over the last couple of years, smart home speaker segment has grown rapidly and these devices are gradually becoming a part of our everyday lives. Both Amazon Echo and Google Home have successfully managed to change the way we use speakers in our homes, by making them smarter with the help of voice assistants. Now, there's a new kid on the block called HomePod, and it's coming right from the tech giant that is Apple. With the HomePod, the company plans to go head to head against both Amazon Echo and Google Home. So, if you were planning to get your hands on one of these smart speakers, there's one more option that you might want to consider now. However, we'll make it easier for you to decide on which smart home speaker you should be going for. So, without further do, let's pit the latest Apple HomePod vs Amazon Echo vs Google Home:
Design and Build Quality
Let's start with the design of the latest Apple HomePod. From the sides, it looks like the good old trash can design that the Mac Pro has been using for years now. The exterior of the smart speaker is made out of seamless mesh fabric, which makes it easily fit in with most modern home decors. On the top, we have a shiny top with where we'll be able to notice Siri's glowing LED waveform, which certainly adds to the design. You will also be able to tap the HomePod's top in order play, pause or adjust the volume of your music.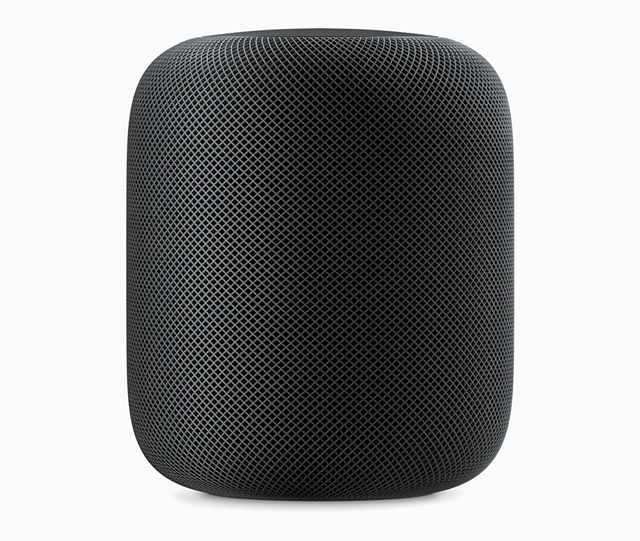 Moving on to the Amazon Echo, we have a cylindrical tube-like design with plenty of holes in the lower-half portion for the speakers. At the top, there's an LED ring which lights up when Alexa detects your voice and responds to your queries. This ring can also be used to adjust the volume in addition to other hardware controls. Apart from this, there are a couple of physical buttons at the top for action and mute/unmute Echo's microphone. Overall, Echo is a really tall smart speaker with an all-plastic build which makes it feel quite cheap in the hand, especially when you compare it with Apple HomePod and Google Home.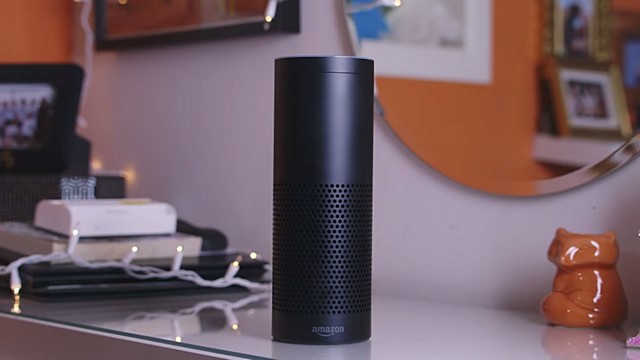 Lastly, we've got the Google Home, which is almost half the height of the Amazon Echo. This one's made out of hard matte plastic which certainly feels much better in the hand that the Amazon Echo. This one's cylindrical in shape as well, but the angled top portion certainly makes it stand out from the rest of the competition. The speakers are housed at bottom of the device inside the removable base, which can be swapped out and replaced with some colorful ones that Google has to offer. The top of the device also lights up with Google's colors, once it detects your voice or responds to your questions. All in all, it's a well-built device that certainly looks better than Amazon's Echo, but seems to fall just short, when its put right next to the latest HomePod from Apple.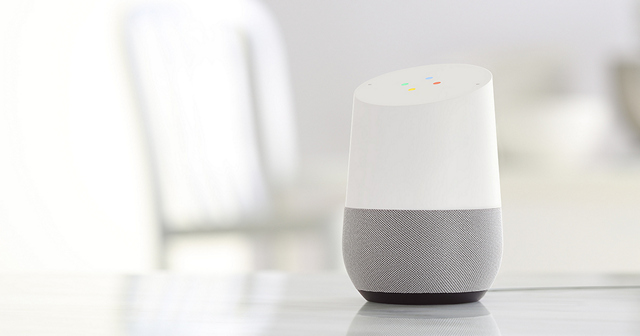 Overall, the HomePod seems to be the one built with premium materials and while it looks good, I still think Google Home looks better.
Speakers
Apple is clearly marketing the HomePod as a music speaker, with smart features and thereby, this device is all about producing great sound for your living room. The HomePod packs an array of seven speakers and six microphones that are capable of beam forming. Above the microphone and speaker array, we have the High-excursion woofer packed with a custom amplifier to deliver a wide range of rich and deep bass while listening to your jam.
The HomePod is powered by the Apple A8 chip, which ensures real-time modelling of the woofer's mechanics. Apart from this, Apple's latest smart speakers boast what the company calls "spatial awareness" which allows the device to sense it's location in a particular room and automatically tune the sound accordingly.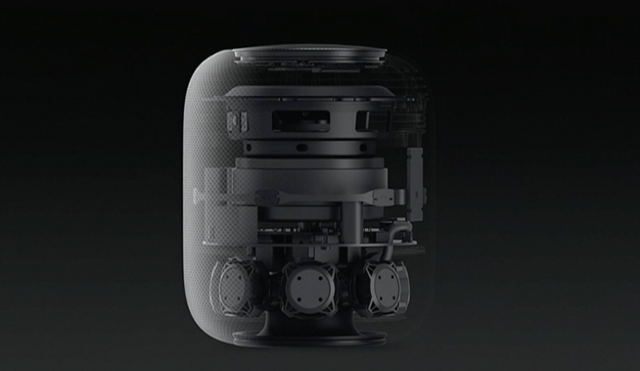 Moving on to the Amazon Echo, we have a single 2-inch tweeter at the bottom of the device which promises to deliver crispy high notes. Above this tweeter, there's a 2.5-inch woofer that claims to deliver some deep bass. Apart from this, there's also a Reflex port at the top portion of the device which enhances the output of the woofer below for producing deeper sounds with minimal distortion. That being said, there's no question regarding the fact that Amazon Echo's single tweeter and woofer set-up is no match for the HomePod, which boasts seven tweeters and a high excursion woofer. So, if you're planning to listen to music on a smart speaker, the choice is pretty obvious here.
Google Home has a high excursion speaker with 2-inch driver that delivers punchier bass than the Amazon Echo, but neither of these devices should be the one you're supposed to be getting if you're primary use is going to be playing music. Apart from this, there are a couple of 2-inch passive radiators as well. There's not much to say about the speaker quality on the Google Home, but they seem to sound slightly better than the ones on the Echo, most of the time. However, they still fall short by a considerable margin, compared to the HomePod, which is primarily due to Apple's focus on sound quality for their speakers, rather than just the smart features.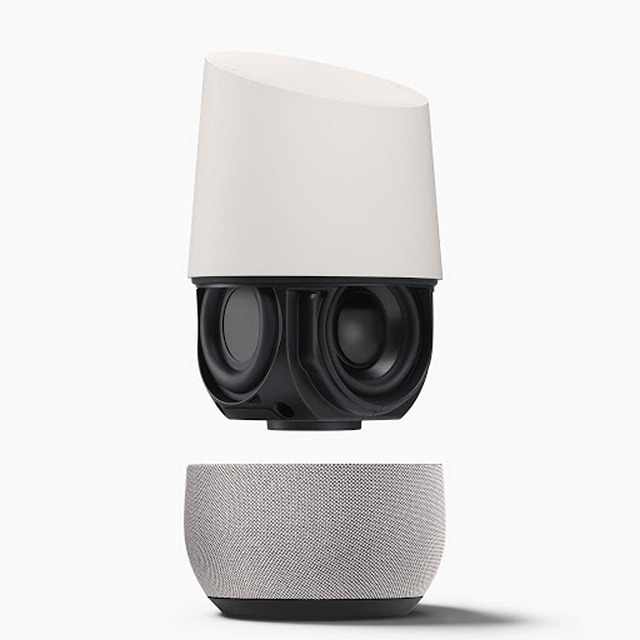 When it comes to the speakers, the HomePod is definitely the best of the lot, at least on paper.
Connectivity
Apple's HomePod is compatible with all the existing Homekit-enabled devices, so that you can use it as a smart hub and completely overhaul the place where you live, into a smart home. The speaker will connect to the internet, by making use of your WiFi network and is totally capable streaming your Apple Music library. We're assuming that the HomePod packs a W1 chip inside just like the Apple Airpods, as it's capable of pairing instantly with your iOS devices. The company has also confirmed that you'll able to pair your more powerful speakers up with the HomePod, so if you want to make the music sound better, you can totally do that.
Amazon Echo, on the other hand, comes with both dual-band WiFi and Bluetooth support, so you don't have to worry about pairing your smartphones with the Echo, for music playback. It can make use of either 2.4 GHz band or the 5 GHz for connecting to the internet. You can also pair the device with Alexa Voice Remote, thereby letting you use voice commands, which is pretty useful, especially when you're far from your Echo.
Google Home, just like the other two smart home speakers, makes use of your WiFi network to get connected to the internet. Although it supports dual-band WiFi, the device so far has lacked Bluetooth connectivity, which was a major letdown for most of the people. However, at the Google I/O 2017 conference that was held last month, the company confirmed that they're bringing Bluetooth connectivity to Google Home, so that you could pair it with your smartphone for all your music playback needs.
Smart Features
All the three devices have their own voice assistants and are packed with smart features. Well, one of them is definitely a must-buy, especially if you're planning on building a smart home. Yes, this is exactly what these three smart speakers are primarily intended towards. Regardless of the brand you're going for, you're pretty much getting the same thing.
Let's start with Apple's HomePod, which features Siri as the personal assistant to satisfy all your needs with voice commands. You can invoke Siri by simply saying "Hey Siri", followed by whatever that you'd like to know from her. Home equipments that are compatible with Apple's HomeKit can be used along with the HomePod as a smart hub and control all the devices by just using voice commands, thereby letting you build your own smart home. For example, you could make use of the voice command, "Hey Siri, turn off the lights in the bedroom" to automatically turn them off, while you're hard at work in the kitchen.
Amazon Echo on the other hand, features Alexa as your personal assistant who will follow all your voice commands similar to what we just discussed on the Apple HomePod. Yes, the Amazon Echo can act as a smart hub, as long as the equipment has support for Amazon Alexa. Voice commands used on Echo will be quite similar to "Alexa, ask August to lock the front door" to automatically lock your door with the help of August Smart door lock that's compatible with Amazon Alexa, Google Assistant and Apple HomeKit.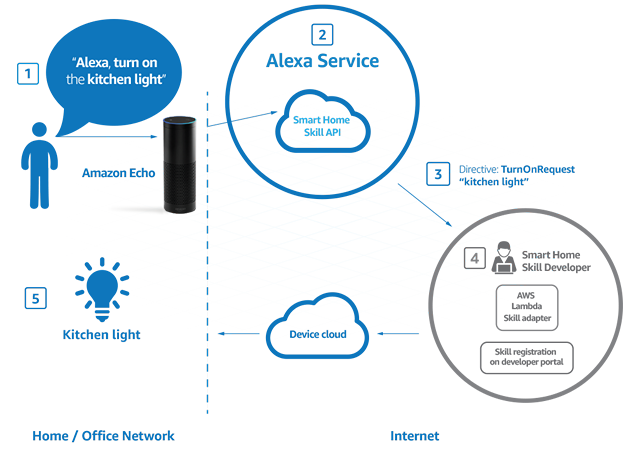 Lastly, we have the Google Home, which will make use of Google Assistant for listening to your voice commands. Similar to other smart speakers, it's capable of being used as a smart hub, but ensure that the device is compatible with Google Assistant, before purchasing it from online stores.
That being said, what makes the Google Home and Amazon Alexa better at present, is compatibility. That's right, both these devices are compatible across a plethora of smart devices. We cannot say the same for Apple HomeKit just yet, but with the release of HomePod, the tides might turn around in a matter of few months.
Pricing and Availability
Apple has set a price tag of $349 for the HomePod, which is significantly higher than what Google and Amazon asks for their smart speakers, but the company is trying to justify the price point by marketing their product as a music speaker that focuses on sound quality more than a smart speaker. The HomePod is expected to hit the stores in December.
Amazon Echo has been available to the public since November 2014, and it's currently available for purchase on Amazon for $180, which is much more affordable compared to the HomePod. However, when you compare it against the $109 price tag of Google Home that has been available since last November, it certainly seems pricey.
Apple HomePod vs Amazon Echo vs Google Home: Quick Specs Comparison
| | Apple HomePod | Amazon Echo | Google Home |
| --- | --- | --- | --- |
| Dimensions | 6.8 x 5.6 x 5.6 inches | 9.25 x 3.27 x 3.27 inches | 5.69 x 3.79 x 3.79 |
| Weight | 5.5 lbs | 2.3 lbs | 1.05 lbs |
| Lights | LED Waveform | Light Ring | LED Dots |
| Buttons | Integrated touch controls | Mute, Action | Mute |
| WiFi | 802.11a/b/g/n/ac Wi‑Fi with MIMO | 802.11a/b/g/n (Dual-band) | 802.11b/g/n/ac (Dual-band) |
| Bluetooth | Yes | Yes | Coming Soon |
| Speakers | Array of 7 horn-loaded tweeters and high excursion woofer | 2.5-inch woofer and 2.0-inch tweeter | High excursion speaker with 2-inch driver & dual 2-inch passive radiators |
| Voice Assistant | Siri | Alexa | Google Assistant |
| Price | $349 | $179.99 | $109 |
| Availability | December 2017 | Launched November 2014 | Launched November 2016 |
SEE ALSO: Amazon Echo Show vs Amazon Echo: What's New?
Which Smart Home Speaker Are You Going For?
We're pretty confident that smart homes filled with these voice assistants are the future. The Apple HomePod, Amazon Echo and Google Home are all great devices that can help you build your own smart home. However, the one that you might be interested in purchasing, will totally depend on your personal preference and budget. If you have the cash, there's no stopping you from purchasing the Apple HomePod, but if you're on a budget, the Google Home seems to be the obvious choice. That's not to say that the Amazon Echo is underwhelming by any means, as it sits right in between the price points of Google Home and Apple HomePod.
So, which smart speaker are you going to buy for your smart home and why? Make sure you let us know by simply dropping a few words in the comments section down below.