Those who often slam Apple for selling only extravagantly priced devices should check out the entry-level iPad which starts at $329. And that too with the level of performance that can put even the top-selling PCs to shame. Speaking of the newly-launched 7th generation iPad, I find it super handy for the folks who need a fairly good tablet for gaming, movie watching, drawing, note-taking, and even getting professional work like managing business, editing video and audio, and more done. So, if the 2019 iPad has just landed in your hands and you can't decide what accessories can go nicely with your tablet, this extensive roster is just your thing. In this article, we are going to explore the best 10.2-inch iPad (7th gen) accessories that you can buy.
Best 10.2-inch iPad (7th Gen) Accessories  in 2019
A little tip from a small-time buyer: never buy accessories based on how perfectly they work for others. Else, you might well end up with the wrong choice. So, have your own priority set and pick out the items that look in line with your rules. Besides, even if the budget is not locked within a certain threshold, make sure to check out the matching items that pack a punch well above their weight before zeroing in on any option.
Best 10.2-inch iPad  Screen Protectors and Protective Cases
1. amFilm
Pretty much on the expected line, I'm going to put a screen guard right at the top of the accessory roundup – considering it's the first line of defense. In fact, if you have closely followed my recent posts, you would know that I had also included a protective screen defender in the first place in both the Apple Watch Series 5 accessory and iPhone 11/11 Pro/11 Pro Max accessory  roundups. Talking about amFilm screen protector, it's always been one of the best in the market. It has all the features like high-grade tempered glass, 9H hardness, additional coating to prevent fingerprints and bubble-free design to be a solid defender for the 10.2-inch Retina Display.
Buy from Amazon: $9.99 (pack of 2)
We have compiled a separate roundup of the best screen protectors for a 10.2-inch iPad. So, if you wish to explore more screen guards, do check that out.
2. Ztotops
Ztotops' vintage folio case is worth taking a look at, especially when you are hunting for a complete cover for your 2019 iPad. The PU leather cover sports refined workmanship and comes with an impact-resistant interior made of soft microfiber. While the organizer pocket allows you to securely carry small items like earphones, cards, and even docs, the loop makes sure your Apple Pencil has the right spot to rest. And with the magnetic closure, the soft front cover keeps your iPad securely inside. Just in case you don't want your butterfingers to damage your tablet, there is a useful hand strap to provide a comfortable grip.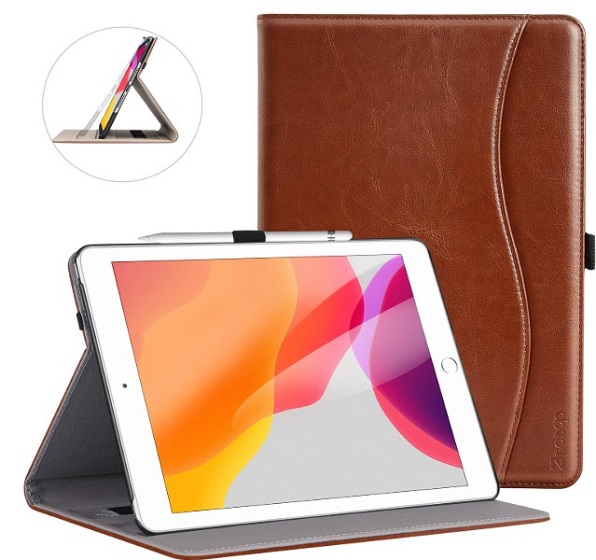 Buy from Amazon: $17.99 
3. TiMOVO
TiMOVO's sleek case is what you should have to not only flaunt the design of your 10.2-inch iPad but also offer the tablet the needed protection from scratches and even shock. The cover has a soft PU front and a hard PC back. And with a clear back, it offers the iPad just enough freedom to showcase its profile. Moreover, the hidden tri-fold stand comes into the picture when you want to have a stable viewing and typing angles. Considering the slim-form factor and fairly protective design, the $8.99 price seems no less than a steal.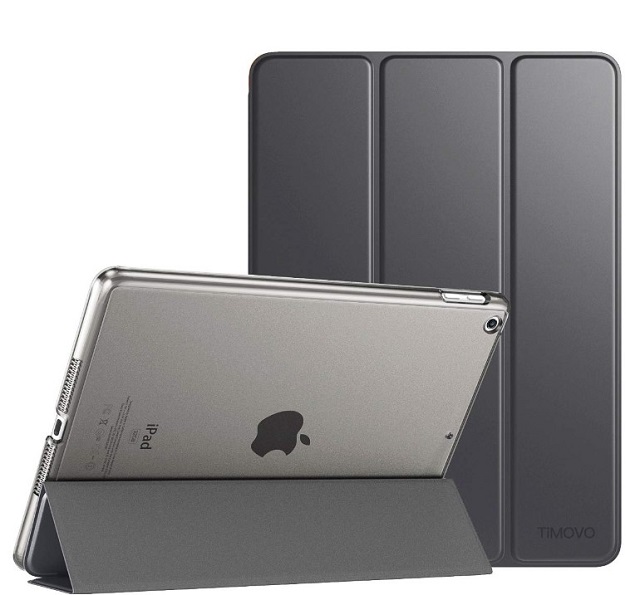 Buy from Amazon: $8.99 
Hold on, we've got a lot more iPad 10.2″ cases for you to explore. So, if you haven't yet zeroed in on any cover, check out this extensive collection of iPad 7 cases.
Best iPad 7 Keyboard Cases
1. Logitech Rugged Folio
After giving a close look at what Logitech's Rugged Folio has to offer, I must say it's currently the most protective and efficient keyboard case for iPad 7. So, if you want to have a cover that not only offers a strong shield against impact but also accelerates typing, this one is the best bet for you. Rugged Folio's keys are pretty well-placed and have impressive bounce to make typing a smooth-sailing affair. With a full row of iOS shortcut keys, you can perform several common tasks like snapping screenshots, invoking Siri and more with just a tap. Though Logitech's keyboard cover is pricey at $140, it's still not as expensive as Apple's famed Smart Keyboard. Overall, Rugged Folio is one of the best accessories for the 10.2-inch iPad.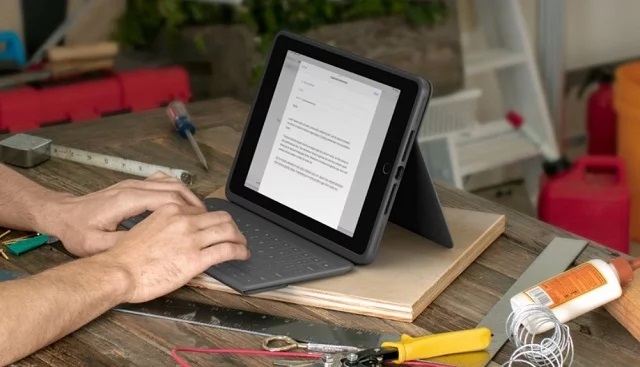 Buy from Logitech: $139.99
2. Apple Smart Keyboard
Ignore Apple's Smart Keyboard case at your own peril. Yeah, Logitech's Rugged Folio looks more competent and has also got a protective design to resist impact. But when it comes to elegance, Smart Keyboard scores much better than Rugged Folio. With the high-grade full-size keyboard, Apple's offering brings the iPad pretty close to what MacBook's impressive keyboard looks like. Moreover, Smart Keyboard's keys are well-spaced and provide the desired tactile bounce for smooth typing. Putting everything in the right perspective, it's a top-notch asset for your iPad 7.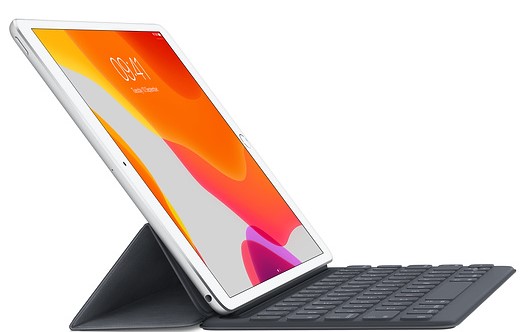 Buy from Apple: $159
Want a bit more affordable or cheap keyboard cover for your iPad 7? Jump over to our separate 10.2-inch iPad (7th gen) keyboard covers roundup to get a more suitable option for your tablet.
Best iPad 10.2″ Sleeves
1. Evo from Harber London
For the folks who are in the market for the best 10.2-inch sleeves, I have picked out Harber London's Evo. I guess if you have explored premium sleeves for your MacBook or iPad, you might already be familiar with this reputed accessory maker. Made with full-grain vegetable-tanned cowhide leather, the sleeve features an understated appearance with handmade design. With the shock-absorbing interior, Evo is up to the task when it comes to protecting your tablet from scuffs and impact. Furthermore, it has a neat loop inside for Apple Pencil and can comfortably fit the iPad with or without the Apple Smart Keyboard. Long story short, if you are ready to bear the high-price tag (almost $125), Evo would be a premium companion for your entry-level iPad.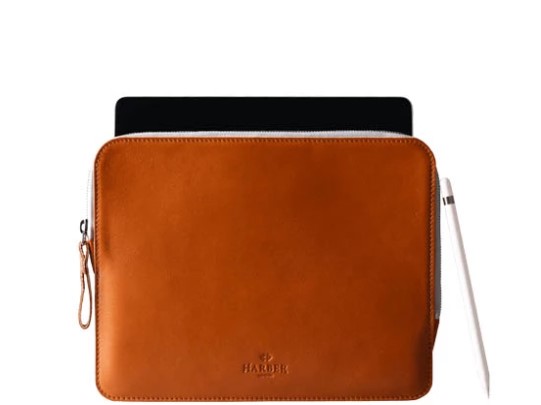 Buy from Harber London: $124.45 
2. Crazy Horse Craft
If Harber London's Evo claims to be a great sleeve for iPad 7, this sleeve from Crazy Horse Craft is no less impressive. In fact, there are quite a few areas where it can topple Evo. First and foremost, the sleeve case is made of Italian vegetable tanned horse style leather and has strong cushion inside thanks to the addition of wool felt inside. So, the sleeve cover is fully competent to thwart bumps. Using the magnetic snaps, it keeps your tablet safely placed. But what sets Crazy Horse Craft apart is that it never loses the charm even after being used for a long time. Not only that you can also use it as a stand for your iPad which is yet another advantage that you get with this sleeve.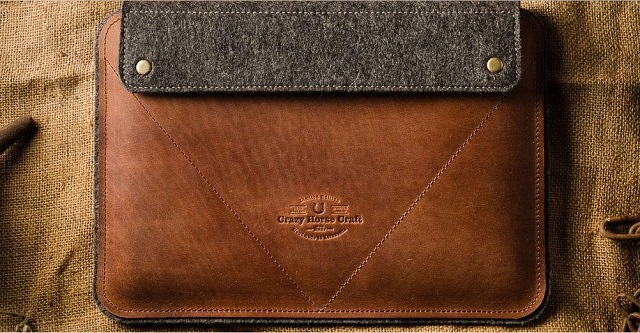 Buy from Amazon: $105 
3. Capra Leather
If the above two premium sleeves haven't yet bowled you over, I expect Capra Leather to do the honor. And that too in style! Sporting probably the most adorable handcrafted design, Capra Leather sleeve arrests attention right away. The one-piece construction coupled with two two-tone leather is the highlight of this top-grade leather sleeve. Though it's not as protective as Crazy Horse Craft's offering, it has a little slimmer profile. Price-wise, Capra Leather sleeve is priced a little lower than EVO and Crazy Horse Craft's sleeve cover.
Buy from Amazon: $99 
4. Moko
As you can see, when you have the luxury to spend plenty of bucks in favor of a top-notch sleeve, finding a premium suit for the device isn't a big ask. But when the budget is tight and you wish to get a reasonably good sleeve cover at a low price, it becomes tricky due mainly to the popular perception (and valid) that cheap products show their ugly color when faced with reality. But mind you, not every low-priced stuff is bad. Take a look at the relatively low-priced Moko's sleeve that has got four stars out of more than 10K ratings on Amazon that show that the item is well-received by most customers. The sleeve case is made of PU leather, has a soft felt interior for impact resistance and comes with a large pocket for storing paperwork as well as a standalone slot for cards. Simply put, Moko is not a quality sleeve but also a budget-friendly accessory for your 2019 iPad 10.2″.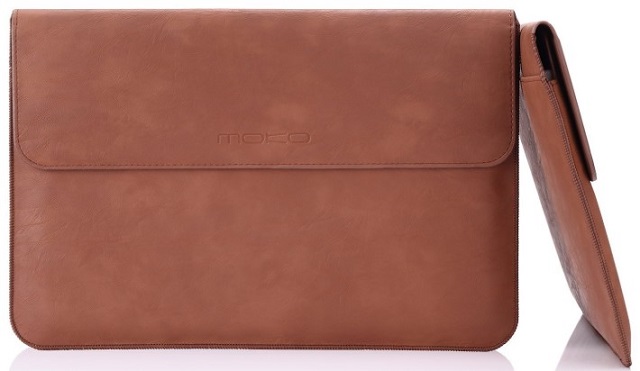 Buy from Amazon: $15.99 
Best 10.2-inch iPad (7th Gen) Wireless Earphones
1. AirPods
I don't think most of you had expected me to exclude AirPods from this coveted lineup, had you? Apple's wireless earphones are reigning supreme in the global market. And frankly speaking, the battle between AirPods and other Bluetooth earphones seems to be more or less a one-horse race – at least when it comes to numbers. With over 60% of the global wireless earbuds market share, the earphones have continued to be in the high demand ever since they were launched in 2016. The major reason why the wireless earphones have had such a huge success is the seamless experience they deliver. So, if you are willing to get an ideal pair of earphones that can get along seamlessly with your iPadOS device (and of course with other iDevices), AirPods are your top bet. And, this statement no longer warrants any argument!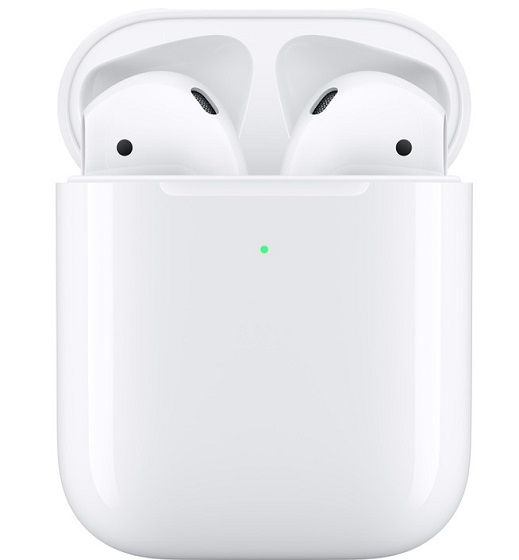 2. Sony Noise Cancelling Headphones WH1000XM3
Yes, Sony's robust noise-canceling headphones don't come cheap nor have they been made for everyone in the house. So, why should we include them here? Well, it's for my friends called audiophiles with a rich taste for music. With excellent noise isolation tech, up to 30 hours of battery life, and premium sound quality, WH1000XM3 is the one to beat. Design-wise, the headphones look stylish with a smooth finish. As for the earcups, they are pretty comfy to wear.
Buy from Amazon: $348
3. Boltune Sports Earphones
Just in case you think that Boltune doesn't stand a chance in front of Sony's robust noise-canceling headphones and Apple's AirPods, let me tell you that it might just be what you are looking for. If all you want is decent sound quality, more than capable noise-canceling technology and a fairly good 16 hours of play-time a fraction of the price, you can't get wrong with this one. Moreover, Boltune supports IPX7 waterproof rating and sport ergonomic design that makes it one of the best sports earphones for iPad 7.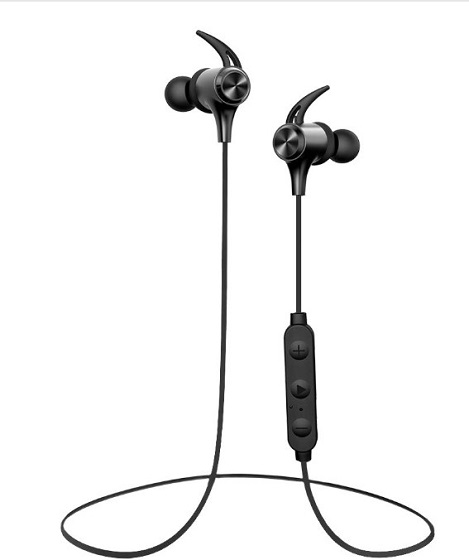 Buy from Amazon: $27.99
Best 10.2-inch iPad (7th Gen) Stylus
1. Apple Pencil
Let's set the record straight! If you are an iPad user and want a stylus to sketch images, take notes or even edit images elegantly like a pro, there is no point in looking beyond Apple Pencil. It's as straightforward as it sounds. Being incredibly sensitive to pressure and tilt, the digital pen allows you to vary line weight and produce impressive artistic effects. More significantly, the stylus boasts the lowest latency that makes it a great tool for both young and pro-creators.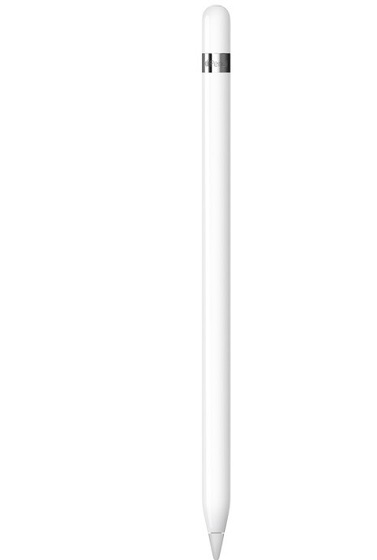 Buy from Apple: $89
2. SOCLL
Though nowhere near as efficient as Apple's digital pen, SOCLL's stylus is a safe bet for drawing and note-taking. So, if you aren't much into creativity and want a digital pen that can get your work done, it's one of the best alternatives to Apple Pencil. That too without costing you much. It features a 1.4mm fine tip that works reliably in allowing you to draw and take notes. Moreover, it's lightweight and comes with up to 8 hours of work time, which is not bad from any standard.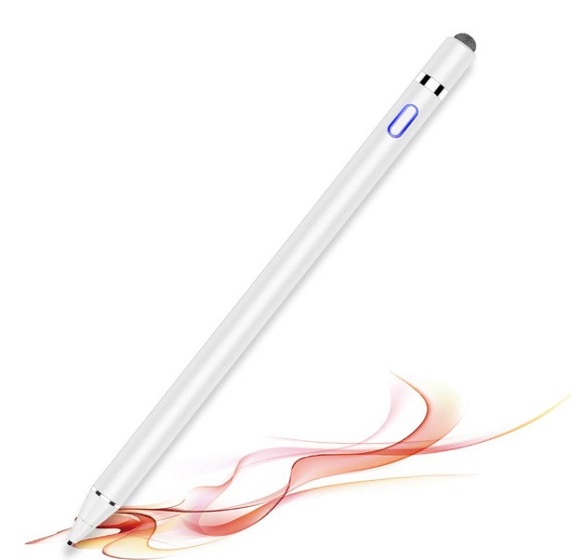 Buy from Amazon: $26.99
Best 10.2-inch iPad Power Bank, Car Charger, and Stand
1. Bonai
A massive power bank like Bonai can turn out to be your savior especially when you are on a long drive or a holiday. With a powerful 30000mAh battery, this external charger is fully capable of charging your iPad multiple times. Moreover, it has four USB ports and comes with built-in safeguards so that threats like short-circuit, overcurrent and overcharging stay away. As far as durability is concerned, Bonai is sturdy enough to thwart bumps. For such a beast a $41 price-tag seems a fair deal.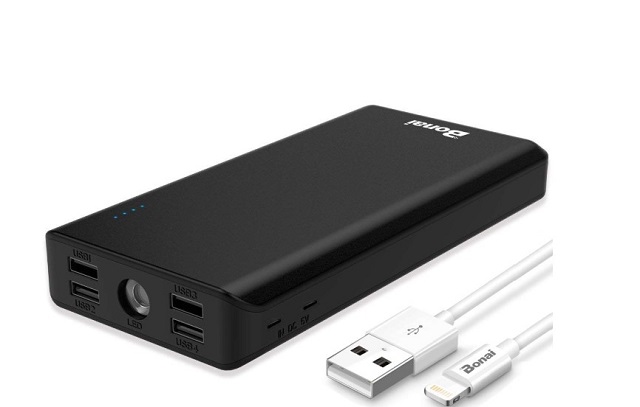 Buy from Amazon: $40.99
2. Anker PowerDrive 2
Anker's PowerDrive is what you need to quickly and securely juice up your 2019 iPad on the drive. Featuring PowerIQ and VoltageBoost technologies, the car charger powers up your tablet with reasonably good speed (4.8 amps). PowerDrive also features double USB ports and LED light so that you can easily find the ports in the dark. Thanks to the MultiProtect safety system, the car charger also protects your device against several dangers like overheating and short-circuit.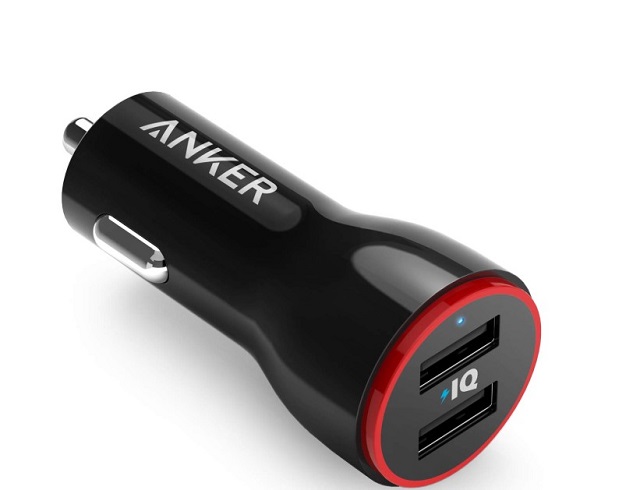 Buy from Amazon: $7.99
3. OMOTON
Times when you want to have more convenient and stable viewing angles while watching your favorite movies or having a fun-filled FaceTime conversation, a stand comes in super handy. And for this purpose, I have chosen OMOTON as it not only has a modern-looking design but is also fully adjustable. Therefore, you can position your tablet both horizontally and vertically to have a better viewing angle. Made of high-grade aluminum, the stand is also very sturdy and comes with a soft and anti-scratch silicone pad. If you like to have attractive colors, the company offers this iPad stand in many colors like rose gold, black, gold, grey, silver, and more.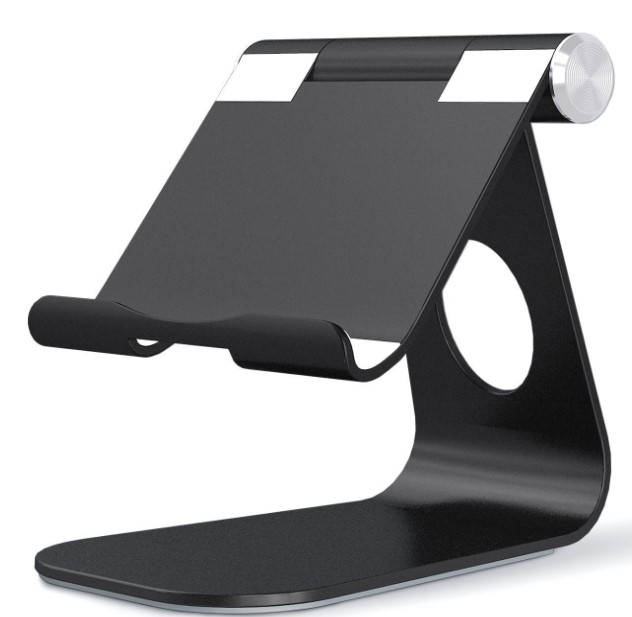 Buy from Amazon: $7.99
SEE ALSO: 10 Best Cute Cases for iPhone 11
Get the Top Accessories for Your 10.2-inch iPad…
There you go! I guess your roster of the impressive 10.2-inch iPad 7th Gen accessories has been filled with notable options. And why not your tablet deserves both better care and more love. But before setting your sight on other stories, let me know your tablet's favorite companions and the features that you have found useful. Also, shoot your thoughts about the iPad and what has caught your eyes in it. The comment section below is for you and we read everything that you write.
---
Load More