Not every time you step out you want your iPhone to look simple, do you? Times when you are out with your gang for a movie, a late-night party, or a fun-filled hangout, you want your smartphone to make a nice match with your style. And this is where a funky-looking cover has a role to play. I mean when you have the luxury of choosing from a wide range of gorgeous colors and designs, you can pick out a case that can go elegantly with your smartphone – and of course your fashion statement. So, if you wish to give a bit more spotlight to your new iPhone, here are the the best cute cases for iPhone 11 you can buy right now.
Best Cute Cases for iPhone 11 You Can Buy
Unlike the more expensive siblings, iPhone 11 comes in six colors (aka love at the sixth sight in Apple's words) namely purple, yellow, green, white, black, and (Product) Red. With the myriad of color variants, you have a little more freedom to choose a suitable match. As for the choice of a funky cover, it all starts and ends with what catches your eyeballs or what gets along with your style quotient. Whatever could be your preference, chances are high that some of these cutest cases for iPhone 11 would win you over.
1. i-Blason Cosmo Series
Sporting a beautiful marble pattern, i-Blason Cosmo Series case looks stand out. The cute cover fits around the iPhone 11 snuggly and also offers rubberized gripping. Beyond the elegant look, there is a solid dual-layered casing that enables the smartphone to survive bumps (10-Ft drop tested). So, it's just not about looks! Not to mention, it also comes with a built-in screen guard so that the 6.1-inch LCD display has the much-needed safeguard to fight out scratches. Aside from protection, Cosmo Series comes in three good-looking colors: marble, purple, and blue.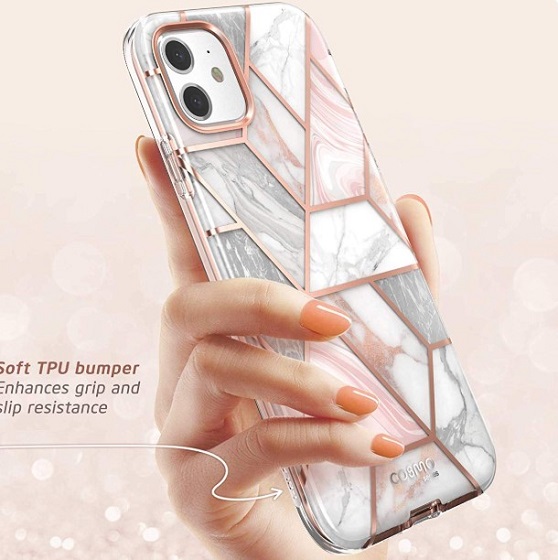 Buy from Amazon: $19.99
2. Sonix
Just a look at Sonix's cute case and you would know that it's primed to pair with your iPhone 11. The case has a funky-looking pattern and comes in over 20 different designs. Yeah, you heard it right! But is this cute cover just about looks? Not really. The case has a beveled edge on both sides to guard the LCD screen and the dual camera. With the anti-scratch UV coating, it's fully capable to keep the shine intact for long. Moreover, the company says that it meets 6.6 feet of military drop test compliance. Overall, it's certainly one of the best cute cases for iPhone 11.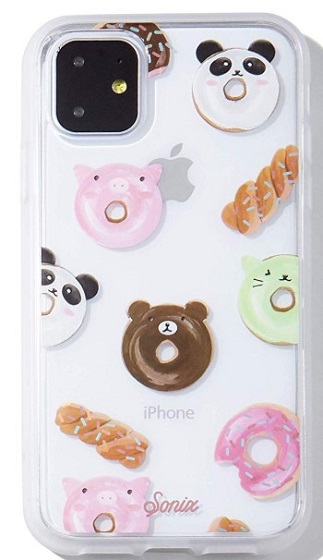 Buy from Amazon: $35
3. OtterBox Symmetry Series
As someone who has always admired OtterBox's Symmetry Series cases for their sleek and stylish design, I'm glad to include them in this roundup. They look really cool with a beautiful one-piece design and eye-catching patterns. Aside from the looks what has caught my attention in these covers are that they have not sacrificed protection in favor of elegance – unlike many other cases in the market. So, you can flaunt your smartphone without endangering defense. And that's exactly what makes OtterBox Symmetry Series as one of the best cases for iPhone 11.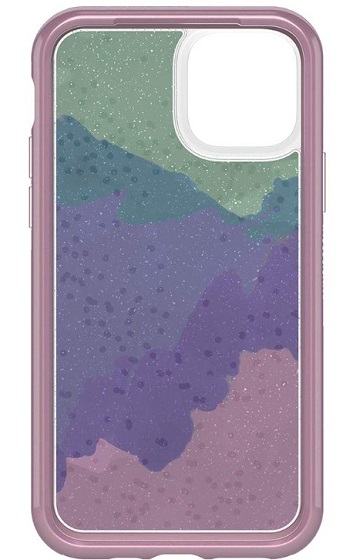 Buy from Amazon: $49.95
4. Cutebe
Showcasing a sleek and compact profile with an attractive flower pattern, Cutebe case looks right on the money for a fashionable outing. The cover has a hybrid design and comes with a rubberized bumper that not only absorbs shock but also provides much-improved gripping. With the hard PC on the back and extra protection for the dual camera and screen, the cute cover is also equipped to offer the essential protection to your smartphone. As for colors, Cutebe is available in black and white hues.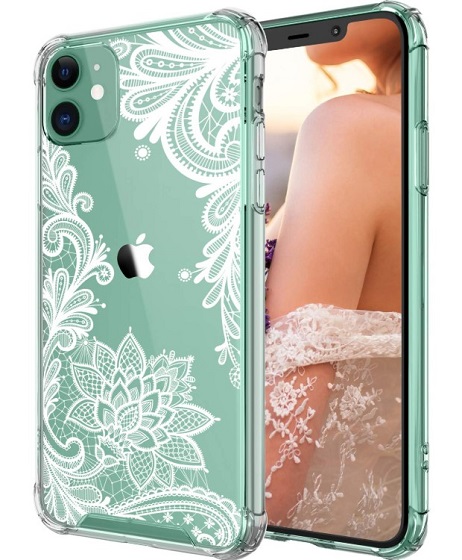 Buy from Amazon: $10.99
5. Givewin
There is a lot to like in this fascinating case from Givewin. With the flower design and compact form-factor, the case is designed to make a strong statement. But hold on a bit before you make a surefire conclusion! The cute case is equally protective thanks to the inclusion of TPU material. With the rubberized casing and sides, it offers the desired cushion for your palm so that the smartphone doesn't slip off. And if you have a liking for a lot of color options with different patterns, Givewin won't disappoint you in this regard either.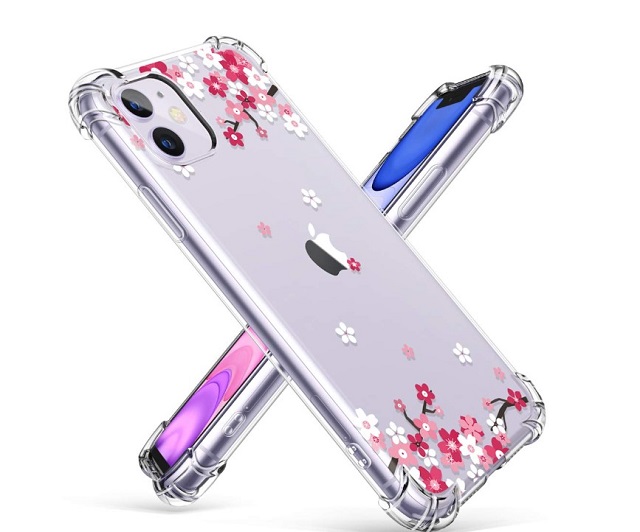 Buy from Amazon: $10.99
6. Spigen Liquid Crystal
When it comes to amplifying the cuteness quotient, you can trust Spigen Liquid Crystal to live up to the billing – and even exceed in some aspects. Featuring glitter-infused TPU, the case arrests attention right from the word go. And with a svelte form-factor, it keeps the elegance of your iPhone 11 alive. As for protection, I would say you shouldn't expect much from Liquid Crystal. However, it's not bad at resisting scuffs and even low-volume impact.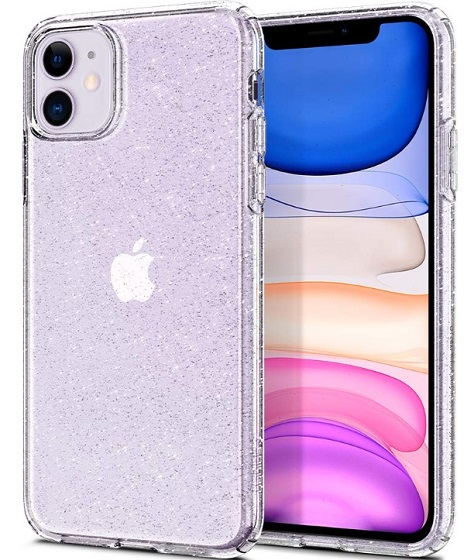 Buy from Amazon: $12.99
7. Sankmi
I have a special liking for the cases that not only look nice but also live up to the demand. That's the reason why I have chosen Sankmi ring holder case in this lineup. The case has a clear design and comes with a ring that not only offers enhanced grip but also doubles as a super handy kickstand to light up your FaceTime video calling or movie watching experience. That's not all, Sankmi case is also fully cable to safeguard your smartphone but also works with magnetic car mounts to let you hold your smartphone securely.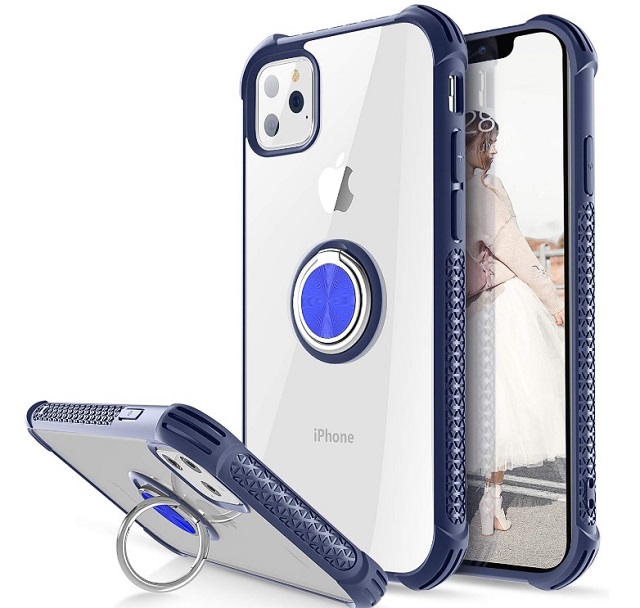 Buy from Amazon: $9.99
8. Coolwe
As a stylish case, Coolwe shines in most aspects. Whether it's the pineapple floral pattern or the soft-rubberized bumper that provides enhanced hold, the case has got you fully covered. The 3D metallic finish further augments its look. For added protection, the company has used hard plastic on the back. What's more, it also features a beveled edge to guard the dual-camera setup and the Liquid Retina display against scratches. If there is any downside, it's the unavailability of more color variants.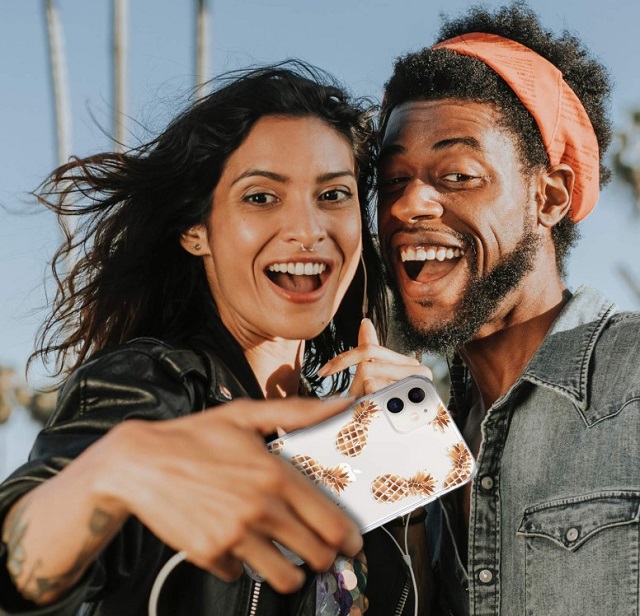 Buy from Amazon: $9.99
9. Mateprox
If you have got the (Product) Red iPhone 11 and are looking for a case that can make a stunning match with the device, look no further than this gorgeous case. With the sparkling bling, the case catches attention right away. Though the case has put more emphasis on design, it is more than decent at resisting scuffs thanks to the raised lips on either side. If the red color doesn't impress you, there are eight more vibrant hues to choose from. Moreover, this fashionable case also works perfectly with Qi-enabled chargers so that you can wirelessly power up your device without any issue.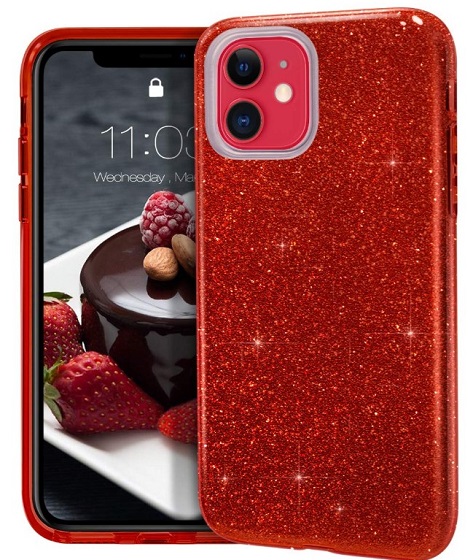 Buy from Amazon: $10.99
10. Salawat
This one could be a big hit among the folks who adore the vibrant or glossy design. Made of TPU material, Salawat is pretty sleek and flexible. With the cute gradient design, it's always ready to shoot attention. Another notable feature of this stylish cover is that it's anti-scratch and comes with fortified corners to absorb shock. Plus, the smooth finish also plays a vital role in improving the grip. Talking about colors, the company offers this case cute iPhone 11 case in three colors: purple-blue, black gold, and pink gold.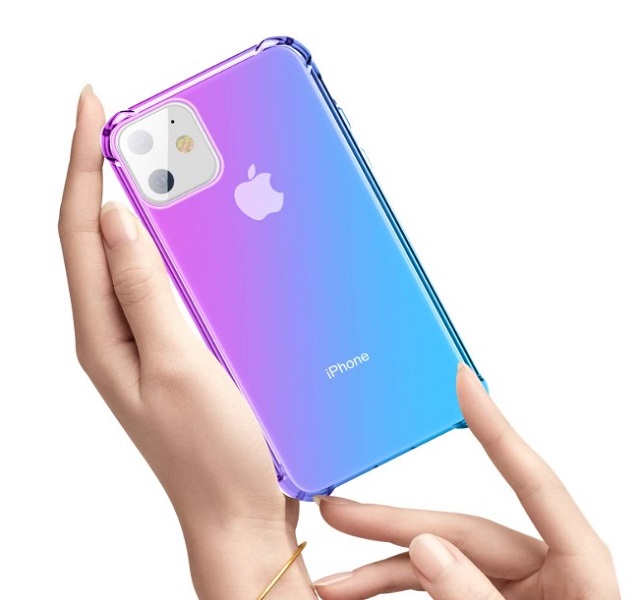 Buy from Amazon: $9.99
SEE ALSO: 10 Best Leather Cases for iPhone 11 You Can Buy
Get the Best Cute Cases for Your All-New iPhone 11
It's nice to pair your smartphone with a funky-looking or attractive case, especially when you want your style to shout out loud. Thankfully, there is no dearth of cute covers for Apple's 2019 6.1-inch iPhone. By the way, let me know which one of the covers mentioned above is going to make a pair with your iPhone 11 and the sort of cases that you like most. Also, share the names of some of the nice covers that I may have missed out.
---
Load More