Apple's all-new 10.2-inch iPad may not have stolen the show at the iPhone 11 event on September 10 but for those who had been craving for a cheap ($329) yet highly efficient iPad, it certainly made headlines. Featuring proficient A10 Fusion chip, Retina Display with nearly 3.5 million pixels, all-day battery life, Apple Pencil and Smart Keyboard support, the iPad has got enough to be a great asset for budget-minded customers. Add to that the power of iPadOS and the tablet can fairly match its high-end siblings on multitasking and creative capabilities. For those of you who have just bought this new tablet and are searching for the cases that can go nicely with it, I have dished out the best 10.2-inch iPad (7th-gen) cases. Let's jump right in to see which one looks promising for your tablet!
Best iPad 10.2-inch Cases and Covers
From an elegant case to professional-looking folio cover to efficient keyboard case, this roundup features a variety of suits that can be a worthy companion of your iPad. And yes, I have also specifically picked out a classy sleeve cover for those who admire simplicity and comfort over style. Though a few premium covers warrant a bit high price tag, there are many quality cases that come at a comparatively low price. So, it doesn't matter whether you are in quest for an affordable/cheap 10.2-" iPad case or hunting for premium ones, chances are high that one of these covers might fall in line with your needs.
1. Apple Leather Smart Cover
If you are looking for a premium leather cover for your 10.2″ iPad, Apple Leather Smart Cover would be worth checking out. The leather case showcases a slim and sophisticated design and wraps around the 2019 iPad snuggly. With the smooth leather texture, the Smart Cover offers enhanced hold, ensuring the tablet stays comfortably in your hands.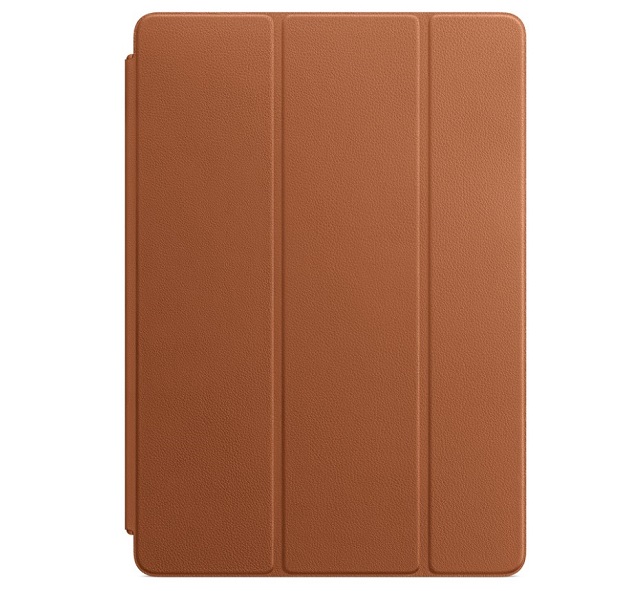 Due mainly to the sleep/wake functionality, the Leather Smart Cover also plays a good role in extending the battery life of your iPad. You can fold the cover into multiple positions to have more comfortable viewing angles for watching media, typing or even catching up with your read-it-later articles. What's more, you can choose the Smart Cover in multiple colors including the Product Red, Saddle Brown, Black and more. As for pricing, it comes at $69 which is really expensive. Just in case you wish to go for a cheaper alternative ($49), then the polyurethane Smart Cover would be a safe bet.
Buy from Apple: $69
2. ESR Yippee Trifold Smart Case
Do you find Apple's offering way more expensive to fit into your limited budget? If yes, try out the ESR Yippee case that has ticked off almost all the boxes despite coming at a relatively low price ($11.99). Well, the highlight of this case is the trifold magnetic folding design that provides multiple viewing and typing modes.
Another notable feature is the reliable sleep/wake functionality that cuts down unnecessary battery consumption. Being lightweight and compact, the cover doesn't add any unnecessary bulk to your tablet either. However, despite having a slim appearance, Yippee cover has enough resistance to withstand minor shock and even fight out scratches. Overall, you would be glad to have this one of the cheapest 7th-gen iPad 10.2″ cases.
By from Amazon: $11.99
3. Supveco
"Supveco" is what you should buy to provide a trusted shield to your 10.2″ iPad against accidental drops. This highly protective cover features shock-absorbing TPU on the back and durable PU on the front. The company says that the cover can withstand 5 feet drop. If the claim holds true (and I see no reason why it can't), you shouldn't worry about random drops or ugly scratches.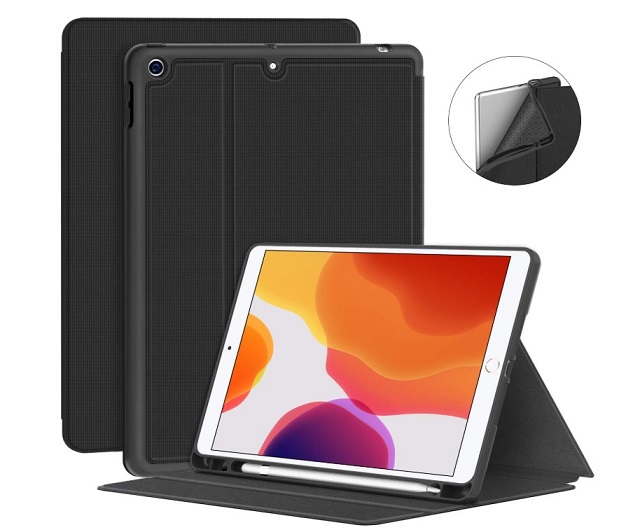 Beyond shockproof design, the cover features a holder wherein your Apple Pencil can rest safely. With the useful grooves, it also works reliably in offering multiple viewing angles. In terms of pricing, Supveco comes at $26.99 which I find reasonable considering the protective design.
By from Amazon: $26.99
4. Apple Smart Keyboard
Though modern iPads are really versatile and powerful, they become even more productive when paired with a high-quality keyboard case. So, if you are planning to use your 2019 10.2″ iPad as a handy notebook, do not forget to check out Apple's Smart Keyboard. Of course, it's way more expensive than the third-party offerings but if you want to have a more intuitive typing experience, you would be hard-pressed to find a better alternative than it.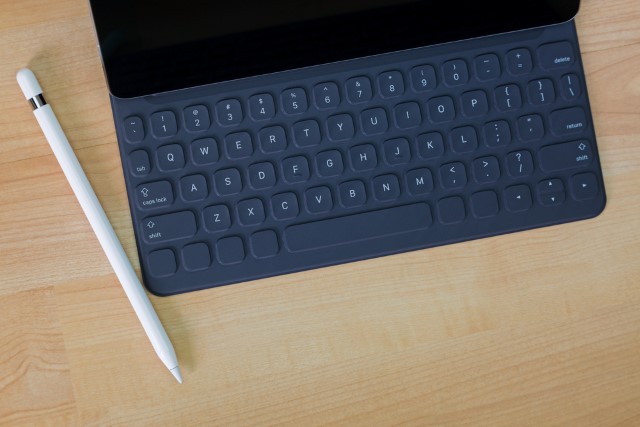 Design-wise, it looks pretty sleek and comes with the full-size keyboard to accelerate your typing. The keys are very responsive and offer much better tactile feedback. Thanks to the smooth finish, the Smart Keyboard feels comfortable in the hands. Lastly, all the cutouts of this premium keyboard case are precise for comfortable access.
Buy from Apple: $159
5. Skycase
Sporting a simple professional design, Skycase folio case for the 7th-gen iPad can be a great pick for the folks who are looking for an affordable yet impressive companion for the tablet. The case is made of high-quality canvas and features a fabric lining that offers a much-improved grip. Besides, the reinforced stitching adds an aesthetic touch to its profile.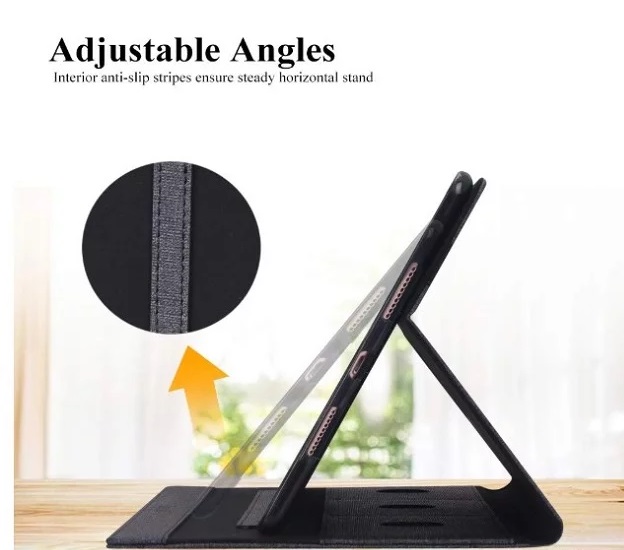 You can use the anti-slip strip to position your tablet in multiple horizontal angles for enhanced typing and media viewing experience. The interior cardholders can come in handy if you have to carry multiple cards during travel. It also features an exterior pocket to let you keep your bank receipts and other small items securely. Moreover, the Skycase has a neat pen holder so that your Apple Pencil can rest securely when not in use.
Buy from Amazon: $17.99
6. IVSO
This one is right on the money for those who find the Apple Smart Keyboard case rather expensive. Granted, the case can't match the elegance of Apple's offering nor does it have the same tactile keys. However, if you talk about a keyboard case that ticks off most essential boxes and also comes at a comparatively low price ($46.99), it seems to have a clear edge over others.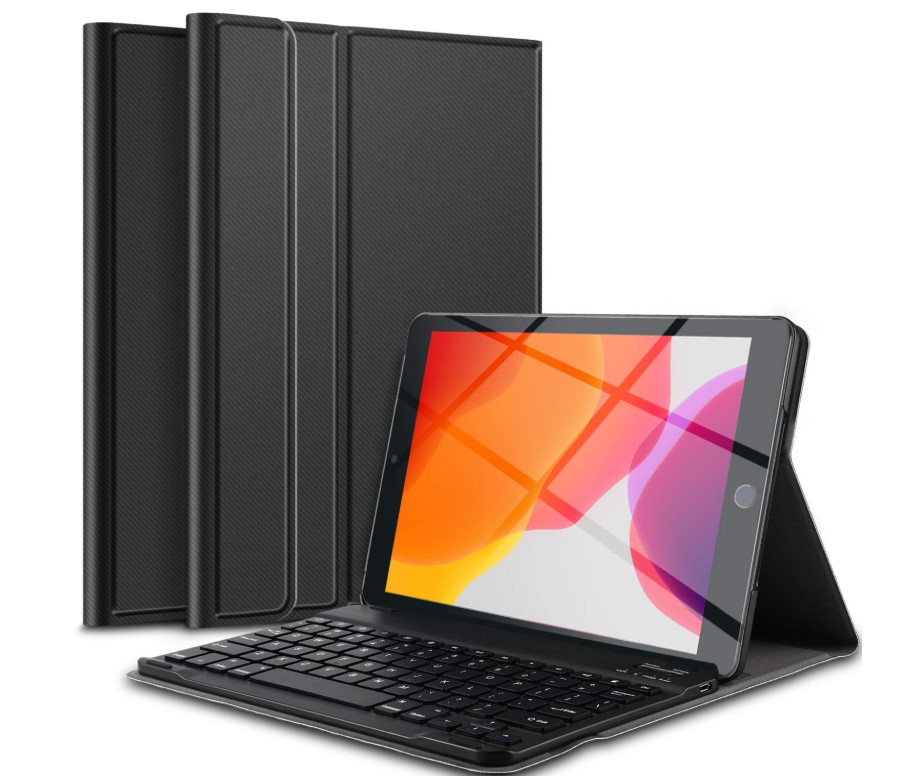 The 10.2″ iPad keyboard case features PU leather exterior for a simple profile. And with the soft microfiber-lined interior, it has a bit more resistance to survive the impact. The detachable keyboard features fairly responsive keys so that your typing remains easy-going. Furthermore, IVSO keyboard also delivers long battery life of up to 60 hours which makes it ideal for everyday use.
Buy from Amazon: $46.99
7. Moko Sleeve Case
For those who prefer enhanced comfort and simplicity over flashy design, Moko sleeve case would be a top-notch choice. The sleeve has a refined look with neat craftsmanship and comes with a magnetic flap to keep your iPad securely inside. Due mainly to the soft textured exterior, the cover provides comfy feedback so that it's easy to hold the tablet.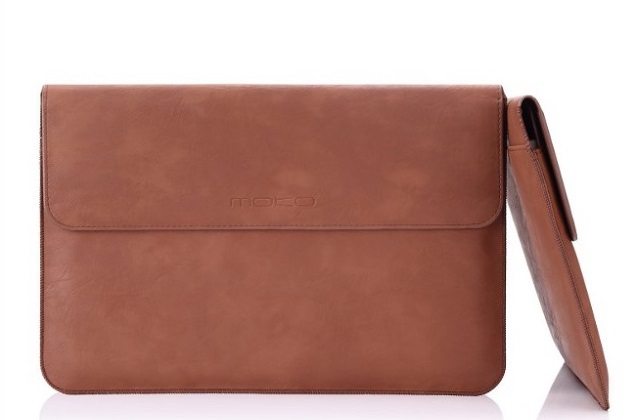 Another notable feature of this classy sleeve case is the soft felt interior that not only endows more durability but also safeguards the iPad 10.2″ against scratches. It comes with slots to let you keep items like cards, your AirPods, charger, and more safely. Additionally, the company offers this pro-looking sleeve case in multiple colors: black, brown, and rose gold.
Buy from Amazon: $15.99
8. Infiland
Combining the vintage design with impressive workmanship, Infiland's folio case for the 7th-gen iPad deserves to find a safe spot in this lineup. What has caught my eyes in this cover is the two-tone colors that enhance the appearance. Crafted with PU leather, the case features visible stitching which makes for an appreciable handmade design.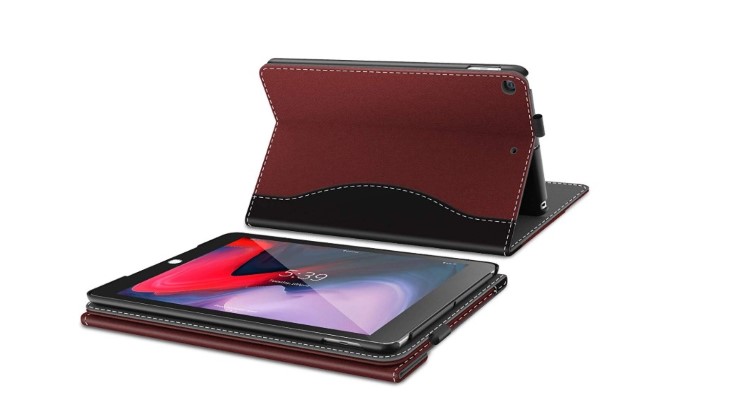 For enhanced drop-protection, the case comes with an impact-resistant interior. There is also a big compartment where you can keep your cards and also some dollar bills. And when you are not using your digital pen to create designs or write notes, you can use the pen holder to keep it safe. As for colors, this classy folio cover for 10.2-inch iPad comes in four colors: wine-red, grey, navy, and the evergreen mint-green.
Buy from Amazon: $16.99
9. Infiland Keyboard Case
Yet another keyboard case in this lineup. As compared to both the above-mentioned counterparts, it's slightly different. So, I thought it makes sense to include Infiland keyboard cover in this roundup. First and foremost, it is a tad more durable and offers complete protection to your tablet.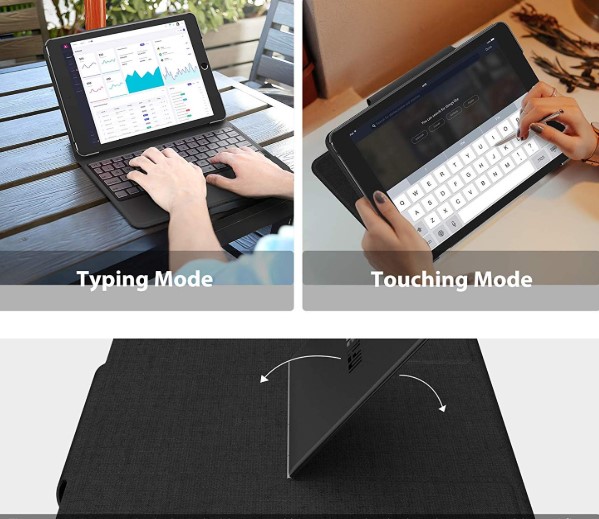 The second, the 7th-gen iPad keyboard case features a built-in kickstand. Times when you would like to have a more stable viewing or typing angle, it would come into the play really well. As for the keyboard, I find it up to the mark as the keys are smooth and offer decent tactile feedback. As it's detachable, you have the flexibility to get rid of the unnecessary bulk in favor of a more compact look.
Buy from Amazon: $45.95
10.
Thankscase 
I like the look and feel of Thankscase. Though the folio case has put more emphasis on simplicity, it does appear pleasing to the eyes thanks largely to the two-tone colors and commendable workmanship. The composition leather exterior gives it more durability, while the soft interior enables the casing to absorb shock.
You can use the built-in hand strap to securely hold your iPad so that it doesn't fall. Another notable feature is the 360-degree rotating swivel that lets you rotate the iPad both horizontally and vertically for an improved viewing experience. And just in case you are fond of eye-catching colors, you would be glad to have more than 10 vibrant colors to choose from. Considering all the useful features, the $17.99 price tag seems fully justified.
Buy from Amazon: $17.99
SEE ALSO: 10 Best iPhone 11 Cases and Covers You Can Buy
Choose the Top Covers for You 10.2-inch iPad…
It's always great when you have the problem of aplenty, isn't it? The best part about it is that you get more flexibility to choose the right option for your requirements. And I guess the above roundup has got enough variety to help you select a better cover for your 2019 iPad 10.2″. Let me know which case is going to pair with your budget-friendly tablet. It would also be great if you could share your feedback about the iPad and the features you have liked most in it.