Apple's latest 10.2-inch iPad claiming to be "like a computer but unlike any computer" (just like its siblings) has got enough to work as a super handy laptop – if not a full-on notebook replacement. The A10 Fusion chip with 64‑bit architecture makes the tablet up to two times faster, while the Retina Display (2160*1620-pixel resolution) packs more than three times the number of pixels than the top-selling PC in the US. Without diving into the detail, I must say that these numbers do make Apple's tablet an interesting proposition for those who want an ultra-portable and versatile computer. So, if you have bought this entry-level iPad and are planning to use the device as a smart notebook, here are the best 10.2-inch iPad keyboard cases that you can buy right now.
Best Keyboard Cases for 10.2-inch iPad
The choice of a keyboard cover depends on whether you wish to use your tablet as a full-time notebook or want to keep the device for just occasional bursts of note-taking and email writing. If you see your iPad as a complete notebook for your needs, go for a laptop-style aka full-size keyboard.
But if you don't have to deal with a physical keyboard more often, then an affordable keyboard cover would be good enough for your needs. For enhanced flexibility, some of the covers come with the detachable keyboard so that you can get rid of the bulk when the keyboard is not required. With that said, let's now set the sight on the best keyboard cases for 10.2-inch iPad!
1. Apple Smart Keyboard Case
Apple Smart Keyboard case sits right at the top of this lineup for several reasons. For starters, it has probably the most efficient full-size keyboard and the tactile keys that make typing convenient. Using the Smart Connector, it connects to the iPad 10.2″ with ease.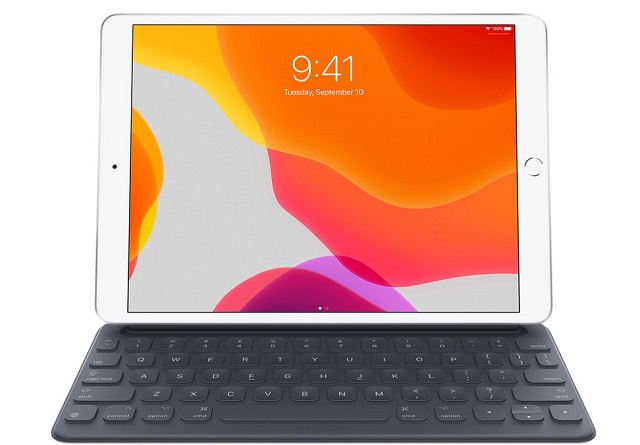 Another feature that sets Apple's keyboard cover apart is the sleek and form-fitting design that doesn't make the iPad look bulky. Thus, your iPad remains lightweight even with this case on. But, is the slim design at the cost of protection? Not really. Though Apple has put more emphasis on sleek form-factor, the cover can take some minor beating and also keep scratches at bay.
As compared to many other third-party keyboard covers for 7th-gen iPad, the Smart Keyboard seems very expensive $159. But if your tablet demands a premium companion, it would be worth paying some extra bucks.
Buy from Apple: $159
2. Logitech Rugged Folio
If Apple Smart Keyboard claims to be the best keyboard case for 10.2-inch iPad, Logitech Rugged Folio is not behind in the race either. In fact, there are quite a few areas where Rugged Folio scores much better than the former. Logitech claims that the Rugged Folio is the ultimate protective keyboard for the iPad 7. And after taking a close look at the specs, I can say that the cover does look highly durable and can offer a needed safeguard against impact to the tablet. So, just in case you find Apple's keyboard cover a bit less protective, you should go with the Rugged Folio.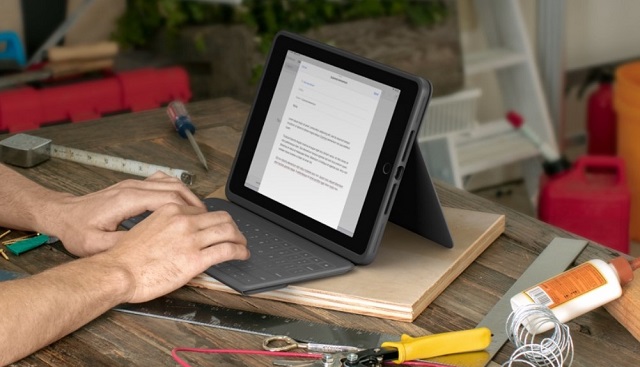 As for the keyboard, it's also full-size and features sensitive keys that offer tactile feedback. Not to mention, the keys are pretty smooth and also don't make noise. With the full row of iOS shortcut keys for several things like screen brightness, Siri, media controls, virtual keyboard and more, it can help you type a lot faster.
The military-grade keyboard case also features a holder for Apple Pencil or any other digital pen. That aside, it offers four use modes like reading, viewing, typing, and sketching so that you can get the most out of your iPad. Despite being so impressive, the Rugged Folio is $20 cheaper than the Smart Keyboard. Overall, it's one of the best cases for 10.2″ iPad.
Buy from Logitech: $139.99
3. Logitech Slim Folio
While some people prefer to have an exceptionally protective cover (like the one mentioned above), others choose to opt for a slim case to ramp up the style quotient. If you belong to the latter school of thought, the Slim Folio can fit into your taste really well. Sporting a thin and compact design, the cover keeps the lightweight profile of the 7th-gen iPad intact. Besides, the slim folio is ideally integrated into the keyboard and also offers better gripping.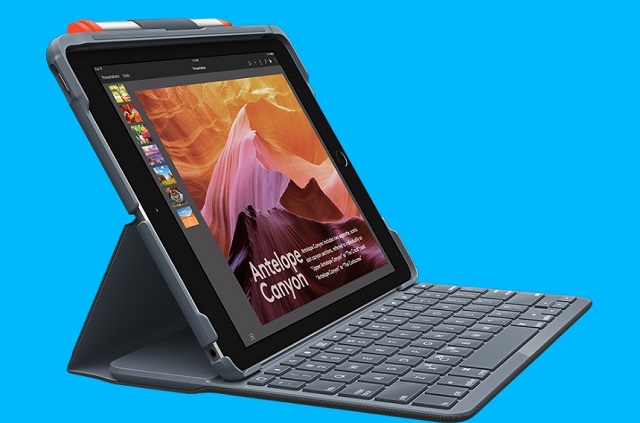 The keys are well-spaced and make typing comfortable. And with a good amount of key travel (1.5mm), they also offer the desired bounce so that the typing remains smooth. Just like Rugged Folio, it also comes with shortcut keys to help you get your work done faster.
Moreover, the Slim Folio is pretty good at offering comfortable angles for typing and viewing. Lastly, it's priced a lot less ($99.99) than both the keyboard cases mentioned above, which makes it a great buy for the folks who are looking for a top-quality alternative at affordable pricing.
Buy from Logitech: $99.99
4. IVSO
If a budget-friendly keyboard case is what you want, you should try out IVSO. The keyboard cover features PU leather exterior with minimal workmanship. And it has packed a soft microfiber-lined interior to empower the cushion so that the case can survive the unexpected beating.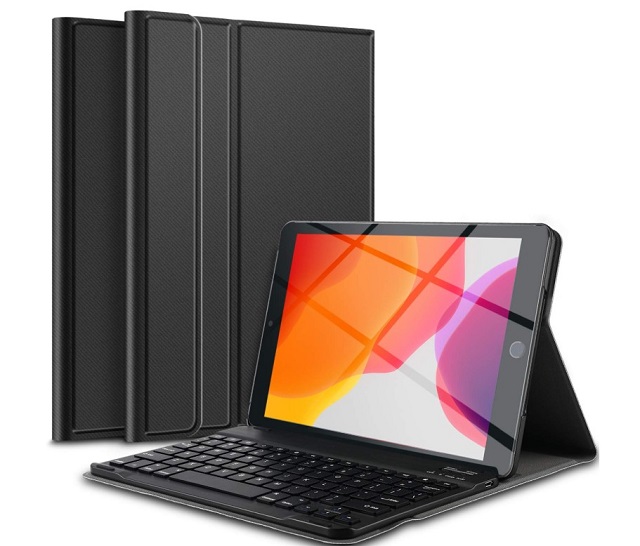 With the laptop-style keyboard, it promises to make your typing convenient. Based on your need, you can also remove the keyboard from the folio when you aren't typing. Speaking of battery life, the company claims that it can deliver up to 60 hours of working time. If the battery life lives up to the billing, you have a pretty good keyboard cover that is more than decent for typing and protecting the entry-level iPad.
Buy from Amazon: $46.99
5. ELTD One-Piece Keyboard Case
ELTD has come up with a reasonably good keyboard case targetted at the budget-minded customers. It has a one-piece design and features a notebook-style keyboard. I love the fact that the keys are tactile and the cutouts are precise for easy access to all the ports.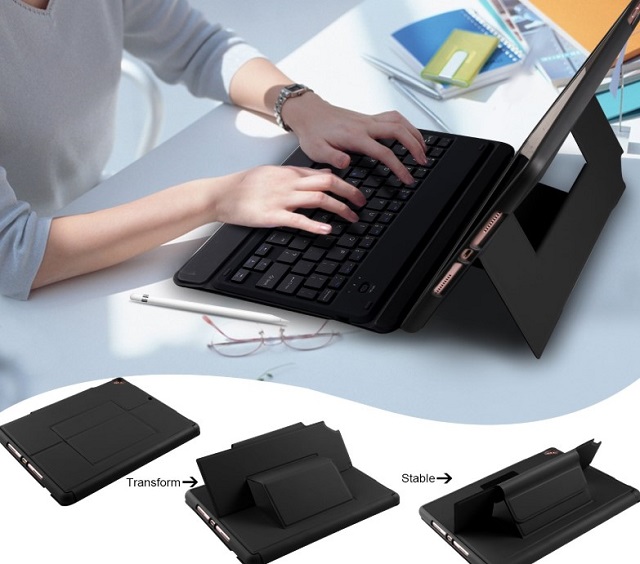 From a design perspective, the keyboard cover looks thin. With PU leather exterior and microfiber interior, the case can also absorb some impact. It comes with a reliable battery that can last up to 60 hours at one charge. Moreover, you can choose the ELTD keyboard cover in two colors: black and red.
Buy from Amazon: $37.99
6. Infiland
A really impressive keyboard cover like Infiland deserves a shot on your iPad. What has caught my attention in this keyboard case is the durable design in a compact form-factor. The keyboard is fully integrated into the folio and comes with well-spaced keys for tactile typing.
With the PU leather, the cover feels comfortable to hold. Plus, there is also a built-in kickstand that provides improved viewing angles. The built-in smart sensor can go a long way in saving plenty of battery life of your iPad. Long story short, Infiland has aimed to offer a premium experience at a comparatively low price. And it has succeeded (if not excelled) to a great extent.
Buy from Amazon: $45.95
7. ELTD Detachable Keyboard Case
I generally refrain from picking out cheap products, fearing they might not live up to my expectations. However, I do keep a track of the things that are priced low but claim to deliver a lot more than their price tag. And, ELTD's detachable keyboard case is one of them.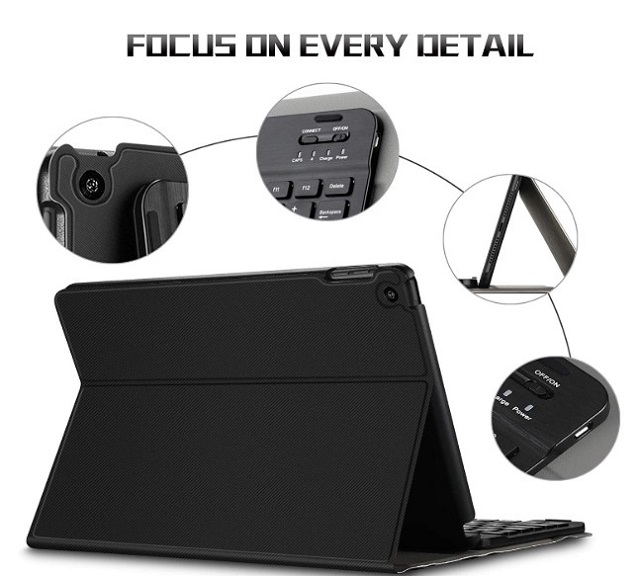 At $24.99, it's by far the cheapest 10.2-inch iPad keyboard case that I have come across (till now). Despite having a low price tag, it has all the basic features. A decent keyboard, fairly good design, and appreciable 60 hours of battery life. So, if you are willing to keep your budget tight, do not fail to check it out.
Buy from Amazon: $24.99
SEE ALSO: 7 Best 10.2-inch iPad (7th Gen) Screen Protectors
Choose the Top Keyboard Case for Your 10.2-inch iPad…
Though Apple's Smart Keyboard is great, Logitech's offerings have packed enough punches to be the best alternatives. As for the affordable options, you have quite a few notable choices to pick from. So, let me know your top choice in the comments down below. Also, feel free to share the names of those that may be missing in the lineup.