Now that your brand new iPhone has just arrived and you have already put your hands on all the features that the smartphone has packed in, let's turn the spotlight on the gazillion of accessories that are vying for attention! From the eye-catching crystal clear covers, adrenaline-fuelling VR headsets to the vox-pop wireless earphones, you've got a lot to explore. But out of those tons of options, which are the top accessories for the 2019 iPhone 11 series? Well, that's exactly what had been running in my mind for the past couple of days until I decided to line up everything that is worth taking note of. As my long search is finally over, I would like to share with you my best iPhone 11, 11 Pro, and iPhone 11 Pro Max accessories that you can buy.
Best Accessories for iPhone 11, iPhone 11 Pro, and iPhone 11 Pro Max
As to what accessories can go nicely with your iPhone, all I can tell is check how loaded your wallet is and where your priority lies (with pun intended). Yeah, when you have a problem of aplenty, you better zero in on what you are after. Of course, there are items like a screen defender and a protective cover that are a must-buy; but beyond those things, it all boils down to your preference and requirement. With that said, let's explore the collection to see which accessories look right on the money for your demand!
Best Screen Protectors, Skins, and Cases for iPhone 11, iPhone 11 Pro, and iPhone 11 Pro Max
1. OMOTON Screen Protector
Whenever I think of safeguarding my iPhone, the first thing that strikes the mind is giving an extra bit of shield to the expensive Retina Display. Considering the unbelievably high screen repair cost, (out of warranty screen repair cost: $199 for iPhone 11, $279 for iPhone 11 Pro, and $329 for 11 Pro Max), it pays to choose a trusted screen defender upfront. And if you want to have a top-notch screen protector for your 2019 iPhone, I would recommend you to try out OMOTON.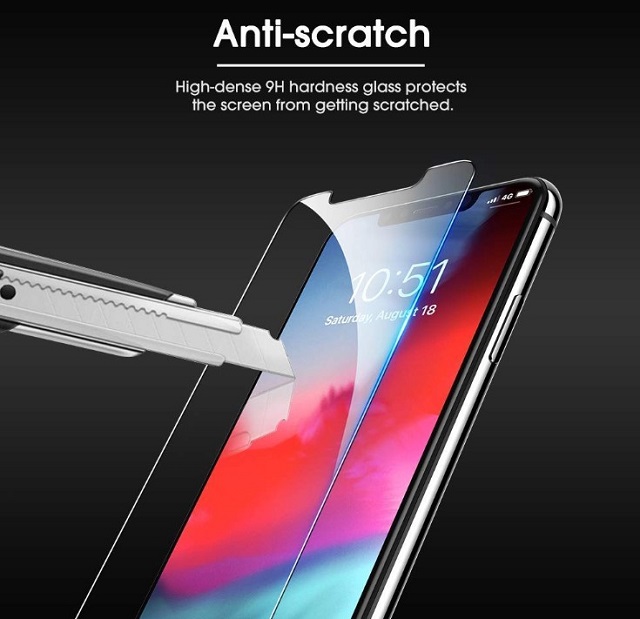 The tempered glass screen guard is bubble-free and features 9H hardness for uncompromised scratch-resistant. The HD clarity provides improved viewing experience, while the anti-fingerprint surface offers pretty good touch sensitivity. On top of all, OMOTON offers this screen guard in three/four-pack at just $5.99-$7.98.
Buy from Amazon: $5.99-$7.98 (for iPhone 11, for iPhone 11 Pro, and for 11 Pro Max)
Would you like to explore more screen protectors for the 2019 iPhones? Well, we have made a separate post for each of the new smartphone. So, head over to the roundups of the best screen protectors for iPhone 11, screen protectors  for 11 Pro, and  screen protectors for 11 Pro Max.
2. dbrand Signature Skins
For those of you who claim to be case-less guys, dbrand Signature skins are the way to go. The skins are incredibly thin and provide pretty comfy gripping thanks to the smooth texture. With the precision finish and neat cutouts, the wraps fit snuggly on the smartphone. Moreover, they come in a plethora of designs like matrix, swarm, camo, carbon fiber, dragon, stone, matte, wood, you name it. Better yet, you can also get your dbrand skins customized so that they can get along nicely with your style statement.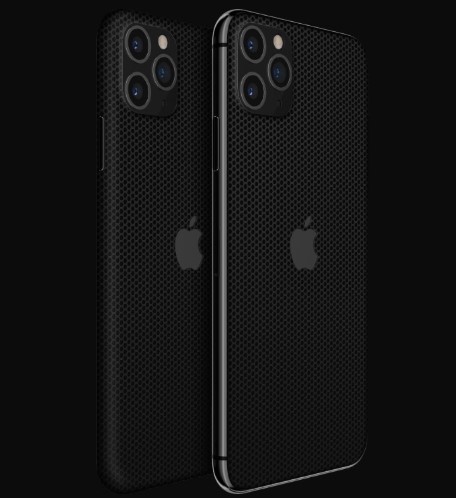 Buy from dbrand: $12.95
Just in case you wish to take a peek at more skins, do check out our separate lineups for iPhone 11 Pro skins and 11 Pro Max skins.
3. Spigen Liquid Crystal
Sporting elegant design and crystal clarity, Spigen Liquid Crystal is clearly one of the best clear cases for iPhone 11, 11 Pro, and 11 Pro Max. The clear case is made of pretty soft TPU material and features soft surface for anti-slip gripping. Being very flexible, the Liquid Crystal is easy to install and remove. While the reinforced buttons offer tactile feedback, the cutouts are precise. At $10.99-$12.99, this crystal cover looks reasonably priced.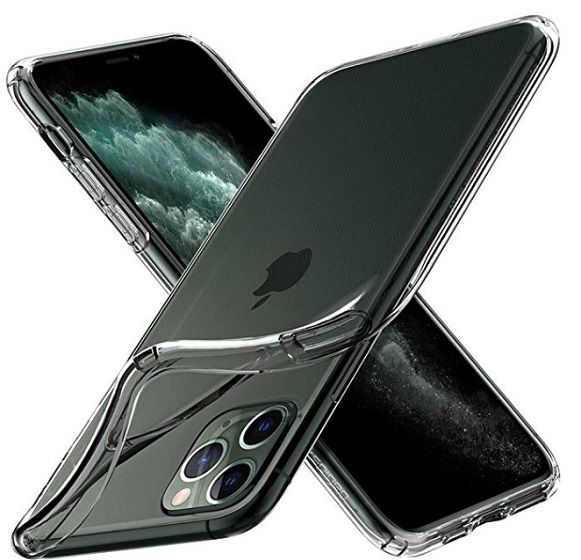 Buy from Amazon: $10.99-$12.99 (for iPhone 11, for iPhone 11 Pro, and for 11 Pro Max)
4. Nomad Rugged Leather Case
A leather cover is a class apart! The rich leather texture and top-of-the-line craftsmanship make leather suits go-to picks for pros. So, if you have decided to choose a high-grade leather case for your new iPhone, I would suggest you keep Nomad's offerings in mind. The best part about these covers is that they are made of high-grade leather and feature rugged casing for enhanced protection against impact. Not to mention, the vintage suits also age gracefully – courtesy the ageless leather texture. Long story short, Nomad offers the best leather cases for Apple's 2019 iPhones.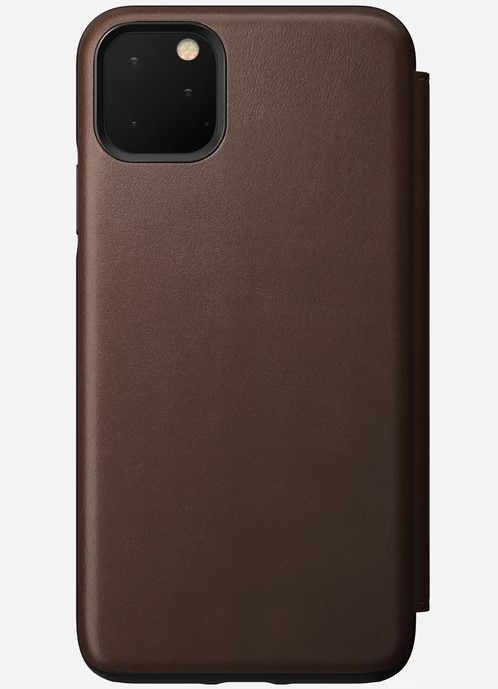 Buy from Nomad: $49.95 – $79.95
5. Aria Luxury Wallet Case from Pad & Quill
Granted, Pad & Quill's wallet cases may not fit into everyone's budget. But just in case you don't want to settle with anything less than truly premium wallet cover for your all-new iPhone, do not miss out on them. Talking about Aria Luxury wallet case, it's carved out of full-grain American leather and features nylon stitching with French hem styling. The premium leather wallet case comes with multiple slots that can carry up to 5-7 credit cards. Plus, the interior also has a big pocket to keep your cash securely inside. Better yet, Aria Luxury is UV resistant that enables it to keep the shine intact for long.
Buy from Pad & Quill: $69.95-$79.95
6. Mophie Juice Pack Access Battery Case
While iPhone 11 claims to have up to an hour of increased battery life over iPhone XR, the 11 Pro delivers up to four more hours of battery life than Xs. As for the 11 Pro Max, it offers up to five hours of more juice than the predecessor – iPhone Xs Max. Even with such long battery life, the iPhones might not live up to the rigorous demand of power users including hardcore gamers or those who like to stream media for hours. And this is where a top-notch battery case like Juice Pack Access has a role to play. The case has a compact yet durable design to protect the smartphone. Moreover, it's also said to feature Qi-enabled wireless charging input to let you charge your device securely.
Buy from Mophie: To be launched soon
It's not over yet! If you would like to explore more impressive cases and covers, jump over to our separate roundup for iPhone 11 cases, 11 Pro cases, and 11 Pro Max cases.
Best Earphones, Armbands, VR Headset, and Selfie Stick Tripod for iPhone 11, 11 Pro, and 11 Pro Max
1. AirPods
AirPods are considered by far the most popular wireless earphones. And if you want to have an impressive sound and seamless experience, you should give serious consideration to Apple's popular earphones. The second-gen AirPods comes with an H1 headphone chip that offers a lot faster and more stable connection. And with the voice-activated Siri access, you can now talk to the virtual assistant a bit easier. Moreover, the earphones deliver up to 5 hours of listening time. Thanks to the compact battery case, you can charge your earphones multiple times for over 24 hours of listening time. As for price, while the AirPods with wireless charging case comes at $199, the one with standard charging case is available for $159. But you can generally get them for cheaper prices on Amazon using our links below.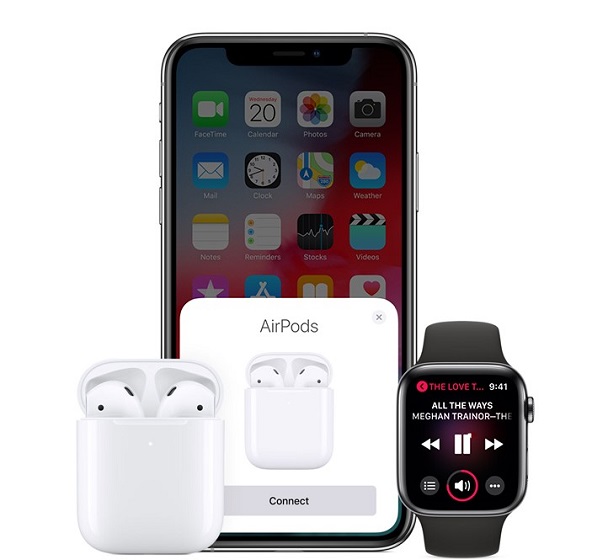 2. Bose SoundSport
While AirPods are undoubtedly the most loved earphones, there are many noted rivals like Bose SoundSport that can give strong competition to Apple's earphones. Just in case you find AirPods too slippery or think that it lacks the sporty design to meet your demanding adventure, SoundSport would be worth taking a look at. The wireless earphones showcase a nice-looking sporty design and come with sweat and water-resistance. Moreover, they are equipped with noise-canceling technology and deliver up to 6 hours of battery life after one charge, which is one hour more than what AirPods deliver. Even on the pricing aspect, SoundSport is cheaper ($129) than its famed rival.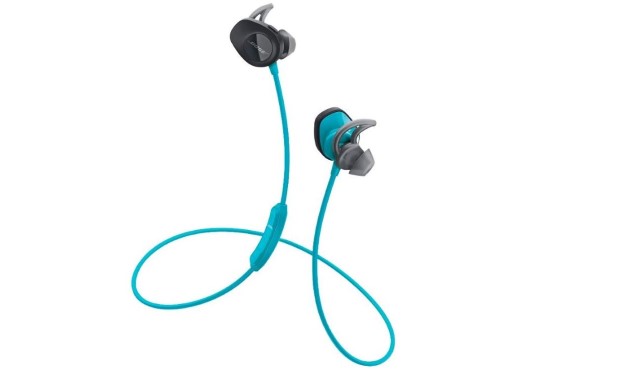 Buy from Amazon: $129
3. Bone
For the fitness freaks who never want to keep their iPhones away even during intense running or rigorous exercise in the gym, a soft and flexible armband can be a great pick. Bone has come up with a sporty armband with silicone bands that fit most smartphones including the iPhone 11 series. With the open design, you can comfortably interact with your smartphone. Courtesy the soft silicone, and neoprene material, the armband feels very comfortable to wear. Besides, the arm strap is sweat-resistant and skin-friendly, which means your skin won't itch even after wearing it for hours.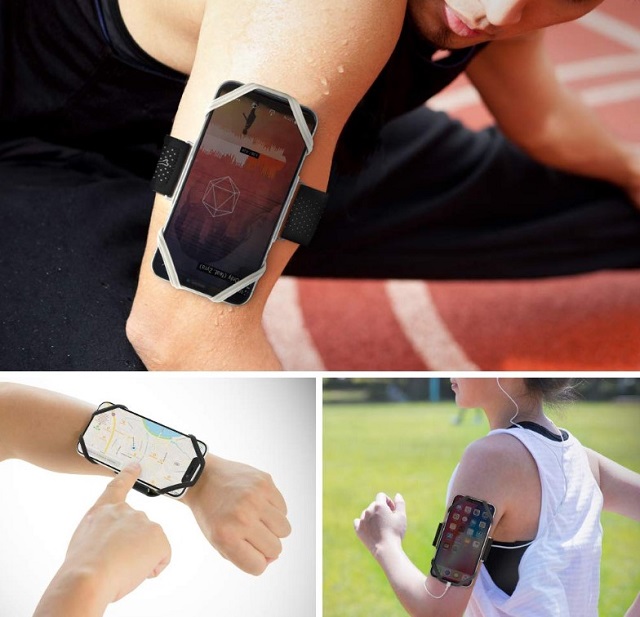 Buy from Amazon: $24.99
If you find the Bone armband more pricey or are looking for something more protective, you can check out our best armbands for iPhone 11, 11 Pro, and 11 Pro Max, article to check out other suitable offerings.
4. VR EMPIRE
VR EMPIRE is what you need to enjoy virtual reality experience to the fullest. The VR headset comes with a PMMA lens featuring a 35mm short focal length and delivers a 120-degree wide view angle. With the two-way tray, it keeps your iPhone intact so that there is no unwanted shaking. As for design, it's lightweight and compact. Being fully adjustable, the headset is comfortable to wear. Thanks to the integrated anti-blue-light lens, it also safeguards your eyes so that there is no chance of burning or eye fatigue.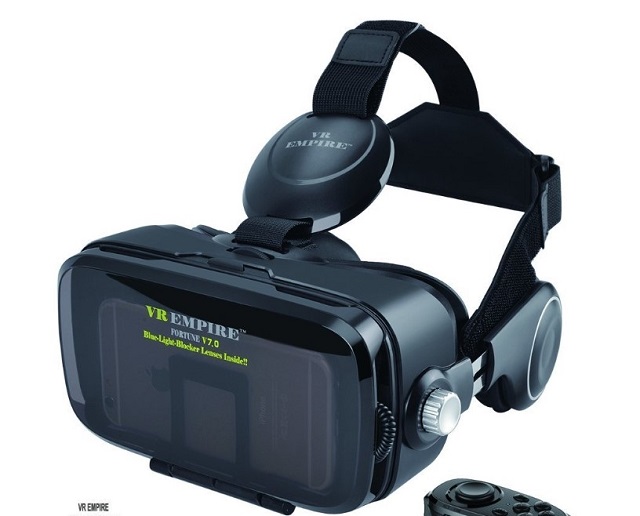 Buy from Amazon: $45.99
5. Erligpowht Selfie Stick Tripod
Snapping group photos and fun-filled videos become a tad easier when you have an elegant selfie stick tripod. I mean a selfie stick that also dons the role of a tripod. Erligpowht offers a great selfie stick tripod that comes with a built-in wireless remote to let you capture cool pics and record videos with ease. Talking about length, the stick extends between 7.9 – 27 inches which are good enough for capturing any type of shots. And with the 360-degree rotatable phone holder, it offers you the desired flexibility to position your smartphone in the ideal orientation.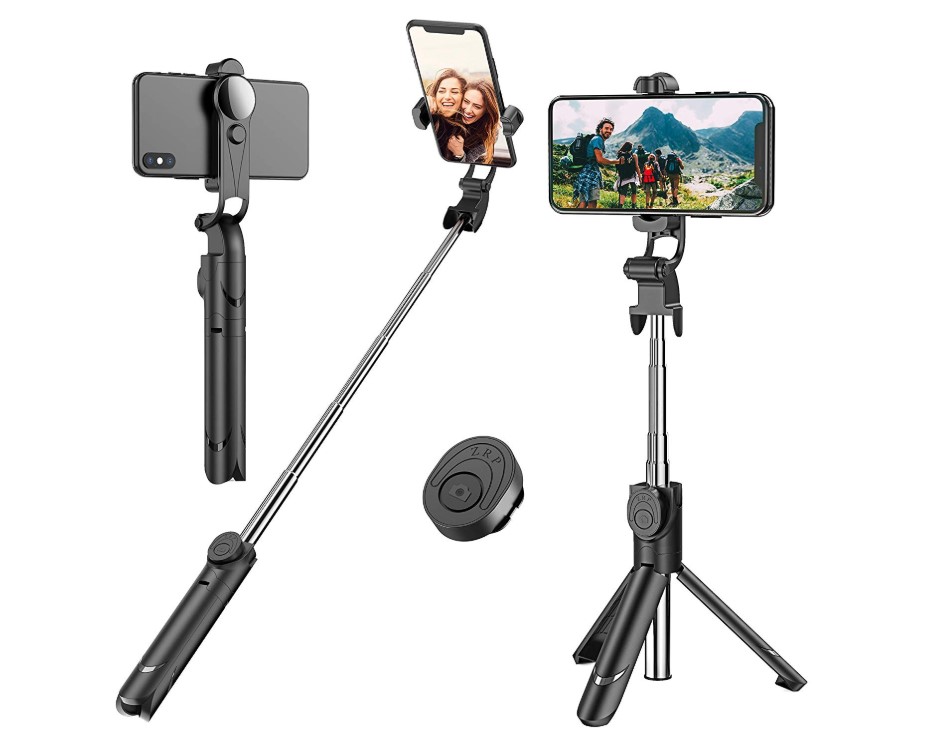 Buy from Amazon: $14.99
Would you like to check more selfie sticks? Head over here to explore a variety of options including ultra-portable and versatile selfie stick tripods.
Best Charging Accessories for iPhone 11, 11 Pro, and 11 Pro Max
1. Yestan
If a versatile docking station is what you are after, Yestan can live up to your expectations (and might even exceed). The dock looks quite compact and can charge almost any devices including the 2019 iPhone 11 series, Apple Watch, and AirPods due largely to the availability of Lightning, Micro USB, and Type-C interfaces. Plus, it also supports wireless charging so that you can power up your Qi-enabled devices without having to deal with tangled cables. With the soft silicone material, it makes sure your devices remain scratch-free. As for the protection, Yestan has packed built-in safeguards to prevent over-current, short-circuit and other dangers.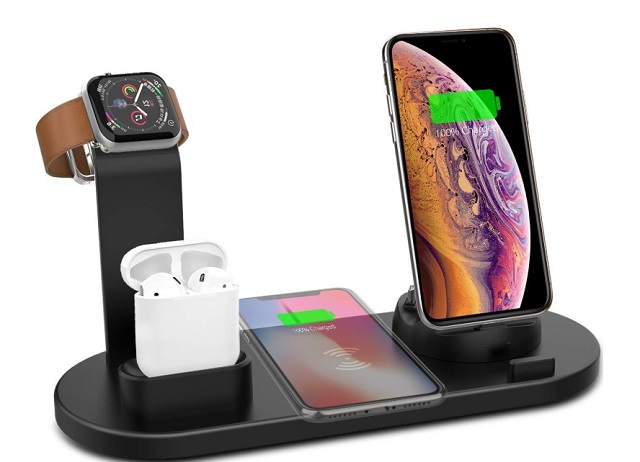 Buy from Amazon: $38.97
2. Bonai
How can you ignore an accessory that can deliver tons of battery life to your iPhones, making sure you don't have to run for power sockets time and again during long travel or a memorable holiday? With a huge 30000 mAh battery, Bonai is all you need to keep your devices charged up. The power bank is equipped with four ports and delivers reasonably good 5.6A output to charge your devices faster. The smart circuitry design plays a pivotal role in safeguarding your devices against dangers like overcharging and voltage instability. Design-wise, Bonai looks a bit sturdy, so you can expect it to take some beating.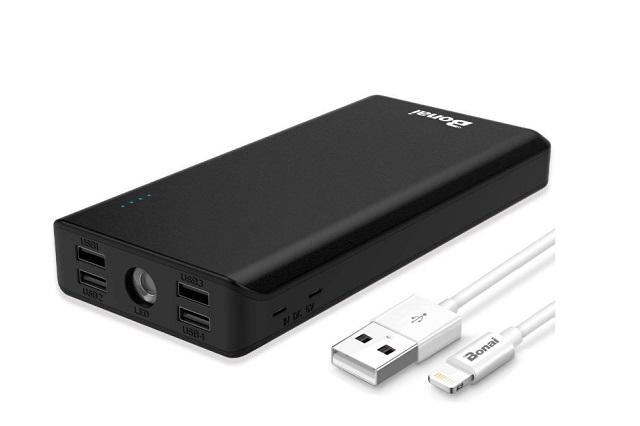 Buy from Amazon: $40.99
3. Anker PowerWave
Well-known for producing top-grade charging accessories, Anker's PowerWave is the most efficient wireless charger for the iPhone 11, 11 Pro, and Max. The PowerWave charges supported iPhones with 7.5W speed which may not be at par with the 10W speed with which it chargees compatible Android devices like Samsung's flagship devices, but the speed is up to the task. Another notable feature of this wireless charging stand is that you can place your iPhone both in portrait and landscape orientations depending on your convenience.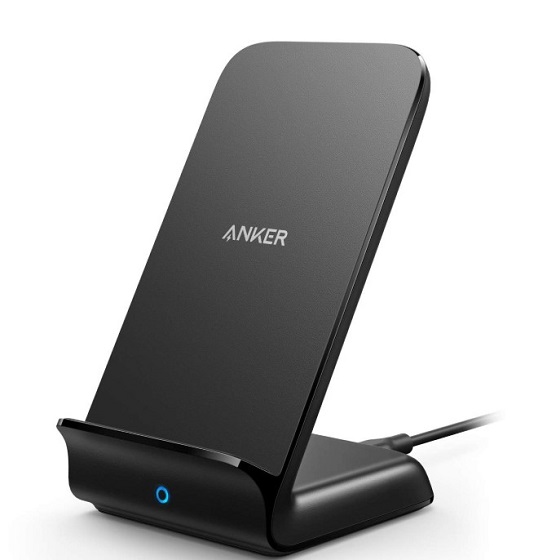 Buy from Amazon: $29.99
4. Gembonics
A compact and ultra-portable car charger like Gembonics comes to the play when you wish to quickly power up your iPhone while being on the drive. If you often have to take a long route for business or personal purposes, this secure car charger for iPhone 11 series can be a handy asset. With two USB ports, you can use it to charge not only the Lightning-equipped iPhones but also Android devices. Using smart IC tech, it also provides the needed shield against short-circuit and overcharging so that your devices stay secure while charging.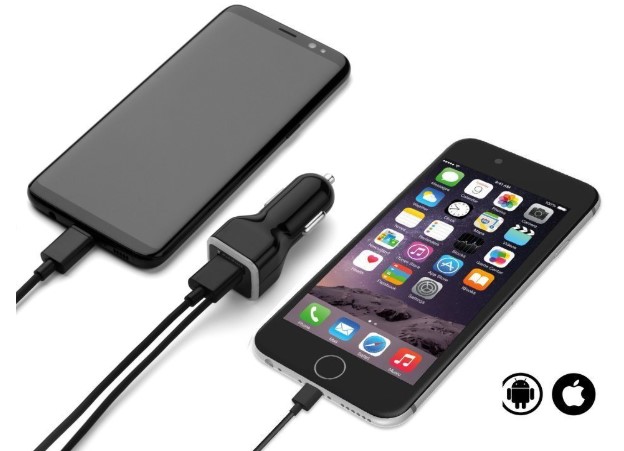 Buy from Amazon: $16.99
5. Humixx
Humixx is a modern wireless car charger that also doubles as a car mount. So, you have got two-in-one functionality seamlessly integrated into one device. You can use this Qi-enabled charger to power up your iPhones fast. The 360-degree rotation enables you to position your smartphone at any angle to have a more convenient viewing experience. Another notable feature worth mentioning is the one-hand operation that makes locking and removing the phone hassle-free.
Buy from Amazon: $32.99
6. JSAUX – 18W Charger and USB-C to Lightning Cable
Alas! What worth is the support for fast charging when you neither have the compatible USB-C port nor the required USB-C to Lightning cable and the fast charger? Even if they failed to make their latest iPhones USB-C equipped, the company should at least have packed in the same 18W charger and USB-C to Lightning cable with iPhone 11 that it offers in the iPhone 11 Pro and 11 Pro Max boxes. So disappointing, isn't it? But before you become sad, let me tell you that JSAUX has come with a pretty affordable solution. It offers a reliable 18W faster charger and durable USB-C to Lightning cable at just $28 (combined). They are equipped to let you turbocharge your iPhone 11.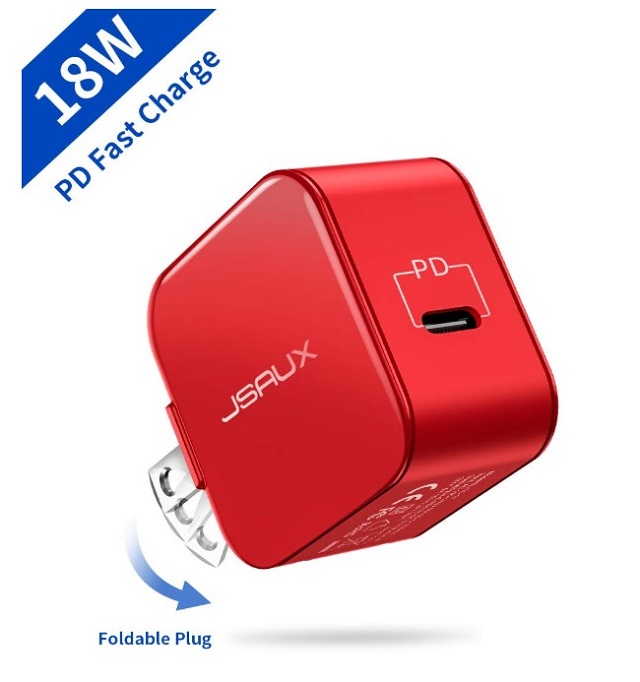 Buy from Amazon: Charger/cable is priced at $13.99 respectively 
SEE ALSO: 7 Best 10.2-inch iPad (7th Gen) Keyboard Cases You Can Buy
Choose the Best Accessories for Your iPhone 11, 11 Pro, and 11 Pro Max…
So, that concludes my lineup of the top accessories for the 2019 iPhone 11 series. I hope that you find my collection appreciable. But before you go on to pick out a few of them for your new smartphones, do not forget to share your thoughts about them. And of course about the ones that are missing. Also, share your feedback about Apple's new iPhones and what makes them worth buying. Drop anything and everything you want to say in the comments section below.