I get it. You have just put your hands on the 7th-gen iPad and are excited to try out everything it features. And why not; despite coming at just $329, the tablet has most of the basics covered. The biggest highlight of this budget-friendly iPad is the 10.2-inch Retina Display (2160 x 1620-pixel) that delivers the maximum brightness of 500 nits which is more than decent to live up to both media streaming and gaming demands. Considering the high screen repair cost, you better slap a durable screen guard on the screen before taking the tablet for a full run. And for that, look no further than this roster of the best 10.2-inch iPad screen protectors as they are fully equipped to safeguard the Retina Display not only from unexpected bumps but also from ugly scuffs.
Best iPad 10.2-inch Screen Guards You Can Buy
Giving protection and maximum clarity more priority, I have chosen only the top tempered glass screen protectors for 2019 iPad 10.2-inch. Aside from offering the industry standard 9H hardness, the screen guards also deliver up to 99.99 clarity. As for responsiveness, most of the below-mentioned screen defenders come with an additional coating to ward off fingerprints, smudge, and oil. As they are able to retain both transparency and sensitivity for long, they are ideal companions of the display. That all being said, let's explore the lineup!
1. amFilm
Whenever I have rounded up the top screen protectors for any tablets/smartphones (including iPad Mini 5), the one from amFilm has never failed to walk into the line. Well, that speaks volumes of the quality of the screen guards that this manufacturer produces.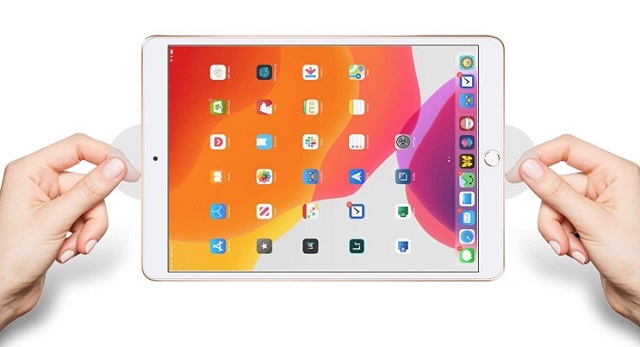 The tempered glass screen defender is scratch-proof and provides crystal clarity. It also has an additional coating to keep smudge and sweat away. Due mainly to the high sensitivity, it works pretty well with Apple Pencil. So, you can expect your creative time or note-taking to remain smooth-sailing.
Buy from Amazon: $7.99 (pack of 2)
2. Tech Armor
In terms of providing trusted protection from bumps or nasty scratches, this offering from Tech Armor is undoubtedly one of the best in the business. Made of high-grade ballistic glass, the screen guard is designed to resist impact. The company claims that the screen guard features six layers for enhanced protection.
There is also an anti-fingerprint coating so that the 10.2″ iPad screen continues to look pristine. As far as clarity is concerned, it is capable enough to deliver a reasonably good 99% clarity. With high touch sensitivity and responsiveness, it works pretty well with any digital pen including Apple Pencil.
Buy from Amazon: $14.95 (pack of 2)
3. Supershieldz
When you talk about the most notable screen guard makers, the name Supershieldz comes into the mind straight away. And rightly so as this accessory maker has produced top-quality screen guards for long. Even this time, it has come up with a highly protective tempered glass screen protector for 10.2″ iPad.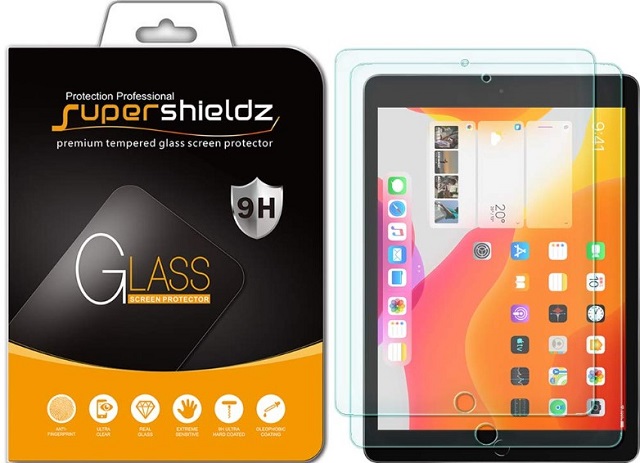 I like its curved design that plays a key role in offering full coverage to the entire Retina Display. It's bubble-free and comes with a hydrophobic and oleophobic coating to fight out fingerprints sternly so that they don't destroy clarity and responsiveness of the screen. Moreover, Supershieldz also offers a reliable lifetime replacement warranty. As far as pricing is concerned, the screen protector is available for $7.99 in three packs, which is a steal.
Buy from Amazon: $7.99 (pack of 3)
4. Yocktec
Yocktec's screen guard looks fully equipped to protect the 10.2-inch Retina Display. Whether it's 9H hardness or the additional coating to resist sweat and dust, the screen guard has got all the features to be a long-lasting protector of the screen. In terms of clarity, it's able to deliver maximum clarity of up to 99%.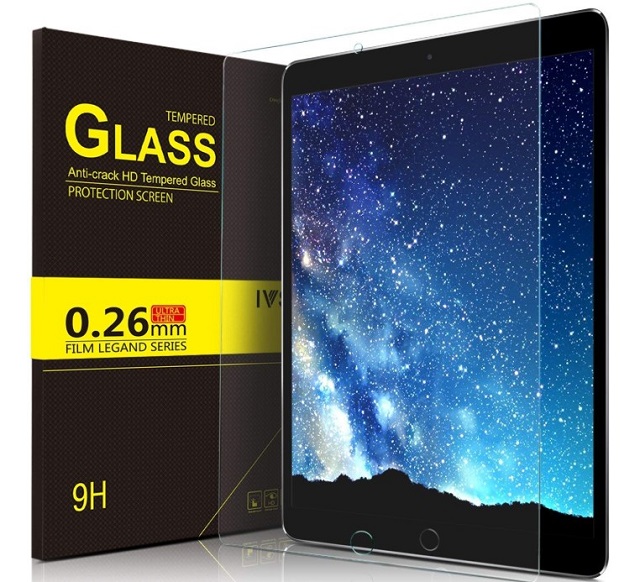 Another quality that makes Yocktec a notable option is the 2.5D rounded edges that assist the screen guard to get installed seamlessly on the entire screen. At 0.3mm thickness, it may be one of the thinnest screen protectors for 7th-gen iPad in the market but it's as protective as any durable screen defenders
Buy from Amazon: $5.50
5.
IVSO
In a cut-throat market, this offering from IVSO can hold the fort and even surpass many popular contenders. The best part about this screen guard is the maximum scratch resistance and true touch sensitivity. As someone who always prefers a more responsive screen protector to get the most out of Apple Pencil, I have found it up to the mark when it comes to responsiveness.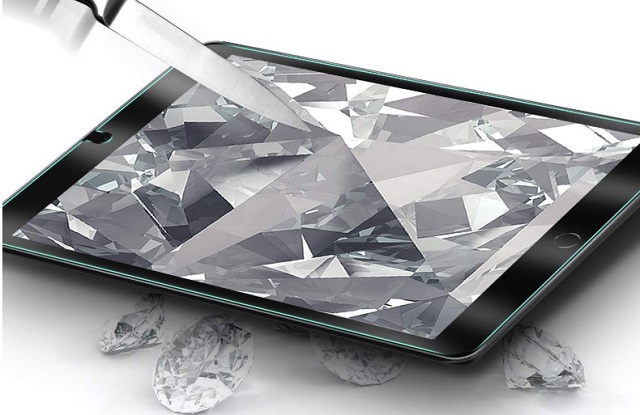 Another area where it has an edge over many other counterparts is the smudge-resistance. Unlike ordinary screen guards, it doesn't allow dust to build and also keeps sweat at a fair distance. Thus, the screen defender is able to offer better transparency for long. Priced under $6 and is available in two packs, IVSO is among the cheapest screen protectors for 10.2-inch iPad in the market.
Buy from Amazon: $5.95 (pack of 2)
6.
ELTD
Though not a well-known, ELTD has come up with a screen guard that can give strong competition to even the top offerings. And that's the reason why I thought it deserves to get included in the list.
Design-wise, it's laser-cut and comes with rounded edges. On the clarity aspect, it excels at delivering 99.99% transparency to enhance the viewing experience. Being oil and sweat-resistant, ELTD screen guard is able to keep both the clarity and sensitivity intact. As for the price, it comes at $6.99 and is available in a double pack, which makes it affordable.
Buy from Amazon: $6.99 (pack of 2)
7. Zshion
At the end of this roundup, I would like to put Zshion's screen guard that has looked promising to me. And I would like to mention three qualities that make it worth giving serious consideration. First and foremost, the screen guard is completely bubble-free which is great for painless installation experience.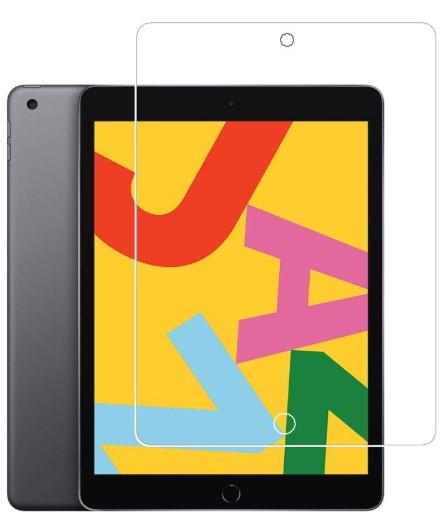 The second, it's case-friendly and offers full-coverage to the entire screen. So, whether you use sleek covers or go for classy folio suits for your 7th-gen iPad, the screen guard won't play a spoil-sport. And the third, it has also got an extra coating to thwart sweat, oil residue, and dirt. Lastly, the Zshion screen guard is priced at $9.99 that is comparatively a little high.
Buy from Amazon: $9.99 (pack of 2)
SEE ALSO: 10 Best Screen Protectors for iPad Air (2019) You Should Buy
Select the Top Screen Guards for iPad 10.2…
It's better to choose the needed protection upfront rather than repent later. A delicate thing like Retina Display must be given due safeguard without any compromise. Currently, Apple charges a whopping $249 to fix a broken 10.2-inch iPad screen (out of warranty). Knowing the high cost of repair, a dependable protector should always be there to guard the screen. That said, let me know your favorite screen guard for the 7th-gen iPad and the quality you like most in the same.