I get it. You have just put your hands on the 7th-gen iPad and are excited to try out everything it features. And why not; despite coming at just $329, the tablet has most of the basics covered. The biggest highlight is the 10.2-inch Retina Display (2160 x 1620-pixel) that delivers the maximum brightness of 500 nits. Considering the high screen repair cost, you better slap a durable screen guard on the screen before taking the tablet for a full run. And for that, look no further than this roster of the 10 best 10.2-inch iPad screen protectors as they are fully equipped to safeguard the Retina Display.
Best iPad 10.2-inch Screen Guards You Can Buy
Before exploring the roundup, it would be better to know a few important things that can help you buy a better screen guard for your iPad 2019.
Considerations When Choosing iPad Screen Protectors
While some screen guards are made of tempered glass, others are readied with PET film. The tempered glass screen protectors boast 9H hardness for additional safeguard against impact and scratches. The PET film screen guards offer better clarity and are more sensitive to the touch. Besides, it's also more suitable for Apple Pencil.
So, while choosing a screen guard, you should keep in mind durability, high clarity, and touch sensitivity. If you want to have better protection from shock and scuffs, a tempered glass screen guard would be an ideal choice. However, if your priority lies with high-clarity and true touch sensitivity, a PET film screen protector would be the right pick. That all being said, let's get started!
Quick Links
1. amFilm
Whenever I have rounded up the top screen protectors for any tablets/smartphones (including iPad Mini 5), the one from amFilm has never failed to walk into the line. Well, that speaks volumes of the quality of the screen guards that this manufacturer produces.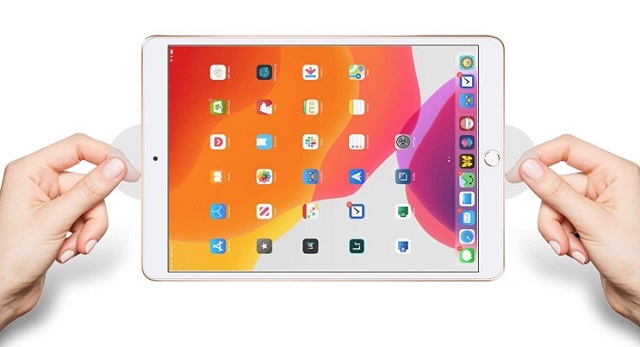 The tempered glass screen defender is scratch-proof and provides crystal clarity. It also has an additional coating to keep smudge and sweat away. Due mainly to the high sensitivity, it works pretty well with Apple Pencil. So, you can expect your creative time or note-taking to remain smooth-sailing.
Overall, amFilm screen protector is fully equipped to be a durable defender for the 10.2″ Retina Display of your iPad 2019.
Pros: 
High clarity
Touch-sensitive
Scratchproof
Cons:
Not completely bubble-free
Buy from Amazon: $10.99 (pack of 2)
2. Tech Armor
In terms of providing trusted protection from bumps or nasty scratches, this offering from Tech Armor is undoubtedly one of the best in the business.
Made of high-grade ballistic glass, the screen guard is designed to resist impact. The company claims that the screen guard features six layers for enhanced protection, which helps it stand out from many other counterparts.
There is also an anti-fingerprint coating so that the 10.2″ iPad screen continues to look pristine. As far as clarity is concerned, it is capable enough to deliver a reasonably good 99% clarity. With high touch sensitivity and responsiveness, Tech Armor works pretty well with any digital pen including Apple Pencil, which makes it a handy accessory for the iPad 7.
Pros:
Six layers of protection
Delivers 99% clarity
Anti-fingerprint coating
Cons:
Doesn't offer full-screen coverage
Buy from Amazon: $14.95 
3. Supershieldz
When you talk about the most notable screen guard makers, the name Supershieldz comes into the mind straight away. And rightly so as this accessory maker has produced top-quality screen guards for long. Even this time, it has come up with a highly protective tempered glass screen protector for 10.2″ iPad.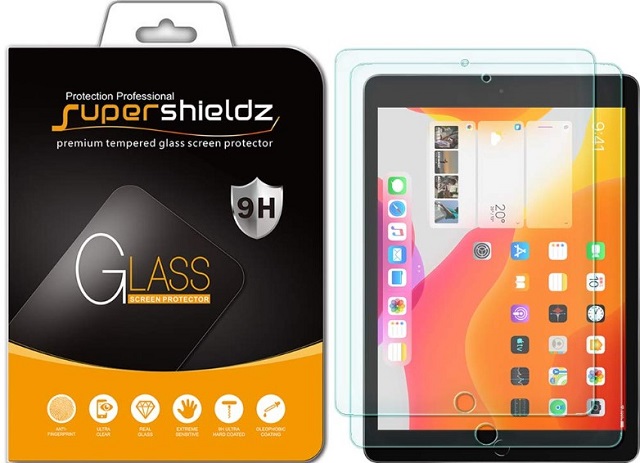 I like its curved design that plays a key role in offering full coverage to the entire Retina Display. It's bubble-free and comes with a hydrophobic and oleophobic coating to fight out fingerprints sternly so that they don't destroy clarity and responsiveness of the screen. Moreover, it also offers a reliable lifetime replacement warranty. As far as pricing is concerned, the screen protector is available for $6.99 in three packs, which is a steal.
Considering all the notable specs, Supershieldz is a reliable bet for safeguarding the 10.2″ Retina Display against scratches.
Pros: 
Curved design
Hydrophobic and oleophobic coating
Dust and smudge-free
Cons: 
Cutouts aren't precise enough
Buy from Amazon: $6.99 (pack of 3)
4.
IVSO
In a cut-throat market, this offering from IVSO can hold the fort and even surpass many popular contenders. The best part about this screen guard is the maximum scratch resistance and true touch sensitivity. As someone who always prefers a more responsive screen protector to get the most out of Apple Pencil, I have found it up to the mark when it comes to responsiveness.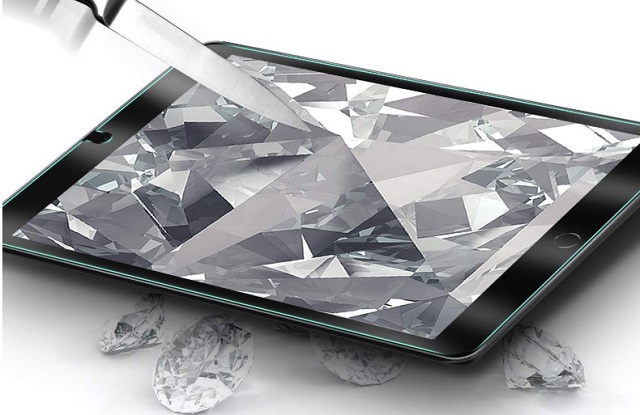 Another area where it has an edge over many other counterparts is the smudge-resistance. Unlike ordinary screen guards, it doesn't allow dust to build and also keeps sweat at a fair distance. Thus, the screen defender is able to offer better transparency for long.
Priced under $11 ( two-pack), IVSO is among the cheapest screen protectors for 10.2-inch iPad in the market right now.
Pros:
Provides high-clarity
Very responsive to the touch
Sweat resistance
Cons: 
The adhesion could be stronger
Buy from Amazon: $10.99 (pack of 2)
5.
ELTD
Though not a well-known company ELTD has come up with a screen guard that can give strong competition to even the top offerings. And that's the reason why I thought it deserves to get included in the list.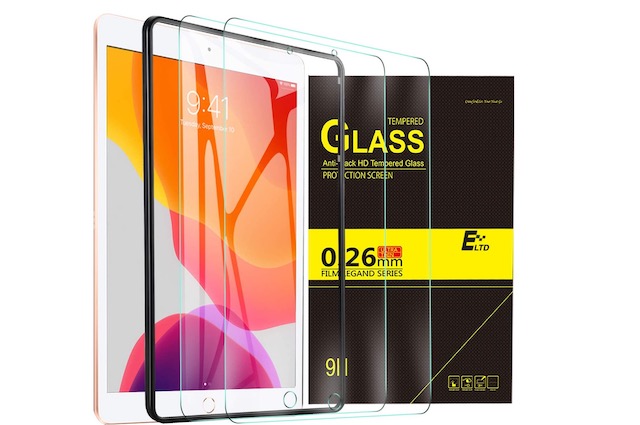 Design-wise, it's laser-cut and comes with rounded edges. On the clarity aspect, it excels at delivering 99.99% transparency to enhance the viewing experience. Being oil and sweat-resistant, ELTD screen guard is able to keep both the clarity and sensitivity intact. As for the price, it comes at $10.99 and is available in a double pack, which makes it affordable.
In a nutshell, ELTD is more than a decent protector for the touchscreen of your iPad 7.
Pros:
Laser-cut dimensions
Rounded edges
Delivers 99.99% transparency
Cons:
Smudge-resistance needs improvement
Buy from Amazon: $10.99 (pack of 2)
6. Zshion
At the end of this roundup, I would like to put Zshion's screen guard that has looked promising to me. And I would like to mention three qualities that make it worth giving serious consideration. First and foremost, the screen guard is completely bubble-free which is great for painless installation experience.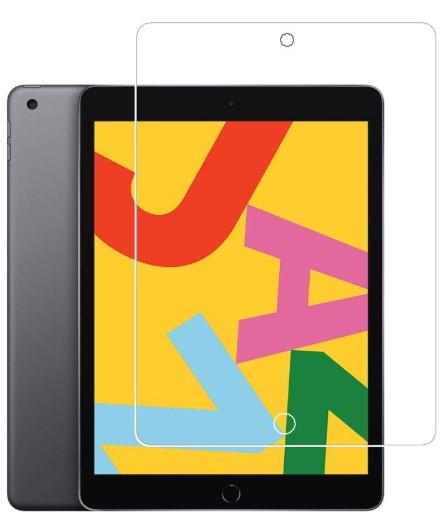 The second, it's case-friendly and offers full-coverage to the entire screen. So, whether you use sleek covers or go for classy folio suits for your 7th-gen iPad, the screen guard won't play a spoil-sport. And the third, it has also got an extra coating to thwart sweat, oil residue, and dirt.
Lastly, the Zshion screen guard for iPad 2019 is priced at $12.99 for a two-pack which is competitive.
Pros:
Bubble-free
Sweat-resistance
Case-friendly
Cons:
Fingerprint resistance is slightly below par
Buy from Amazon: $12.99 (pack of 2)
7. KCT
For those looking for a screen guard that can perfectly work with Apple Pencil, this offering from KCT appears to be a better choice.Made of paper-like PET film, the screen protector is pretty sensitive to the touch. With the paper-like texture, it makes dropping, writing, and sketching smooth-sailing.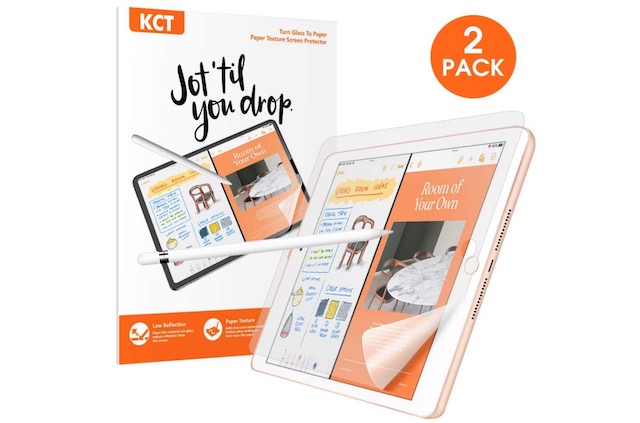 Furthermore, KCT screen guard features a matte surface that reduces glare to enhance your viewing experience. In terms of protection, it delivers 3H hardness to fight out scuffs. Though it can't endure impact, it's more than capable to keep scratches away. Keeping in mind these specs, KCT can safely claim to be one of the best screen protectors for iPad 7.
Pros: 
Paper-like texture
Matte surface
Very good at resisting fingerprints
Cons: 
Buy from Amazon: $13.99 (pack of 2)
8. Apiker
Another screen guard that packs a solid punch way above its weight is Apiker. The tempered glass screen protector features laser-cut dimensions and offers full-screen coverage to the 10.2″ Retina Display. As for protection from scratches and impact, it has got industry-standard hardness which enables it to endure both scuffs and bumps.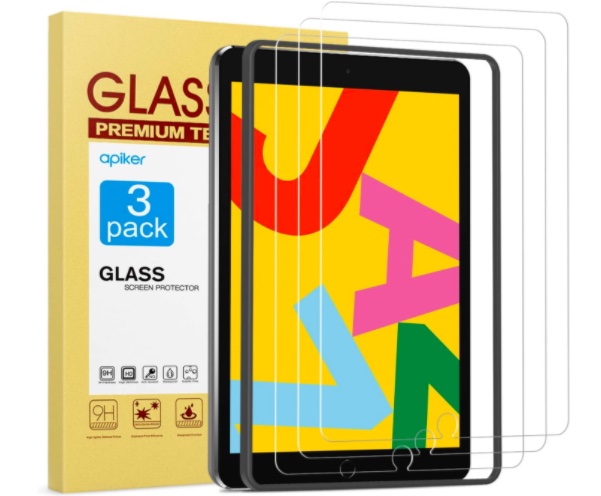 With 0.3mm thickness, Apiker screen guard is a bit slimmer. As for responsiveness, it's up to the task, allowing you to perform multitasking features with ease. Not just that, it's also quite good when it comes to working with Apple Pencil. Priced at $12, it comes in three-pack which puts in the affordable category.
Pros: 
Impact resistance
industry-standard hardness
Works well with Apple Pencil
Cons: 
Buy from Amazon: $11.99 (pack of 3)
9. JETech
JETech has long been a noted manufacturer of screen guards for smartphones and tablets. And this screen defender for iPad 7 looks in sync with its reputation. At 0.33mm thickness, it's comparatively thicker than many other counterparts. Being thick, it's slightly more equipped to fight out the challenges of impact.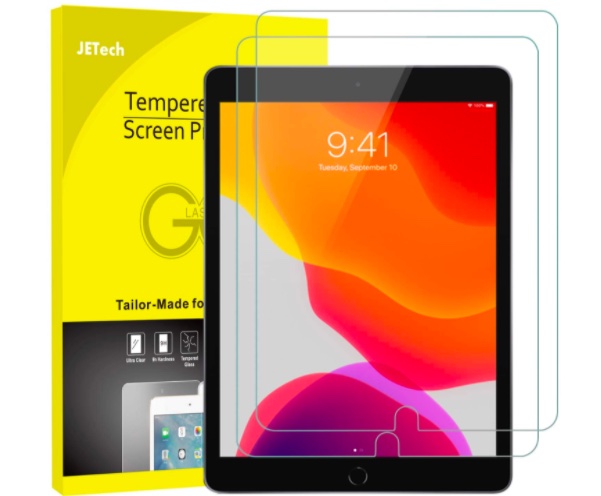 Beyond impact resistance, JETech sports rounded edges and delivers top-notch clarity. Thanks largely to the HD clarity, it can get the most out of 10.2″ Retina Display. Transparency aside, it's also up to the mark when it comes to touch sensitivity.
Not to mention, the JETech screen protector excels in preventing smudges and fingerprints from damaging the responsiveness and clarity.
Pros: 
Top-notch clarity
High-responsiveness
Rounded-edges for full-coverage
Cons: 
The adhesive is a bit weak
Buy from Amazon: $11.97 (pack of 2)
10. SPARIN
Rounding up this extensive lineup is SPARIN screen guard. Featuring neat cutouts, it fits precisely on the screen, ensuring there is no interference with the FaceTime camera and mic. With just 0.3mm thickness, it's also one of the thinnest screen protectors for iPad 7.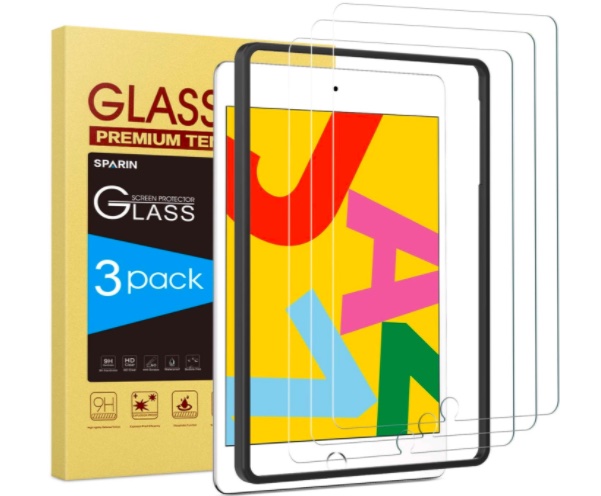 In spite of the thin construction, SPARIN screen protector is no pushover when it comes to withstanding shock thanks to the 9H hardness. Additionally, it also provides top-of-the-line transparency so that the Retina Display can continue to look pristine.
Lastly, the $12 price tag for three-pack makes it one of the cheapest screen protectors for iPad 7 in the market right now.
Pros: 
Neat cutouts for precise installation
Offers reliable scratch resistance
Industry-standard hardness
Cons: 
Oil-resistance could be better
Buy from Amazon: $11.98 (pack of 3)
Frequently Asked Questions
Does iPad 7 Need a Screen Protector?
Yes, an iPad 7 needs a screen protector to endure impact and resist scratches. Considering the high screen repair cost, it's always recommended to install a screen guard to ward off damage. After all, accidental falls and scratches are just the order of the day, aren't they?
Does Apple Recommend Screen Protectors for iPad?
It's understood. If you want the expensive Retina Display to remain protected from ugly scratches or accidental drops, a screen guard can be of great help. Consider this, if Apple didn't recommend screen protectors, why would it sell them on its own online store?
Does iPad Screen Scratch Easily?
The iPad screen is made of durable glass that can resist minor scratches. However, the screen can easily be scratched by objects like pens and keys. Besides, dropping the iPad can also cause damage to the screen.
Can Apple Pencil Work without a Screen Protector?
Yes, Apple Pencil can work with or without a screen protector.
Select the Top Screen Guards for Your iPad 10.2″
It's better to choose the needed protection upfront rather than repent later. A delicate thing like Retina Display must be given due safeguard without any compromise. Currently, Apple charges a whopping $249 to fix a broken 10.2-inch iPad screen (out of warranty).
Knowing the high cost of repair, a dependable protector should always be there to guard the screen. That said, let me know your favorite screen guard for the 7th-gen iPad and the quality you like most in the same. Besides, also check out our roundup of the best 10.2″ iPad keyboard cases if you prefer to use your tablet as a handy laptop.