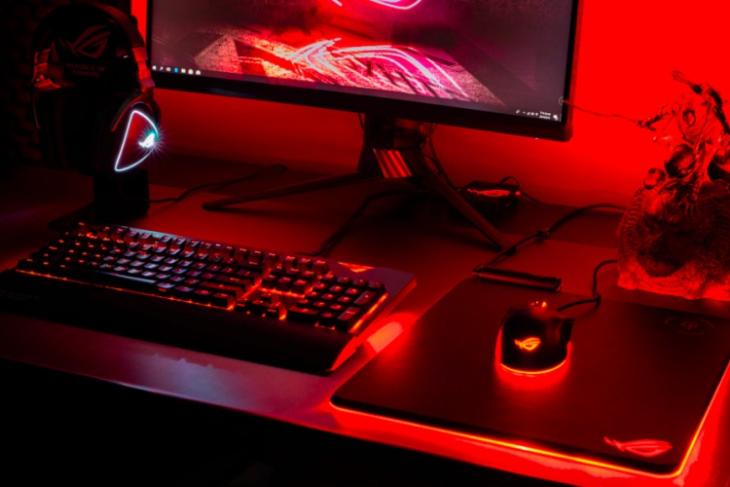 Alongside the launch of the Asus ROG Phone and gaming laptops, the Taiwanese giant has also unveiled many new attractive gaming accessories and peripherals at Computex 2018. This includes a Type-C headset, wireless gaming mouse, and a mouse surface with wireless charging functionality. So, let's take a closer look at each of them:
Asus ROG Delta Type-C Headset
First, Asus is expanding on its audio lineup with the release of ROG Delta Type-C headset, which has a lightweight design necessary for continuous gaming sessions.
As you can read, the highlight of this headset is that it includes a Type-C connector, which Asus says makes more sense as more and more devices come with this particular port. It also throws in a Type-A adapter for backward compatibility but the signature Aura Sync lighting on the headset has me captivated. You can personalize the glow and colors via a desktop app. LEDs on the microphone light up when the mic is muted, so you can easily see whether you're being heard.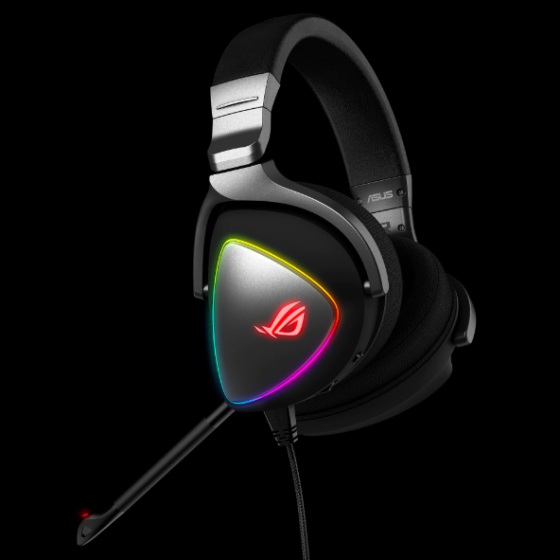 Asus promises an unmatched high-definition audio experience at up to 32 bits and 384kHz, thanks to the inclusion of not one but four DACs on the headset. The signal from these 4 DACs is combined to produces clearer sound with an impressive 127-dB SNR. It employs the same 50-mm Essence drivers that we've already seen on the Strix Fusion.
Asus ROG Gladius II Wireless Gaming Mouse
Asus also unveiled the ROG Gladius II which is an upgrade over the Gladius II Origin but with one major differentiating factor – this one's wireless. Asus appears to have cut the cord to provide gamers with flexibility and comfort.
The Gladius II wireless mouse connects to your desktop PC using Bluetooth or regular RF, where the latter is much better as it operates at 2.4GHz frequency with a range of up to 300 feet. You can, however, switch to a wired mode when charging the mouse over USB, so there are no hiccups in your gameplay.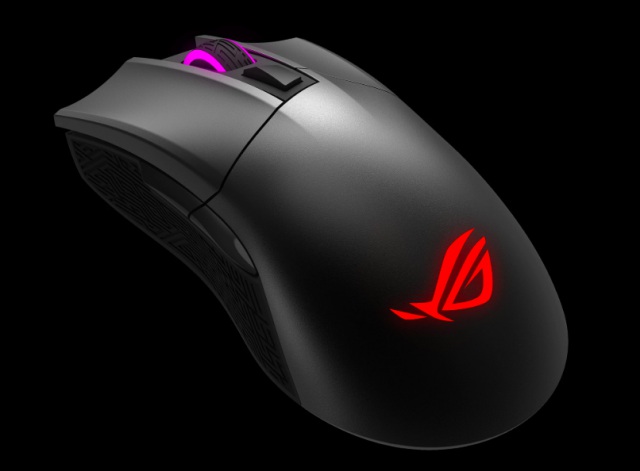 This new mouse has a 4th-gen Pixart PMW3390 optical sensor, which compensates for the lack of wires and extends the maximum DPI to a whopping 16,000. This will also enable you to get 24 hours of gameplay in one full charge but with Aura Sync RGB lighting, which is added in two zones – the scrolling wheel and the ROG logo, turned off.
Asus ROG Balteus Mouse Surfaces
Finally, you also need a mouse surface to place and use the expensive gaming mouse on. Asus has today unveiled 2 new ROG Balteus gaming-grade mouse surfaces, with its signature RGB lighting as well as Qi wireless charging.
These mouse surfaces are made out of hard plastic and extend 37cm in height and 32cm wide, so it is not only safe from dirt/ oil, but also provides gamers ample space to move the mouse around. The Balteus also has an anti-slip rubber base to hold it in place.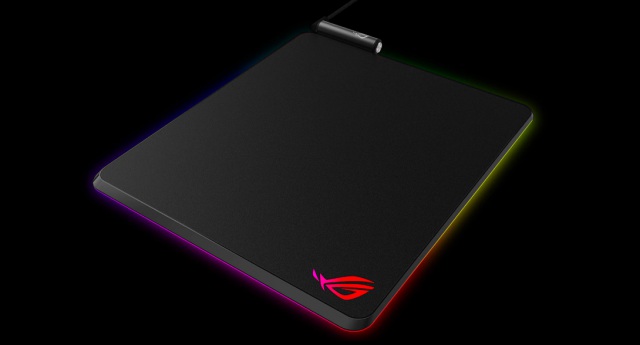 The added benefit comes in the form of Qi charging, which is included in one of the two variants, at the top-right corner that'll enable you to charge your phone wirelessly while you game. There's a handy light at the corner that indicates that the device is charging.
While the Asus ROG Delta Type-C Headset arrives in Summer, the ROG Gladius II Wireless Gaming Mouse can be found on shelves in Q3 later this year. There is currently no word on when the ROG Balteus Mouse Surface will arrive, plus we have no pricing available for any of these accessories.