We knew Asus was working on a new gaming phone under the Republic of Gamers (ROG) brand, and today the company has announced it officially on the first day of Computex 2018. The ROG Phone, as it's appropriately named, is powered by an overclocked Snapdragon 845 SoC coupled with 8GB RAM.
The device packs in a 6-inch 1080p AMOLED screen which supports HDR content, a 90Hz refresh rate, and 1ms response rate, which is a world-first according to Asus.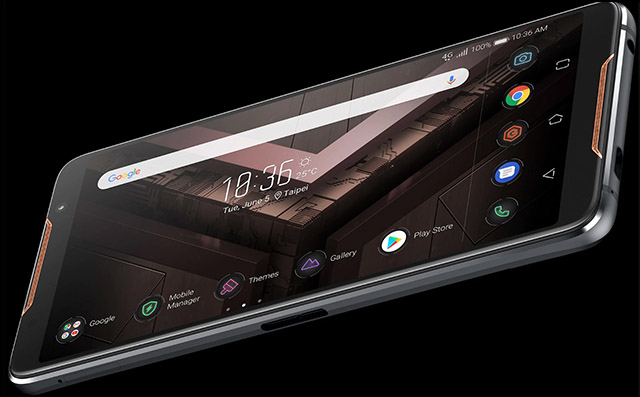 To maintain the best performance at maximum load, Asus has also packed in an upgraded cooling solution which according to the company will "help sustain peak gaming performance". If you still feel that the phone might get too hot during your long gaming sessions, the ROG Phone also comes with an AeroActive Cooler which clips onto the back and blows air over the phone to keep it cool.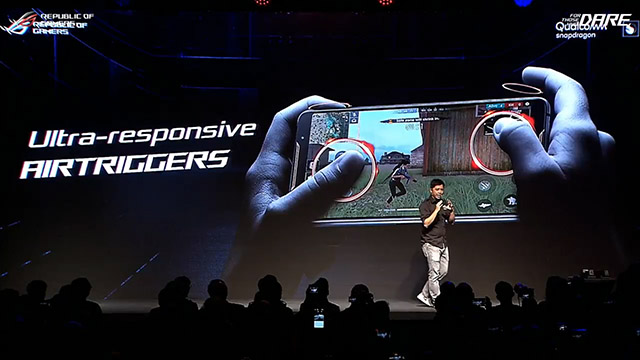 Ultrasonic AirTriggers
Asus has designed the phone in a way that it addresses most problems mobile gamers face in day-to-day life. The phone comes with ultrasonic AirTriggers which can be used within games in the landscape mode, so that your index fingers never go to waste while you're enjoying an intense game of PUBG.
Additionally, to add versatility for portrait mode users, there's an additional AirTrigger on the bottom left corner of the device. All AirTriggers can be customized to perform different functions, including in-game macros or non-gaming tasks like launching specific apps.
Stereo Haptic
The phone also features an advanced stereo haptic engine which provides detailed force feedback during games. Additionally, in order to prevent the awkward power and headphone cables jutting out into your palm while gaming, the phone also features a USB Type-C port on the right so that you can game while charging without affecting your grip.
In order to make sure you never run out of storage space, the Asus ROG Phone includes up to 512GB of UFS 2.1 storage. Much like the Razer phone, the ROG Phone also features dual front-facing speakers which make use of Smart Amp technology to produce more volume without distortion.
HyperCharge Adapter
The device also comes with a HyperCharge adapter which increases the power delivery to the phone up to 20W and lowers charging temperatures of the handset. With the HyperCharge adapter, users will be able to charge the 4,000mAh battery on the ROG Phone up to 60% in only 33 minutes and get to 85% charge in just over an hour.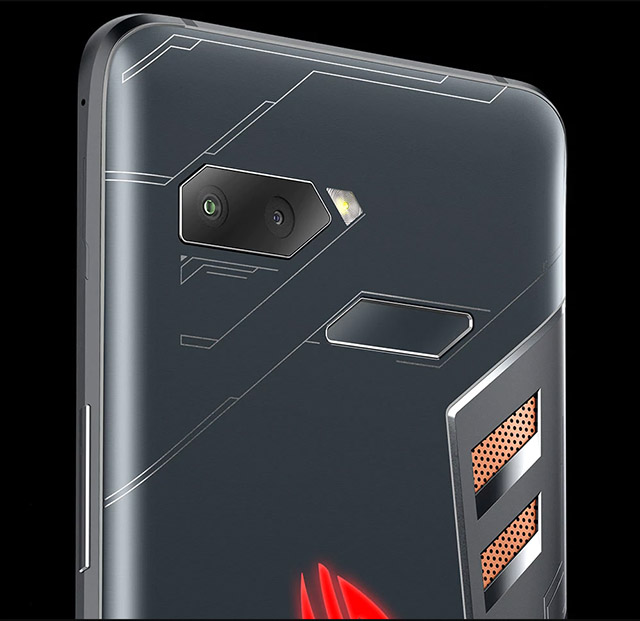 For imaging, the ROG Phone includes a dual-camera setup on the back with a 12MP primary sensor supported by an 8MP wide-angle lens with a 120-degree field of view. The device also features an oddly-shaped fingerprint reader on the back next to the camera setup, along with the illuminated ROG logo which can be completely customized with several lighting effects.
Along with the phone, Asus has launched a slew of accessories for the ROG Phone, including a desktop dock, a twin view dock with a second screen, WiGig dock to stream the phone's display to a second screen, and a third-party controlled in partnership with GameVice.
As of now, Asus has not revealed any pricing or launch details regarding the ROG Phone, but we expect to learn more from the company in the coming weeks.