Apple is reportedly gearing up to launch not one, but three different sized iPhone models this year, two of which will reportedly come with OLED panels, while the third low-cost variant will feature an LCD panel. And amidst all those reports, there are rumors galore about an iPhone SE 2 which might be launched just in time for summer.
Rumors aside, official sale registration documents filed by Apple have revealed the existence of several unreleased iPhone models which might see the light of the day soon.
The documents filed with the Eurasian Economic Commission(EEC) have revealed that the company has around 11 different iPhone models in the pipeline, all of which run iOS 11. Approval of the aforesaid documents is reportedly considered mandatory for OEMs that sell encrypted devices in Russia, which in Apple's case, happens to be the iPhones.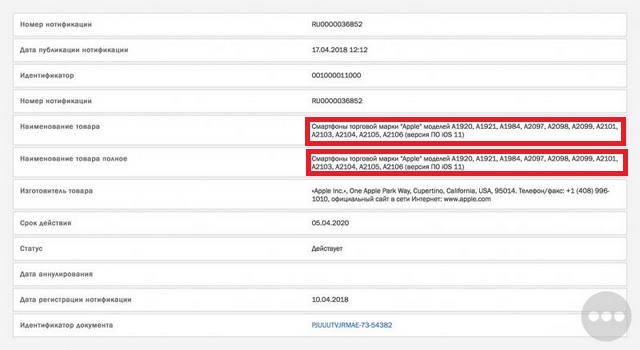 The 11 iPhone model numbers listed in the documents published by EEC are A1920, A1921, A1984, A2097, A2098, A2099, A2101, A2103, A2104, A2105, and A2106. But before you label the report as false by pointing at the huge number of iPhone models, do keep in mind that the EEC has earlier uncovered the existence of two unreleased iPad models, which were officially launched as the WiFi and cellular variants of the 9.7-inch iPad in late March. Moreover, multiple MacBook models were also spotted in EEC's database prior to their official unveiling at the WWDC 2017.
As for the smartphones, Apple is rumored to launch a 5.8-inch and a 6.5-inch iPhone model, both of which will come equipped with an OLED panel, while their budget-oriented sibling will feature a 6.1-inch Full Active LCD screen of Full HD+ resolution with an 18:9 aspect ratio.
The latter might also turn out to be the first-ever dual SIM iPhone. The iPhone SE 2 will likely be a 'Made in India' device that will pack a powerful hardware in a compact body. The 11 iPhone models have been registered for sale in Russia, Armenia, Belarus, Kazakhstan and Kyrgyzstan, but there are no details about an expected launch timeline.