The smart speaker ecosystem may currently be dominated by Amazon but Google is now catching up to it one smart device at a time. Last year, the Mountain View giant released Google Home to rival the Echo but the smaller Echo Dot had lacked any competition in the market. The tables have, however, now turned as Google debuted a smaller Google Home smart speaker at its 'Made By Google' event in San Francisco. Called Google Home Mini, this new pebble-shaped speaker is going to fiercely rival Amazon's top-selling Echo Dot which has been rapidly gaining presence in consumer's homes.
Since Google is now all geared up to capture a piece of the budget market, it is time to compare similarities and differences of the Home Mini and Echo Dot to discern which is better than the other. It'll help you make a better buying decision at the end of the day. Hence, let's take a quick look:
Build and Design
The Google Home Mini and Amazon Echo Dot don't exactly differ in size but their design and aesthetics vary greatly. The Home Mini adopts a pebble-like flat design whereas the Echo Dot falls in line with its elder brethren's circular pill shape. As for specifics, the Echo Dot is nearly 10mm smaller in diameter and height than the Home Mini's convex fabric top.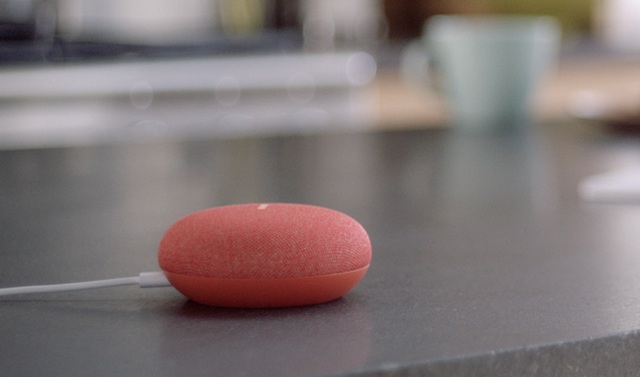 In the materials department, we're already familiar with the plasticky look and feel of the Echo Dot, which is no match for the fabricated beauty of the Home Mini. Google also boasted about developing this durable fabric, which enables light and sound to easily pass through, in-house. It took them over 157 tries to perfect the grey chalk colour.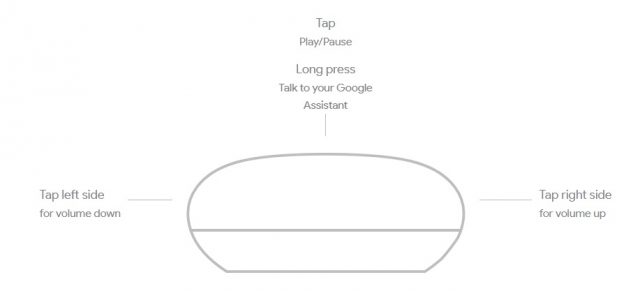 The simplistic design of the Google Home Mini is topped off by touch-based gestures that provide access to prominent controls, while Echo Dot still relies on labelled buttons included up-top. Google Home Mini includes only one physical switch, which mutes the microphone.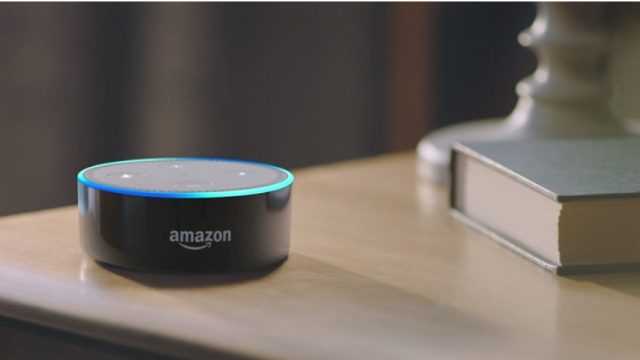 A single glance at the Google Home Mini reaffirms that it is the speaker that will add to the aesthetics of your house. It is so tiny, with its 4 LED lights tucked under the fabric, you would not even notice its presence on your bedstand. On the other hand, the Echo Dot makes its presence known with its familiar blue circular ring, making it stand out among the competitors.
Voice recognition
In terms of voice recognition, which is the most important task anyone will ever perform on these smart speakers, both use hands-free far-field recognition technology to listen to your commands. This technology enables the speakers to listen to the "wake-word" even from afar or during music playback.
The Echo Dot comes integrated with Amazon's 7-microphone array, which uses beam-forming technology and advanced noise cancellation to improve voice recognition. Whereas we currently have no knowledge of the number of microphones within Google Home Mini. It can possibly be a two-microphone setup similar to the original Google Home speaker.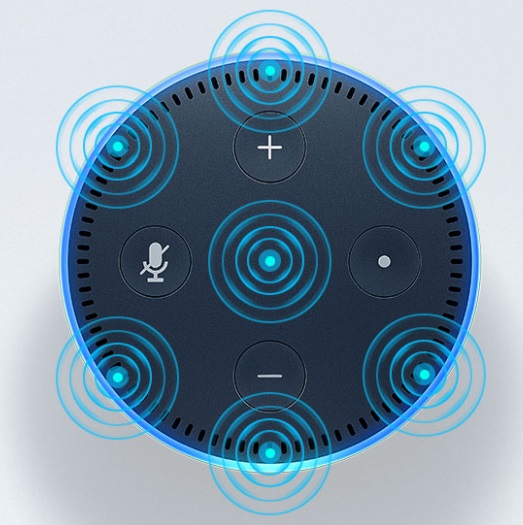 Also, Google Home Mini integrates 'Voice Match' technology, which enables the speaker to discern different members of a family from each other. This makes it possible for the smart speaker to access each individual's account to output the right answer. For example: If your dad asks for his reminders, Home Mini may tell his meetings schedule but the same query for your mom would result in the speaker telling her reminders, be it meetings or a grocery shopping trip.
Sound Quality
Amazon's Echo Dot includes a single 0.6-inch speaker, whereas Google provides a 360-degree sound experience which has been made possible with the larger 40 mm audio driver in the Home Mini. It suggests the Google Home Mini may be louder than the Echo Dot but there's no sure way to judge without listening to both in reality.
Seeing the size of the speakers, you can guess that they are not exactly meant for blasting music. They will, however, be at your beck and call to provide the assistance you require instantly. If you're looking for a loud smart speaker, it would be better to pick up the newly released Google Home Max once it goes on sale.
Connectivity
Keeping in line with its simplistic ideals for the Home Mini, Google has added only a single micro-USB port at the back of the smart speaker. Here, the Echo Dot takes lead with the inclusion of a 3.5mm headphone jack alongside the micro-USB charging port, meaning it can physically connect an external speaker to the Echo Dot but that's not possible with the Home Mini.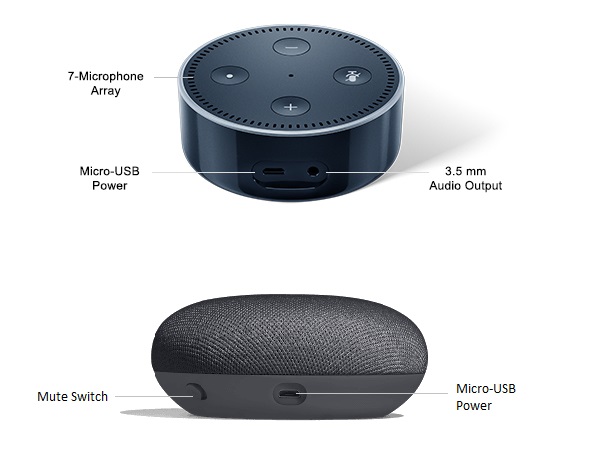 Both the smart speakers include support for Bluetooth and Wi-Fi connectivity. It enables you to stream audio from your smartphone to either of the smart speakers with ease. The Home Mini makes up for the lack of its 3.5mm headphone jack by allowing you to pair any Chromecast Audio-compatible wireless speakers to play music.
Smart capabilities
Even though y'all are familiar with Google Assistant's smart capabilities, it doesn't mean Amazon's Alexa voice assistant is any lacking. Alexa has been around for three years and established its brand in the fledgeling smart speaker ecosystem (has even made its way to smartphones).
The AI-enabled smart assistants loaded in these speakers each have their own perks. Both the smart speakers are capable of answering your curiosities, streaming music, helping you stay on top of your schedule, traffic conditions on the way to work, and most importantly — place phone calls using voice commands. Further, one should not have any doubts about Google Assistant's ability to instantly answer any query via Google's expansive knowledge graph.
Google Assistant's growing list of capabilities now also includes broadcast and family link features. The former enables you to send a common message to each Google Home device in your home whereas the latter allows the speaker to recognize kid's voices and only grant them access to nearly 50 activities suitable to their age. Alexa, on the other hand, has also managed to amass more than 15,000 third-party skills to provide additional functionality to Echo Dot users.
As for the smart speaker's abilities to help you manage smart home devices, the two are equally capable. You can control your home's temperature, lights, security cameras and more through voice commands on both the Google Home Mini and Echo Dot. It currently supports devices manufactured by Wemo, D-Link, LG, Honeywell, Nest and several others.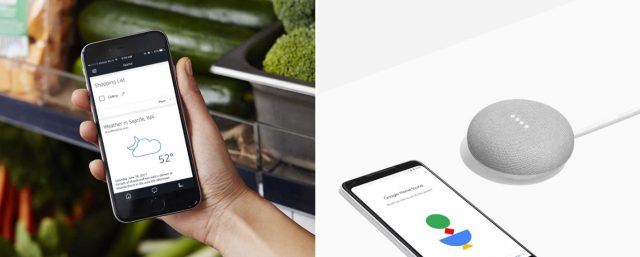 Both the smart home speakers also come with a companion smartphone app, on iOS and Android, which enable you to stay-in-charge of either the Echo Dot or Home Mini. You can use the Alexa or Google Home app respectively to also connect necessary services such as Spotify, Nest, Philips Hue and more.
Comparison: Tech Specifications
| Device | Google Home Mini | Amazon Echo Dot |
| --- | --- | --- |
|   |   |   |
| Diameter | 3.86 in (98 mm) | 3.30 in (84 mm) |
| Height | 1.65 in (42 mm) | 1.30 in (32 mm) |
| Weight | 6.10 oz (173 g) | 5.70 oz (163 g) |
| Processor | n/a | Texas Instruments DM3725 Digital Media Processor (according to teardown) |
| Microphone | far-filed voice recognition | beam-forming 7-microphone array |
| Speaker | 360-degree sound with 40mm driver | 0.6-inch (16mm) speaker |
| Connectivity (wired) | micro-USB port | micro-USB port, 3.5mm jack |
| Connectivity (wireless) | 802.11b/g/n/ac (2.4GHz/5Ghz) Wi-Fi, Bluetooth | 802.11b/g/n/ac (2.4GHz/5Ghz) Wi-Fi, Bluetooth |
| Software support | Android 4.2 and higher, iOS 9.1 and higher | Fire OS, Android, and iOS |
| Supported Audio formats | HE-AAC, LC-AAC+, MP3, Vorbis, WAV (LPCM), FLAC | AAC/MP4, MP3, HLS, PLS, M3U (FLAC and OGG may work) |
| Materials | Durable fabric top, plastic housing, non-skid silicone base | plastic housing |
| Colours | Charcoal, Chalk and Coral | Black, White (can buy coloured fabric cases) |
| Pricing | $49 | $49.99 |

Pricing and Availability
Amazon updated its original Echo Dot with better voice recognition and a smaller $49.99 price tag nearly a year ago. This persuaded more consumers to upgrade their homes with Alexa's voice assistance but Google seems to be on a mission to wreak havoc on Echo Dot's success with its mini Google Assistant-enabled speaker. It has even slyly priced the Home Mini speaker at $49 to face off with Amazon in this budget segment.
The competitive pricing is sure to divide the consumers between the two platforms, be it because of Alexa's skill bank or Google Assistant's smarts. The Echo Dot is available for purchase on Amazon in select countries, namely U.S, U.K, Germany and India, where Alexa's Voice Services has been launched. The Google Home Mini, on the other hand, will be available in seven countries (including Japan) starting October 19.
SEE ALSO: Top 10 Google Home Alternatives You Can Buy
Google Home Mini vs Amazon Echo Dot: Which Is Better After All?
Starting off with large smart speakers, technology giants are now diverting focus to smaller (but equally capable) speakers since they can be bought together and littered around the house. While a large smart speaker can be placed only at one location, having one smart speaker in each room reduces the need to shout commands. Personally, I'd pick the Google Home Mini because of its premium design, packing the smarts of Google Assistant, which is also capable of actively keeping up with conversations.
Now, it's your decision if you want to pick the Home Mini for Google Assistant's capabilities and its aesthetic beauty or get Amazon Alexa's skill-packed Echo Dot for yourself. Whatever you choose, let us know your thoughts in the comments section down below.