Android TVs are great. They put almost all the power and flexibility of the Android operating system into your TV, and now that Android TVs are becoming more and more mainstream, thanks to the likes of Mi TVs, iFFALCON TVs, Sony's Android TVs, Motorola TVs, Nokia TVs, and even TV boxes, like the Mi TV Box and the Nvidia Shield TV, it's just the perfect time to get an Android TV if you don't have one already. So, whether you are planning on buying a new Android TV, or if you already have one, one of the great things you can do is play Android games on it, so here are the best games you can play to pass some time when you're not busy watching Netflix, Prime Video, or using some of the best Android TV apps.
Top Android TV Games To Play (2023)
1. Asphalt 8: Airborne
Asphalt 8 is one of my all-time favorite mobile games. It is incredibly fun to play and even comes with a local (and online) multiplayer mode, which makes it even better. On the Android TV, the game is available on the Play Store and runs just fine on the Mi Box. True, the frame rate is not very smooth, but it's completely playable, for sure. You can connect a Bluetooth gamepad to your Android TV, and Asphalt automatically detects it and tells you the control scheme for your gamepad.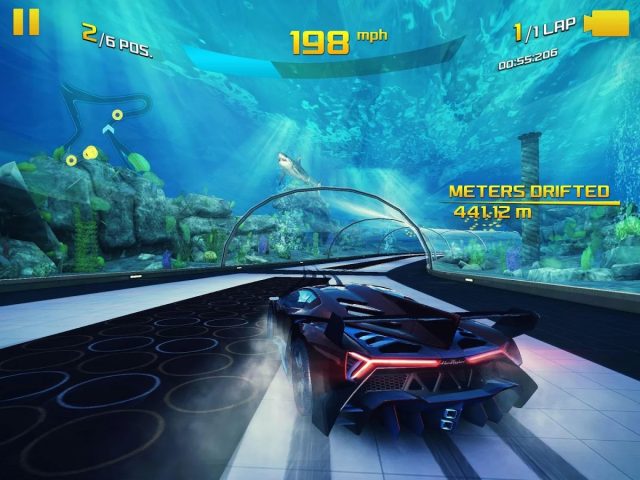 While it is possible to play the game with a controller that is provided with your TV box, it makes for a not-so-exciting gameplay. However, add a Bluetooth controller to the mix, and you will find yourself having a lot of fun racing on a giant screen in your living room.
Note: While Asphalt 9: Legends is available on Android, the game is still not compatible with Android TV.
Download (Free, with in-app purchases)
2. Crossy Road
Crossy Road is a fun game that will keep you hooked for hours at a time. The premise is simple – you just have to cross roads, while you avoid getting hit by traffic (which comes from both directions, on some streets). You also need to avoid going out of the screen, as the camera keeps panning forward, and you need to keep ahead of that. What makes this game so addictive, is possibly the fact that you feel like it's easy enough when it's not, and that it requires you to maintain a fast pace, right from the start. Making your way through traffic is hard enough, but the game quickly moves on to streams that you have to cross by stepping over logs and leaves.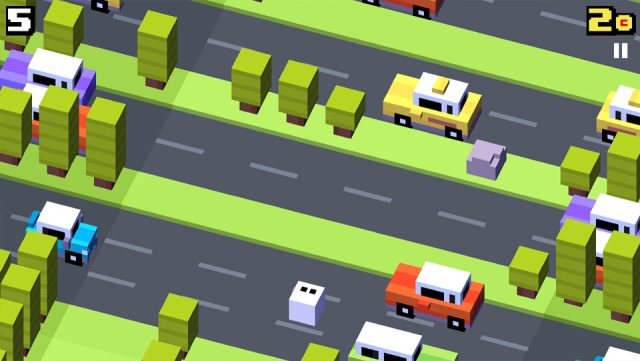 The graphic quality in the game is deliberately poor, but that is what adds to the overall charm of the game. Plus, the fast-paced movement, and the easy control scheme makes it a lot of fun to play. Do note that the game works better with the Android TV remote, rather than a gamepad.
Download (Free, with in-app purchases)
3. Dead Trigger 2
Dead Trigger 2 is a first-person survival game, set in a world torn apart by a global zombie apocalypse. If you are thinking this is yet another zombie apocalypse game, it kinda is. However, the "kind-of" open world maps and the graphic quality makes for an interesting game design. You can walk around the map, complete objectives, and a lot more. The game requires a gamepad to play, and you will have to set it up before you can get to playing the game. While the setup does take some time, I like the idea of customizing the controls when the game launches, so you know exactly how to go about playing the game, and completing the objectives handed to you.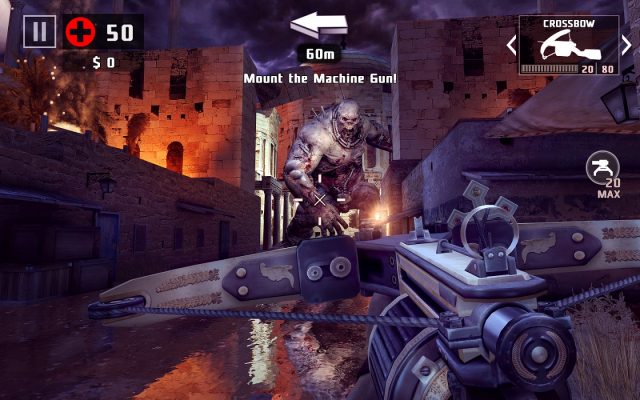 When the game starts off, you're in a post-apocalyptic world filled with zombies, and you are armed with just a melee weapon and a handgun. More weapons get unlocked later on and give you the option to play the game in a variety of different ways. This zombie game is updated often, adding more and more gameplay elements, to keep you interested, and absorbed in surviving in what can only be described as a hell-hole.
Download (Free, with in-app purchases)
4. Into the Dead
Into the Dead is another game that I really liked playing on my Android phone, and it was a pleasant surprise to see the game being just as much fun on a larger screen. Except, more interesting. Also, playing the game on a bigger screen give the visuals a much deeper perspective, bringing out the real horror in running along a field filled with zombies, and obstacles. The game is easily playable with a gamepad and tells you controls as you go along. Running is automatic, and all you have control over is turning left or right, to avoid the hoard of zombies (and obstacles like trees, and abandoned cars), as well as shooting from weapons that you can pick up from crates that are dropped randomly.
The game is basically an endless runner, and it gets progressively more difficult to play, as the distance increases. You will need to be quick with your reflexes, and turn at the exact moment to avoid colliding with a zombie, resulting in death.
Download (Free, with in-app purchases)
5. Orbia
Orbia is a pretty casual game that I have been playing on my Android smartphone, and the good news is that it also works perfectly on Android TV. The game is pretty simple. You just have to tap and dash to the next circle without hitting the enemies. While the game is simple, it does get pretty fast paced as the levels rise, and honestly, what truly makes the game exciting is minimal, vibrant visuals and the great soundtrack.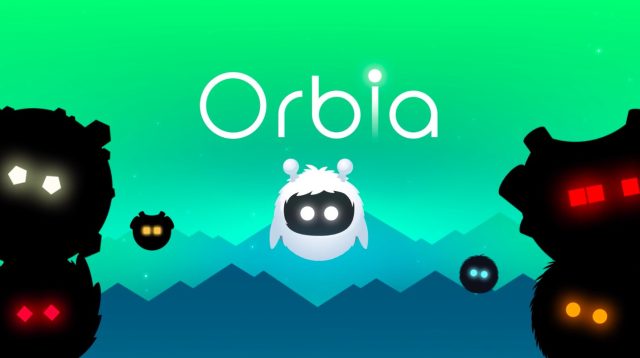 The game has a number of different worlds and characters that you can unlock as you go along. I played the game with the Android TV remote and it worked out fine, so even if you don't have a controller, you should be able to play Orbia without any hiccups.
Download (Free, with in-app purchases)
6. Hovercraft: Getaway
The Hovercraft series of games have become immensely popular over the years, and well, the latest iteration – Hovercraft: Getaway – is no exception. This is a combat-racing action game that's supremely fun. The game, obviously, lets you handle a hovercraft and you are on the run with the cops on your tail. All you need to do is evade the cop cruisers and destroy them with a range of different weapons. The game offers everything, be it guns, missiles, lasers, rockets, sniper cannons, and more. Plus, what makes the game fun is the fact that the police come in cruisers, hoverbikes, trucks, drones, tanks, and even helicopters.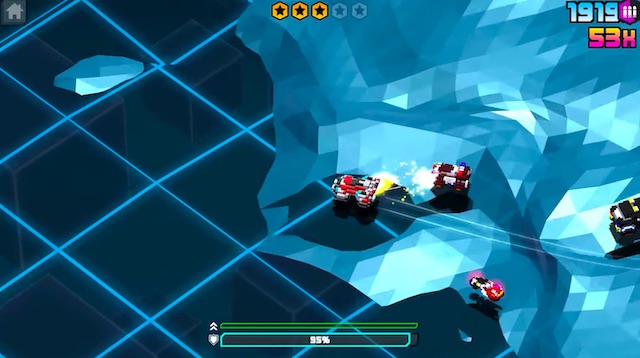 Hovercraft: Getaway is an extensive game and I like the fact that it lets you customize the hovercraft with different weapons and numerous upgrades. Plus, the visuals are really good and the physics-based combat system makes it a lot of fun. The game works with both a gamepad and the Android TV remote, so you shouldn't face any issues playing the game on your TV.
Download (Free, with in-app purchases)
7. Badland
Yet another fun game that you can play on Android TV is the critically acclaimed and widely loved game – Badland. The game has received over 1 million ratings and averages out at 4.5/5, which is nothing short of marvelous. On the TV, the minimal graphics look good, and the colors stand out well. You can play the game with a gamepad, or with the Android TV remote control, and it feels like other tap-to-fly games like Flappy Bird. Except, less annoying.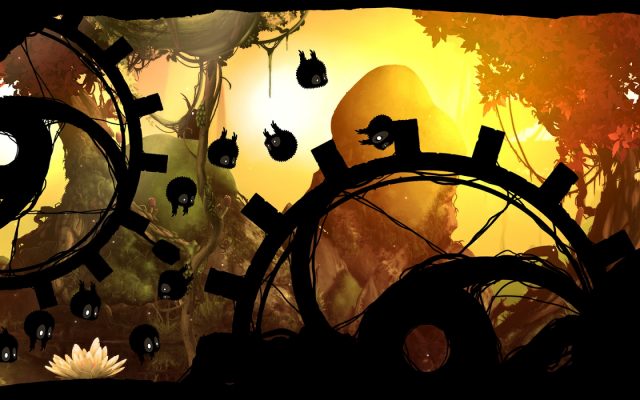 In Badland, you can hit walls and obstacles as much as you want, as long as you don't get stuck in them, which can then result in death. The objective is to cross the level while dodging obstacles, and collecting power-ups. Levels get progressively harder, and the game doesn't stop being interesting.
Download (Free, with in-app purchases)
8. Zombie Age 2
Zombie Age 2 is a fun, side-scrolling shooter game, with light graphics, and a funny take on killing zombies. The game starts off with teaching you the basic movement and shooting scheme that you'll follow. Then, you're quickly thrown into the field, expected to defend yourself with just a baseball bat, and a pistol. The first couple of levels are easy, and just when you start unlocking weapons and basically start feeling invincible, you'll be shoved into a level that seems almost impossible to complete.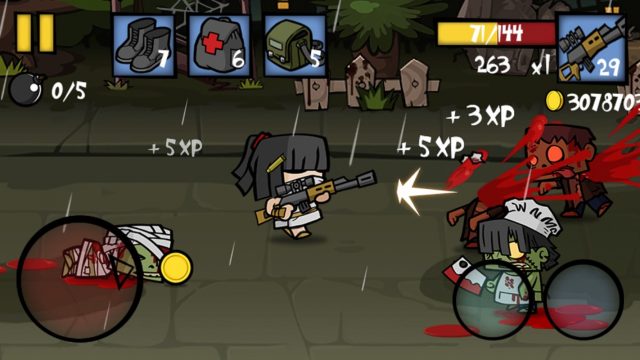 That's the fun part of this game, it challenges you in unexpected ways, and tries to (successfully) keep you on your feet, and keep your adrenaline pumping. The game is really quite fun to play, and if you like shooter games that don't take themselves too seriously, Zombie Age 2 is the perfect way to spend some time shooting and bashing zombies on your TV.
Download (Free, with in-app purchases)
9. BombSquad
BombSquad is one of those games that you can enjoy quite a lot with a keyboard, but not so much with a gamepad. However, if you happen to attach a keyboard to your Android TV, you will definitely fall in love with BombSquad. The game supports many different gameplay modes, including single-player/ co-op, or multi-player experience. The game is a lot of fun when played in multiplayer mode; all you need to do is connect two (or more) controllers to your Android TV, and you're all set to play with your friends.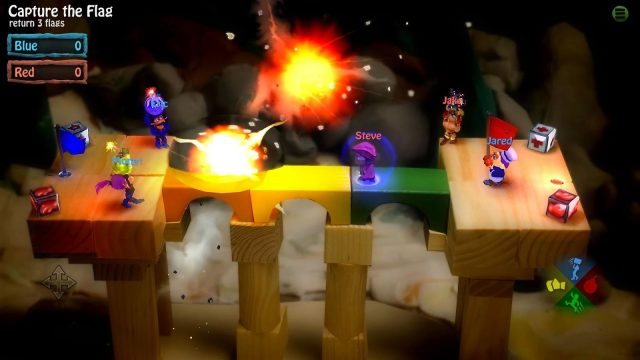 BombSquad has a number of great levels, and the sole aim of the game is to kill all your friends' characters. You can punch them, lift and throw them off the platform (effectively killing them), or chuck bombs at them. The game is a lot of fun, even in single-player mode, but playing with friends will bring out its true potential. You should definitely try it out with a couple of your friends.
Download (Free, with in-app purchases)
10. Beach Buggy Racing
If you're interested in racing games, Beach Buggy Racing is a great racing game that you can play on your Android TV. The best part about this game is that you can easily control the beach buggy that you're supposed to be racing. The control scheme is easy to understand, and the game does not use super accurate physics, which, to be honest, can be annoying on a casual game. The game starts off by teaching you how to race your car, and how to upgrade it… all the basics of the game. While racing, you can pick up various power-ups that provide you with different types of powers, including things like rockets to blast your opponents out of your way, boosts to speed past anyone in front of you, and a lot more.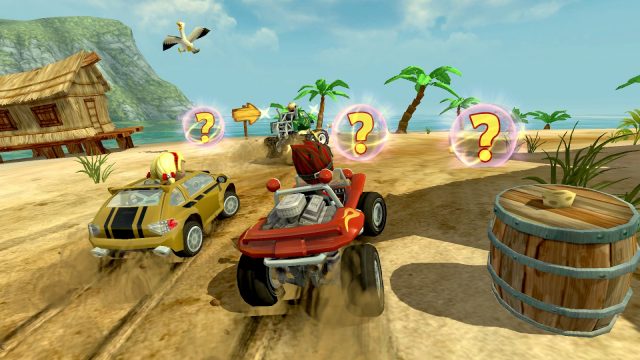 You can also get the shield, which basically protects you from rockets, and bombs fired by your opponents. The game itself is a lot of fun, partly because of the smooth gameplay, but also because it does not try to make itself too complicated, and keeps the controls, and the handling of the car, sweet and simple; something that I really love.
Download (Free, with in-app purchases)
11. Does Not Commute
Does Not Commute is a different type of game, and while it comes off as confusing to start with, the objective of the game becomes clear pretty soon. The game follows turn-by-turn stories of a number of different people, all of whom are heading somewhere or the other, and you have to ensure that they all get to their destinations, within the given time limit, while avoiding collisions with other cars.
From the start of the game, you will need to think about things like the shortest path to their destination, and then, as the game progresses, you will need to figure out the best paths for each one of them, so they don't end up colliding with each other, or with buildings and other obstacles.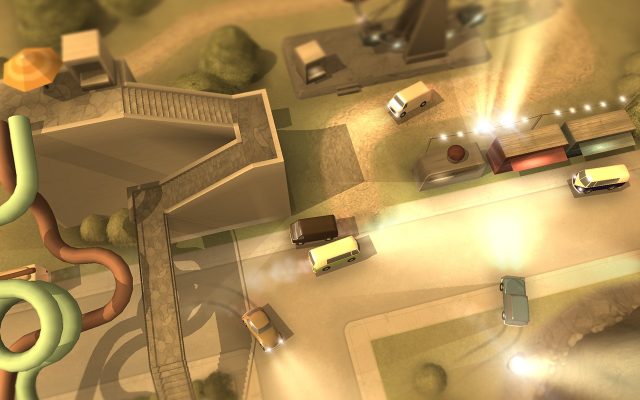 The game is fun, and the graphics are nice. The gameplay is fluid and definitely engrossing. There's something fun about reading the short descriptions of the people in the cars, and what they're doing. I would recommend this game, only when you have enough time on your hands, and enough energy to apply a little bit of thought to the game, to do it justice.
Download (Free, with in-app purchases)
12. Mars: Mars
Mars: Mars is a fun way to kill time on your Android TV. The objective of the game is not immediately clear, or clear at all even after I jumped over some 70 pads. Coming back to the game, you're an astronaut who has been sent to Mars, and for some reason, your sole purpose on the lonely red planet, is to jump from pad to pad, using the thrusters in your spacesuit to manage your flight, and land slowly, without unscheduled disassembly of your suit, and by extension, you.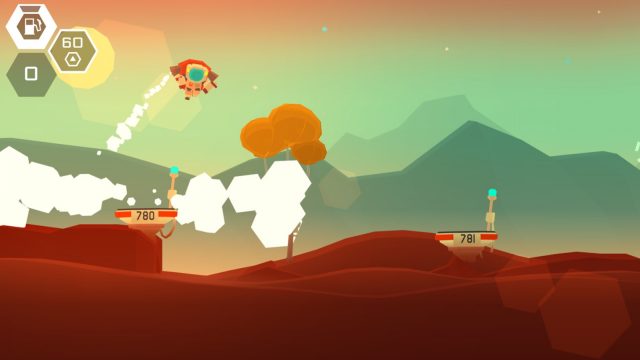 For some reason, the game is extremely addictive, and you will probably end up playing it (like me) for a long time, just waiting to see what happens next. The game does put up quite a number of challenges, and there's always something or the other that will keep you wanting to continue playing.
Download (Free, with in-app purchases)
13. Leo's Fortune
Leo's Fortune is a fun platformer game that will keep you engrossed. Thanks to the extremely well-designed levels, fluid gameplay, and the "easy to understand, hard to master" controls, the game will definitely have you hooked. In Leo's Fortune, you play the role of Leopold: a moustached fluff-ball, out to hunt the thief who stole its fortune. The levels are generally easy, interspersed with some difficult moments that'll definitely take you a couple of tries to get past.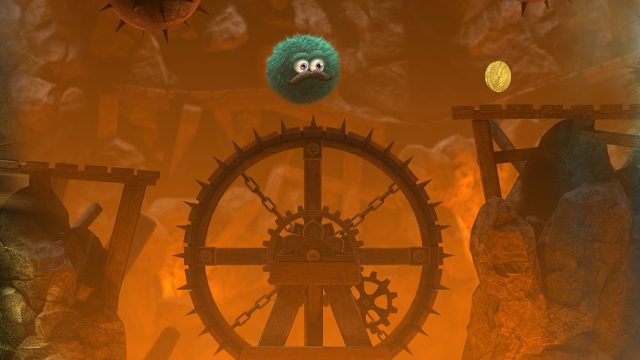 There are almost 24 levels in the game, plus some bonus levels, so the game will definitely keep you hooked for quite some time. Plus, you can play this game with a controller, or using the Android TV remote control, thanks to the easy control scheme.
Download ($4.99)
14. Fast Like a Fox
Fast Like a Fox is a level-based, side-runner game that will keep you entertained for hours. In the game, someone has stolen all the foxes' treasures, and it is your responsibility to find and return them all. But that's not all, you have to be as fast as you can. Playing the game itself is easy, you simply press and hold the running button on your gamepad, and the fox increases its speed over time. You can press the jump button to jump over obstacles, and chasms, or to collect coins, and gems that are hanging above in the air.
However, running is not everything in the game; you're actually supposed to slow down at the perfect time to be able to collect every single piece of treasure on the level. At the end of each level is a diamond, that you have to touch (or pass through, if you're running too fast). However, funnily enough, if you're too fast, and you happen to jump over the diamond, the level doesn't get over, and you have to restart from a little ways back. All in all, though, the game is quite a decent one to kill some time, while enjoying the Material Design-oriented graphics, and soft color schemes that the game follows.
Download (Free, with in-app purchases)
15. Sky Force Anniversary
I am sure you have played Sky Force. Sky Force is one of the classic mobile games out there and the 10th anniversary version of the game celebrates that. The game brings a scrolling shooter experience where you control a plane and you just need to blast your enemies, collect power-ups and stars, and save people stuck on islands. This is a game I have always enjoyed playing, and the Anniversary Edition brings better graphics and more powerful upgrades, which make blasting the enemies a lot of fun.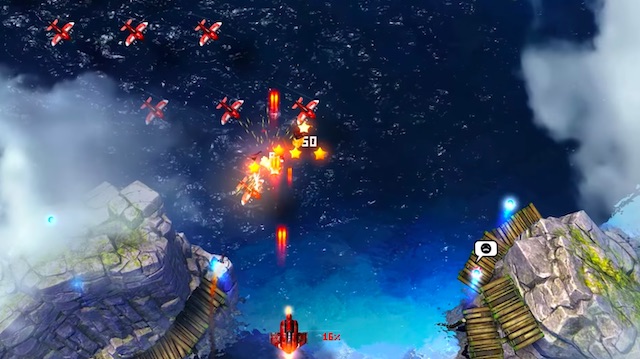 The game works with the Android TV remote although I'd suggest you play it with a gamepad, because while the remote experience is okay-ish, it's not very intuitive, as you have to use the D-pad to control the plane while pressing the select button to shoot and there's no option to enable continuous shooting, which is a little weird. Having said that, you should try out the game on your TV because of the nostalgia factor and the fact that even with its problems, it can be fun to play.
Download (Free, with in-app purchases)
16. GTA: Liberty City Stories
Do I even need to explain about the GTA series of games? I mean, even the most casual gamer would have heard about GTA, and the GTA: Liberty City Stories brings all its fun to your Android TV. While the game keeps all its original flair, its gameplay has been streamlined to make it better for Android TV. You play as Toni Cipriani who is the former trusted wise guy for the Leone family. You have been in hiding after killing a made man and now you return to see the streets of Liberty City in turmoil, as warring families vie for control and the town begins to self-destruct.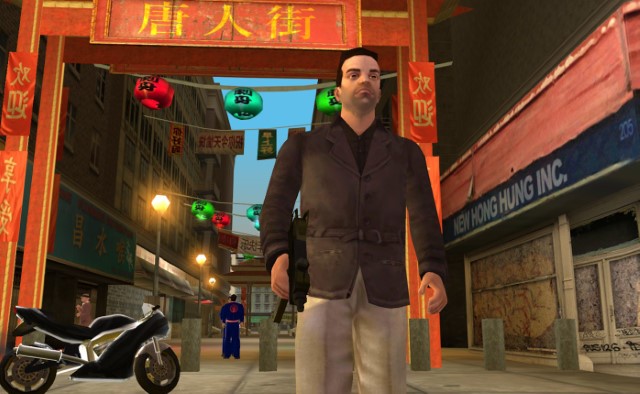 Your aim is to bring the city back in control of the Leone family so that peace and organized crime can be maintained. You will have to come over politicians, mob bosses, business tycoons, and more to achieve your goals. GTA: Liberty City Stories is an excellent game and something you will enjoy playing with a physical controller. If you are a fan of GTA or wanted to play it but never could, this is the game that you don't want to miss.
Download: $6.99
17. Bridge Constructor Portal
The new Bridge Constructor game is a collaboration of the popular Bridge Constructor game series with Valve's Portal games and well, this simulation and puzzle game is pretty apt for TV. In the game, you are an employee of the Aperture Industries, and you need to work with the AI assistant GLaDOS to create bridges to get trucks from one location to the other. Portal's elements in the game do add a different dimension. This means you can use different Portal gadgets like portals, propulsion gel, aerial faith plates, etc. to cross barriers and solve puzzles.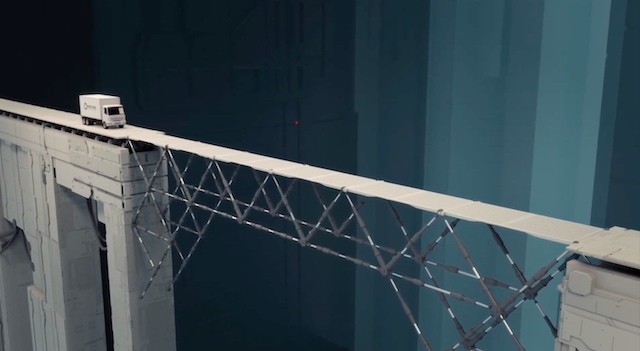 The is a paid game, as has been every other Bridge Constructor game out there, but trust me when I say it's worth it. The game is playable with the Android TV remote and it works with a gamepad as well, so no problems there. And if you own a TV box like Nvidia Shield, the game works fine with them as well, so check it out.
Download ($9.99)
18. Dan The Man: Action Platformer
Dan The Man is an action platformer that looks and feels a lot like Super Mario. The gameplay is very similar, and even the way the game progresses is quite like Mario. Personally, I liked playing the game, even though the music was not really in keeping with the tone of the game. Just like in Super Mario, you have to make your way through a number of obstacles, and defeat easy enemies to get across the level. There are also a number of urns placed all over the level, which can be broken by punching and kicking, to get coins, or (sometimes) weapons, and ammo.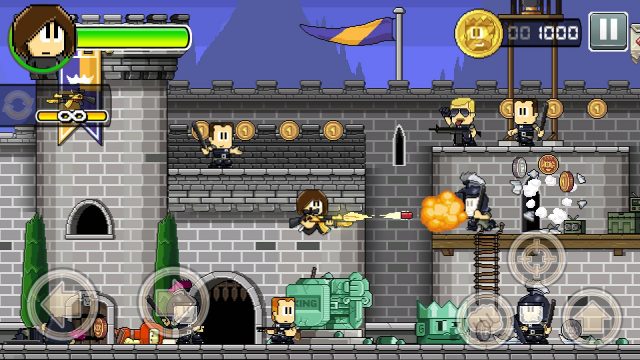 There are a number of different weapons that the game has; I only played the game for a little while, and I was able to get my hands on some ninja stars, throwing knives, and even a machine gun. It's super cool, and you should definitely try it out.
Download (Free, with in-app purchases)
19. Star Wars: KOTOR
Star Wars games have always been fun and what makes Star Wars: Knights of the Old Republic truly fun is the fact that it's not a game that's been slimmed down or compressed to work better on Android, which means you get the complete visual experience. The game takes place four thousand years before the rise of the Galactic Empire and at a time when hundreds of Jedi Knights have fallen against the Sith. Now, you play a Jedi that is the last hope of the Order. You have to master the Force, resist the temptation of joining the Dark Side, and save the Galaxy.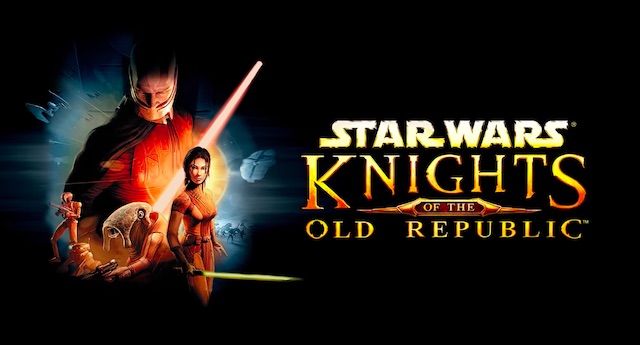 Along with the interesting storyline, the game is extensive and detailed. You can customize things with different characters, vehicles, your very own team, the different planets, and more. You can use the Force in 40 different ways and make your own lightsaber. The game is designed for touchscreen gameplay, so I wouldn't recommend you to play with the Android TV remote but ya, if you have a gamepad, that would be the way to go.
Download ($9.99)
20. Final Fantasy IX
Final Fantasy is one of those games that needs no introduction. If you are interested to play the popular RPG game on a big screen, look no further, Final Fantasy IX is here to the rescue. Ported from its console counterpart, Final Fantasy IX is ideal for anyone who wants the immersive experience that an RPG game offers from the comfort of their couch. In case you are not a huge fan of Final Fantasy IX, you could try other variants of the game too.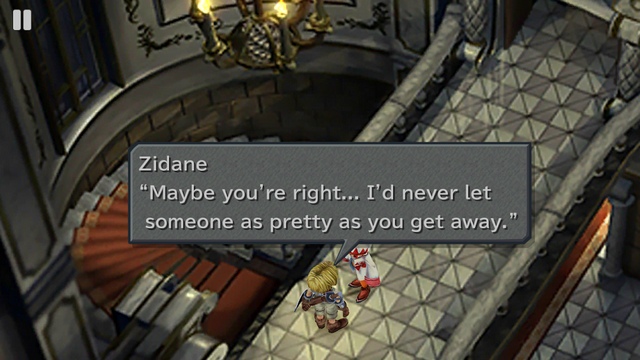 Final Fantasy IX offers the classic Final Fantasy experience that the franchise fans are used to. The game takes up around 3.2GB of space, so make sure you have the free space required to play the game. Having said all that, the game is on the pricier side of things. At $20.99, it's costlier than other RPG games out there. Looking at the bright side, however, it's a one-time purchase and you don't have additional in-app fees or purchases.
Download ($20.99)
21. Ultimate Soccer – Football
Although you can't play FIFA on Android TV, we have added one football game for all the fans out there. Dubbed Ultimate Soccer, the game offers league matches, friendly matches, world cups, and more. You can choose from over 1,000 players and set your own lineup, tactics, and formations.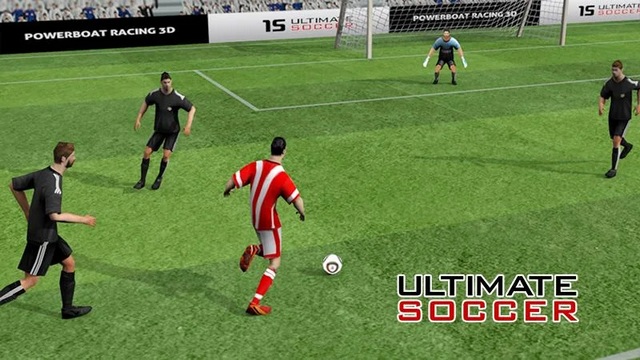 You will need a controller to play Ultimate Soccer. The game is available as a free download on Play Store. With over 50,000,000 downloads, it's one of the leading soccer games available in the store. If you are someone who likes football games, give Ultimate Soccer a shot.
Download (Free)
22. Digger Dan & the Mine of Doom
As the name suggests, Digger Dan & the Mine of Doom involves a lot of digging. The objective of the game is to collect as many gems as possible from the mine without running into the existing dwellers. You can also use the dynamite treasure chests to eliminate nearby dwellers.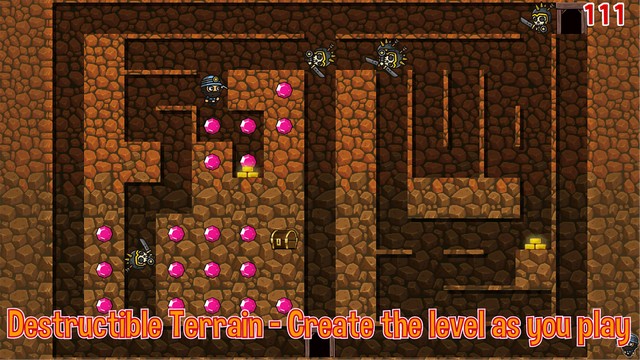 Notably, you can play the game with up to 3 players, making it a casual low-effort game to unwind and have fun. If that sounds like something you're interested in, check out the game from the link below and try it out on your Android TV!
Download (Free)
23. Real Racing 3
Those looking to play a racing game on their Android TV should definitely check out Real Racing 3. Published by Electronic Arts, the game features over 200 real world cars that you can race. Even the locations you'll find yourself racing in include 18-real world places, with 12 officially-licensed tracks. You can race street cars, exotic sports cars and super cars from brands like Lamborghini, Porsche and more, and you can even take part in F1 races.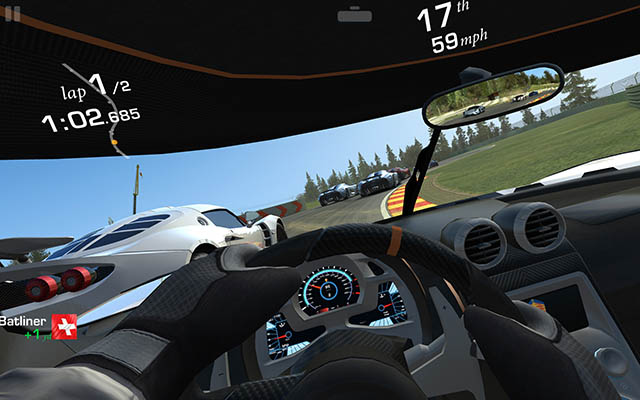 Fans of car racing and racing games will really enjoy Real Racing 3 on the large screen of their Android TV, so you should definitely check it out.
Download (Free)
These Are the Best Games for Android TV
There are a lot of games that you can play on your Android TV. However, these are the best games for Android TV that I would personally recommend. These games range from genres like puzzles, adventures, and racing. So, no matter what kind of game you are interested in, chances are that you will find a game to your liking on this list. As always, I would like to know your favorite game on Android TV. Also, if you know of any other Android TV game that you think deserves to be on this list, let me know in the comments section below.
---
Load More