You must've heard of Android Go, right? That Android variant meant for entry-level Android smartphones? Well, Google, in preparation for Android Go has been releasing a number of Go apps that are supposed to be lighter on the resources and also use fewer data to work flawlessly on smartphones that are priced at like $50 to $80. Well, we decided to check out whether Android Go apps actually do what Google says they do. So, we installed the Android Go apps on our phones and compared them to the regular Google apps to see what's the difference.
1. Google Go vs Google
First off, I tried the Google Go app, which is supposed to be much lighter on the system while offering the most useful features from the regular Google app. The app is clearly designed to look simple and has features like voice search, maps, GIFS and even google translate. All that for an installed app size of just around 12MB! In comparison, the regular Google app occupies around 166MB. That's insane. Sure, Google Go doesn't have features like the Google Feed, but that's really okay considering the space you're saving, and a lot of people anyway don't really use the Google Feed.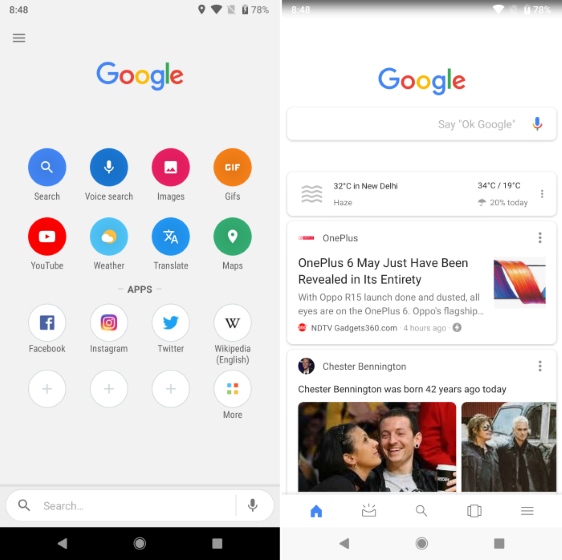 Apart from that, Google Go pretty much has every feature that you would expect in the Google App. Not just that, Google Go uses way less RAM than the Google App does. In my tests, I found Google Go used about 61MB of RAM on average, while the Google App used a whopping 250MB! I tested the RAM usage using ADB, so you can count on the results to be pretty accurate.
2. Google Maps Go vs Google Maps
After Google Go, I moved on to Maps Go, an app that struck me as especially interesting because the APK was just 0.09MB in size. Just let that sink in a bit. For comparison, the regular maps app is a massive 48MB… It's not massive, but as compared to the Maps Go, well.. you get my point right? The Maps Go app offers a lot of the features from the regular Maps app, including real-time location sharing! What? That's insane, ok? I mean, Maps Go takes up just 221KB after installing as compared to Maps which takes up 135 megabytes!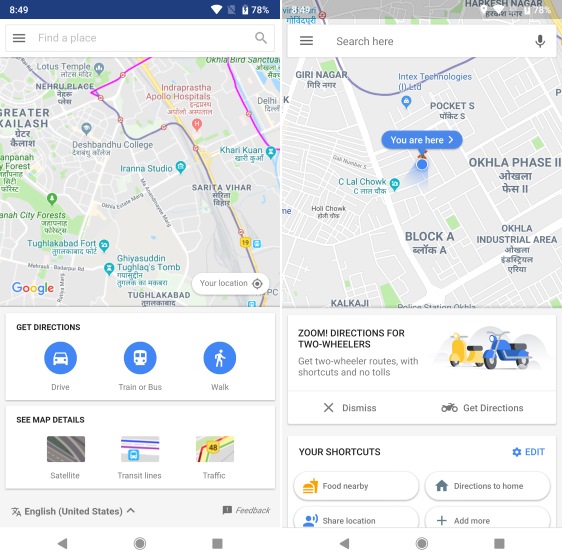 However, that insanely small size comes at a big price. The Maps Go app doesn't support navigation. I mean, I can get directions but I can't go from directions to real-time navigation and that's a big turn off for me. However, it has that awesome feature from the Google Maps web app where you can get traffic information for different times of the day to plan your journey accordingly. I mean that is one feature I wish the regular Google Maps app had.
In terms of RAM usage as well, Maps Go is amazing. It used just 3.5MB of RAM on average as compared to Google Maps, which used a whopping 183MB. Way to go, Google.
3. Files Go
Now while Google doesn't offer a native File Manager on their devices, there is the tedious method of going through the Download Manager app and then browsing the Internal Storage and such. But as for the Android Go devices, Google has been generous to launch Files Go, which you may remember got really popular when it launched, thanks to its Airdrop like file transfer feature.
Files Go comes in at just 14.41 megabytes when installed. In comparison, a third-party file explorer like Solid File Explorer is 22MB when installed. Yeah, the difference isn't all that big but Files Go more than makes up for it with the features it offers. Right on the home screen, the app offers a number of useful features including cards to clear out low-res images, duplicate files, app cache, and even an option to uninstall apps that you've not used in a while. All of that fit into a beautiful package.
Files Go is honestly a Go app because it helps users carve out more space on their devices. Instead of being mind-numbingly small like Maps Go, Files Go tries to ensure that all those WhatsApp good morning images don't eat up your storage.
4. Gmail Go vs Gmail
Yes, everyone uses IM-clients such as WhatsApp and Messenger for keeping in touch with their friends and family. However, even on an entry-level device, chances are people are gonna want to check their emails. Google understands that. The company also has a Gmail Go app so people can enjoy the ease and simplicity of Gmail on their phones.
The Gmail Go app comes in at just 24.8MB. Even on RAM, the Gmail Go app is much less resource heavy as compared to the regular Gmail app. It uses, on an average around 77MB of RAM, while the regular Gmail app uses over 260 megabytes; plus it offers all the features from the regular Gmail app in the same interface, so you won't miss out on anything. I mean, it even includes the swipe gestures from the regular Gmail app. Personally, even if you are not on a low-end Android Go device, you could still make the switch to Gmail Go and would barely even know the difference.
5. YouTube Go vs YouTube
Just because you're buying a cheaper smartphone doesn't mean you should miss out on the entertainment front, right? Well, keeping that in mind, Google has also rolled out a lightweight variant of its video-sharing service, YouTube Go. However, unlike other Go applications, YouTube Go follows a different approach in bringing entertainment to the user.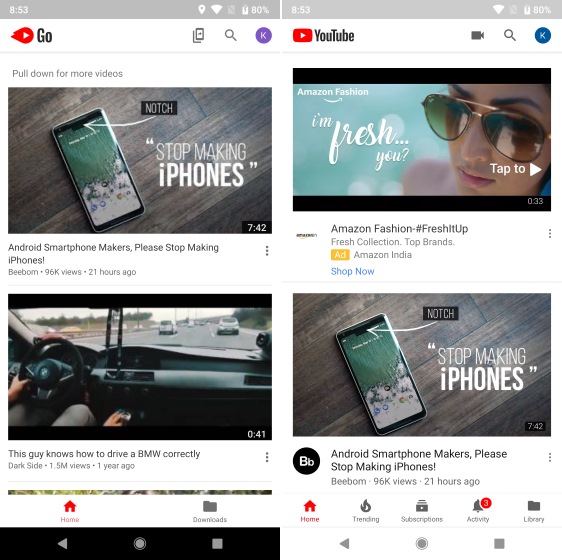 The app focuses on saving your mobile data and storage more than anything else, as can be seen in the fact that tapping on a video doesn't play it, but presents options to either play it or download. It is not very feature rich, it doesn't have all the tabs you'll find in the regular YouTube app, and you can't even subscribe to channels in the YouTube Go app, but it brings one unique feature. YouTube Go users can share downloaded videos with their friends nearby. YouTube Go also takes up a lot less space as compared to the regular YouTube app. While the regular YouTube app is 122MB in size, YouTube Go is just 29MB, and also uses just about 74MB of RAM on average, as compared to YouTube's 103MB.
While you do compromise on the overall functionality of the actual YouTube app, you still retain the ability to watch as well as download videos from the service, along with sharing it with your friends.
6. Google Assistant Go vs Google Assistant
The last app to make this list is the newly announced Google Assistant Go. The app takes the power of Google Assistant's AI and puts it into a lightweight app available for everyone to use. While the user does miss out on certain features that the actual assistant app offers, the Go edition makes up for it with its light size and still decent performance.
Just to make things clear, the standard app, despite having an install size of a little above 800KB, relies on the Google Search on one's device to actually run. On the other hand, Google Assistant Go weighs in at 17.47 MB when installed, which is quite light considering that the app is a standalone variant of Google Assistant. While you do need to enter the app every time you wish to utilize the assistant's capabilities, the app does work very well. The AI performs pretty much the similar functions as the regular version but is slightly more customized for India when it comes to search results.
However, some of the features missing with the Assistant Go app that are present in the regular version are reminders, controls for smart home devices, Actions on Google, and Device Actions. Nonetheless, for the average user, Google Assistant Go should do the job.
SEE ALSO: How to Enable Google Assistant Hindi on Your Android Device
Free up Your Memory and Boost Your Performance with Go-Edition Apps
I think it's pretty clear that Google has created some spectacular apps for Android Go edition phones, like the Nokia 1. Google's claims about using much less storage than regular apps holds completely true. According to our calculations, the regular versions of these apps took up around 522 megabytes of storage whereas the Go variants took up just 80.4 megabytes! As such, cheaper Android phones could perform very well if they use Android Oreo Go Edition. Additionally, Google is already in talks with developers to bring lite variants of their apps as well. Furthermore, even mid-range and flagship devices can try out these apps and make the most of their memory, while saving some juice as well.
So, are you going to be switching to Android Go edition apps anytime soon? If so, do share with us your experiences in the comments down below.