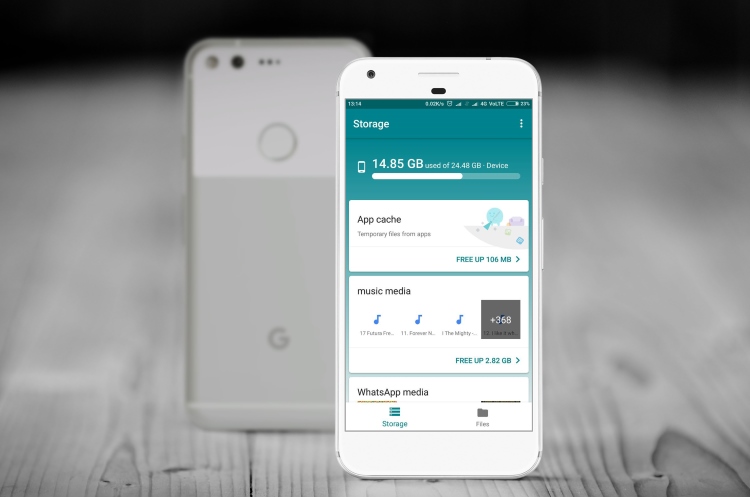 In an attempt to capture the next billion Internet users, Google has been releasing apps optimized for spotty networks in emerging markets. We've already been acquainted with lightweight variants of Android, YouTube, and the Search app but the search giant is now gearing up to launch a smart file management app called Files Go. This lite file manager app had been made available in early access on the Play Store but has since been taken down. Here are the highlight features of Google's Files Go app:
The Best Features of Google Files Go
Note: I tried this unreleased app on my Xiaomi Redmi Note 3 and it worked perfectly fine.
Though the Files Go app is currently unavailable in the Google Play Store and is aimed at Android Go devices like the Nokia 2, you can still go ahead and download the app from APKMirror. The package size of this file manager app is less than 10MB, making it even more favorable for low-end Android devices.
Whenever you open the Files Go app, all of your storage information is available at a glance on the home screen. The storage status of your device is highlighted at the very top, with a host of options to empty space almost instantly. You can delete the app cache, unused apps, junk media and more.
Wireless File Transfer Capability
Though the Files Go app includes all common features you'd find in a file manager, it has made the package more attractive by including the ability to share files offline between Android devices wirelessly. You just need to tap on the "Sent/Receive" button under the Files section of the app to share files with your friends. Don't forget to set a device name in the Settings menu to make it easier to discover your device.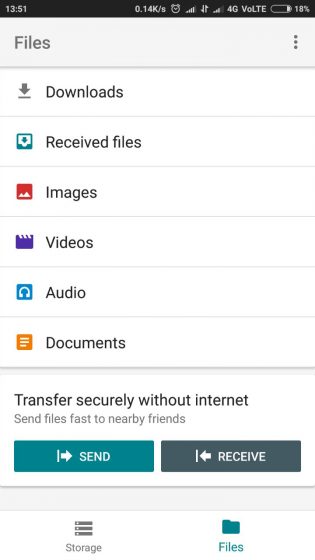 Clear Temporary App Cache
The first thing you notice on opening the file manager is the option to clear the temporary files stored on your device. If you didn't already know this, browsing through Twitter, Instagram, and other apps stores files on the device in the background to reduce loading times in the future. You can now, however, delete these cache files to free storage space.
Google Files Go also simplifies the management of apps installed on your Android device. It surfaces all apps that you have not used in the last 4 weeks, which means you could uninstall them to offload some weight off your Android device. This will help make the user experience snappy and fast.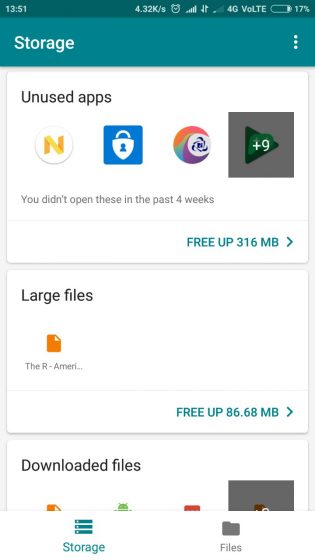 Remove Spam and Duplicate Images
The homescreen of the Files Go app, i.e the storage section, segregates your files under a host of card-like segments to make it simpler for you to sift through your spam and duplicate images. This will make it much simpler to manage images in the gallery as well.
Storage Reminders and Alerts
Enabled by default, the Files Go app will keep you on your toes by sending notifications and reminders for when your storage space is almost full, you have not used an installed app for close to 30 days and downloaded new files. It will also intimate you when large media files are taking up space on your device.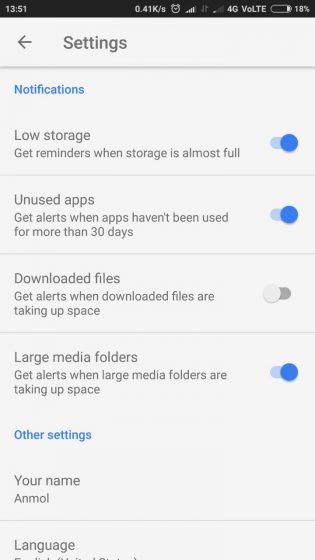 Though Files Go is still unreleased, the app is quite stable and worked just fine for me. This is an impressive attempt on Google's part to provide Android users with a file manager that has been optimized specially for low-end devices. So, if you're looking for a lightweight file management app, this would be it. What are your thought on Google Files Go? Let us know in the comments section down below.
---