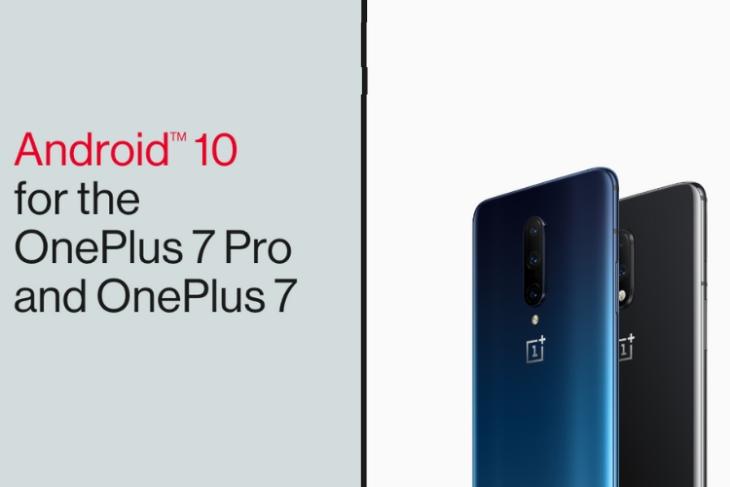 Rejoice, OnePlus 7 series users! Merely within a couple weeks of the official Android 10 release, OnePlus has started rolling out the new Android 10-based OxygenOS 10 update to its latest flagship lineup. The Chinese giant had already rolled out Open Beta updates, based on Android 10, alongside the Pixel and Essential PH-1 on Day 1, but it's rolling out the stable update to all users now.
The OxygenOS 10 update rollout has been announced via an official OnePlus Community Forums post and is rolling out to OnePlus 7 and OnePlus 7 Pro users. The biggest change here is the jump from Android 9 Pie to Android 10, with the lack of a new dessert name.
OnePlus states that the update brings along a brand new user interface, along with many Android 10 features like enhanced location privacy, new inward swipe gestures from the left and right edge (paired with their 3-button bottom navigation bar), and an option changing icon shape from the Settings menu.
OxygenOS 10 also introduces a new Game Space feature that assembles together your games in one place for easier access. There's a new Ambient Display feature which now surfaces info intelligently, and you can now block spam messages based on keywords.
As per the official Forums post, the OxygenOS 10 OTA will be a staged rollout. OnePlus aims to roll out its new Android 10-based update to a limited set of users today, with a broader release in the new few days. This will allow them to eliminate any critical bugs before pushing the update to more users.
This rollout is not geo-restricted, as it has been on some occasions in the past, so if you attempt to force the update by using a VPN, well, it will no longer work, as stated in the official blog post. The rollout is completely random, so let's hope you're the lucky one to get the OxygenOS 10 update in the first phase.
We haven't got the Android 10-based OxygenOS 10 update on neither our OnePlus 7 or OnePlus 7 Pro yet, but we will keep you posted and update this article with more info as and when (or if, thanks to the phased rollout) we get the update. Have you received the OxygenOS 10 update? Let us know in the comments below.