Google Allo has is the latest casualty of Google's attempt to figure out instant messaging service. The company has officially announced that it will be ending the support for Google Allo for good and the app will stop working after March 2019. While I couldn't convince any of my friends to join Allo, I really enjoyed using it when it first launched. If you are one of the few people who was using Google Allo on a regular basis, I know it must be hard to see it go. That being said, there are many chat services out there which can replace Google Allo for you. In this article, we are going to look at such services as we show you the 10 best Google Allo alternatives that you can use:
Best Google Allo Alternatives
1. WhatsApp
This particular Google Allo alternative should not come as any surprise. WhatsApp is probably the most ubiquitous chat application you can find on the internet and it is damn good at it. If you switch to WhatsApp, you can be sure that you will find all your friends here. Also, the service keeps on introducing new features which has made it much more than a simple messaging app. Still, the chat interface itself is as easy to use as it was in the beginning. Some of the important features of WhatsApp include the ability to send chats with read receipts, the ability to delete sent chats, support for voice and video calls, and more. The service is available on Android, iOS, and Web so you pretty much covered here.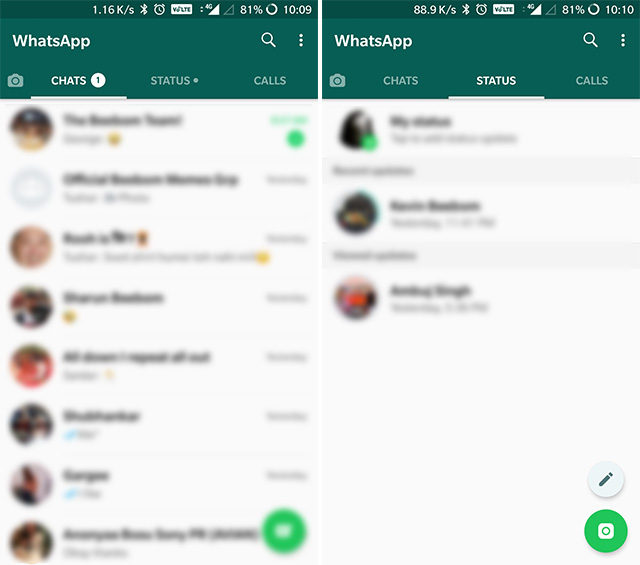 I also love that WhatsApp now supports stickers, a feature which was a big part of Google Allo. While you won't get all the awesome sticker packs that Allo came with, there's a great selection of stickers here which is bound to improve in future. If you are mourning the death of Google Allo, WhatsApp is one chat application which can help you get over it with least friction.
2. Telegram
While WhatsApp promises an end-to-end encryption, the fact that it is owned by Facebook makes me doubt that it won't share our data with its parent company. So, if you are looking for a Google Allo alternative which is a bit more secure, then Telegram is the app that you should look at. I love that not only Telegram works as efficiently and quickly as WhatsApp but it also brings a more feature-rich chat experience. For example, the service offers a native application for not only iOS and Android devices, but also for macOS and Windows PC. Telegram also offers heavy encryption along with the ability to send a self-destructive message.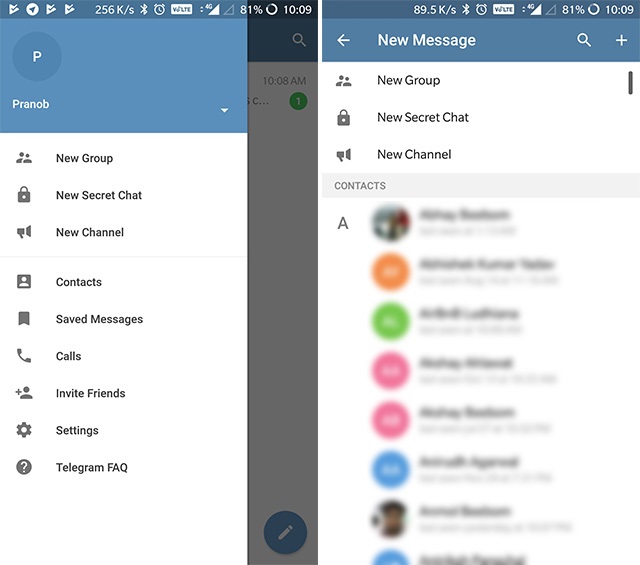 Its servers are spread all over the world so there is no single point of failure. I also love that Telegram doesn't put an upper limit on the size of media files that you can send. Heck, you can send over an entire movie if you want to. You can also create large groups with 100000 members and share documents of any type. Needless to say, Telegram brings way more features that Google Allo or WhatsApp ever did and you are going to enjoy using it. If you are moving from Allo it means you were not into the mainstream chatting applications anyone and that's why it makes the perfect sense to switch to Telegram.
3. Signal
If you truly value your privacy and have friends which are ready to switch from Google Allo with you, the one app that you can recommend is Signal. With Signal, you can send high-encryption messages whether it be a text message, and audio clip or a video message. You can also make audio calls to anyone all around the world without incurring any charges. One of the best things about Signal is that not only your messages are safe against third-party attacks but even the app's developers don't have access to encryption keys and hence they also can't see your messages even if they wanted to.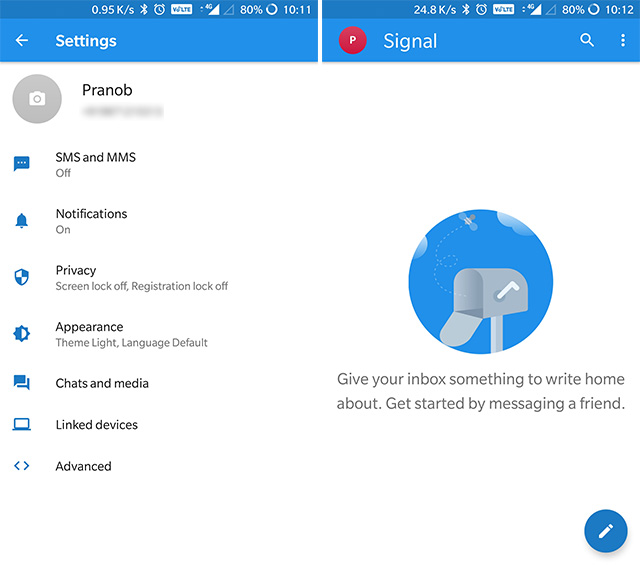 Finally, you also get access to extra-secure features such as disappearing messages, and the ability to set different disappearing message intervals for different conversations. Also, Signal is an open-source project which is funded by donations and grants by its users so there are no ads, no marketing, and no tracking. If you want security above everything else, this is your app.
4. Discord
If you are a gamer then you should definitely consider using Discord as your Google Allo alternative. Discord, in my opinion, is one of the best-designed chat applications on the market right now. I love its dark theme which is easier on the eyes even the pitch darkness of the night. When it comes to features, Discord offers all the usual ones including support for text and audio messages, group chat support, push notifications, easy invite system, and more.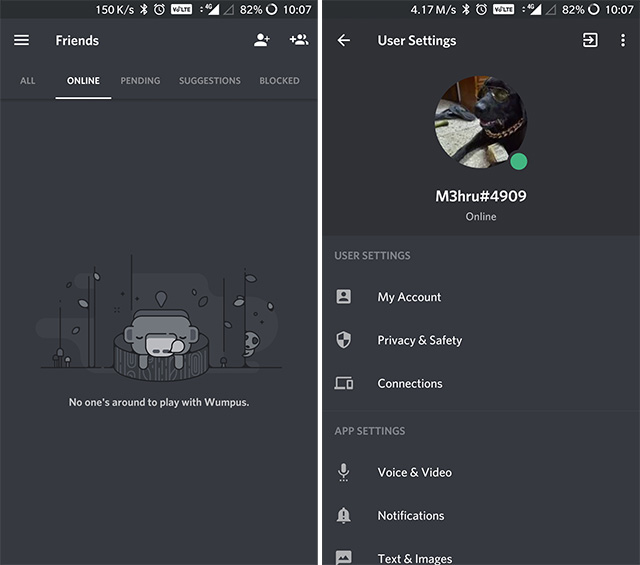 One of my favorite features of Discord is its ability to integrate bots which can come in really handy. For example, you can use a music bot to play your favorite music while chatting with your friends. The best part is that everyone in the group will hear the same song so you can all enjoy the music. For your gaming needs, Discord can show you which friends are online so that you can play together while chatting with them at the same time. Overall, this is a fun chat application to use and I know many of you will enjoy it.
5. Line
If you used to love the Google Allo app just for its stickers, then Line might be the perfect Google Allo alternative for you. Apart from featuring all the usual instant messenger app features such as push notification, instant messaging, voice and video calls, read receipts, photo, and video sharing, and more, Line specifically is famous for its huge collection of sticker packs. In fact, Line was one of the first such services to promote sticker packs above the use of emojis.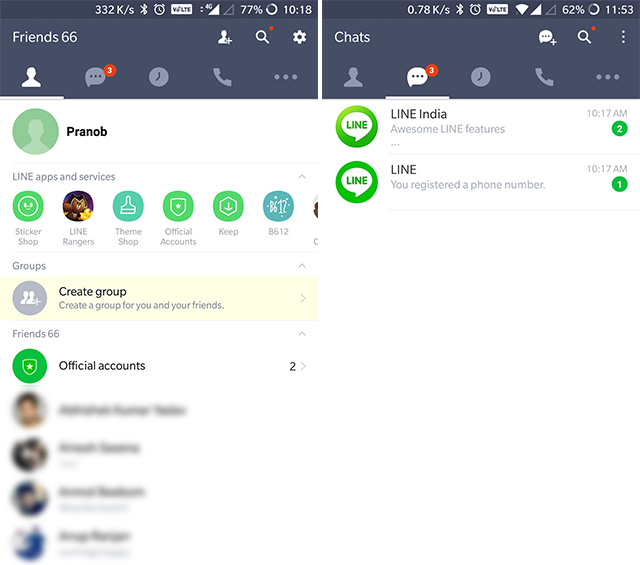 There are more than 10,000 stickers and emoticons so you will never find yourself wanting for more stickers. There's even a store for stickers where you can download original stickers of your favorite characters and celebrities. The bottom line is that if its stickers that you want, Line has you more than covered.
6. Snapchat
While Snapchat is not technically just a "messaging app" but rather qualifies more like a social media app, I think it offers one of the best chat experiences of any messaging service and hence it has made this list. Talking just about the messaging features, you can chat with friends, create groups, send disappearing text messages and pictures, and more. The best reason to use Snapchat is the filters that service offers.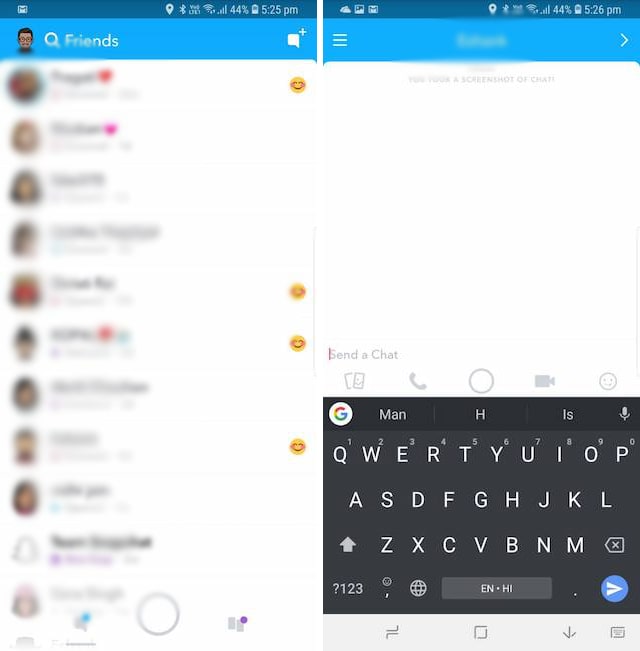 Whether you want to look goofy or have fun or display relevant information, there's a filter for everything here. Snapchat is also one of the most innovative companies when it comes to releasing new features. I mean the rest of the world including Facebook, WhatsApp, and more have been copying its features for quite a few years now. If you want to remain at the top of chat messaging technology, Snapchat is the Google Allo alternative for you.
7. Facebook Messenger
One of the biggest benefits of using Facebook Messenger as a Google Alternative is that you don't have to ask your friends to switch to a new messaging platform as there's almost a 100% probability that they are already on it. I also love the fact that you don't need to have a Facebook account to use this app as you can register on it like on any other chat application. That means you can use this app even if you don't want to create a facebook account.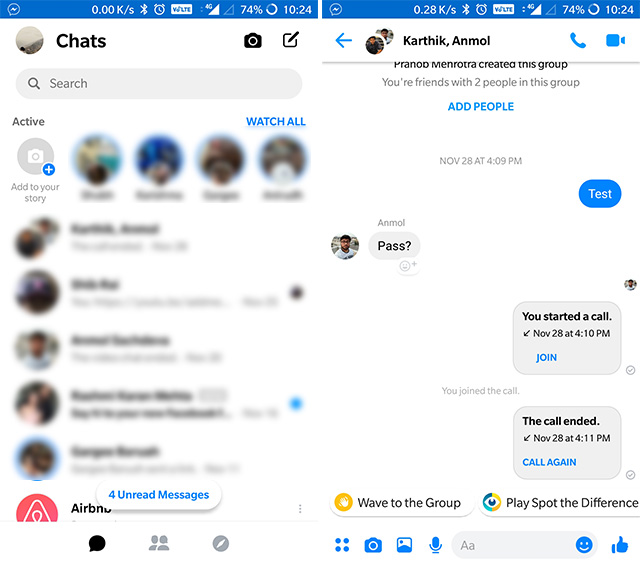 When it comes to features, Facebook Messenger offers you all the feature s that you expect from a capable messaging application. You get instant message, push notifications, attachment support, and more. The app also features good video calling capabilities which is something that is not offered by many chat services. Messenger also helps you connect with different businesses as more and more companies are using it as their endpoints with customers. Overall, Facebook Messenger is a fairly capable app and you should definitely check it out.
8. Kik
If you want a chat application that doesn't need your phone number to work, then Kik is for you. All you need to do is register on the service using your email ID and Kik will create a unique username for you which you can share with your friends to connect with them. Kik is great for connecting with people whom you want to remain in contact but don't necessarily want to share your number.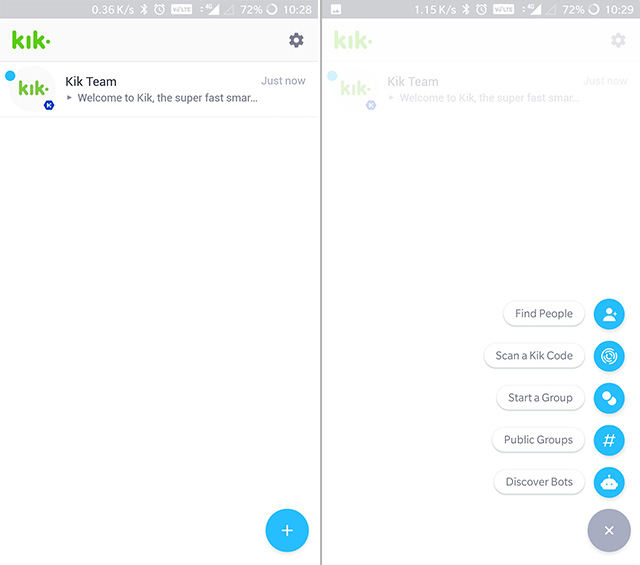 Kik offers all the messaging features that you want from a messaging application. There's support for text messages, emojis, stickers, Gifs, share photos, and videos, and create groups among other things. Another unique feature of Kik is that it supports bots. So, you can play quizzes, get fashion tips, news, and more. All these features aside, the main reason to use this app is its non-requirement of your phone number. If that's what you want then Kik is your replacement for the outgoing Google Allo.
9. Skype
The penultimate chatting application on our list which we recommend as an Allo alternative is coming from the house of another behemoth in the world of technology. Made by Microsoft, Skype is an app which has gained popularity as a business chatting application. That said, it is like any other instant chatting application and there is no one stopping you to use it on a personal basis. In fact, to me, a long-distance voice and video calls on Skype sounds more clear than most of the apps on this list and hence I prefer it to communicate with my overseas friends.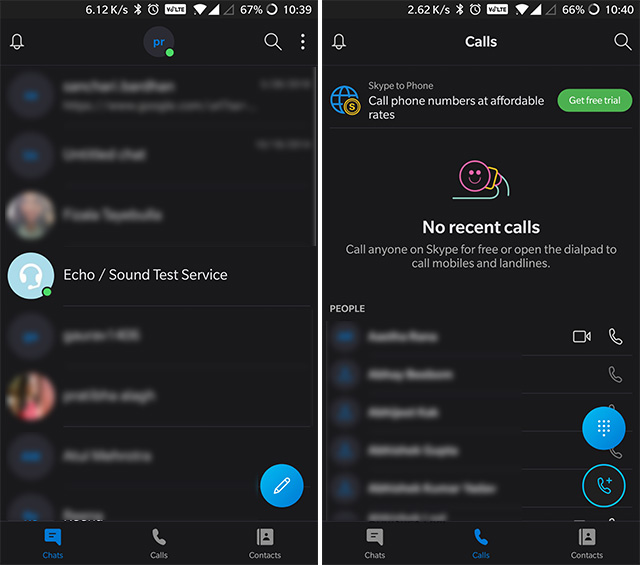 Skype is also one of the few apps that currently support group video calls for up to 24 people and allows you to record those calls if you want to refer to them later. If your friends find themselves in an internet dead zone, Skype will allow you to directly call or message on their personal numbers. That said, this feature is not free. If you have never tried this app before just because it is associated with business professionals, I would urge you to give it a try.
10. Viber
The final app on our list is Viber. Viber came to fame back in the day for its awesome voice and video call functionality. While most of the messaging apps were focusing on text-messaging, Viber focused on calling and it still is one of the best apps for that experience. Over the years the app has evolved a lot and has become a capable instant messaging application which you can try. The app support stickers and Gifs just like Google Allo so there are some similarities here.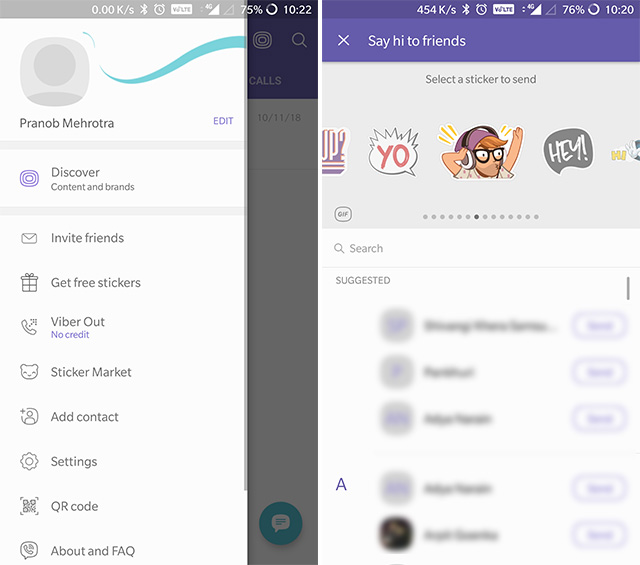 One of the unique features of Viber is the support for chat extensions. The extensions basically allow you to access platforms such as YouTube, GIPHY, and more directly from the app. Thus you can search, find, and share music, GIFs, videos, restaurants, events, hotels and more through your favorite websites without ever leaving your chats. If that's something you want to try, click on the link below to install Viber.
SEE ALSO: 10 Best Google Chrome Alternatives
Say Goodbye to Google Allo With These Amazing IM Apps
While it's sad to see Google Allo depart from our lives, I cannot say that I was surprised. Google has a history of failure when it comes to chat applications and when the company announced that it is pausing development of Allo a few months back, I knew sooner or later, Allo will get the axe. Thankfully, there are many amazing chat applications which can help you replace Google Allo without much difficulty. Do check the list out and let us know which is your favorite Google Allo alternative amongst them all.