After a spate of rumors, speculations and leaks over the past few months, WhatsApp has finally rolled out 'Stickers' on both Android and iOS. The app will support only Facebook's sticker packs to start off with, before eventually supporting third-party stickers. While only static images are being supported right now, animated Stickers will be available in the near future.
The feature is in the process of being rolled out universally, and is available for most of us here at Beebom. For me, it's available as part of version 2.18.329 on Android, but some reports suggest that it's available on versions 2.18.310 and above. As for iOS, the feature is said to be available on WhatsApp version 2.18.100.
In case you want the feature on your device, make sure to update WhatsApp to the latest available version for your device (Android, iOS) and then follow the simple steps below to send them to your friends and family. However, so far it looks like the stickers are only rolling out to Beta users, at least on Android, so your mileage may vary.
How to Send Stickers on WhatsApp?
1. Select the contact who you want to send a sticker and tap on the Emoji icon.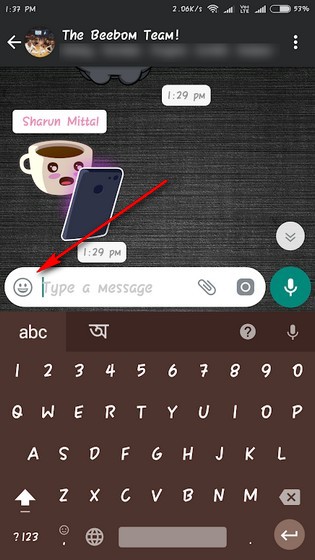 2. Now tap on the new sticker icon at the bottom of your screen.
3. Next, tap on the "+" icon to see the complete list of available stickers.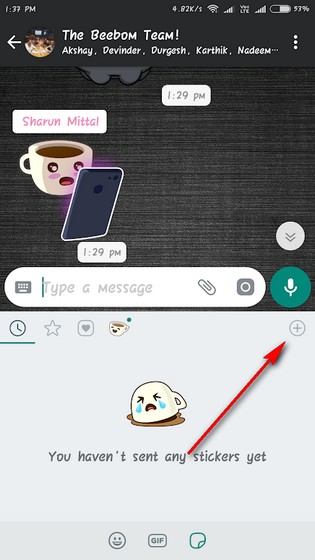 4. That's it, now just download a sticker pack of your choice and send any sticker from the collection to your contacts or to any WhatsApp group that you are a part of!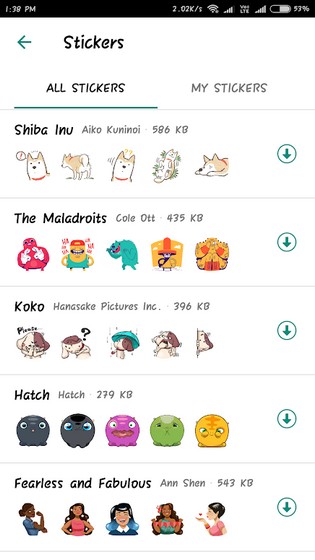 It's worth noting here that that this feature has been available on both Facebook Messenger and Telegram for some time now, and even though it's not exactly a critical feature, it's still quite refreshing to see that WhatsApp has finally got around to rolling it out to its users.