Xiaomi is not completely satisfied with being just a top-tier smartphone maker. It has even stepped into the smart home ecosystem, a somewhat-successful wearables business and has today released two new devices in China to make it simpler for you to charge your devices.
The two new products launched by Xiaomi are a 60W fast charger dock and an enhanced variant of its smart socket, which come with six and two USB ports respectively. So, let's take a look at how these two can come in handy around your homes:
Mi 60W USB Fast Charger Dock
The first product released by Xiaomi is a multi-port USB charger, with a 60W power rating. This charging dock comes with 6 USB ports, 5 conventional USB-A ports and 1 USB Type-C port.
While four of the USB-A ports on the right support up to 5V / 2.4A charging per port and can reach a peak of 24W at the same time, the orange USB-A and USB-C port on the left support fast charging. Both of them are compliant with Qualcomm's Quick Charge 3.0 technology and output a maximum power of 18W, meaning it can charge your iPhone and supported Android phones very quickly.

Xiaomi has given this USB charging dock a clean white look. It looks simple and includes LED lights and a plug adapter on the hind side to get charging in a jiffy. You can not just use this USB dock for your charging needs at home but also carry along the same on business trips to charge all of your electronics all at once. It looks like quite a handy product, which will go on sale on March 7 on Mi.com and Tmall in China.
Buy from Mi.com (129 yuan, approx ₹1,325)
Mi Smart Socket – Enhanced Version
The second product released today is an upgraded variant of the Mi Smart Socket. Xiaomi first debuted the smart socket back in 2014 but has been bringing newer iterative models to the market ever since. The 'enhanced version' (translated from Chinese) is the latest in the smart socket lineup and its biggest highlight is the dual USB-A port interface.
Both of the USB ports on this socket supports the BC 2.1 protocol, remote controls, timer switch, power statistics and other functions. You can control this socket, switch it on/ off, schedule time for different devices and more, using just a mobile app on your smartphone.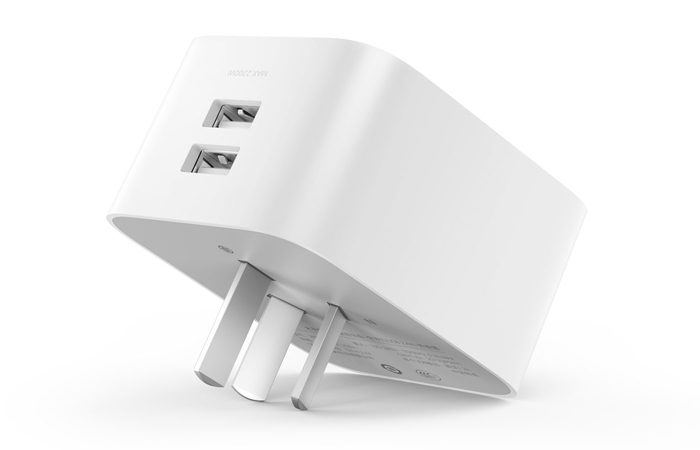 This smart socket has a pretty compact design and can be connected to smart meters in your homes. Its shell has been made out of high-temperature resistant materials, where you get an inbuilt temperature sensor and double secure soldering on the inside. The switch will cut the power to your devices if the temperature exceeds a set limit. This smart switch will also go on sale on March 7.
Buy from Mi.com (79 yuan, approx ₹810)
---