Of late, MIUI users have been complaining about "Other" files taking up a huge amount of space on their Xiaomi and Redmi devices. Some users report that it has devoured almost 30GB of storage space, and there is no easy way to identify and delete these files. Well, to solve the problem, we have come up with a detailed guide on how to delete Other files on Xiaomi, Redmi, and POCO phones running MIUI. We have included multiple methods to remove junk, cache, and temporary files from your smartphone. On that note, let's learn how to delete Other files on MIUI.
Delete Other Files on Xiaomi, Redmi, and POCO Phones (2023)
In this tutorial, we have added 6 ways to delete Other files on Xiaomi, Redmi, and POCO phones. For MIUI users, this guide will help you reclaim precious storage space on your device. Expand the table below and get started with the process.
What are Other Files on MIUI?
Other Files on MIUI are a collection of temporary and cache files used by apps and the system (OS). Files that have been discarded also constitute Other files on Xiaomi's MIUI. Basically, when you use an app, say Telegram, it stores cache files for all the data you have sent or received. It is counted as Other files on MIUI.
Apart from that, apps regularly store temporary and cache files in the background for smooth and quick functioning so that they don't have to fetch regular content all the time. Over time, these cache files pile up and take up gigs of storage space on your device. So it's important to delete Other files on MIUI from time to time. And to start the process, let's begin with Telegram.
1. Delete Telegram Cache
Most users are unaware that Telegram stores a ton of data locally in MIUI. It almost takes up to 10GB to 20GB of data, depending on your app usage, which results in 'Other' files ballooning to gigs of memory. Keep in mind, the cache size on Telegram's App Info page does not accurately detect temporary files and shows low storage used.
Telegram has a built-in setting that shows the total storage used by these files and also provides an easy way to remove temporary files. So if you use the Telegram app on your MIUI-powered phone, follow our guide to delete the Other files immediately.
1. First, open the Telegram app and move to the hamburger menu in the top-left corner. Here, tap on "Settings".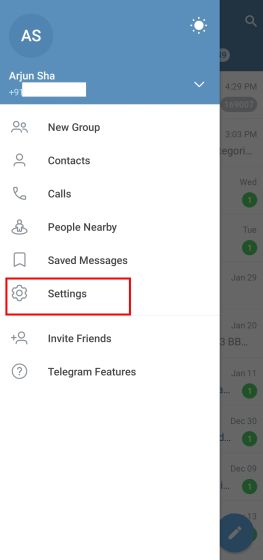 2. Now, move to "Data and Storage". After that, tap on "Storage Usage" at the top.
3. Here, you will find the cache storage taken up by Telegram. Now, simply tap on "Clear Cache," and you are done. This will considerably free up the space taken by "Other" files in MIUI.
4. I would also suggest changing a key Telegram setting so it does not automatically download media files in the background. Under "Data and Storage," make sure to disable all three toggles under "Automatic media download". This will stop Telegram from automatically downloading photos, videos, and files.
2. Clear Gallery Trash Bin
Whenever you delete a photo or video from your Xiaomi phone, it goes to the "Trash" folder hidden in the native Gallery app. The media stays in the Trash folder for 30 days and then it is permanently removed. In case you want to remove all the deleted files right away and reduce the storage taken by Other files in MIUI, follow the below steps.
1. Open the Gallery app and move to the "Albums" section. Here, scroll down to the bottom and open "Trash bin".
2. You will find all your deleted photos and videos here. Go through the files and make sure you don't need any of the files, and simply tap on "Clear trash". That's it.
3. Your locally deleted photos might also be available in the cloud if you are signed in with a Xiaomi account on your phone. While deleted photos on the cloud do not consume any local storage on your phone, you can choose to entirely remove them from the cloud as well. Go to in.i.mi.com/gallery/h5, log in with your Xiaomi account and remove the deleted files.
Note: Xiaomi no longer syncs Gallery files to the cloud. All your cloud files will be permanently deleted after 30/04/2023. So take a backup before the service is terminated.
3. Inspect the Android Folder and Delete Large Files
The Android folder stores many of the cache and temporary files used by apps. You can analyze the files using a file manager and remove them to free up storage in MIUI. Here is how to do it.
1. I would recommend installing Solid Explorer (Free, offers in-app purchases) as it's one of the best file managers for Android phones.
2. Next, open Solid Explorer and move to the "Android" folder. Then, open the "data" folder.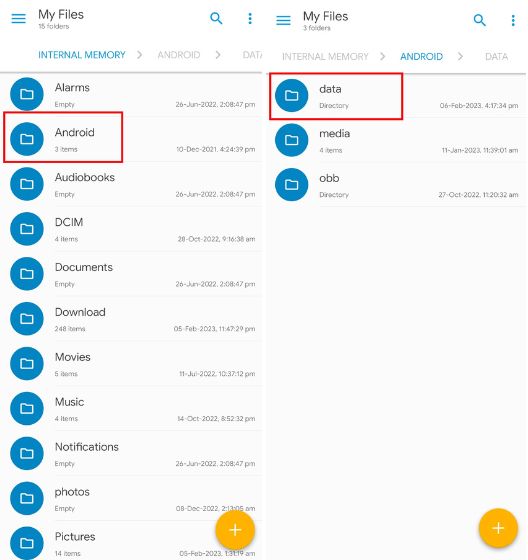 3. Now, tap on the 3-dot menu in the top-right corner and choose "Properties". It will take some time to compute the storage used.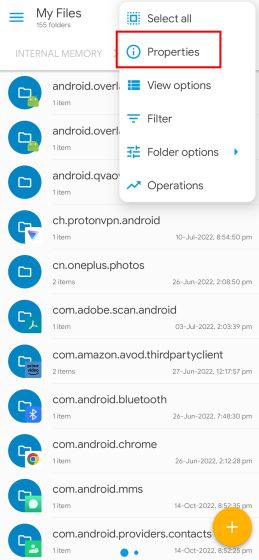 4. Here, scroll to the right, and you will find a "Top 20" section. Under this section, you will find the 20 largest files that can be discarded without any issue. Select all of them and delete the files permanently.
5. Next, move to "Content," and you will find the top app folders taking up space. Open individual folders, go to the "cache" section and delete the unnecessary files. You can also go to the "files" and delete the temporary files.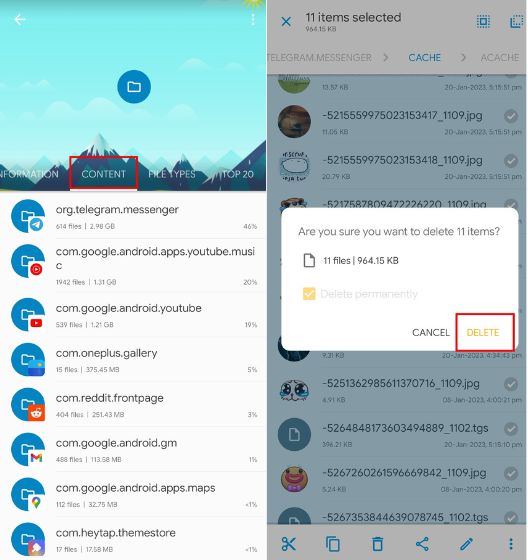 4. Remove Other Files Using Storage Analyzer and Disk Usage App
In addition to Solid Explorer, an app called Storage Analyzer and Disk Usage is a fantastic solution that lets you access and delete the 'Other' files on MIUI directly. You can readily find junk files and delete them swiftly. Here are the steps to follow.
1. Go ahead and install Storage Analyzer and Disk Usage app (Free) on your Xiaomi phone.
2. Next, open it and grant all the permissions. After that, move to "File Categories" in the top-left menu. Here, you will find the "Others" section. Open it.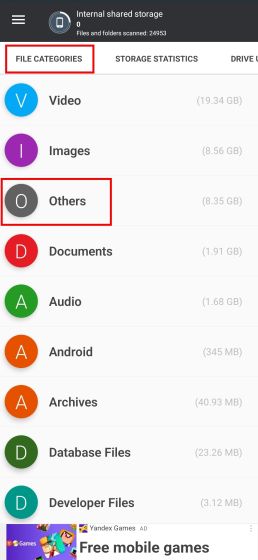 3. Next, you will find a lot of large files here. Go ahead and delete the files you don't need. You can delete "exo" files, which are used by YouTube/ YouTube Music to store offline songs and videos. The 'temp' files can be completely removed. Make sure to not touch 'obb', '0' zero, and '.' (dot files), as they are crucial for the system.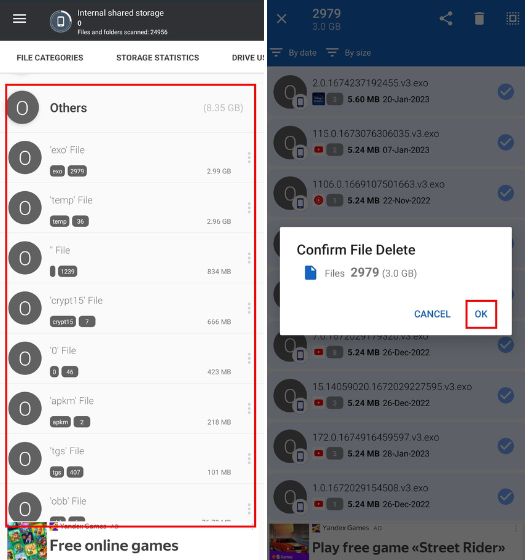 4. Inspect further and remove large videos, images, audio, etc. from your MIUI-running phone.
5. Delete MIUI Local Backup
Further, MIUI has a "Back up and restore" feature that allows users to create a local backup of the whole device. If a user has enabled the feature, it accumulates a lot of space over time, and the storage consumed by Other files keeps on increasing in MIUI phones. So to delete the local backup, follow the below steps.
1. Open Solid Explorer or the native file manager on your Xiaomi phone. Next, open the "MIUI" folder and move to "backup".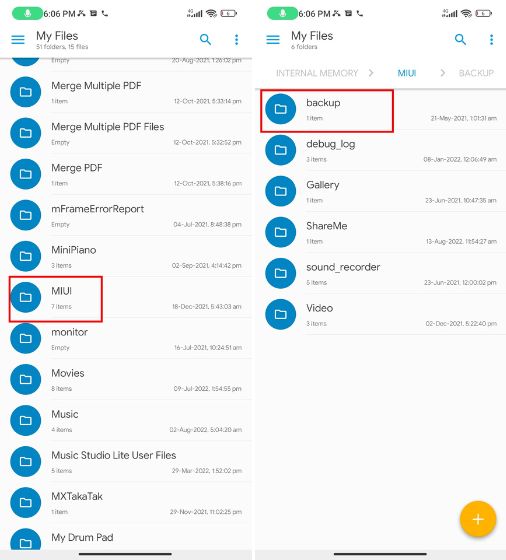 2. Here, tap on "AllBackup" to open it. Now, permanently delete the local backup folder.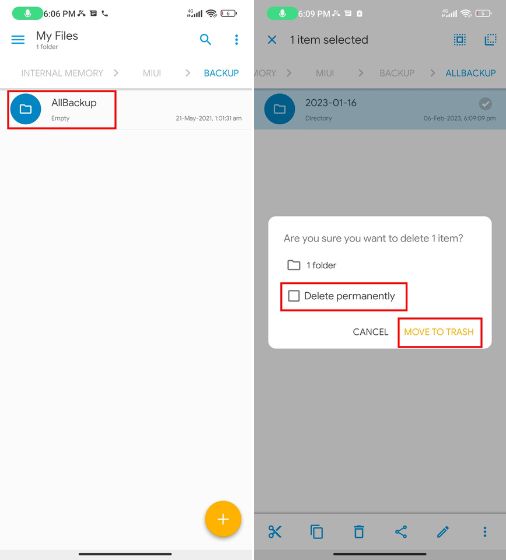 Please note that by deleting the backup, you will not lose any of the files or photos stored on your device as it is simply a backup of your internal storage.
6. Clear App Data on MIUI
Finally, we will delete the app data of apps that are consuming large storage on your Xiaomi, Redmi, or POCO phone to reduce Other" files storage in MIUI. Here's how this method works:
1. Open Settings and move to "Apps". Here, tap on "Manage apps".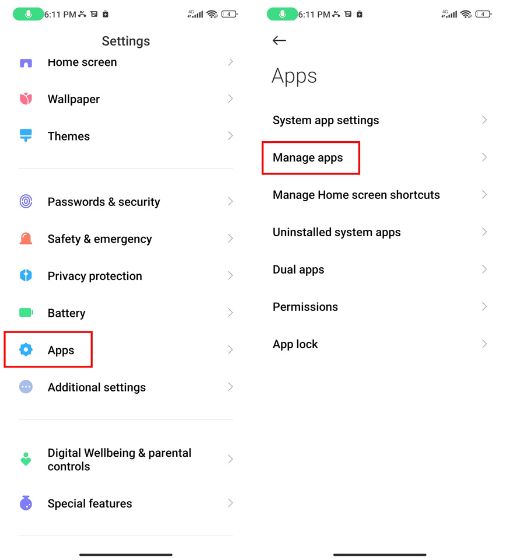 2. Next, tap on the "Sort by …" menu and choose "Used storage". It will display apps with the highest data storage on the top.
3. Open the app and tap on "Clear data" at the bottom. After that, choose "Clear all data" for apps you don't use regularly and have taken up a huge amount of space. As for the apps you use frequently like WhatsApp and YouTube, clear the "cache" only.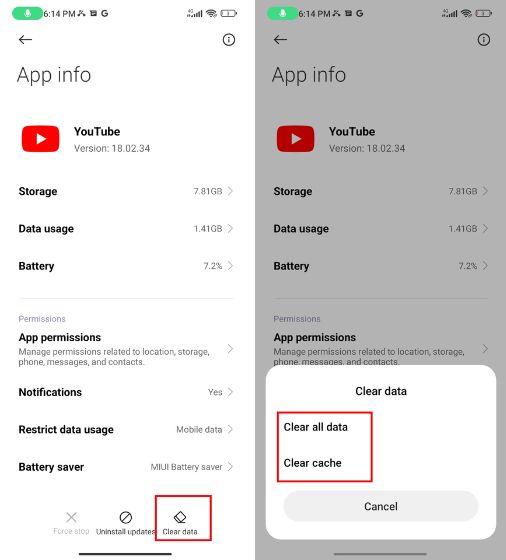 4. Finally, repeat this process for other apps on the list, and this will delete "Other" files on MIUI and reduce the storage space it takes.
Frequently Asked Questions
Q. How can I delete Other files in MIUI 12?
To delete Other files in MIUI 12, you need to clear the cache of several apps, particularly Telegram, if you regularly use it. In addition, you can permanently delete the discarded items and inspect the Android folder to find many unnecessary files. You can follow our guide and learn how to delete Other files in MIUI 12.
Q. Is it safe to delete Other files in MIUI 12?
Yes, it's safe to delete Other files in MIUI 12. However, for a few things, you need to be a bit cautious. Do not delete Crypt15, "0" or "." files. These are required by the system for a hassle-free experience.
Q. What is 'Other' in storage on MIUI?
Other files in the storage on MIUI are temporary and cached files used by third-party apps, system apps, and the OS as well. Most of these files can be discarded to free up storage on MIUI.
Free Up Storage on Xiaomi, Redmi, and POCO Phones
So these are the steps you need to follow to delete Other files on MIUI. If you have a low-storage smartphone, it's highly recommended to keep ample free space for the smooth functioning of the phone. Anyway, that is all from us. If you want to recover deleted photos on your Android phone, head over to our guide for an in-depth tutorial. And to disable ads, bloatware, and push notifications on MIUI, we have an excellent guide ready for you. Finally, if you have any questions, let us know in the comment section below.