Headquartered in Ontario, Canada, Windscribe VPN is one of the fast-rising stars in a crowded VPN market where dozens of companies offer their anonymizing services at varying price-points. With so many options jostling for mindshare and marketshare, it's getting increasingly difficult to cut through the clutter and find a service that actually values user-privacy without charging an arm and a leg for it. That's exactly where Windscribe comes in. It may be a relatively new name in the industry, but has managed to create quiet a bit of excitement among privacy-concerned users in recent times. The company offers free VPN services for casual users, but also has premium options for more advanced users at pocket-friendly rates. So in case that interests you, let's take a look at some of the key features of the service to get a better idea about how it compares to some of its more established peers in the industry:
Salient Features
Windscribe offers 10GB of usage every month for free users, while paid users get access to unlimited data. Unlike some other services, however, Windscribe doesn't restrict users from accessing any particular protocol on its free service, so whether you want to stream movies from Netflix's library (Windscribe calls it 'Windflix') or trying to download a torrent file, you can do it all with the free tier as long as you stay within the data limit.
Features (Desktop Client)
Windscribe offers a number of features to its users, although, some of them are reserved for paid subscribers. Some of the noteworthy features of Windscribe's desktop client include:
Firewall – Software Firewall that blocks all connectivity outside the secure tunnel to eliminate all types of leaks.
Flexible connectivity via UDP, TCP or Stealth on a wide range of ports. The software defaults to OpenVPN UDP over port 443, which is both fast and secure, but should you want to change the default settings, you can use OpenVPN TCP over port 1194 or OpenVPN TCP via Stunnel over port 8843 (Stealth mode).
Secure Hotspot – Lets you turn your computer into a secure Wi-Fi router.
Proxy Gateway – Lets you create a proxy server on your network for other devices.
Features (Browser Extension)
Cruise Control – Automatically picks the fastest location.
Double Hop – Proxy your connection through any 2 servers on the Windscribe network.
Ad Blocking – Blocks ads and trackers that follow you across the web.
Timezone Spoofing – Changes your timezone to make it seem like you're actually in the country your PC's connected to.
Cookie Monster – Keeps track of cookies and deletes them at the end of each session
Split Personality – Randomly rotates the browser's user-agent to reduce the chance of fingerprinting
Secure.link – Generate secure links to expose tracking practices of websites
User Interface
Windscribe VPN's Graphic User Interface (GUI) on Windows is fairly minimal, but it's definitely intuitive even for the non-tech-savvy. As can be seen from the screenshots below, there's a fairly self-explanatory On/Off toggle that gets you connected to the default server, but users can also specify a server based on their their needs. It's just a 1-click connection, but you do need to be signed in to your account to use the service. The screenshot below depicts the Windows client.
On the browser extension, you need to click on the 'Cruise Control' button to manually choose your server, while on the Windows client, you'll have to click on the server name to change your preference. Seen below is the GUI window of the Firefox extension.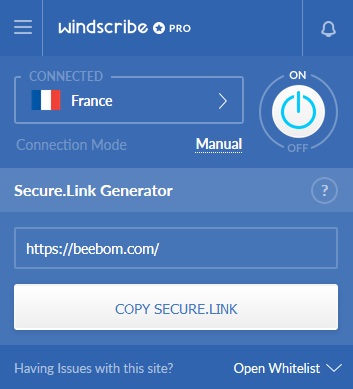 Available Countries and Servers
Windscribe says that it currently operates servers in "over 50 countries and 100 cities" around the world including, the U.S., U.K., Hong Kong, India, Russia, South Korea and more. While there are multiple locations available in the U.S. and a few other countries, you are limited to just single locations if you're looking to connect to most of the other regions on the list. Many of the locations are also reserved for paid subscribers, so if you're a free user, your options are severely restricted.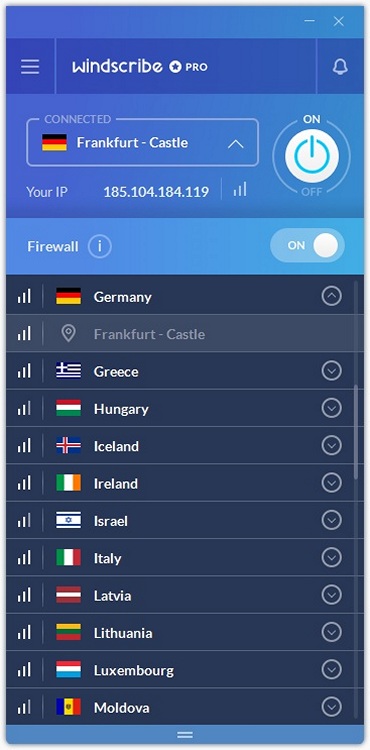 Speed and Latency
We tested Windscribe VPN on our office Wi-Fi that's a dedicated VSNL 150Mbps business connection but is way too congested to give us anything above 10Mpbs at the best of times. As can be seen from the images below, speedcheck results from speedtest.net seem to suggest that while the download speeds aren't suffering a lot when connecting through VPN, upload speed are taking a bit of a hit for some reason. The latency, however, improved substantially when connecting through VPN. As far as speeds are concerned, most people are more concerned with download speeds than upload speeds (unless you're hosting a seedbox or something), so this may or may not be a be deal for you depending on your use case.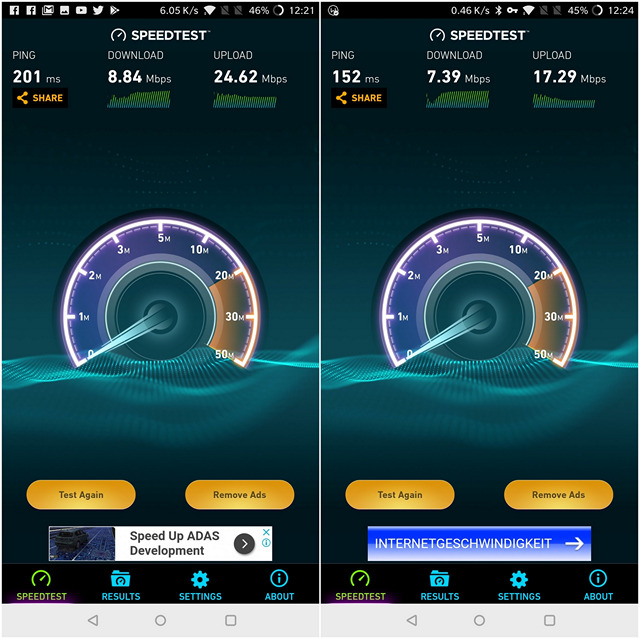 Note: We connected to Windscribe's German server (Frankfurt Castle) as well as Washington DC (Senate) server for our test. We checked all speeds on speedtest.net's Android app. For the sake of consistency, we used the same Softlayer Technologies server in Frankfurt for both the tests above, which is why the latency actually improved while using Windscribe's German VPN server.
Encryption and Privacy
Windscribe claims to take a whole host of safeguards to protect the privacy of its users. First off, all connections are said to be encrypted via AES-256 cipher with SHA512 auth and a 4096-bit RSA key. The company says that it does not store any connection logs or IP timestamps, nor does it store user logs related to browsing history, DNS queries or traffic data. Windscribe, however, says that it records the total amount of bandwidth consumed to enforce free-tier limitations as well as prevent abuse.
The desktop client doesn't have a 'kill switch', but the company says that its built-in firewall which blocks all activity outside of the tunnel, is actually a better alternative "because its a proactive measure". As part of the process, any external connectivity is blocked by default in case of a dropped connection, which guarantees that there will be no leaks. According to the company, "The same firewall also blocks ipv6 and WebRTC requests from leaking. Each node is configured as a DNS server, which is only accessible via the tunnel over a LAN IP, this guarantees that requests will be made over the tunnel, with no chance of leaks".
Windscribe also says that it doesn't rely on any third-party tools like Google Analytics. Instead, website analytics are collected via self-hosted Piwik instance, while the helpdesk is powered by an open source version of osTicket hosted in-house. The company also doesn't use any third-party e-mail service and instead, sends them out directly through their servers. Windscribe accepts payments via Paypal, Credit card (through Stripe), Bitcoin (through Bitpay) and Payment Wall. To protect privacy, transaction IDs are discarded after they are verified to be legitimate payments.
Pricing
While Windscribe's free service is fairly comprehensive, the company also offers premium tiers that come with more bells and whistles. Most importantly, paid subscribers get unlimited usage and the ability to choose servers from over 100 locations in more than 50 countries. Another point worth mentioning is that, you can use your premium account on an 'unlimited' number of devices across various platforms. Pricing starts at $4.08 per month if paid yearly ($49 for 12 months) and $9.00 per month if billed on a monthly basis.
Beebom's readers can get a 55% discount on Windscribe's yearly plan. You can get the unlimited plan for $29.99/year here.
Platforms
Windscribe VPN is available on a bewildering array of platforms, so whether you want a full-fledged client for your computer, an app to use on your smartphone or just an extension for your browser, Windscribe has you covered. The software is available on:
Windows (10, 8, 7, Vista and XP)
macOS (10.8 and above)
Linux (Ubuntu, Debian, Fedora, CentOS)
Android (4.2.2 Jelly Bean and above)
iOS (8 and above)
Amazon Fire TV (Gen 2 and above), Nvidia Shield and Kodi
Browser extensions for Firefox (57+), Chrome (39+) and Opera (29+)
You can also configure it for routers (DD-WRT, Tomato) or even buy pre-configured routers with built-in Windscribe. Like many other VPN services, Windscribe also lets users generate OpenVPN, IKEv2, as well as SOCKS5 configs if you subscribe to one of their 'Pro' tiers.
The Final Word
From our day-long test for this write-up, Windscribe came across as a competent VPN service that has great potential going forward. It will unblock Netflix's US library whether you're in India or Australia, it will let you post selfies on Facebook while at school, and it will also let you download (hopefully legal) torrents on your PC, irrespective of whether you're a paid user or a freeloader. With an intuitive UI, Windscribe is an easy recommendation especially, the Firefox browser extension that I absolutely loved. If you find the 10GB data cap a bit of a sore point, do know that most VPN providers offer much lower data caps, and the ones that do offer higher allowances, often come with caveats that include strict restriction on torrents and other protocols unless you sign up to their pricey premium plans.
Pros
Intuitive user interface
Supports BitTorrent and other P2P traffic even on the free plan
Unlimited usage for 'Pro' users
AES 256-bit Encryption
No connection logs, no IP timestamps, no tracking, no 3rd-party support tools
Cons
10GB data cap for free users
Surf Anonymously and Maintain Anonymity with Windscribe VPN
No VPN service can guarantee complete anonymity on the internet because of the inherent complexity of the web, but some services do a better job than others. Windscribe has everything going for it right now, which is why it is rising up the charts in the hearts and minds of privacy-conscious netizens worldwide. The fact that it doesn't offer any protocol-related caveat for its free tier certainly is an added positive, not to mention the easy-to-use browser extensions. If you're searching for a free VPN service or even a paid one for that matter, do give Windscribe a go, as it is one of the most hassle-free, privacy-oriented VPN services you can use right now.