Have you ever shot a video on your GoPro camera, or from something like a DJI drone, and wanted to quickly and easily edit it, maybe add some filters and text to it, and render it without having to understand the nitty gritty of professional video editing tools like Final Cut Pro, or Adobe Premiere Pro? Well, allow me to introduce you to VideoProc — a tool that lets you import GoPro and DJI footage, make easy edits, and export it with ease. Through the article, you can also get a free license key of VideoProc for your PC/MAC and have a chance to win a GoPro Hero 7 for yourself!
Why VideoProc?
VideoProc offers a bunch of great features that sure look tempting for anyone using a GoPro to shoot action footage, or a drone to shoot cinematic aerial shots. Here are some of the key features that make VideoProc an app worthy of your attention:
Full Hardware Acceleration powered by AMD, Intel, and Nvidia GPUs to offer the best editing and processing experience even with 4K footage.
A bunch of simple editing tools to quickly polish up your video.
GoPro Video Processing with VideoProc
VideoProc makes it especially easy to process videos shot from cameras like the GoPro, or from drones. Once you add a video to VideoProc, it shows up all the important information about it, along with the things you can use to quickly process the video, polish it up, and get it ready to show off to the world. Here's everything you can do in VideoProc with your awesome GoPro footage:
Cut Footage
Cutting footage is one of the most common actions in editing any video, and VideoProc lets you do this with an easy to understand interface. You can choose the start and end time for the chunk of video you want to cut, or you can use the sliders to visually set the chunk of video you want to remove, and then simply click on the cut button.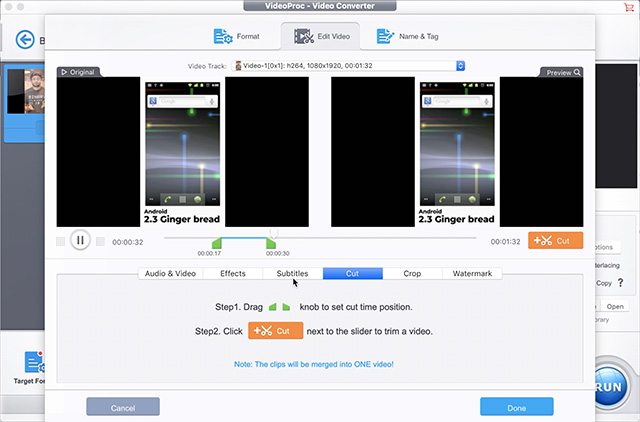 Add Effects
VideoProc also comes with a bunch of effects that you can apply on your videos to make them look exactly the way you want them to. There are effects like Negate, Noise, Mosaic, and a lot more that you can use on your video. Here you can also adjust various visual settings for the video including things like the brightness, contrast, saturation, and a lot more.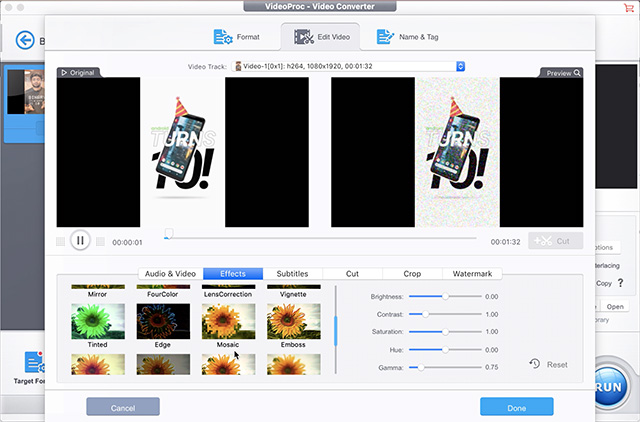 Crop, Add Subtitles, and Text
VideoProc also lets you quickly crop the video if you want to with simple drag controls. You can also add subtitles to the video, and even add things like text, timestamp, and more to the video and position it easily by just dragging the text where you need to.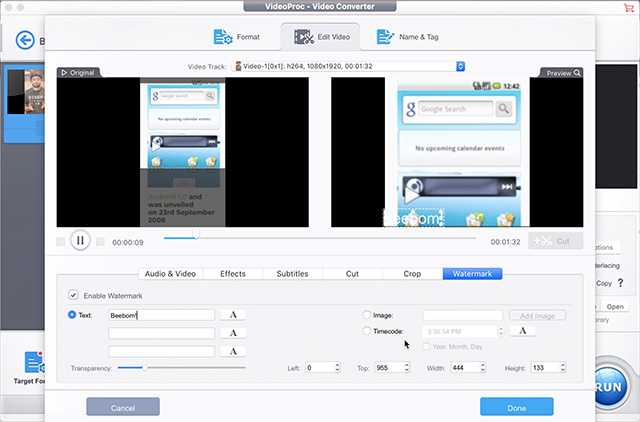 Adjust the Audio and Video
You can also easily make adjustments to the audio and video in the clip you're processing. The video can be rotated, flipped (both horizontally and vertically), and you can even adjust playback speed to make it faster or slower as per your needs. Plus, you can reduce the noise and stabilise shaky GoPro videos without compromising quality!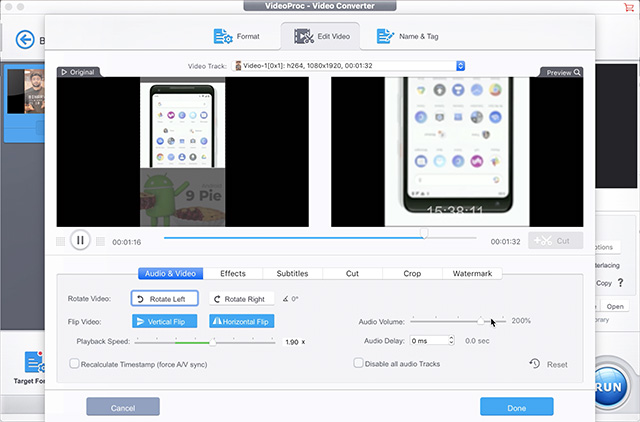 Export In Multiple Formats
Once you're done with editing the video clip, you can export it with just a couple of clicks to any format from a huge collection of formats. There's even HEVC (x265) format to ensure a more efficient encoding for the video. Then you can just click on 'Run' to start exporting the clip.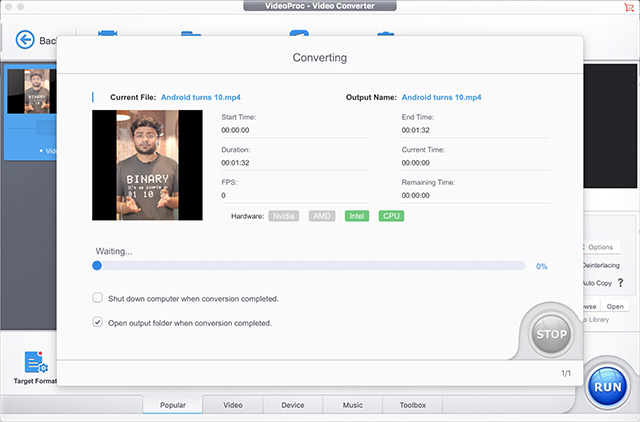 Other Features
While VideoProc is definitely an easy to use tool for quickly polishing up your GoPro video, it comes with other cool features as well.
Downloader
You can download videos from a huge number of websites by simply pasting the URLs into VideoProc. This can come in especially handy if you need to download a YouTube video, playlist, watch later list or almost anything else.
Recorder
VideoProc can also let you record your screen, and even set up a stream if you're into streaming games. You can even add input from a camera if you want to show your face in a small window like most streamers do.
DVD
VideoProc also lets you convert DVDs discs, ISO files and DVD video folders to digital
formats, back up DVDs in 6 modes if you ever need to make a hard backup of your
important files or process and edit the DVD video.
VideoProc New Release Celebration Sweepstakes
By the way, VideoProc is currently running a sweepstakes to celebrate their new release, and you can join in to have a chance to win the GoPro Hero 7 and accessories. Here's how to enter:
1. Head over to the VideoProc website.
2. Fill in your name, and your email address, and then click on 'Count me in'.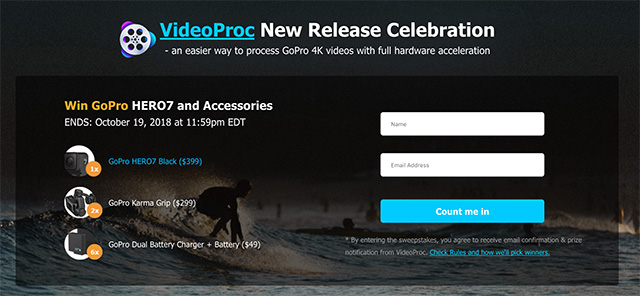 3. Now you can simply share the page, and follow VideoProc on social media to gain extra entries and improve your chances of winning.
Easily Edit GoPro/DJI Footage with VideoProc
VideoProc is a really handy tool that can let you make quick edits to your GoPro footage without having to have in-depth knowledge about professional editing tools. Along with bringing easy to use tools to edit your GoPro/DJI footage with, VideoProc also brings a bunch of other features that can come in really handy.
There's a free trial of VideoProc that you can test out, and the subscriptions for the full version of VideoProc start at $29.95.
Download VideoProc (free trial, starts at $29.95 per year)