In today's Internet frenzy, WordPress is possibly the most commonly used CMS (content management system) used by netizens to build out their online presence. It's extremely customizable and allows you to install tons of plugins to improve productivity and better manage your website. However, it can sometimes clutter the backend and you can then find yourself jumping between pages to handle your workload.
To curb my woes, I had been on the lookout for a software that can help me solve this very problem of website administration. And then I came across 10Web, a tool that provides you access to all the necessary tools and add-ons under one single roof. So, I decided to give it a try and tell you the pro and cons of using 10Web to manage your WordPress website:
Key Features
While there may exist a plethora of WordPress site management tools on the Internet, I found that 10Web has baked some handy features into its platform. It is currently in its nascent stages of growth as compared to the competitors but the company is developing and appending features to the platform pronto. So, let's dive in and take a closer look at the features 10Web offers to us:
One of the noticeable features of 10Web is the dashboard, which brings together all of the features under one roof. I've been using WordPress for years and know how tiring it could get when you want to make changes to multiple plugins. This indicates that you can now effortlessly supervise many of your site's features via 10Web's unified dashboard.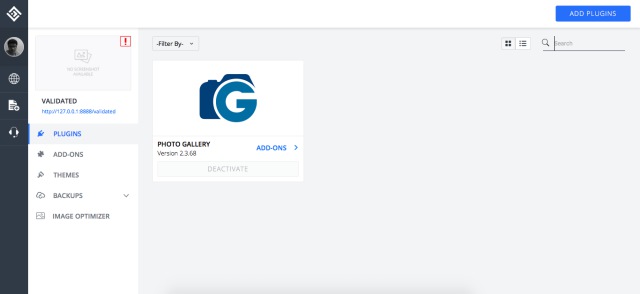 You'll no longer have to jump between different admin panels to control how the website's back-end operates. 10Web makes it possible for you to manage the platform in just 1-click, where you can install, activate, deactivate and update plugins, themes, and add-ons. However, the biggest perk of this site management tool will have to be the fact that you're free to manage more than one domain simultaneously.
I discovered that 10Web also provides you a reliable backup service, which will allow you to backup your WordPress-powered web platform and restore it when needed. If you use this tool, it means you'll never have to worry about losing any data as all of it will be timely backed up, such that you can bring it all back post hacks, or user-errors.
You can schedule when the 'automatic backup process' begins, along with the cloud service, including Dropbox, RackSpace, Google Drive and others, you'd prefer to choose to store the backups. The feature I loved the most is, however, that you can save just differential backups to save space, time and data transfer. You can also use the 10 GB web storage provided by 10Web and choose to archive the website backups in zip, tar, tar gzip and tar bzip2 formats.
This is one feature that I'd laud 10Web for including in their all-rounder platform. Images form an important part of the content you post on your WordPress-powered website and it can surely slow down the website if you don't use lighter, more optimized photos. 10Web plans to help you out with this problem by automatically optimizing new images on a regular basis.
I was not only able to schedule the optimization intervals, but also choose how intense I wanted the compression to be. 10Web provides you the option to choose between 3 modes, i.e. conservative, balanced, extreme and then also check reports to see if the plugin is working as required. But wait, that's not all. The biggest weapon in the arsenal is that you can even easily convert media files (in png or jpg) from one file format to another. Now, that's one useful feature that I appreciated the most.
I hope y'all must be aware that the success of WordPress blogs, i.e your content, depends hugely on search engine optimization (SEO) techniques you're using to make your content seen by more eyeballs. 10Web wants to assist you in furthering your site's presence on the Internet by using proven SEO strategies to increase the traffic and conversion rate.
It provides you a simple interface, where you can jump in and manage meta info of any page, enable or disable page indexation, and analyze content among other things to improve your content's placement in Google search results. 10Web also presents you a ton of data, such as reports on search data, with queries, clicks, impressions, CTR and more, to improve the content and its standing. You can edit "open graph" settings and use a custom meta box as well, which I think is great for any website.
We all do know how important plugins are to enhance the productivity of your WordPress website. 10Web is well-aware of this fact and you'll find that you're being given access to over 60 plugins, that too premium ones, directly from 10Web's dashboard. This makes sure that you can install and get to integrate the plugin into your websites in just a matter of seconds.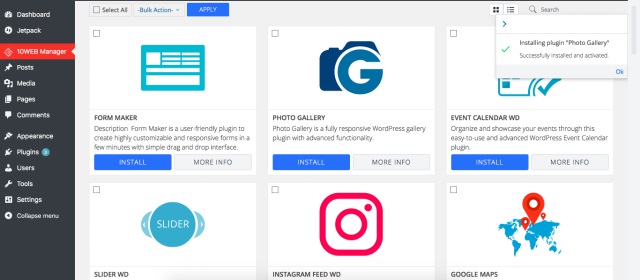 As you can see above, 10Web offers you premium plugins for each type of WordPress site that you may plan on creating. You can create beautiful galleries, form, sliders or ad management tools or include analytics or e-commerce tools for your upcoming web store. It also enables you to integrate YouTube, Google Maps or even Instagram into your website, which I surely liked about the platform.
10Web wants you to focus on your content rather than spend time fixing back-end issues, hence it has already revealed that it will add exciting new solutions, such as hosting, security, as well as monitoring in the coming update. This means you'll soon be able to host websites at affordable rates, protect them against security issues and threats from the growing cybersecurity threats and stop worrying about your website going down quite often.

I believe once this update goes live, 10Web will take care of almost all of your WordPress needs and provide a single dashboard for smoothly managing them.
User Interface
10Web's unified dashboard (as pictured below) is quite clean and minimalistic. You would not find any clutter or unwanted options on the screen, only major features you'd need access to at your fingertips. The first screen shows you the websites you've added to 10Web and an option to add newer websites, which is a great feature of the platform. It surely is a platform that you'd expect from the team behind Web Dorado, who's quite well-acquainted with WordPress and the user's needs.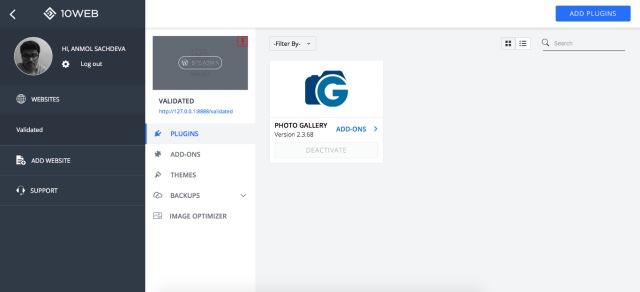 When you open the website management screen, you'll notice that all plugins and add-ons that you've installed are visible on this dashboard. It has a simple and minimalistic UI, where you can explore features made available by 10Web. It has been designed in a manner where you'll most likely not be confused where to look for service you want to use in a split-second.
Ease of Use
Despite 10Web is trying to club each and every service necessary for the working of your WordPress website, the platform is fairly simple to navigate. Once you sign up and install the tool on your website, you'll find that a login is simply what it takes to get your dashboard up and running. It is quite simple to navigate around the dashboard as the platform has distinct buttons for each function on the left navigation bar.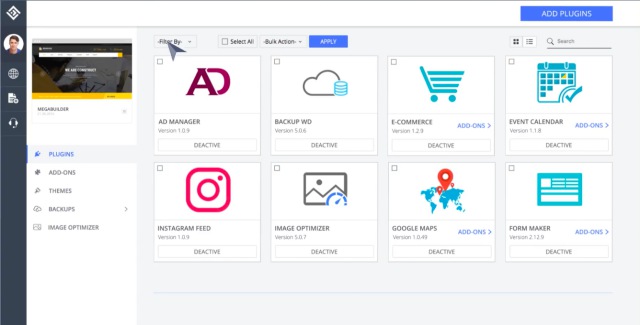 The 10Web dashboard is quite minimalistic and provides you access to all available services at the touch of a button. I found it quite impressive that you're being given a decent set of WordPress management tools all in one common place, but some of them aren't accessible on a localhost server. This is quite strange and I guess it'd be handy if I can try out the image stabilization and backup features before committing to the app.
Price and Availability
If you're thoroughly convinced that 10Web is the platform you need to manage all of your WordPress websites, then let's talk about pricing. The company is offering you 3 tiers to choose from — basic, standard and premium. You'll get premium support, updates, and access to all the aforementioned 60+ plugins in all these packages. Instead, they all differ in the number of websites you can manage, backup storage space and your image optimization limits, as seen below.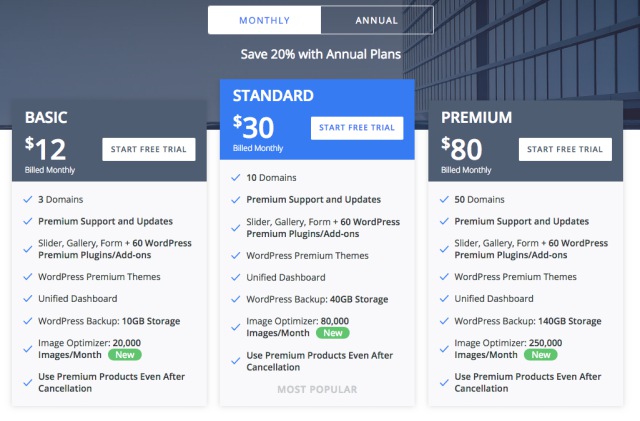 If you pick the monthly billing option, the basic plan will cost $12, the standard costs $30, and the premium comes at a hefty $80. You'll, however, be able to save 20% of your money if you choose the annual billing option, which will only be deducted after your 14-day "risk-free" trial comes to an end.
Although, if you want access to any single plugin or theme from 10Web's collection then it's not possible because it goes against the company's ideology. It aims to provide you a complete set of solutions for managing your WordPress websites that'll constantly be updated to stay current with the times.
While the pricing is fairly decent and the plugin will become available for you to download once you sign up, my biggest qualm is that 10Web should also offer a 'free tier' for young bloggers. It's already quite difficult for new creators to emerge in the competitive system, so a free tier will only witness such creators welcome 10Web's solutions with open arms.
Pros:
Unified dashboard for website maintenance
Full-fledged SEO strategy implementation
Image optimization is quite helpful
Cons:
Features inaccessible on local server
10Web Review: A One-Stop Shop For All Your WordPress Needs
If you don't have any experience in managing a WordPress-powered website, then it can surely be a daunting task. But, 10Web's simple and unified platform is a tried and tested solution that can help you address your website's needs without breaking a sweat. In my time using this product, my experience was really positive and the tool proved to be quite useful to create and manage your website.
Check out 10Web Site Management Tool right here
---
Load More