Here's some WhatsApp news! The Meta-owned messaging platform is testing new text formatting tools, which will provide you with more ways of presenting a particular text. While the new options have been spotted on WhatsApp's desktop version, Android and iOS users could also benefit. Here are the details.
WhatsApp Tests New Formatting Tools
A report by WABetaInfo reveals that WhatsApp has a new beta update for WhatsApp for Desktop, which has got three new text formatting tools. These come in addition to the existing bold, italic, and underline options.
The first one will be a Code Block, which will make it convenient to read lines of code, useful for coders exchanging words on WhatsApp. The second tool will be the Quote feature. This will help users refer back to a previous message, making it easier to keep up with a conversation, which tends to get lost when there are numerous messages.
If you are wondering why one would need a Quote formatting tool when there already exists a Quote feature, then you should that the formatting tool will help users quote a specific part of a message instead of the whole message, which the existing feature takes care of.
The last tool will help users easily make a list and this will come in handy while preparing a shopping list or a party list and even more helpful in groups. You can check out the screenshot for a better idea of the formatting below.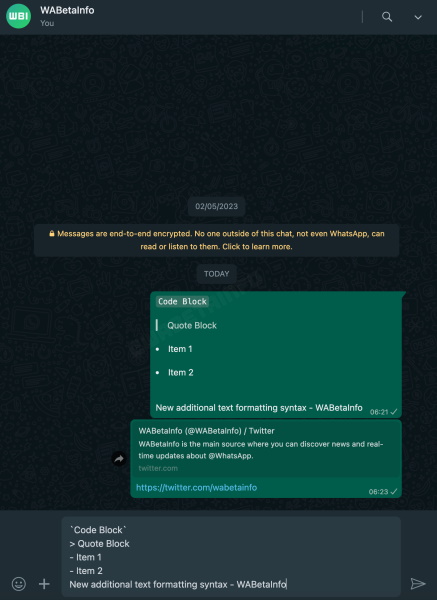 These new formatting tools are currently for beta testers on WhatsApp for Desktop but could soon reach Android and iOS beta users and eventually the general audience. These can help you have better and streamlined conversations, allowing users to choose how to style and present a message.
Given WhatsApp's pace of launching new features, these new tools should arrive pretty soon. We will keep you posted on the same, so stay tuned. Meanwhile, the messaging app has introduced the ability to send images in HD quality, which has arguably the most-requested feature. Do let us know if you have started seeing the option and whether or not it makes a difference in the comments below.
---