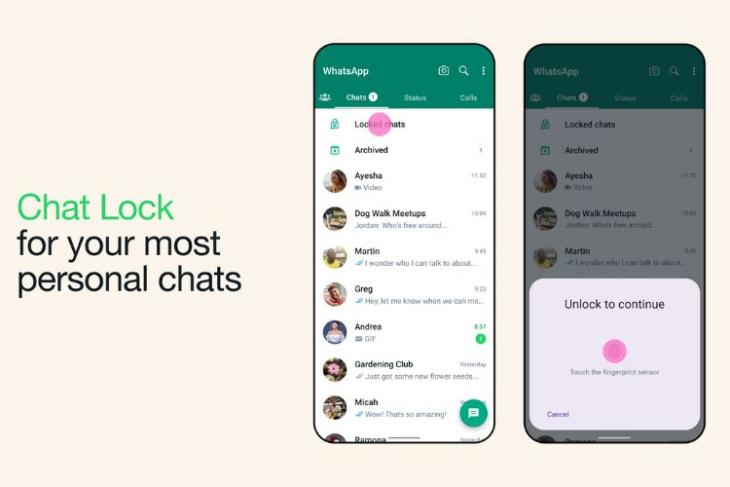 WhatsApp's 2023 list of new features (like new changes for polls and captions with forwards and the ability to use it on up to four phones) has seen a new addition in the form of the new Chat Lock. The new feature will help you put your chats behind a lock so that no one tries to snoop in. To recall, it was earlier in the testing phase. Check out the details below.
WhatsApp Introduces Chat Lock Feature
The new Chat Lock feature will keep the private conversations in a separate folder and accessing them will only be possible by either entering a password or phone's biometrics. These chats won't be present in the chat inbox similar to the archived chats.
So once the feature is enabled for any individual or group chat, you will have to unlock it to view the new messages. The best part is that the notifications of these chat messages will remain hidden. This will come in handy when your phone is often with someone else or you suspect someone prying on you.
The Chat Lock option will be present under the chat or group settings, which can be accessed by tapping the chat name. If you need to access the locked chats, you can pull down the inbox (much like how you access the archived conversations) and enter the password or PIN or pass the biometric stage to read them. We have a dedicated article on how you can lock WhatsApp chats. So, don't forget to check it out for a better idea.
This comes in addition to the existing privacy features like end-to-end encryption, disappearing messages, the ability to hide your online status, and more. There's also the ability to lock the WhatsApp app but locking chats can further tighten the security.
WhatsApp's Chat Lock feature has started rolling out and should reach all Android and iOS users soon. It is also revealed that the Meta-owned messaging platform will improve its capabilities by introducing this for companion devices and features like a custom password for each chat in the coming months.