If you are a regular reader here at Beebom, you probably are pretty familiar with Kodi. For the uninitiated, Kodi is everyone's favourite media streaming solution that brings a ton of functionality and is no stranger to legal issues. In this article, I attempt to crack down what's all the fuss about Kodi in plain English. First, I'll walk you through and explain what Kodi actually is and why it is so popular. After we nail the basics, we shall learn about various terminologies associated with Kodi and finally, we shall have a word on whether Kodi is legal or not. Let's begin, shall we?
Note: If you are more interesting in knowing how to use Kodi (v17 Krypton) or how to setup your Kodi configuration, you can check out our detailed article on the same. 
What is Kodi?
At its core, Kodi is an open-source media player application, which was initially released under the moniker "Xbox Media Player/Center" (XBMC) and was later rebranded as Kodi in 2014. The open-source nature of Kodi has fostered the development of a vibrant community, which constantly strives to make Kodi better. It features a "10-foot" user interface designed especially for large screen televisions. However, there are a ton of skins you can install to change the look of Kodi on your device. It can play multimedia files locally or stream from the Internet. As you continue reading, you will come to know that it can do even more stuff, but let's stick with this for the sake of simplicity for now.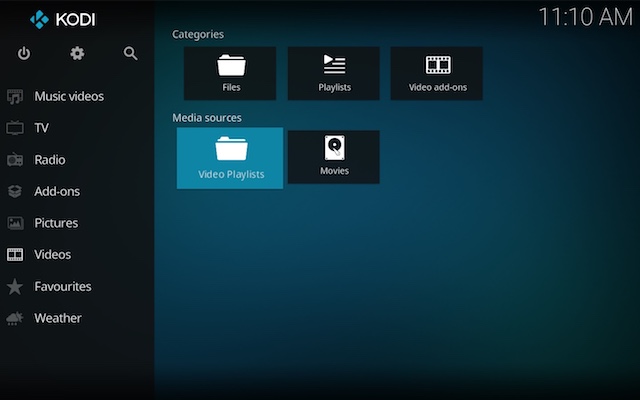 I know, the first thing that instantly pops up in your mind after reading this is, there are many other open-source media player apps out there, so what's so different about Kodi? I am going to try and explain why it is so popular in the next section.
Why is Kodi So Popular?
I'll get straight away to the point: The reason why Kodi is so popular is two-fold. One, Kodi is a powerful media player that can play anything you throw at it, it is compatible with more devices than you can ever imagine, and turns any of your devices into a full-blown media streaming solution. Remarkably good, but that doesn't still fully explain why it's so popular, right?
The second part of the equation of why it's so popular is this: it (unfortunately) makes it incredibly easy to pirate TV shows, movies, songs and other similar kinds of content. The XBMC foundation is strictly against this, but the open-source nature of Kodi means that there's little control over the kind of add-ons that any third-party developer can publish.
An important thing to note that Kodi (obviously) doesn't ship with these kinds of add-ons, but it's not uncommon to come across websites that offer them. Add-ons that promote piracy are the reason why Kodi is often stuck between legal issues, but we shall delay a full discussion about the legality status of Kodi until the last section. Meanwhile, I hope now you get a fair idea on what makes Kodi so popular amongst users.
What Are Kodi Add-ons, Repositories and Builds?
Add-ons are additional packages that enhance the functionality of Kodi. As you might have guessed by now, Kodi isn't pretty exciting on its own. It relies on both, official and third-party add-ons to unlock its potential. These add-ons enable a whole new dimension of what you can do with Kodi: ranging from watching live TV and playing various games, to customizing Kodi to your liking. You can head over to Kodi's official site to find hundreds of add-ons or check out some of the hand-picked Kodi add-ons we have covered in the past. While official Kodi add-onscan be installed natively, you can install a third party Kodi add-on either by adding its source or by installing its ZIP file.
Moving on to Kodi repositories, in simplest terms, a repository is a place where these add-ons are stored. Different add-ons are available in different repositories, so you may want to search the web for the repository that contains the particular add-on you're looking for. Fusion, Xfinity and SuperRepo are some of the repositories that host the most popular Kodi add-ons.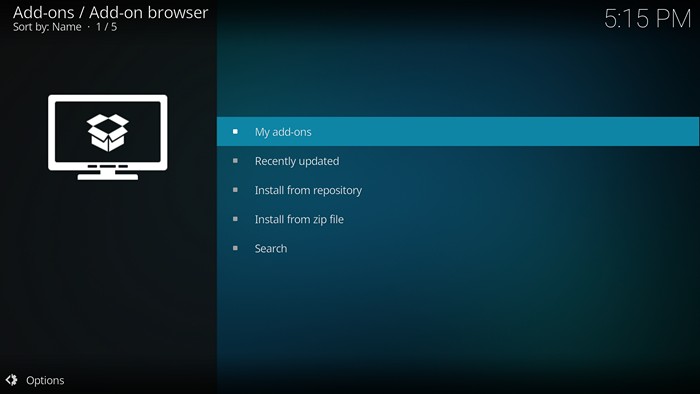 A Kodi build is a custom version of Kodi that comes pre-installed with various add-ons and usually a different user interface. If you're a little off tangent when it comes to technical skills, custom Kodi builds can help you get started effortlessly as it eliminates the hassle of hunting new add-ons. Most of the Kodi boxes come with a custom Kodi build installed to cater an exclusive experience to their customers. However, Kodi builds are not exclusive to just Kodi boxes in any way. Installing a custom Kodi build is as easy as adding the corresponding repository on your existing Kodi installation. The Beast and Nemesis are amongst the most popular Kodi builds available in the market today.
While they may be great for starters, the community doesn't really recommend using them. This is because that some Kodi builds include add-ons individually without adding the corresponding repository which means there's no simplified way of updating them. This often leaves such add-ons outdated and broken, causing frustration to the user. So, granted, there may be a little bit learning curve at first, but it certainly pays off to learn using Kodi on your own in the long run.
What All Can I Do With Kodi?
Once you get Kodi up and running, you'd be pretty dazzled by the number of things you can do with it. For starters, you can stream music, videos, photos and other multimedia from your local storage, Network-attached Storage (NAS), or directly via the Internet. Kodi supports various file-sharing protocols like the SMB and the NFS, so you can easily stream from a NAS. Kodi can also stream directly from YouTube and other similar web services with the help of 3rd party add-ons.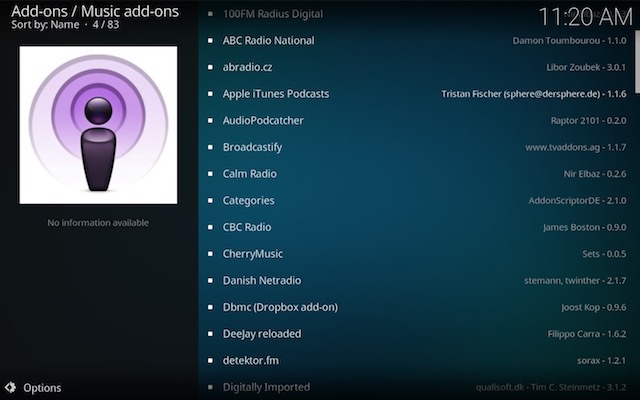 Kodi has inbuilt support for live broadcast TV. An important thing to note is that live broadcast TV is different from your live streaming Internet services. Think of it as a stripped-down version of cable television that receives radio waves from the earth-based transmitter. If you feel like I've oversimplified it, you can always read the difference on Wikipedia to put flesh on the bones. To get started, you would need to have a PVR backend and a PVR client and there's a fair bit of setup involved, so head over to Kodi's official tutorial on how to watch live TV. Kodi also comes with DVR/PVR support, so you can record live TV. There are also certain add-ons that let you listen to online radio and podcasts.
If you've already cut the cord and are looking to watch live TV via Internet streaming services, you may still be in luck, though. There are several live TV add-ons that let you stream actual live TV. You may want to be extremely careful while using a certain add-on, as some of them provide illegal streaming which could potentially land you in trouble.
Kodi also has several add-ons that let you play games on large-screen televisions from the comfort of your sofa. One such popular add-on is Internet Archive ROM Launcher (IARL) that lets you launch games hosted on the Internet Archive. While you can play games using your existing wired controllers, it would be a better choice to invest in a wireless HTPC remote. If for some reason you do not want to spend on one, Kodi even has official remote control apps for Android and iPhone. You would require these remote control apps to control the live TV playback on Kodi, so grab them right away.
What Are The Media Formats Supported By Kodi?
Kodi is compatible with a large number of media formats. For audio, it supports MIDI, AIFF, MP3, AAC, AC3, DTS, AMR, FLAC, and more. Video formats include MPEG-1, MPEG-2, H.263, MPEG-4, RealVideo, Apple QuickTime and a lot more. Image formats include BMP, JPEG, GIF, PNG, TIFF and a few more. Basically, it supports almost all the audio, video and image formats you can think of. So, no matter what you throw at Kodi, it should be able to play it. It also supports almost any kind of subtitle format. One exception is encrypted Blu-ray Disc, of course. To see a comprehensive list of all the supported formats, head over to Kodi's official website.
Kodi's features a powerful music player, which includes searching and sorting playlists thus making music library management a breeze. Kodi's default video player, uninspiringly named "DVDPlayer" has the ability to play/pause videos directly from compressed archives. To sum things up, Kodi can handle pretty much every media format that you throw at it, ensuring that you've a powerful media jukebox at your service, always.
What Devices Does Kodi Work On?
Kodi was originally designed to work on the Xbox, but works on almost all the major operating systems today, including Windows, macOS, Linux, FreeBSD, Android, iOS, Apple tvOS and a lot more. Installing Kodi (download) on most of them is pretty similar to how you would install a software normally, except for iOS. If you've a jailbroken iPhone, installing Kodi is as easy as adding a repository and downloading Kodi. If you haven't jailbroken your iOS device, you can still install Kodi, though the process is a little complicated. There's no official support for ChromeOS, but the fact that you can now run Android apps on ChromeOS means that you can run Kodi on select Chromebook models.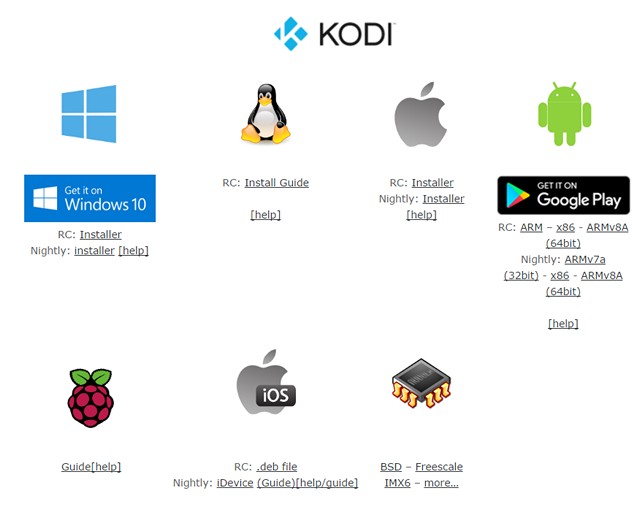 You can get Kodi running on lots of streaming devices like Amazon Fire TV Stick, Nvidia Shield and even the Raspberry Pi 3, if you don't mind getting your hands dirty. There's even an operating named "Kodibuntu" designed for PCs that mainly ran Kodi, but apparently, it has been discontinued.
The support is so vast that it'd be more time efficient to list out the devices it doesn't work on. One notable mobile operating system that Kodi doesn't work on is the Windows Phone. Also, there's no Kodi support for PS3/PS4, Xbox 360/One, or the Wii/u and the Kodi team says that they have no interest in attempting to port Kodi on these gaming consoles. XBMC4XBox, a third-party group intends to provide support for the original Xbox, though. If you have the Xbox One, you can install Kodi on a streaming box and plug it into the Xbox HDMI.
As you can see, with the exception of gaming consoles and Windows Phone, Kodi has a pretty wide-range platform support.
Is Kodi Legal to Use?
Yes, Kodi is legal per se, but the underlying answer could actually be a lot trickier. If it's perfectly legal, why does it get a bad name and often finds itself stuck in legality issues? Because of the open source nature of Kodi, developers have created all sorts of third-party add-ons, including the ones that let you illegally stream TV shows and movies. Now, do you really need to be a lawyer to understand that piracy, in any way, is a crime?
To make the matter worse, some people criminals sell stand-alone Kodi boxes with various illegal add-ons pre-installed to make a fast buck. Again, Kodi boxes are not illegal, but the boxes that include such add-ons could invite some trouble. So, if you're in the market to buy a dedicated Kodi box, it's worth researching about the add-ons that come pre-installed with it. If you are using Kodi on your existing phone or desktop, make sure to stay away from add-ons that let you stream content illegally from Netflix, Sky movies etc.
The Kodi foundation has distanced itself from such add-ons, citing that they are "out of their control", and have strongly criticized such people who bring a bad name to the whole Kodi team. Please remember that consuming pirated content is as illegal as selling those Kodi boxes with illegal add-ons.
The key takeaway is that, as long as you're not using any of these illegal add-ons that promote piracy or sell dedicated Kodi boxes with such add-ons installed, there's really nothing to worry about.
SEE ALSO: Kodi v17 Krypton: 10 New Features and Changes
Understand Kodi Better?
With a little bit of setup, Kodi can become a full-blown media centre and the ultimate entertainment hub you'll ever need. You can watch your locally saved media, stream from the Internet using (legal!) add-ons, watch live broadcast TV, play games and do much more on your big-screen television, without ever needing to leave your couch. Once you get accustomed to the convenience that Kodi offers, it's tough to go back.
I hope that this post helps you understand Kodi better. I'll be doing a lot more articles on Kodi, so stay connected with Beebom. As always, if you still have any burning questions about Kodi, feel free to shoot them in the comments section below.