Want a course in research and innovation? A course in trial and error, phone makers? Well, there's one Chinese giant that's been pushing the boundaries in smartphone design and I have been singing praises for Vivo to almost everyone who would lend me an ear. The Vivo Apex concept that birthed the pop-up selfie camera and in-display fingerprint sensor was one-upped by a dual-display to keep the taller non-intrusive display intact.
Well, Vivo doesn't seem to be giving up on their mission to provide the most vivid viewing and entertainment experience while bumping up the feature set, adding a wow factor, and also captivating users. Hence, here we have among us the Vivo Apex 2019 concept, which was first shown off at MWC earlier this year.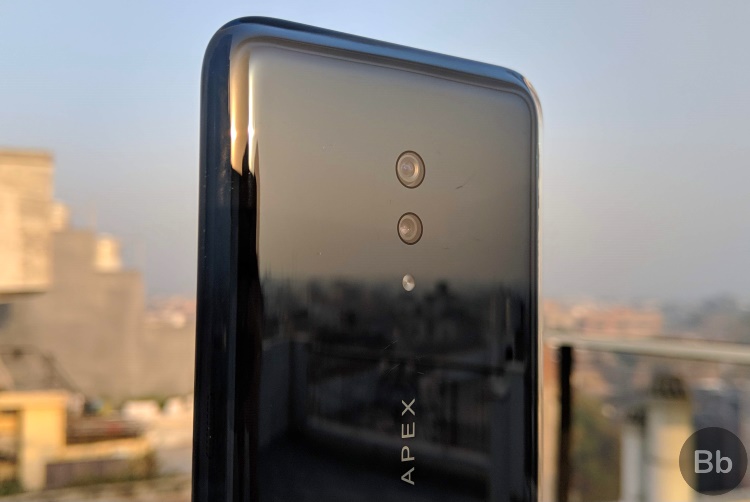 Vivo doesn't want to restrain its innovation behind closed doors and was kind enough to lend us the Apex 2019 concept smartphone for a couple of days to get a sense of where the Chinese giant may be headed. Well, without wasting any more time, here's what we think about Vivo's button-less and port-less smartphone:
Vivo Apex 2019: Specs
| | |
| --- | --- |
| Display | 6.39-inch Full-HD+ AMOLED |
| Processor | Snapdragon 855 |
| RAM | 12GB |
| Internal Storage | 512GB |
| 5G Connectivity | Yes |
| Rear Cameras | 12MP+13MP |
| Selfie Camera | N/A |
| Battery | 4,100mAh |
| Wireless Charging | N/A |
| Colors | White, Silver, Gray |
Vivo Apex 2019: Button-less & Port-less
From the moment you take the Vivo Apex 2019 in your hand and peek at it from all the sides, turning it around, you will be impressed by how Vivo has pulled off the feat of not including a single button or cutout on Vivo Apex 2019. The "glass unibody" design of this concept smartphone is gorgeous, especially the gray variant that we've got our hands on. I've also come to adore the white color variant a lot.
The curved glass rear panel of Apex 2019 is really comfortable to grip as there's nothing in the way to interfere with it, not even a metal or plastic frame. It feels like you're holding a glass block that smudges easily, but I also appreciate Vivo for going to such lengths to give us a concept like this one. The camera module is flush with the rear, the one hole on board is a microphone at the bottom and that's all. You don't have a SIM tray and the Vivo Apex 2019 relies solely on eSIM for connectivity.
I absolutely adore the glass unibody design of Vivo Apex 2019 and it's comfortable in-hand grip.
There's also magnetic inductive charging pins on the rear, and the smartphone is 'IP68 rated' for water and dust resistant. This design, however, is not the most practical right now and comes with its imperfections. Still, do take a look at the overall port-less and button-less design of the Vivo Apex 2019 here:
With physical buttons out of the picture, Vivo is now using a combination of pressure-sensitive sensors and capacitive touch to mimic the power key and volume buttons. This is kind of similar to Pixel's Active Edge feature and the power button is even marked on the outside, a dotted demarcation, visible to the eye.
There's also a linear motor in tow here to make the keypresses feel more substantial and life-like, with haptic feedback. This is a great idea to make the outside of the smartphone look seamless (and don't worry, Vivo says they work even when the phone is off and the system fails), but I have a couple of qualms with the buttons. They were pretty annoying for me in daily use.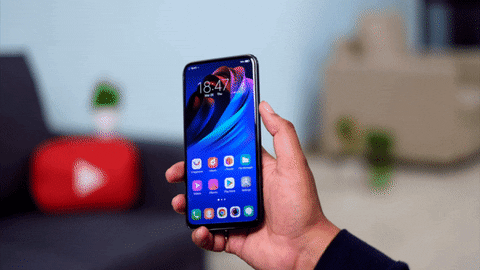 First of all, you cannot feel any of the buttons, so you don't really know where to press when the screen is off and the on-screen bubble hints are not visible. I didn't really like that at first, but I got used to their position in a couple of days. Secondly, the pressure-sensitive buttons are really sensitive and accidental touch is a huge problem.
The keys would press while the Apex 2019 was sitting in my pocket, while playing PUBG Mobile, and other scenarios. These buttons are really finicky and if Vivo is looking to port this feature to an upcoming smartphone then I would love for them to better this feature and give users the option to adjust the sensitivity.
Vivo Apex 2019: FullView Display
Vivo Apex 2019 also boasts of not having any cutouts, not even on the display, and has again delivered a FullView display. This concept smartphone has a 6.39-inch Full-HD+ Super AMOLED screen with a 19.5:9 aspect ratio and 2340×1080 pixels resolution. It stretches almost along the entirety of the front, with a minimal bottom chin.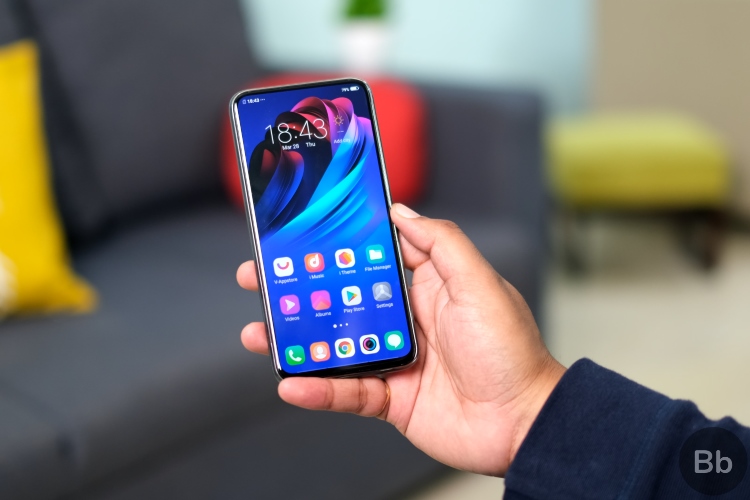 This is the same panel, both in diagonal size and resolution, which we have seen on Vivo's Nex Dual-display Edition and it's gorgeous. The color reproduction is excellent, there's no notch or cutout to diminish the experience in any way (even though I don't mind it) and I have come to revere the company's decision in this segment.
Vivo Apex 2019: Full-screen Fingerprint Sensor
Apart from the button-less and port-less design, the standout feature of the Apex 2019 is that Vivo has expanded the size of the in-display fingerprint sensor to now cover the entirety of the screen. This means you can place your finger anywhere on the screen to unlock your smartphone, which I know, sounds mind-boggling but has been realized with this concept.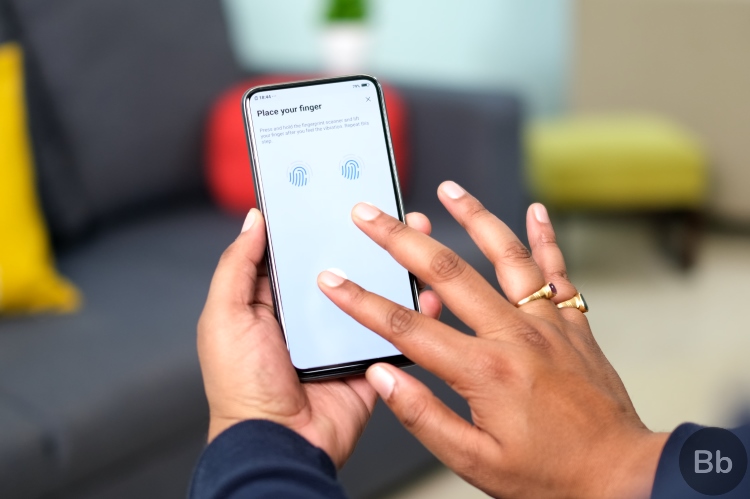 The in-display fingerprint sensor occupied 25% area of the screen on last year's Apex, but now covers around 80-85% of the screen here, leaving some space out from the edges on the Vivo Apex 2019. You can either choose to register a single finger or dual fingers at the same time for enhanced security. The fingerprint recognition speed is quite fast, even the animation is pretty snappy – unlike Samsung's sluggish ripple effect.
You can press anywhere on the AMOLED screen to unlock the Vivo Apex 2019 concept smartphone.
The ability to place your finger anywhere on the screen to unlock the smartphone sure is awesome and I love it. Vivo has even simplified the tiring and lengthy registration process and merely required two long-presses. The company is using adjacent pixels to improve recognition speed by lighting them up when you place your finger on the screen. You can see the Vivo Apex 2019's full-screen fingerprint sensor in action right here:
Vivo Apex 2019: Performance & Benchmarks
This concept device is powered by Qualcomm's Snapdragon 855 chipset, paired with Adreno 640 GPU, 12GB of RAM, and 512GB of storage. If that isn't enough, the Vivo Apex 2019 also packs inside the Snapdragon X50 modem to make it the company's first device to be 5G-ready. It's also the first to include a massive 12GB of memory.
Since there are a limited number of Apex 2019 prototypes, Vivo sent out a Chinese unit to us and it didn't have any Google apps pre-installed. So, we first downloaded the Play Store on this concept device and download PUBG Mobile. The game title assumed 'Ultra' graphics setting by default and ran smoothly, something that can be expected from the Snapdragon 855. I didn't notice any problems with multi-tasking, opening/closing of apps and more, all thanks to the ample amount of memory on board. `
For those interested in benchmark numbers, well, I performed AnTuTu and Geekbench 4 tests on the Apex 2019 concept and you can see the results above. While the Geekbench benchmark failed for us, the AnTuTu score sits at around 310,000 and that's considerably lower than other Snapdragon 855-backed phones, like the Mi 9 out there. Let's not dwell too much into it since this is merely a concept and may not be as optimized.
Vivo Apex 2019: SoundCasting Audio Tech
Vivo Apex 2019 is carrying forward its SoundCasting technology, first introduced with the original Apex concept, to not only replace the earpiece but the speakers as well this time around. You don't have traditional speakers on this smartphone but instead, the screen vibrates to produce sounds that you hear– be it a personal voice call or music you're playing out loud.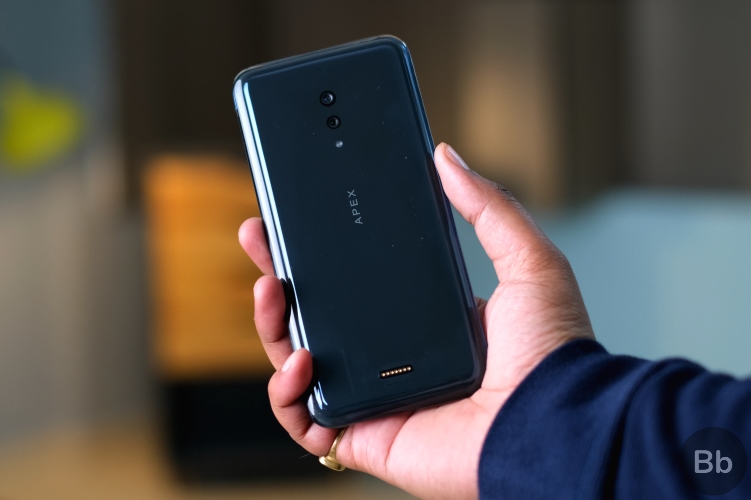 In my brief time spent the Vivo Apex 2019, I found that the sound output was quite loud, wasn't obstructed while playing games as is the case with bottom-firing speakers, and it didn't sound tinny either – which I was expecting. You'll feel the rear glass panel vibrate when you play music and hold the smartphone in your hand.
Vivo Apex 2019: Magnetic Charger
This is a port-less concept smartphone and that should be enough to tell you that looking for a USB charging port is useless because there isn't one. Yeah, Vivo Apex 2019 doesn't have a USB port and relies on the inductive charging pins at the bottom rear. The company has provided an Apple MagSafe-like magnetic connector called MagPort with the device for charging and data transfer purposes. The adapter is rated for 18W, meaning it supports fast-charging and that could be a reason for the charger heating up.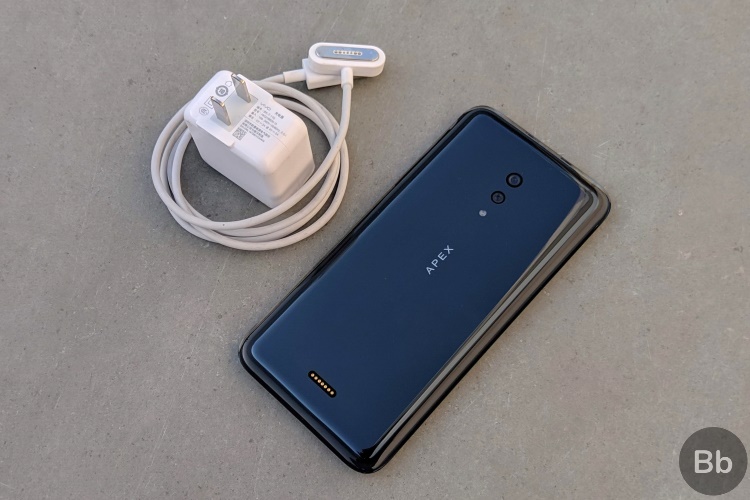 The pogo pins on the smartphone sit flush with the glass panel and the charging connector just snaps to them when you bring it close. Rupesh loves this simple design change and he kept himself entertained with it when we was using the smartphone, as you can see below: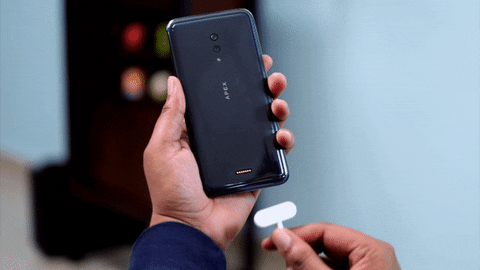 This mechanism, however, has a minor imperfection since the smartphone will be sitting raised from the surface when plugged in for charging. This can be annoying when a user tries to unlock and use the smartphone as it would keep rocking at its place.
Vivo Apex 2019: Cameras and Software
The Apex 2019 concept carries a dual 12MP+13MP camera module on the rear, which sits flush with the unibody design to give the smartphone a streamlined finish with no bumps, and that's more important to note here in comparison to its performance. This is merely a concept and the camera app has a barebones viewfinder, with the option to switch among the primary and ultra-wide lens. That's all.
The biggest bummer, however, has to be the lack of any selfie camera on the Vivo Apex 2019. While Vivo's previous Apex concept smartphone brought with it the now popular pop-up selfie design (which we expect to see on the OnePlus 7 as well), there's nothing like that here.
As for the software front, well, the Apex 2019 concept is backed by Vivo's FunTouch OS. It is based on Android 9 Pie but still continues to mimic iOS, which I don't really prefer or like per se, but you get used to the experience after a while. The software on board was fluid & I faced no issues on this front during my time with the smartphone.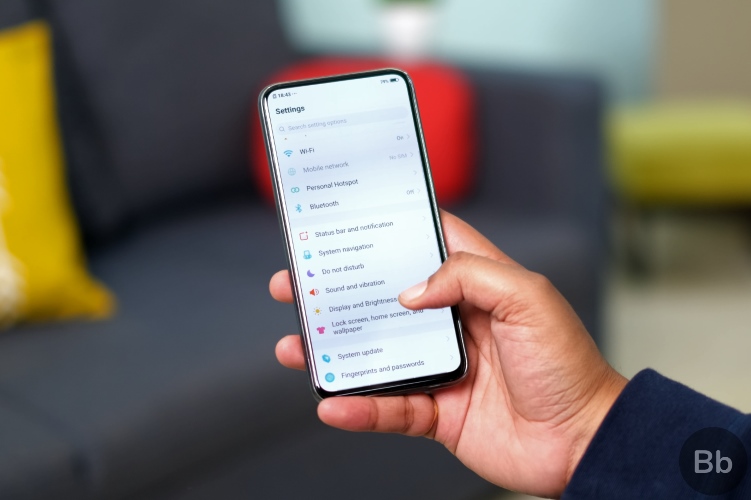 SEE ALSO: Vivo Dual-Display Edition First Impressions
Vivo Apex (2019) Hands-on Impressions: Do We Really Need No Buttons or Holes in Our Phones?
Vivo Apex 2019 is merely a concept, a prototype designed to show off Vivo's innovative approach to smartphone and where the industry can be headed in the coming years. It's seamless design, full-screen fingerprint sensor are features to crave for, but they are not what an average consumer wants.
This device isn't meant for sale, either in India or internationally, but we can expect new technologies or features from Apex 2019 to trickle down to Vivo's upcoming phones later this year. The pop-up selfie camera has already found its way to a myriad of devices, so could inductive charging or pressure-sensitive buttons be the next trend? Let us know by dropping a comment down below.
---
Load More