Sometimes gamers do the daftest things. A large number of schools across the UK were evacuated on Monday after receiving 24,000 threatening emails, containing what police describe as a bomb hoax that started as a gaming feud. According to Humberside Police, 400 schools across the country, including many in London, Manchester and North Yorkshire, were among those affected. A disgruntled gamer is thought to be behind a hoax email, according to BBC.
While the emails seemed to have originated from US-based gaming server 'VeltPvP', the company denied sending any such email, claiming that rival gamers had spoofed its account in a bid to damage its reputation.
We have nothing to do with the bomb threats that were sent out to the 400+ UK schools.

We've been being harassed by a group of cyber criminals that are trying to harass us in anyway possible.

We're extremely sorry for anyone who had to deal with this, but just know it's fake.

— VeltPvP (@VeltPvP) March 19, 2018
The hoaxer, meanwhile, pointed the finger at at VeltPvP, and accused the network of targeting rival Minecraft servers with DDoS attacks. The acquisitions have been denied by Carson Kallen, the 17-year-old CEO of Velt LLC.
It's interesting to note here that that this was not the first time that the company was targeted by rival Minecraft players. According to Kallen, the company has been victim of many swatting attacks in recent times, although, the bomb hoax is by far the most serious one of the lot.
As far as the hoax email is concerned, it had a pretty menacing message: "This is a message to EVERYONE. We have sent in a student with a bomb. The bomb is set to go off in 3 hours time … If you do not send the money! We will blow up the device … If you try to call the cops we WILL blowup the device on the SPOT! ANY attempt at defusing it your self will cause it to explode".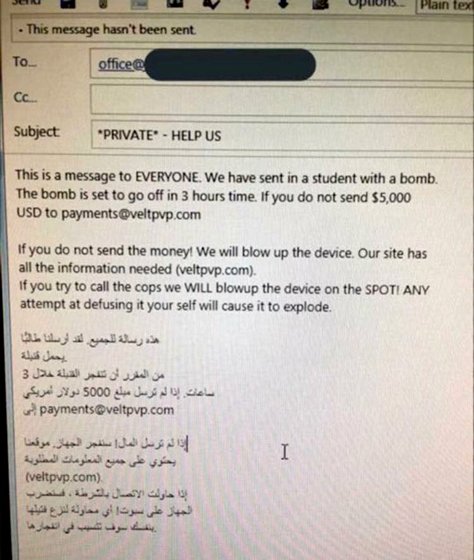 It will be interesting to see if the law enforcement will eventually be able to apprehend the perpetrators of the hoax, especially because it created such widespread panic among parents. The game is largely patronized by children between the ages of 8 and 18, which is what makes this well-coordinated, well-planned and well-executed threat even more remarkable.
---