When Truecaller launched, it was one of the first apps to bring universal caller ID services to smartphones, and I loved using the service. However, over the years Truecaller has become too bloated. The app is one of the biggest culprits behind background battery drainage in a smartphone. I also don't like the fact that the service collects too much data about my calls and contacts. For these reasons, I am not at all excited about using this service anymore. If you also feel the same way, here are the 10 best Truecaller Alternatives for Android and iOS devices you can use.
Best Truecaller Alternatives for Android and iPhone (2022)
Below, you can find the list of apps that we have included in this article. All the apps have anchor links for easy navigation. That means you can click on them to move directly to the app you want to read about.
1. Eyecon Caller ID
As its name suggests, the app can identify calls and show you photos and names of unknown callers. The biggest feature of this app is its ability to sync with social media profiles. The app syncs with Facebook and other social media channels to identify your contact's true photos to create a photo-based address book and dialer. That means you will receive much more information on unknown numbers using this app than either Truecaller or any other caller ID app on this list.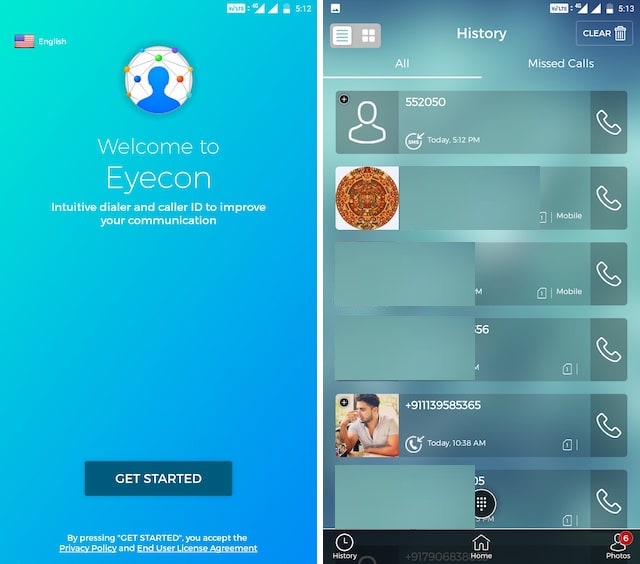 That said, the app has a smaller database than Truecaller which means it won't work as consistently as the latter. I recommend that you use this app as a backup, as for contacts it has the data on, you can get better information. Other features of the app include the ability to block spam calls, availability checker, and more.
Install: Android (free)
1. Whoscall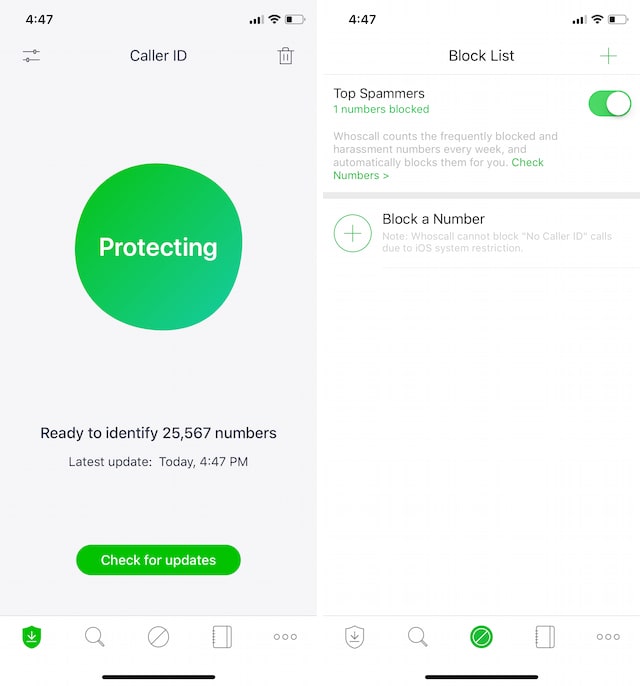 Whoscall is one of the best caller ID services out there and hence it is one of the best Truecaller alternatives that you can use on your Android and iOS devices. The app has been downloaded more than 65 million times and has a repository of over a billion numbers. One of the best features of this service is its offline database which allows users to identify calls even when they are not connected to the internet.
This is a feat which even Truecaller cannot perform. Apart from the ability to identify callers, other features of the app include the ability to block spam calls, blocking of specific numbers, unknown numbers search to track unknown numbers, and more. If you are looking for a Truecaller alternative, you should definitely try this out.
Install: Android, iOS (free with in-app purchases)
2. Showcaller
Showcaller is yet another Truecaller alternative that is easy to set up and use. The app is really small (>4MB) and doesn't eat up much of your phone's resources. It is also battery friendly and doesn't drain as much battery in the background as Truecaller does. The app identifies most of the unknown calls and shows detailed caller ID info on incoming calls, showing you the names and photos of the people who are calling. The service is incredibly good at identifying and blocking spam calls.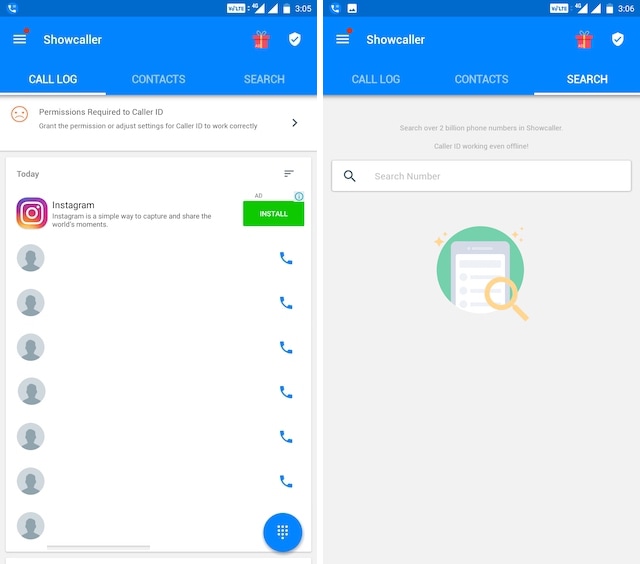 In my testing, the app blocked almost all the spam calls. I also love that the app brings a fast T9 dialer allowing me to quickly search through my contacts. Other features of the app include unknown number search, offline database, built-in call recorder, and more.
Install: Android, iOS (free with in-app purchases)
3. Hiya
Hiya which was formerly known as Whitepages Caller ID is a very capable caller ID app which identifies the calls you want to take and blocks the numbers and texts you want to avoid. Just like Truecaller, the app identifies unknown numbers, allows you to search for unknown numbers, and automatically blocks spam calls. My favorite feature of Hiya apart from its intended functions mentioned above is the fact that the app is completely free of cost and doesn't even show any ads.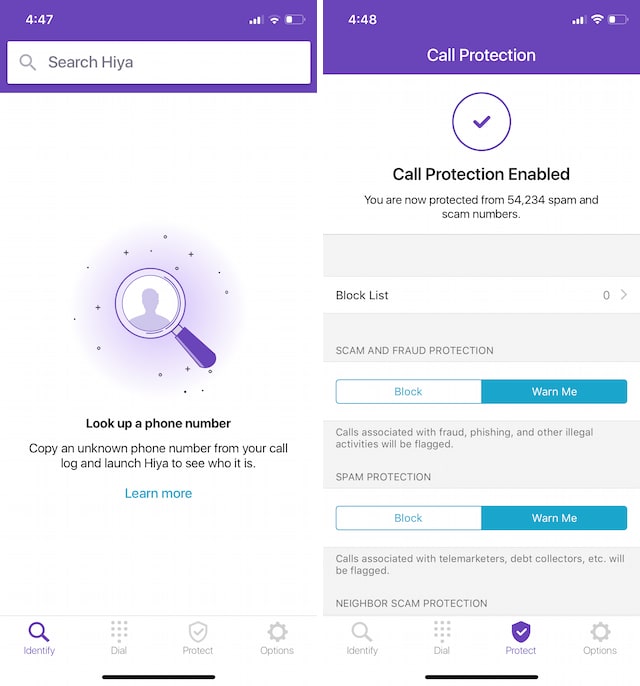 Most of the other apps on this list ask you to either pay a premium price or show ads. Hiya does neither and hence has the best user experience of all the caller ID apps I have tested. If you don't want to see ads and still want to enjoy the full caller ID experience, Hiya is the app for you.
4. CallApp
CallApp is an all-purpose caller ID app which not only identifies unknown callers and blocks spam calls but also comes with the ability to record calls. The app allows for the recording of both incoming and outgoing calls and is a boon for users who want this feature. Of course, being a caller ID app, its main function is to identify unknown numbers, which thankfully, it does quite well. I have to say that spam call blocking here was not as good as with some of the other apps on this list.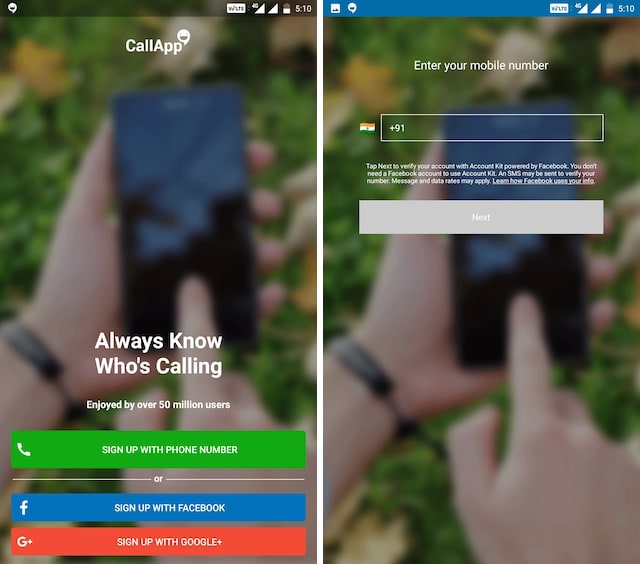 However, it might just be that I was receiving more spam calls when I was testing this particular app. One thing that I don't like about this app is its battery consumption. In my testing, the app consumed more battery and the drainage was equivalent to results I observed when using Truecaller. That being said, it still is a very good caller ID and call recording app and deserves a place on this list.
Install: Android (free with in-app purchases)
5. Mr. Number
Apart from sporting quite an eccentric name, Mr. Number is a fairly good caller ID app which gets the job done. The app does a great job of identifying unknown numbers and the spam call blocking was also on par with some of the best apps on this list. One of the good things about this app is that you can predefine conditions which allow you to block calls from specific users, area coder, or even an entire country.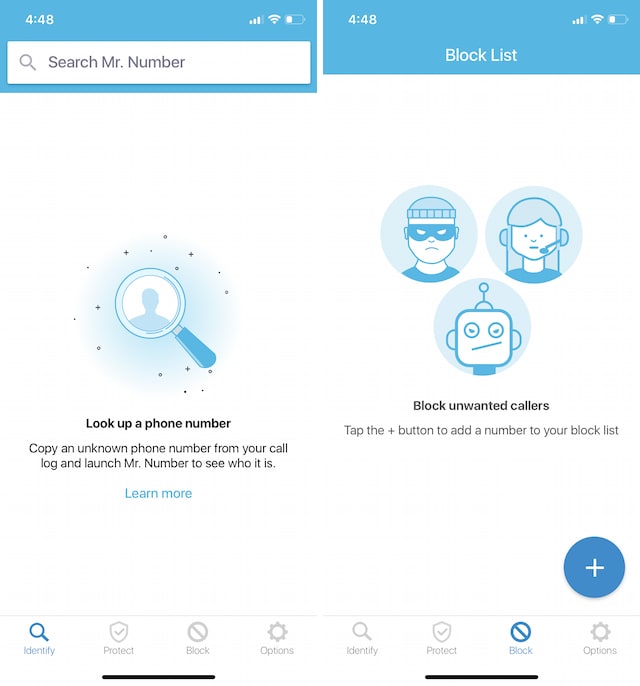 This feature comes in very handy to block international spam calls which normally filter through most of the caller ID apps. The app also brings all the other usual features including the ability to search for unknown numbers, call blocking for specific numbers, and more. It's definitely a worthy Truecaller alternative and is worth checking out.
6. TrapCall
If you are an iPhone user, TrapCall is a worthy alternative for Truecaller. While the app is also available for Android users, the ratings on Play Store imply that their Android app is not as good. That said, ratings don't always tell the whole story, so you can check it out.
TrapCall brings a ton of features that lets you block spam calls and identify callers, and more. First is the "No Caller ID" feature that uses TrapCall's patented technology to let you know who is behind an anonymous blocked caller ID. This comes in handy when deciding whether to accept or reject a call.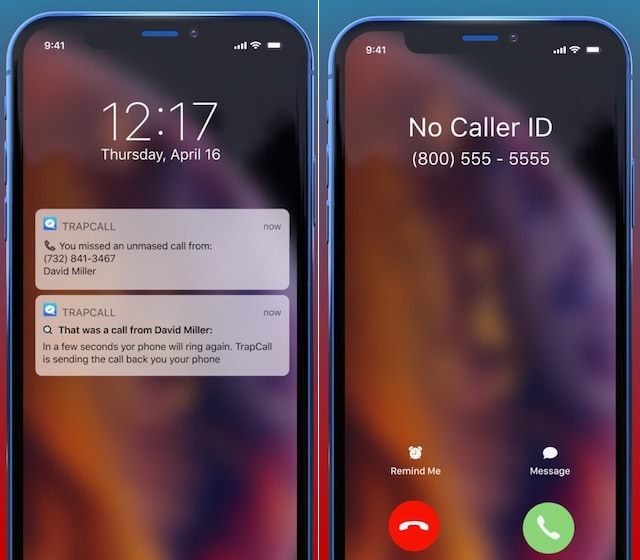 There's also automatic spam blocking that blocks most of the robocalls. They keep an updated global list of spam callers so you always get the latest protection. The app also allows you to easily blacklist harassing and annoying callers. The callers hear a message that your phone has been disconnected so they are none the wiser.
There's also support for "Live Caller ID" just like Truecaller. Other features include the ability to record incoming calls, privacy lock for unidentified callers, and more. As you can see, TrapCall brings a lot of useful users and can easily replace Truecaller from your life.
Note: TrapCall is only available in the US.
Install: Android, iOS (free 1-week trial, pro plans start from $3.99)
7. Callblock
Callblock is a simple call blocking app for iOS devices with its headlining feature being the ability to block spam calls. Do note that this is not a caller ID app which means that it cannot identify unknown numbers. However, its call blocking feature is one of the most robust I have seen in any app and hence it made the list.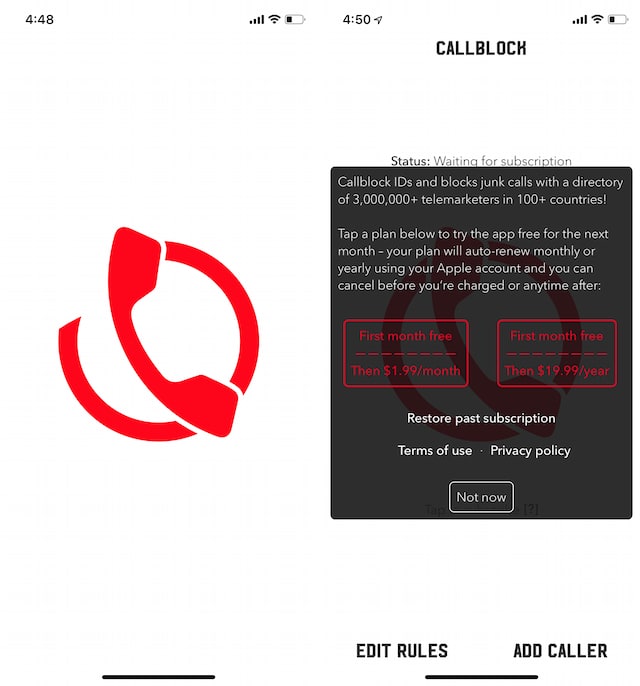 With the world's biggest directory of telemarketers (more than 3,000,000 classified entries) spanning over 100 countries, the app boasts of blocking more than 86.7 percent of telemarketing calls which is one of the best numbers in the industry. If you receive a ton of spam calls and none of the callerID apps mentioned on this list along with Truecaller are making any difference, you should install this app.
Install: iOS (free 30-day trial, $1.99/month)
9. ViewCaller
ViewCaller is yet another cross-platform Truecaller alternative that works on both Android and iOS devices. The app gets all the basics right. It identifies all the unknown callers and helps you block spam calls. The caller ID feature work in real-time so you know who's calling before you pick up the call.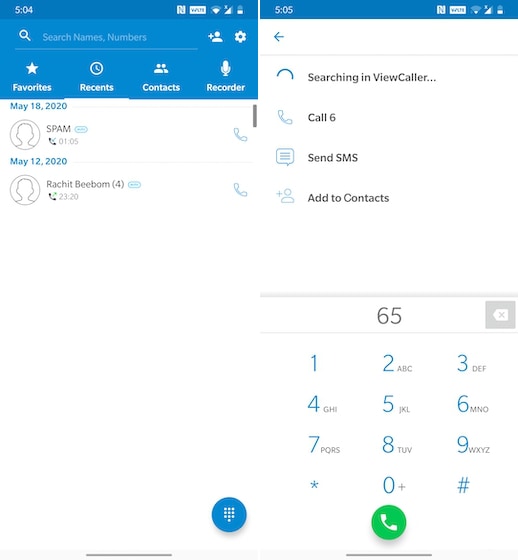 Other features of the app include speed dialing with support for T9 dialing, a maintained history of all the calls, smart search, and more. The app explicitly states that it doesn't collect data from your address book so you are getting better privacy. This is a simple caller ID and spam call blocker app that anyone can use.
Install: Android, iOS (free, $2.99/month)
10. Caller ID
Caller ID is another Truecaller alternative you should check out. The app brings support for Truecaller-like ID feature, along with a custom dialer, and call blocking. When you receive a call from an unknown number, Caller ID will show you the real name of the person who's calling you. What's more, it can even help you sort out spam messages. If you make Caller ID your default messaging app, it will block marketing and spam SMS for you automatically.
As far as privacy is concerned, Caller ID claims that it doesn't upload your contacts to make them public or searchable, nor do they track your location. The app is free to use, however, you can get the premium version as well if you want to remove ads and get advanced spam blocking features within the app as well.
Install: Android (Free; in app purchases)
Enjoy Caller ID Functions with These Truecaller Alternatives
That ends our list of the best Truecaller alternatives that you can use on your Android and iOS devices in India. All the apps mentioned on this list work fairly well and can replace Truecaller. Do check the list out and let us know which is your favorite caller ID app for India by writing in the comments section below.
---
Load More