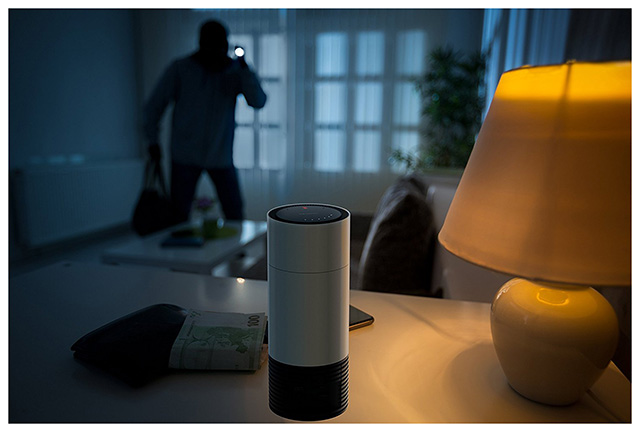 By the time you finish reading this piece, another set of smart speakers might just have hit the market. That's how quickly this segment is growing. Google and Amazon have a head-start over the major competition, and that's largely due to their software advances in this field, in addition to the amazing new hardware.
And now, Toshiba has thrown its hat into the ring, by using Amazon's Alexa as a crutch. Not only will its new Symbio Smart Home Hub come with the same virtual assistant that powers Amazon Echo, but it can do a lot more.
The company claims to have integrate six smart gadgets in a single device. Symbio, is a tiny cylindrical tower, not unlike the Amazon Echo, that can do all of the following:
1080p smart, low-light security camera with motion and sound alerts,
Smart Bluetooth speaker,
Voice-controlled Alexa interface,
Smart audio monitor to act as a baby or pet monitor
Intercom which can communicate to your home telephone, and
Integrated hub to control smart home devices running on ZigBee and Z-Wave protocols.
Phew! That's a lot of things packed into a canister. The unified hub seems like a practical solution as it saves you the pain of setting up and managing each device individually. It packs in dedicated sensors for humidity, temperature, and ambient light to augment your existing smart home devices or make up for the ones you don't have.
Apart from its utility at home, Symbio could serve as a viable solution for businesses working on smart home and automation products or security solutions. The companion app for Symbio is compatible with both Android and iOS.
Besides its numerous features, Toshiba's unified hub is also comforting on the pocket. While to get the 6 devices it claims to function as, you might have to spend upwards of $1,000, you can order the Symbio for only $249 via Amazon. We will keep our eye out for this to hit India, so keep an eye out for more coverage.