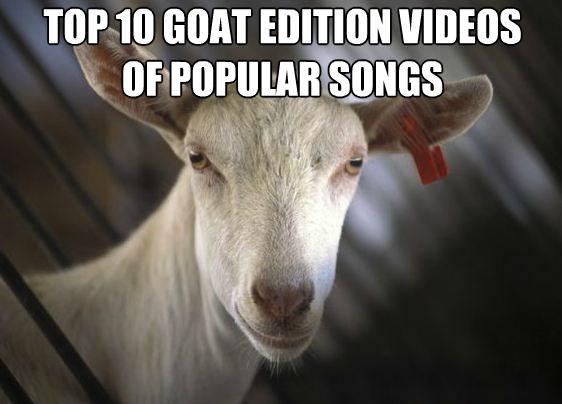 Internet is going crazy over memes and parodies!
Few days ago, Goats yelling like humans video went viral on the Internet and after some days, this viral video turned in to many Goat edition videos of Popular Songs, a viral meme. Here's how,
Story Behind Goat Edition Videos
One of the Taylor swift fan mashed up Goat's yelling and the song, I Knew You Were Trouble and uploaded the video on YouTube. The mash-up got Taylor swift's attention and she re-tweeted the link to her millions of followers and Bang, a new meme is born!
Without much ado, people started mashing up videos of various pop stars with the Goat video and it turned in to a new Harlem Shake. These mash-ups are more widely known as Goat Edition videos.
So, here i am bringing 10 best Goat Edition videos. You're gonna enjoy all of them,
1.  Taylor Swift – I Knew You Were a Goat (ORIGINAL) || FFW (The beginning of Goat Edition Meme)
2.  Baby: Justin Bieber ft. The Goat [GOAT EDITION] [ORIGINAL]
3.  PSY – GANGNAM STYLE GOAT EDITION (Meme mashed up with meme!)
4.  Nicki Minaj – Starships (Goat Edition)
5.  Carrie Underwood – "Blown Away" Goat Edition
6.  Katy Perry – Firework Goat Edition (Featuring many Goats)
7.  Living On a Prayer (Goat Edition) – Bon Jovi
8.  Jay- Z feat. Kanye West – Niggas In Paris [Yelling Goat – Edition] (Best one)
9.  Usher – Scream (Goat Edition)
10. Baauer – Harlem Shake meets Goat Edition (This is the best one!)
If you like the post, share it with your friends on Facebook, Twitter, G+ etc.
SEE ALSO:  Top 15 Best Harlem Shake Videos