Microsoft recently introduced a number of new Windows 10 devices but Surface Book is the one that hogged all the limelight and rightly so. The Surface Book is a 2-in-1 Windows laptop-tablet hybrid and it's without any doubt Microsoft's best hardware ever.
Microsoft compared Surface Book to Macbook Pro at the launch and we believe, Apple's Macbook Pro finally has some great competition. Microsoft wants us to believe that Surface Book is the perfect alternative to the Macbook Pro. So, are those claims true? Does Microsoft finally manage to take on Apple? Let's find out.
Surface Book Vs. Macbook Pro (Head to Head)
1. Design and Hardware
Surface Book
The Surface tablets and hybrids have always been lauded for their great designs and with Surface Book, Microsoft has one upped itself. The device features a machined magnesium body, which makes it look stunning. Then there's the cool new "Dynamic Fulcrum", which is Microsoft's fancy name for the hinge that connects it to the keyboard. The one of a kind hinge looks modern and flexes the display as it bends. When the keyboard is flipped back to use the Surface Book as a tablet, the hinge elevates the display.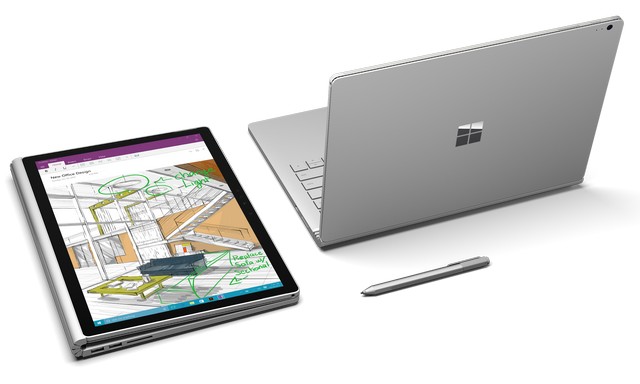 Microsoft has stuffed in new technology in every department of Surface Book, the detachable keyboard and trackpad are no different. The new detachable Surface Book keyboard features backlit and deeper keys for silent & stable typing experience. Microsoft claims to bring a "perfect typing experience" with this keyboard. The trackpad is also pretty innovative. It's a glass trackpad, which includes 5 points of touch sensitivity. Windows laptops have always failed to bring a quality trackpad, so it's great to see Microsoft taking matters into own hands and bringing a high-quality trackpad with the Surface Book.
Surface Book measures 12.3 x 9.14 x 0.51 inches without the keyboard and 12.3 x 9.14 x 0.91 inches with the keyboard. The laptop weighs in at 3.34 pounds with the keyboard and it weighs 3.48 pounds with the optional Nvidia GeForce GPU.
Macbook Pro
Macbook Pro has featured same design for past few versions but we still love it. Apple has made some great upgrades under the hood and the company has also added some new technologies like Force Touch.
Talking about the hardware, Macbook Pro features an aluminium unibody design, which screams premium. Along with the design, Macbook Pro has always been loved for its portability. It is sheer genius on Apple's front to pack such powerful hardware in such a compact build.
Macbook Pro has also been known to feature the best keyboard and the lovely glass trackpad. The latest trackpad now incorporates Force Touch, which responds to different force pressures. It allows Apple to bring contextual menus and phase out the need of a right click. The new Force Touch trackpad also allows various other tricks like pressure sensitive drawing and more.
The Macbook Pro measures 12.35 x 8.6 x 0.7 inches and weighs in at 3.48 pounds.
Verdict
Overall, we believe that Surface Book has the upper hand here. The higher resolution PixelSense display along with innovative "Dynamic Fulcrum" and the detachable keyboard has surely won us over.
2. Display: PixelSense vs Retina
Surface Book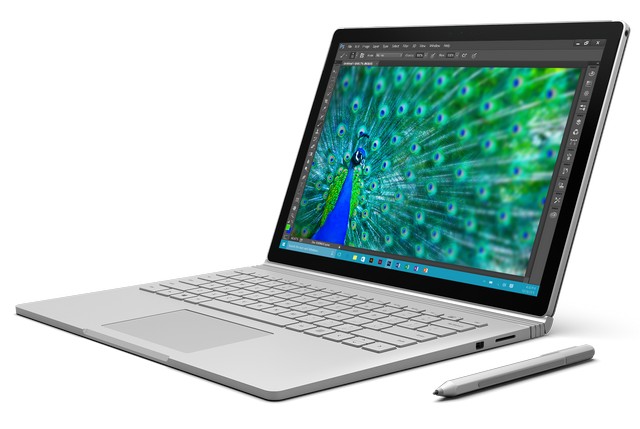 Microsoft has used a 13.5-inch optically bonded display on Surface Book, which packs in a massive resolution of 3000 x 2000 pixels making up for 6 million pixels in the display and pixel density of 267 ppi. Microsoft  is also using its PixelSense technology, which makes sure display is equally responsive to human touch and Surface Pen. The company is also using its own custom display chip to bring the "best pen and touch experience". There's also Gorilla Glass 3 for scratch resistance.
Macbook Pro
Macbook Pro features a 13.3-inch LED-backlit IPS Retina display at a resolution of 2560 x 1600 pixels, which makes up for pixel density of 227 ppi. The 15.4-inch Macbook Pro has a 2880 x 1800 pixel display at 220 ppi. The 13-inch model packs in over 4 million pixels while the 15-inch model packs over 5 million pixels. Since it's a Retina display, we can be sure that there won't be any pixelated texts or fuzzy pictures.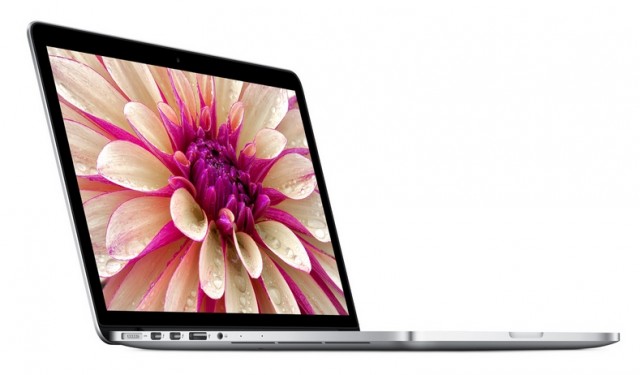 There are plenty of things to love in the Macbook Pro display. The display is color accurate and vibrant, which is pleasing to the eyes. It has great contrast ratio, which results in deep blacks and cleaner whites. Talking about the viewing angles on display, it is unmatched.
Verdict
Surface Book wins here hands down, as it features a touchscreen display along with a resolution higher than even the 15.4-inch Macbook Pro. Along with that, Surface Book gets brownie points for its PixelSense technology.
3. Performance
Surface Book
Microsoft Surface Book is aimed as a Macbook Pro alternative and the high-end specs confirm that. Surface Book comes with the latest 6th generation Intel Core i5 and i7 "Skylake" processor, which brings a lot of performance as well as battery improvements. Moreover, Surface Book is equipped with 8 or 16 GB DDR5 RAM, which means faster multitasking. According to Microsoft, Surface Book is twice as fast as Macbook Pro. The laptop has integrated Intel graphics but you can opt for an optional Nvidia GeForce GPU, which should boost your gaming performance, video editing and other graphics intensive tasks.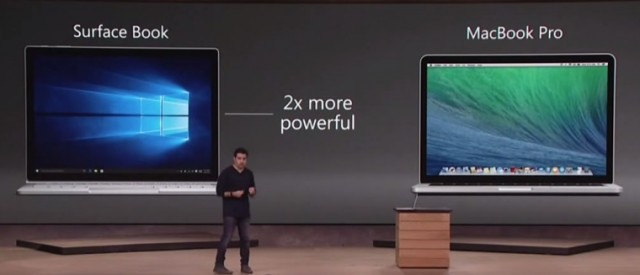 On the storage front, Surface Book is equipped with up to 1 TB of PCIe-based SSD (Solid state drive) storage. The starting model features a 128 GB PCIe-based SSD. The usage of SSDs should result in faster data transfers, durability, power efficiency and more.
Macbook Pro
Macbook Pro is no slouch when it comes to performance. The Apple laptop is powered by 4th gen Intel "Haswell" Core i5 and i7 processors, which feature Intel's Turbo Boost technology to up the clock speed for CPU intensive tasks. The laptop features 8 or 16 GB of DDR3 RAM and it comes with integrated Intel Iris graphics for your gaming and video needs.
The Macbook Pro comes in 128, 256 and 512 GB PCIe-based SSD storage options.
Verdict
Surface Book features a newer generation Intel processor and faster RAM, which gives the Windows 10 laptop an edge.
4. Battery Performance

Surface Book
Microsoft hasn't revealed the battery capacity of Surface Book but it claims around 12 hours of video playback. If those claims are indeed true, Surface Book's battery performance will be on par with the likes of Macbook Air, which arguably has the best battery performance among notebooks. Reportedly, Surface Book's battery is distributed between the tablet and detachable keyboard, so you will get less battery performance while using just the tablet.
Macbook Pro
According to Apple, 13-inch Macbook Pro lasts up to 10 hours while surfing the web constantly and it gives 12 hours of iTunes film playback. The 15.4-inch Macbook Pro also gives a good battery performance, with 9 hours of web surfing and 9 hours of video playback. According to various reviews, the Apple laptop lives up to the claim and battery life is around 10 hours when surfing the web continuously over WiFi.
Verdict
Both the laptops offer similar battery life, so it all depends on your choice. It's important to note here that Surface Book has its battery distributed to the tablet and keyboard, so if you want that great battery performance, you will need to keep the keyboard attached at all times.
5. Pricing
Surface Book
Microsoft's Surface Book is already up for pre-order in the U.S, Canada and Australia. The starting price of the Surface Book in the U.S. and Canada is $1,499 and in Australia is AU $2,299. The device will go on sale in the U.S. and Canada starting October 26, while Australian sales will start on November 12. You can pre-order Surface Book from the Microsoft Store.
The Redmond giant hasn't revealed the pricing or availability details for any other countries yet.
Macbook Pro
Apple Macbook Pro's starting model is priced at $1,299 and it's available in most of the countries around the globe. You can also get a better price at various third party retailers. You can get the 13.3-inch Macbook Pro for around $1,200 at Amazon.
Surface Book Features that trumps Macbook Pro
Rear Camera and a better front-facing Camera
The Surface Book features an 8 MP autofocus rear camera, which is capable of 1080p video recording. That's not all, as the laptop-tablet hybrid also packs in a decent 5 MP front-facing HD camera, which should be great for Skype and selfies of course.
Thanks to the "Windows Hello" feature, Surface Book comes with support for Biometric authentication. While the Surface Pro 4 comes with a new 'type cover' that features a fingerprint scanner, Surface Book comes with an Iris Scanner. Surface Book features Windows Hello Beta, which scans your eye through the front-facing camera and gets you logged in quickly and securely.
We have already mentioned about Detachable keyboard but this is what makes Surface Book unique against Macbook Pro. Thanks to the detachable keyboard, Surface Book can be used as a tablet as well.
We loved Surface Pen when it was introduced and we are glad that Surface Book supports it. It has also been upgraded with an year of battery life, 1024 pressure sensitivity degrees and a new G5 processor. Add to that, PixelSense display and we have a real winner, when it comes to pen usage.
Microsoft introduced a new Surface Dock, which is a lot smaller compared to the massive offerings from Microsoft previously. Surface Dock allows users to turn their Surface into a full fledged desktop computer and if that's your need, the new Surface Dock should please you. The new Surface Dock is compatible with Surface Book, Surface Pro 4 and Pro 3. It comes with four USB 3.0 ports, an ethernet port, a couple of miniDisplay ports with 4K display support and an audio out connection.
Surface Book vs Macbook Pro (Specs Table)
| | Surface Book | Macbook Pro |
| --- | --- | --- |
| Dimensions | 12.3 x 9.14 x 0.51-0.91 in | 12.35 x 8.62 x .71 in |
| Weight | 3.34 pounds | 3.48 pounds |
| Display | 13.5-inch Pixel Sense display | 13.3-inch Retina Display |
| Resolution | 3000 x 2000 pixels | 2560 x 1600 pixels |
| Pixel Density | 267 ppi | 227 ppi |
| Processor | 6th Gen Core i5 or i7 | 4th gen Core i5 |
| RAM | 8 or 16 GB DDR 5 | 8 or 16 GB DDR 3 |
| Storage | 128, 256, 512 GB or 1 TB SSD | 128, 256, 512 GB SSD |
| Rear Camera | 8 MP | No |
| Front Camera | 5 MP | 720p |
| Stylus | Yes | No |
| Biometric Authentication | Yes | No |
| Price | Starts $1499 | Starts $1299 |
SEE ALSO: 19 Beginner Tips for Windows 10
Conclusion
We do believe that Surface Book is a great alternative to Macbook Pro but there are some limitations that are part of Microsoft's laptop. The Surface Book price starts at $1,499, which is around $200 more than what Macbook Pro's starting version costs. Other than that, it all boils down to your choice of the ecosystem. Windows hasn't necessarily been known as the most efficient operating system but Windows 10 has certainly improved things. If you are into the Apple ecosystem, you would prefer Macbook Pro and likewise if you are using Microsoft products then you should definitely give Surface Book a try. Microsoft will not be able to match the Macbook sales any time soon but we surely laud Microsoft's effort with the Surface Book.
Do you prefer Surface Book or Macbook Pro? Which one would you buy? Sound off in the comments section below, as we love to hear from you.
---
Load More