Most of the apps available on our smartphones serve some kind of purpose. They might get some work done, help you communicate with others, or let you kill time, there's always some utility attached to any app you download. Both the App Store and the Play Store have a huge collection of such apps. However, did you know that apart from housing apps which are useful, they also have a vast collection of apps which make you question their utility and the reason behind their presence on the stores. So, today, we decided to list such apps. We are going to look at some really strange apps which don't do anything and are a complete waste of one's time. The apps are funny, weird, and some will even make you go, "Hmmm. I didn't expect that". So if you are ready, let us check out 15 really weird and strange apps and games for iOS and Android in 2019:
1. Nothing
The first app on our list is one of the weirdest apps I have ever come across. As the name suggests, the app does absolutely nothing. When you launch the app, you see a blank grey screen with Nothing written in the center and nothing else. There are no buttons, no menus, and no way to interact with the app either. You might have found apps which behave differently from what's in their description on the store but not this one. Kudos to the developers for achieving that feat, the app as described does absolutely nothing.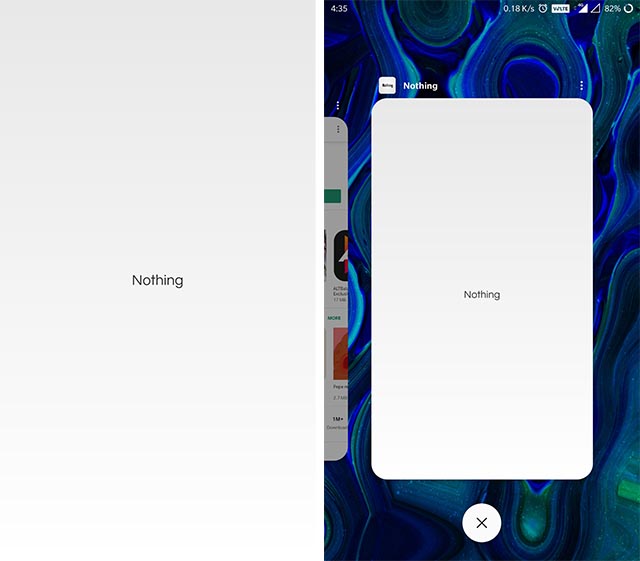 Install: Android (Free)
2. S.M.T.H.
S.M.T.H. or Send Me To Heaven is an app which you should use absolutely at your own risk. Basically, it is a game in which you throw your phone upwards and it calculates the height of the throw. You can challenge your friends to see who gets the higher score, that is, until your phone breaks. If you easily get bored in your life, this game can bring a sense of adventure and spice to it. You might not have the luxury to visit Narnia or play Jumanji but you sure can throw your phone. So, what are you waiting for, go on an incredible adventure while sitting in your living room.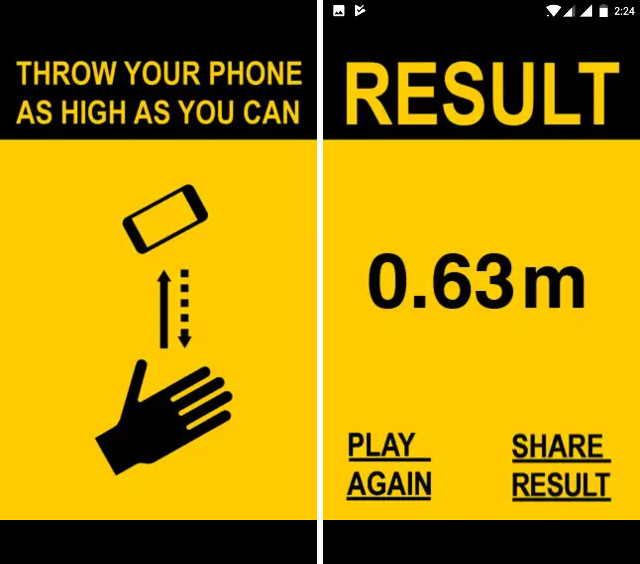 Install: Android (Free)
3. iShaver Pro
You might have found a million different usages of your smartphone but did you know you could also shave using your phone? Didn't think so. iShaver Pro lets you do just that, well, virtually at least. When you launch the app, you will see an electric razor in all its glory. To start shaving, just hold on the button and virtual hair will start falling. The app even lets you choose the colour and the length of hair. You can also enable vibration to really get the feel of shaving. The app also has a Pro pack which lets you unlock different razors.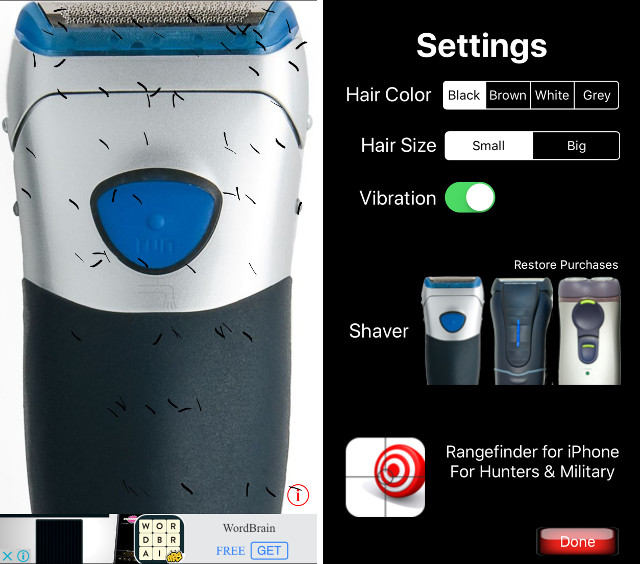 Install: iOS (Free / $0.99)
4. Milk The Cow
Now that you all have shaved and cleaned up, it's time to get your hands dirty. Milk The Cow lets you, well, milk the cow. If you ever had milking a cow on your bucket list, now is the time to cross it off. To tell you the truth, I was a little grossed out by the app but who knows you might enjoy it. Download the app and fill the bucket with milk in the shortest time possible. Achieve high scores and feature in the leaderboard to compete with others.

5. Hold On
The app lets you test your patience level. The game is fairly simple, you hold on a coloured square and the app starts a timer which notes down the time. See how long you can keep holding without lifting your finger up. I wrote this whole paragraph without lifting my finger and using only my right hand. Challenge yourself and share your time with us.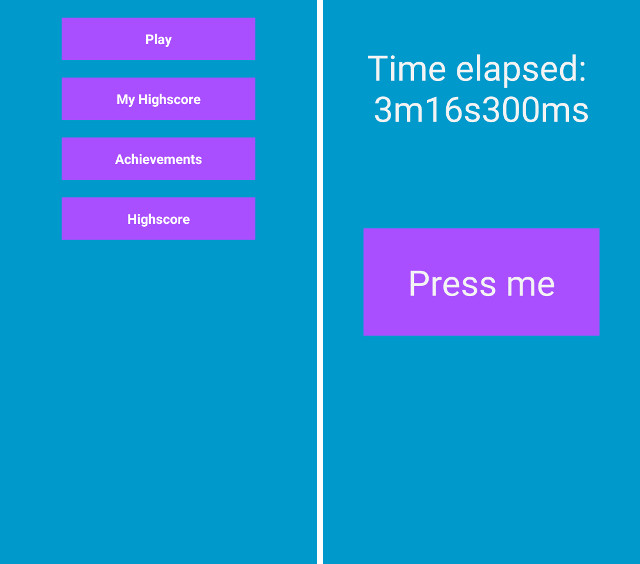 Install: Android (Free)
6. Binky
Binky is a social media app which removes the social element from the app. You get everything else, there's an endless stream of random stuff you can scroll through. You can like and comment on the things you like. You can even perform the left and the right swipe made popular by the Tinder app. The app lets you rebink posts which is similar to the retweet function in Twitter. But, everything you do is pointless, nothing is happening here. Your likes, your rebinks, and your swipes are visible to no one. The app just uses them to give you a feel of using yet another social media app. If you want to be active on social media without being social, use Binky.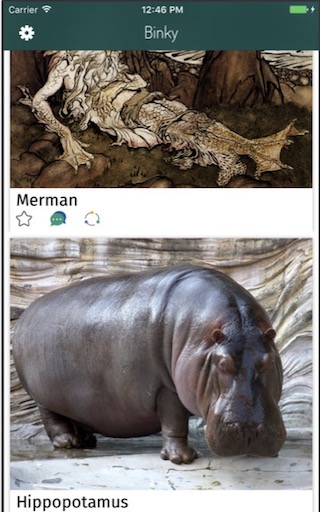 Install: iOS (Free)
7. Plumber Crack
Have you played Paper Toss before? Well, Plumber Crack is pretty much like Paper Toss, but instead of tossing crumpled up paper into a waste basket, in Plumber Crack you have to toss ice cubes into, you guessed it, a plumber's crack. The game's absolutely absurd and has a plumber bending over under a sink exposing part of his butt. All you need to do is flick on the floating ice cube and try to get it into the plumber's crack. You get rewarded with coins for every time you're able to score and scoring successively increases the coin reward. You can then earn in-game currency as you play and use it to purchase a variety of different clothes or tattoos for the plumber. The game also lets you change the gender of the plumber.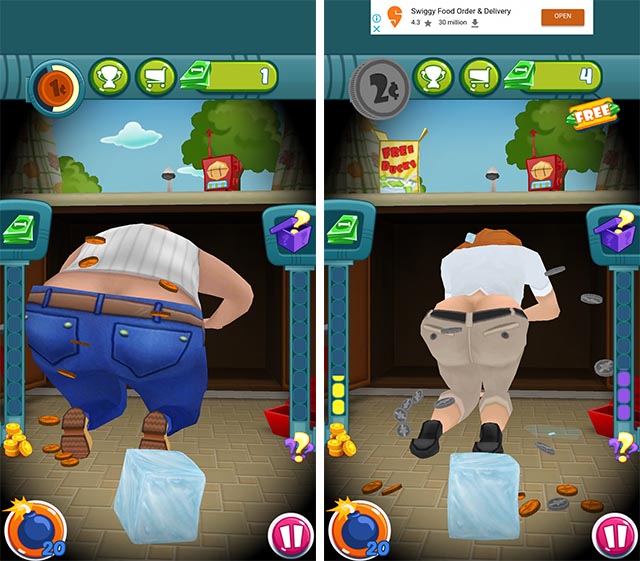 Install: Android, iOS (Free with in-app purchases)
8. Pimple Popper
As the name suggests, the app lets you pop virtual pimples. If you don't like pimples on your face but loves popping them, here's your chance. The app has instructions to teach you how to pop different kinds (blackheads, whiteheads) of pimples. It is a little hard to get the hang of it, but don't worry, you will be popping pimples in no time.
9. I am Bread
I am Bread, as the name suggests, is a simulator in which you control a sentient slice of bread which is on a mission to evolve and become toast. You'll have to skillfully move the bread from its confines in the kitchen and take it across a bunch of different levels to achieve the goal. On the way, you'll have to stay wary of the floor and other contaminants that will decrease the bread's edibility quotient. Do you have what it takes to help bread become toast? Prove it. Get I am Bread right away.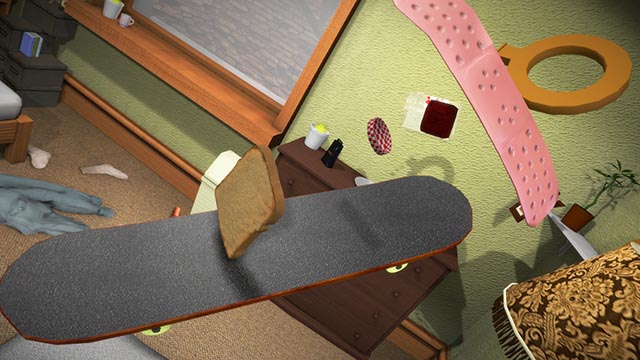 Install: Android ($4.99), iOS ($4.99)
10. There Is No Game
This one is the best games available for people who really hate gaming. There's literally nothing to play here, or is there?. Heck, even the loading screen says, "Not Loading". When you launch the app, it will be stuck in a not loading screen with the bar filling up slowly. When it has loaded, you only hear a narrator explaining the fact that there's nothing to play here. He is quite funny and boring at the same time. Check the app out if you hate gaming. (Hint: There might actually be a game. I'm not saying that there is a game, because the name clearly states that there isn't, but who knows.) Install: Android (Free)
11. RunPee
It is one of those few apps which start out as really weird but can be really helpful for some of you especially the people with low bladder control. The concept of the app is rather weird but ingenious. We all have sat in a movie theatre when we felt the need to pee but couldn't decide to go in case we miss an important point. The app helps solve this problem. It has a database of all the movies and updates constantly with new releases.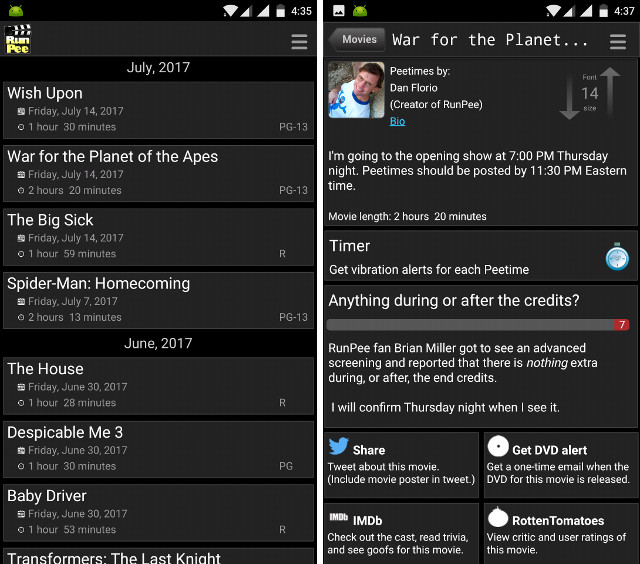 It knows when a not so important scene is coming up and vibrates a little giving you the go ahead and pee if you want to. It even shows if there's an ending credit scene in the movie so you don't miss them. You just start the timer when the movie starts and relax. The app will automatically notify you when it's time to pee. You might never know when an app like this can come in handy.
12. Yo
I don't know how many of you watch the "Silicon Valley", an HBO original series but if you do, you will realize that this app is inspired by one of the apps shown in the series called the "Bro App". Basically, the app functions like a messaging app, the only caveat being the fact that you can only send the word "Yo" to your contacts. I don't know why anyone would want to use this app, but you can give it a try if you want to.
13.  Weird Guys
Weird Guys is honestly a pretty weird game guys and it features a bunch of different weird guys. I know that line might have looked weird, but I can't really help it while talking about this game, it's just that weird. The game's premise is that weird guys are attracted by flowers and in order to attract weird guys there's a flower dangling on a platform in the middle of the screen. The flower attracts weird guys and you have to tap on them to prevent them from getting the flower. You can upgrade the flower, create new flowers and raise it a little higher, all of which will attract different weird guys that you can collect. All the weird guys have weird descriptions that you can read from with your collection. Weird Guys is a fun time-pass game that you can enjoy whenever you've some free time and don't have anything to do. Don't expect the game to have a better objective, because it doesn't. It's weird like that.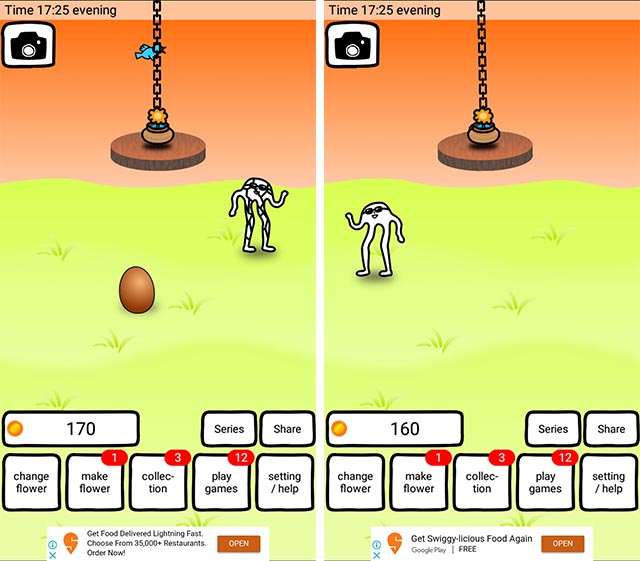 14. The Bored Little Button
The Bored Little Button app is similar to "Don't Tap The Glass" app. There's a little button in the centre, which doesn't want you to tap it. If you don't hear its warning and tap the button, it will show various graphics and funny quotes. The tapping feels endless with new answers for every tap. I found this one to be funnier than the previous game on the list.
Install: iOS (Free)
15. $1000000
If you ever wanted to feel how counting a million dollars feel like, this app will help you do that. You can choose to count the money in either $50 or $100 denomination. There are different swipe gestures you can use to count the bills. A completely pointless app with a million dollars inside it.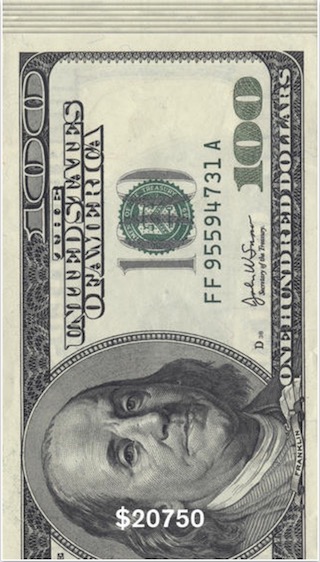 Install: iOS (Free)
SEE ALSO: 40 Cool and Interesting Websites To Kill Time
Some Really Weird and Strange Apps To Try
The above list contain some of the weirdest apps I found on the App Store and Play Store. I really don't understand why they exist and what was going in the minds of their developers when developing these apps. You can try them out and let us know how many hours of your lives you wasted. Also let us know, if you know any app which is weirder than those on the list. Sound off in the comments section below.