As a playful kid, I loved creating the metropolis of dreams. Though becoming a real estate tycoon was not my wish, I enjoyed creating amazing buildings and defending them against invaders. While those times have flown away and I no longer play building games as passionately as I used to, my romance with them has continued to flourish. So, I'm glad to share some of the best building games for iPhone and Android, which I have always relished playing. If building a beautiful city and becoming a billionaire (in reel life) is also your penchant, give these games a shot. And, I bet you would love every bit of them.
Best Building Games for iPhone and Android Devices
Not all building games are the same. While some games are all about creating awesome skyscrapers and developing infrastructure, others are more dramatic thanks to the mix of epic battles. Not to mention, some city building games have added some killer humor under-the-hood so that you can drive your Monday blues away or bust stress with ease. That all being said, let's get into the action!
1. The Simpsons
Being one of the funniest city building games, The Simpsons deserves a shot at the top. The game offers plenty of tools to create a wonderful living. But keep in mind, you will need to wipe out the mess and build everything from scratch. To get going, collect your favorite characters and reunite the residents with their loved ones. You can also dress your favorite characters so that they can look their very best.
Once you have selected your characters and customized their looks, take control of Springfield. Everything from growing the business to expanding the town to the waterfront is in your hands. Therefore, take decisions wisely, keeping in mind the long term prospects. What's more, you will also have to be guarded against the Halloween monster invasions so that your town stays safeguarded.
Price: Free, in-app purchases available 
2.Townsmen
"Townsmen" is the sort of building games that never seem to lose their charm. Probably the best part about this game is the opportunity to develop a small village to an amazing medieval empire. Beautifully set in medieval times, the city-building gameplay is quite intriguing. Keep in mind, apart from having a huge responsibility to build a great empire, you also have to tackle a complex economy and deep-rooted production chains.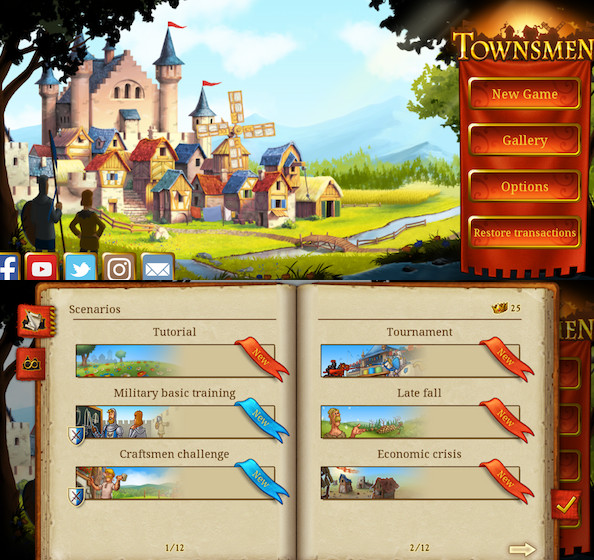 If you think that you just have to deal with building challenges and a complex economy, you can't be more wrong. The unexpected disasters like disease, fire, and drought may destroy all of your plans. Therefore, take on the game with a better strategy so that you can encounter challenging tasks perfectly. Don't want restrictions to play spoilsport? Well, there is also an unrestricted sandbox gameplay mode to let you enjoy gaming without any disturbance. Overall, Townsmen is easily one of the best building games for Android and iPhone.
Price: Free, in-app purchases available 
3.City Mania: Town Building Game
For the folks who are hunting for a bit light-hearted building games, "City Mania" promises to be a fantastic bet. Aside from letting you build and expand amazing buildings, the app also offers a ton of customization. Whether you want to beautify cinema halls or add renowned landmarks such as Eiffel Tower, Space Needle or the Colosseum, you have plenty of unique stuff to give your dream buildings a special look so that they can look stand out.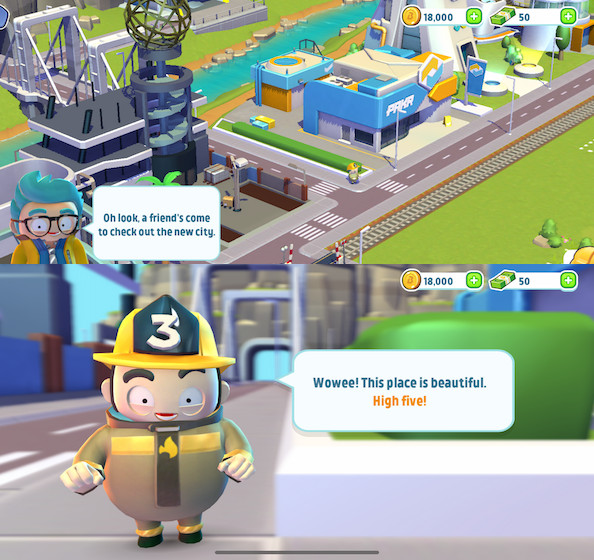 The gameplay goes beyond crafting skyscrapers. You can also recruit tons of peculiar characters like construction workers, and policemen and add them to your special collection. If you ever need some inspiration, don't forget to borrow it from your friends. Plus, there is also a huge marketplace to get some extra cash, if your cash-pile ever runs out of gas.
Price: Free, in-app purchases available 
4. Forge of Empires
If the time is ripe to embrace epic civilization-building games, you would be hard-pressed to find a better alternative to "Forge of Empires. The game is all bout building an empire and journey through different ages. Do bear in mind, this game warrants a killer strategy to succeed. So, if your moves fail to cut the ice, you won't go ahead beyond a certain level.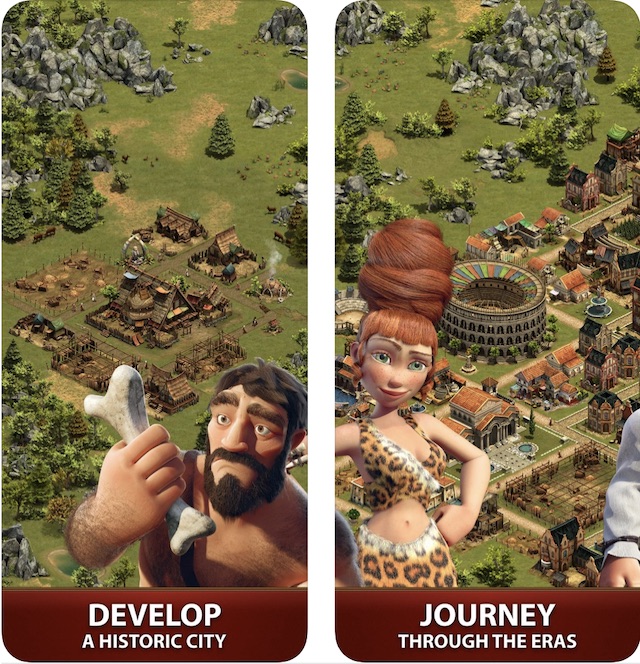 To get into the action, build a nice city first up and then evolve from the Stone Age to modern times by putting your best strategies. Along the way, discover new technologies to stay ahead of the rivals. And whenever the opportunity comes your way, never fail to seize control of provinces and of course a lot of rewards.
Price: Free, in-app purchases available 
5.SimCity BuildIt
It's been several years since I first put my hands on "SimCity Buildlt." And I must that the building game looks as fascinating to me today as ever. The most interesting thing about it is the gameplay where you have to bring all of your creativity to the fore to build an incredible metropolis. As the real estate tycoon, every decision is yours, so there is no question of any restrictions.
They say, "With great power comes great responsibility." So, be sure to weigh your decision before going for the development of a major project. Else, even your great decision might turn out to be counterproductive. That aside, you can chat with your rivals, engage in some exciting trade, and also join famous clubs to shake your legs!
Price: Free, in-app purchases available 
6. Clash of Clans
Unless you are living in the rock, you would be unaware of Clash of Clans. While Clash of Clans may not be a usual building game, this Supercell's offering has got everything to liven up your gaming. The game is about building a village, raising a huge clan and then competing in heart-wrenching clan wars. It demands you to excel in not just building a marvelous empire but also defending it. Bear in mind, you are up against the Goblin King so you have to hatch your strategies like a true warrior.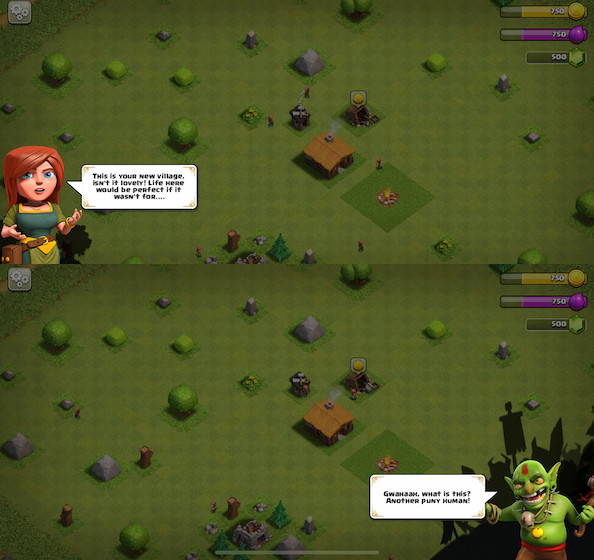 To dominate your opponents, you can create lethal combinations of spells and troops. As wars are fought with the clan, it's also crucial to train unique troops so that they can keep your flag high. Also, ensure that your boatload of cannons, bombs, traps, mortars, and walls never go short. Aside from serious gaming, you can take part in some friendly challenges and special events to showcase your heroics. Everything considered; Clash of Clan is an action-packed game that you would love to go after tirelessly.
Price: Free, in-app purchases available 
7.DomiNations
Should you want to indulge in a building game that also offers a chance to get into a serious battle with rivals, try out "DomiNations." In this exciting game, your challenges lie in creating an empire and commanding nations to win battles against enemies. As you grow your small village from a modern metropolis, you will have to face several unexpected roadblocks. In the gameplay, you can choose from one of the most famous civilizations from history including Romans, British, Chinese, French, Germans, and battle as a proud nation. On top of all, create a war strategy and execute it to perfection to triumph the world war. Needless to say, DomiNations is for die-hard warmongers who love epic battles!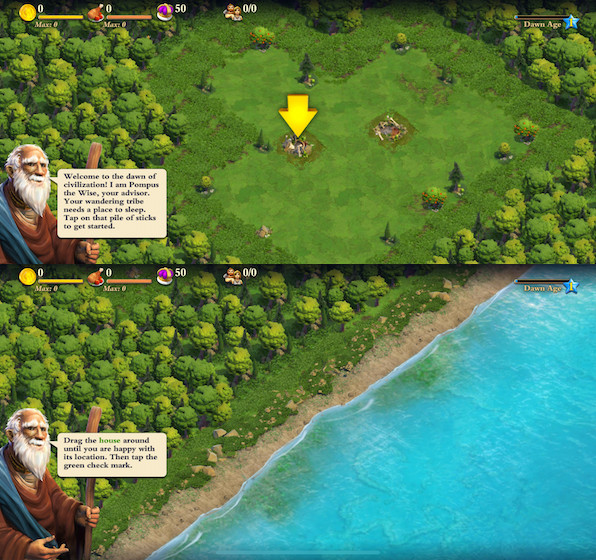 Price: Free, in-app purchases available 
8. City Island
Whether you are a pro at building skyscrapers or a newbie, you would enjoy having a go at this addictive game. "City Island." At the start of the game, you get some cash and gold on a fascinating island to start building a city. Begin by creating a small village with beautiful houses. Then, slowly but steadily, develop it into a great city. And once you have the manpower and of course plenty of cash to boot, transform that city into a fast-paced metropolis. With 300 unique items, fun-loving gameplay, and challenging tasks, the game has got enough tricks to keep you on the edge. Oh yes, it also offers an option to unlock exciting adventure, pirate chests, and quests.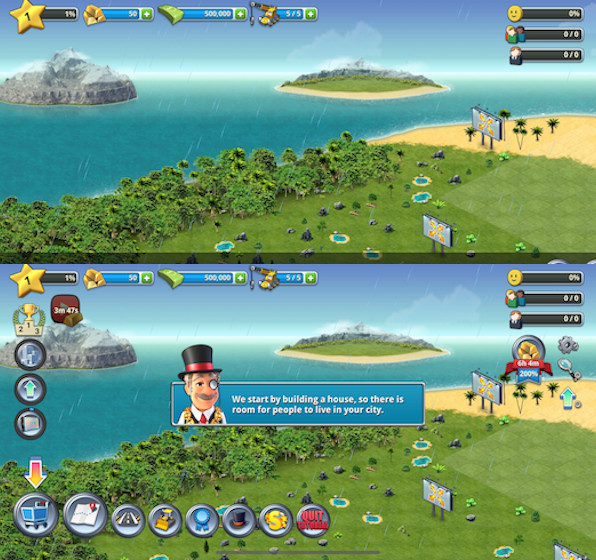 Price: Free, in-app purchases available 
9.Village City Island Simulation
If you have a liking for a village building simulation games, this one could be a hit for your penchant. The game is a joy to play thanks to the simple yet intriguing gameplay. Just like any building game, you have to build houses for your citizens and expand your territory. Apart from creating a beautiful village full of amenities, you also have to ensure that people have good jobs and more significantly; lead an affluent life. There is a city advisor who guides you through with better insights. On top of all, you also get a chance to unlock plenty of adventures and quests. And if you do well, you can take home coveted rewards.
Price: Free, in-app purchases available 
10.Idle City Empire
This one looks primed for the gamers who want city-building games to be a thoroughly entertaining affair. Yeah, you heard it right! The game offers you a chance to not only build incredible buildings but also become a billionaire. Is there any catch? Nothing really. But just be sure to invest wisely and upgrade infrastructures in time so that the development continues to multiply. To double down on profits, you can join hands with your friends and play in tandem to increase profits by leaps and bounds.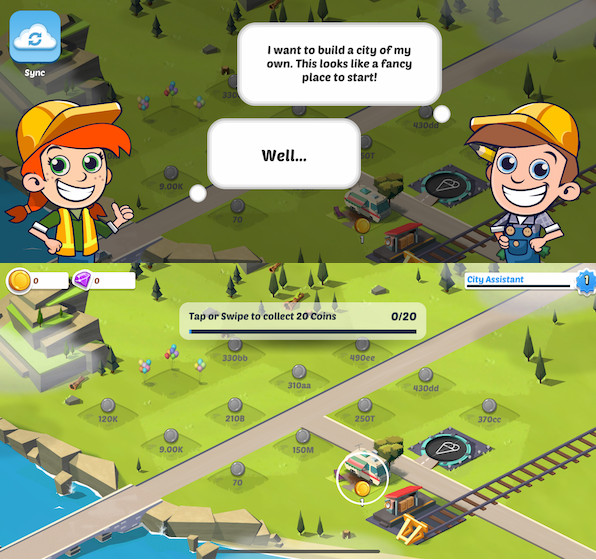 Price: Free, in-app purchases available 
11. Megapolis
With a good mix of strategy and building games, Megapolis has got all the ingredients to offer hours of fun to you. The most interesting thing about this game is that it's based on the rules of the market. So, you have to play smartly while creating the metropolis of your dreams. Aside from offering you the opportunities to create huge buildings, the game provides chances to upgrade infrastructure. For instance, you can create railways, airports, ships, and more. Moreover, you can also develop your own state and take part in contests to win great awards. And if joining arms race is your thing, you will enjoy developing destructive weapons and showcasing the might of your military.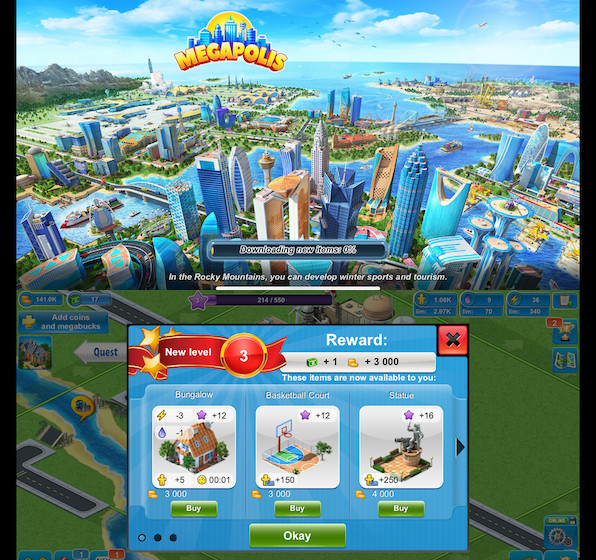 Price: Free, in-app purchases available 
12. Designer City
Should you want your favorite building game to have a lot of creative elements, give serious consideration. In Designer City, you have to put your best foot forward to create top-notch houses and skyscrapers so that people can find them worth buying. Besides, you also have to create big community buildings, attractive parks, and eye-catching decorations to keep residents happy. Not just that, you also need to ensure people have a better job and are happy in their lives. As the gameplay doesn't have any limitations, you have absolute freedom to design your city as elegantly as you want.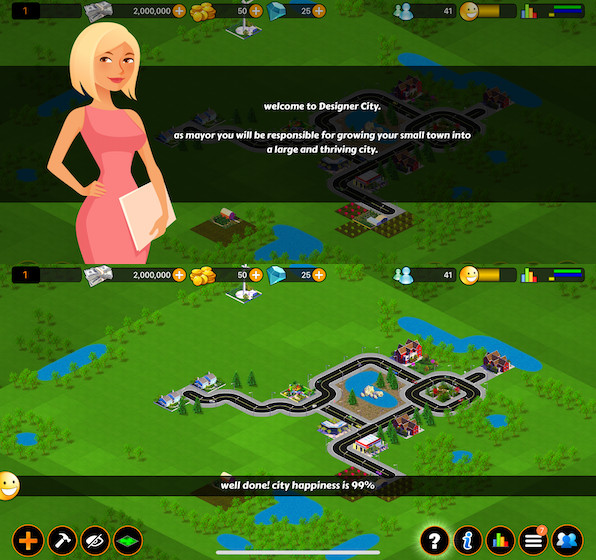 Price: Free, in-app purchases available 
Choose the Best Building Games for iPhone and Android Devices
So, these are our top building games for Android and iPhone. With so many exciting games on offer, I guess your cup is spoilt for choice. But before you get down to the business to create an awesome empire, spill some beans about your top picks. Also, check out our articles on best Xbox One originals or PS4 originals to get your fix of console gaming. Finally, share with us your favorite mobile games by writing in the comments section below.
---
Load More