Instagram DM offers a pretty good way to stay in touch with friends and followers. While I've always loved using Instagram's Direct Messaging, I've wanted it on the web as well for long. And I guess, I'm not the only Instagrammer who is asking for a native option to send Instagram DM online on Windows or macOS desktop machines. If you are also in the same boat and want to communicate with your Instagram buddies while using Mac or PC, this guide is for you. I'm going to walk you through multiple ways which can fill up the void and let you enjoy direct messaging right from your computer. So without further ado, here is how you can send Instagram DM Online.
Send Instagram DM Online (2020)
In this article, we are going to share multiple methods which you can use to send direct messages online on Windows PC, Mac, and even browsers. So, you can easily skip to the section that concerns you.
1. Sending Instagram DM Online on Windows PC
Well, if you are a Windows user, you'd be glad to know that the social networking giant offers a full-fledged app on the Windows store. So, if you often have to communicate with your friends using Instagram Direct Message, it would be better to install this app. Moreover, Instagram for PC sports a familiar interface and lets you chat with your buddies using all the bells and whistles. So, your messaging will continue to be in the top gear.
1. Launch the Microsoft Store on your PC and search for Instagram or just click on this link and install it from the store.
2. Now, open Instagram and sign in to your account.
3. Next, you should see the DM icon right at the top. Click on it.
4. Then, choose the existing conversation or start a fresh one.
Use a Third-Party Instagram Client
Just in case, you don't want to go for the official Instagram app and are looking for an able alternative, "IG:dm" (free) would be worth giving a try. It's pretty lightweight and features a clean interface designed just for Instagram direct messaging and nothing else. Again, getting started with this app is as easy as pie. Also, the best part is that it is available for all the three major operating systems including macOS, Windows 10, and Linux.
2. Sending Instagram DM Online on Mac
Unfortunately, Instagram doesn't offer an app for macOS. But needless to fret over it as there are quite a few handy Instagram clients for Mac that can let you use Direct Messaging. Again, I would suggest you try out IG: dm as it's more reliable and works without an issue.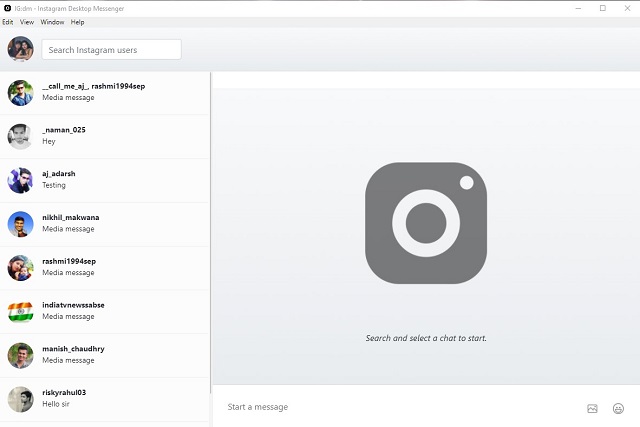 In terms of functionality, it can be trusted to be a good Instagram client for Mac. Once you've signed in to your account, you can view all of your conversation threads listed in the sidebar. Just pick out the one you want to chat with and go ahead with the conversation. Moreover, it also lets you use fun-loving emojis so that you can express your inner voice in multiple colors.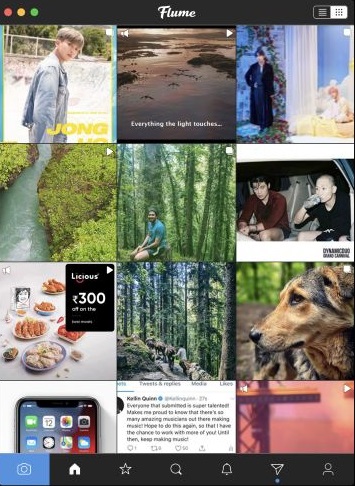 Other alternatives? Well, there is an app called Flume (free, $20) that can let you use Instagram DM on your Mac. In terms of user experience, it's up to the task and should let you enjoy messaging without any issue. So, if you want to try out other notable options, it would be a reliable way to go. By the way, if you want to truly enjoy using Instagram on Mac without any restrictions, you should click on the link to check out our article.
3. Sending Instagram DM Online Using Chrome Browser
If you happen to use Google Chrome then you can use it to send Instagram direct messages online. You just need to configure it in a way to allow this features. Just follow the steps below and you will be able to do this.
1. Open Instagram's official website on Chrome and log in to your account either through Facebook or using separate credentials.
2. After you are logged in, 
press CMD+Shift+C key (Mac) / Ctrl+Shift+I (Windows)
 to open the developer console. On the right pane, click on the "mobile-tablet" button located on the top-left corner.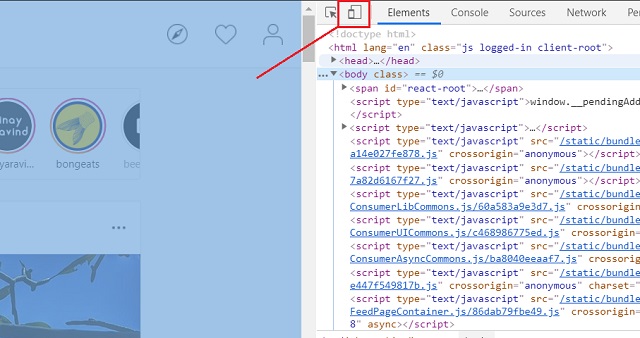 3. Next, refresh the page and Instagram will reload in mobile view. After that, close the console.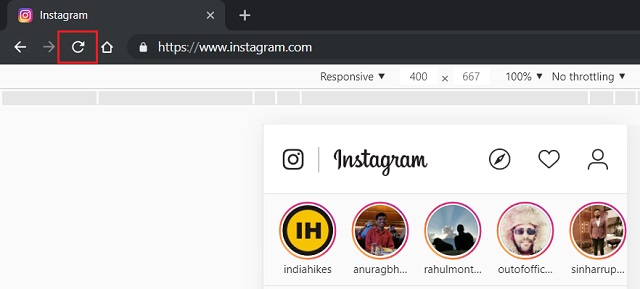 4. As you can see, there is a direct message button on the top-right. You can use this to not only read your Insta DMs online but also send them as per your convenience.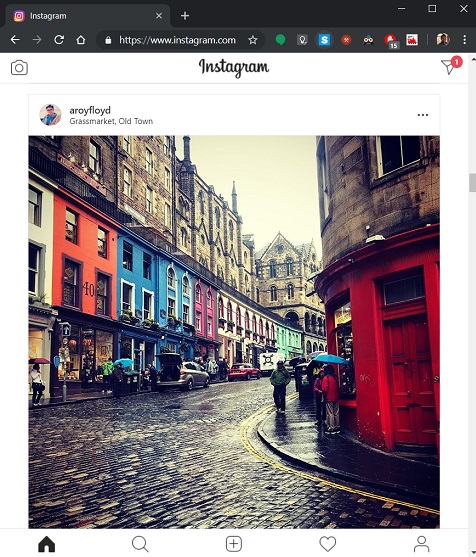 Time to Liven Up Instagram Direct Messaging
As you've got all the possible ways and means to overcome the hurdle, use Insta DM on your computer to stay in sync with all of your friends and funny buddies. Just in case, you want to take the experience even further, I would recommend you to have a glance at some of the best Instagram filters, photo editors, and video editors as well as the easiest way to download Instagram videos. As you head to get into the groove of messaging, I'm going back to the drawing board to explore more such tips to share with you. So, stay tuned in so that you never miss our latest guides.