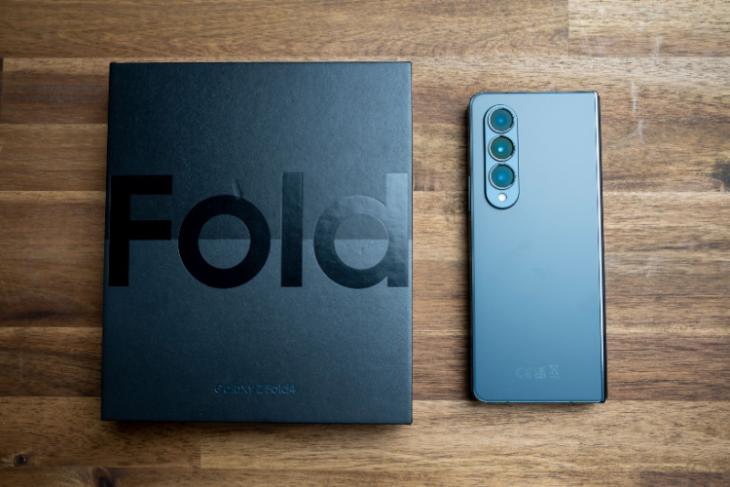 Recently, Samsung told us about the launch of the upcoming Samsung Galaxy foldable devices. And to add to that excitement, we also got our first look into the official leaked press renders of the devices. Now, to stir the hype pot, we have some details about the foldable phones' price and it seems like the flagship Z Galaxy Fold 5 will see some respite in its pricing. Continue reading to find out more.
Galaxy Z Fold 5 and Z Flip 5 Price Details Appear
Reliable tipster 'Revegnu' spoke about Samsung's pricing strategy for the Galaxy Z Fold 5 and Z Flip 5 in a recent tweet. As per the data gathered, it seems like the Galaxy Z Flip 5 will retain the same price as that of the Galaxy Z Flip 4. However, the Korean tech giant will reduce the price of the Z Fold 5.
The Galaxy Z Flip 4 and Galaxy Z Fold 4 introduced last year were priced at $999 and $1,799, respectively. We can expect that the Z Flip 5 will retain the $999 (~ Rs 49,999) price tag while the Z Fold 5 can see a "slight reduction in price." As of now, we do not know how much. With that being said, Revegnus is quick to comment that this is still an "early stage plan." This means if this decision is in Samsung's pipeline at all, it is very much susceptible to change.
As for other details, the upcoming Samsung foldables are expected to be powered by the next-gen Snapdragon 8 Gen 2 chipset with increased RAM and storage capacity. Expect noticeable camera and battery improvements both on the hardware as well as the software front. You can also see a redesigned hinge mechanism and an official IP rating this time (likely IP68). The Z Fold 5 will have much more inclusive S Pen support for both first-party and third-party apps. The Z Flip 5, on the other hand, will offer a bigger and more functional outer display crafted around a dual camera setup.
Samsung is also expected to introduce the Galaxy Watch 6 Series, which was recently spotted in leaked press renders. We have now received news on its prospective pricing. As per French Media Outlet Dealabs Magazine report, the Watch 6 Series will start at €319.99 (~ Rs 28,713), compared to the €299 (~ Rs 26,829) price tag for the Galaxy Watch 5 series. The Watch 6 Classic models could start at €419 (~ Rs 37,597) which is less than the last year's €469 (~ Rs 42,083) price tag. Other than this, the Series 6 is expected to sport slimmer bezels and bring back the functional rotating dial (for the Classic variant), with Sapphire glass front and back protection.
At this moment, the flow of information is limited. However, concrete details are just around the corner. So, hang tight with us as we bring the latest developments your way. As of now, take this revelation with a grain of salt. In the meantime, let us know if you are interested to see a slightly inexpensive Samsung foldable. If this happens, will it be enticing enough for you to get one? Comment your thoughts down below!
Feature Image: Samsung Galaxy Z Fold 4