Telegram's bitter battle with the Russian government has begun to heat up more, aftr Moscow's Tagansky court recently imposing an 'immediate ban' on Telegram until the company hands over encryption keys to the FSB, Russia's national security agency.
After asking Google and Apple to remove the app from their respective app stores, the Russian government has now resorted to blocking IP addresses owned by Google, Amazon and others to sever the citizens' access to Telegram's apps.
Roskomnadzor chief, Alexander Zharov, has revealed that a large number of IP addresses owned by Google and Amazon have been blocked by the Russian telecom regulatory authority to block access to Telegram after the court's ban came into effect.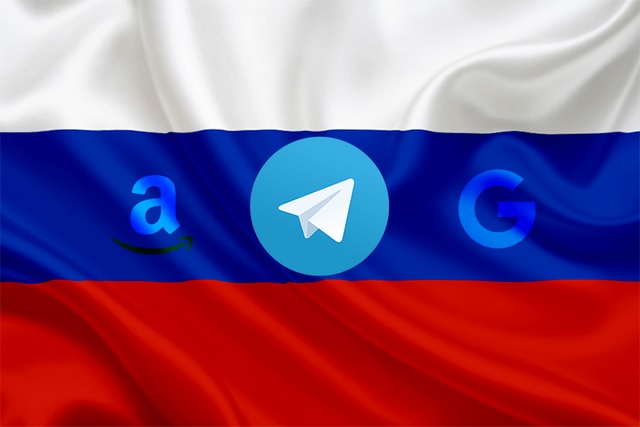 "We have currently informed both companies that a significant number of IP addresses located in the clouds of these two services have fallen under the block on the basis of the court ruling (to block Telegram)," Zharov was quoted as saying. As per a report by Interfax news agency, Roskomnadzor has so far blocked 18 sub-networks and millions of IP-addresses belonging to a large number of companies, including Google and Amazon, to prevent internet users from accessing Telegram via third-party services like Google Cloud and Amazon Web Services.
The Guardian reports that more than 16 million IP addresses have been blocked so far by Roskomnadzor, but the government's move does not seem to have had much effect as Telegram users have now turned to using VPNs and proxies. "Despite the ban, we haven't seen a significant drop in user engagement so far, since Russians tend to bypass the ban with VPNs and proxies", said Telegram's founder Pavel Durov in a message addressed to the app's users. Edward Snowden has jumped in support of Durov over the latter's exhibition of courage against the Russian government's clampdown on Telegram.
I have criticized @telegram's security model in the past, but @Durov's response to the Russian government's totalitarian demand for backdoor access to private communications—refusal and resistance—is the only moral response, and shows real leadership. https://t.co/KtZDpu33wh

— Edward Snowden (@Snowden) April 17, 2018
But it's not just Google and Amazon that are being sucked in the Telegram mess, as Facebook is also facing heat from the Russian government for not complying with its data storage laws, which state that social networks should move the data of all Russian citizens to servers located in the country. "If none of [the steps are taken by Facebook] or some of this is not fulfilled, or the Russian state is not informed of the intention to do so, then obviously there will be a question of blocking", Zharov was quoted as saying. Facebook reportedly has until 2018 to comply with the Russia's data storage laws, or risk getting banned in the country.