WhatsApp is a great messenger app with a number of features including support for both audio and video calls. We use it every single day because it's convenient and just works. But there is one feature that has been missing for a while and that is call recording. Of course, there is a major concern of surveillance and misuse with call recordings, but sometimes we desperately need it. If you want to record WhatsApp calls there are a few workarounds, but it's not full-proof as it also depends on the smartphone you are using. That being said, this is your best bet right now. So, here is how you can record WhatsApp calls on Android and iPhone in 2020.
Note: Make sure that you are not breaching privacy or law of the land by secretly recording calls. You should take informed consent from the callee prior to the recording.
Recording WhatsApp Calls on Android and iPhone (2020)
Since WhatsApp call recording process is different for Android and iOS devices ,we have created separate sections. For Android, we have mentioned two methods. The first utilizes a screen recording app while the second uses the old call recorder method. You can choose the method that works the best for you. I have added quick links below. You can click on them to jump between the methods.
Record WhatsApp Calls on Android (New Method)
Earlier, we had written a detailed guide on how to record WhatsApp calls on Android devices. We were using a third-party app to record WhatsApp calls. However, the app was not compatible with many Android devices and there were some VoIP issues. That's why we have come up with a simple technique that allows you to record WhatsApp calls on Android without any hacky solution.
We are going to use a screen recorder to capture the audio conversation during WhatsApp calls. It works surprisingly well and has no no-frills setup. We have successfully tested this method on OnePlus 7T running Android 10 and Mi A1 running Android Oreo. So, we are sure that it will work across all recent Android versions. With that in mind, let's now jump to the steps.
1. You can use a built-in screen recorder if your Android device comes with it. In case, your smartphone doesn't ship with a native screen recorder then you can download Screen Recorder – No Ads app (Free).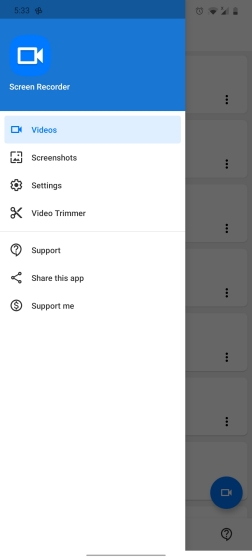 2. Open the Settings page of the screen recorder and make sure to enable audio recording. If you are running Android 10 then choose "internal audio" as the audio source. It will allow you to record WhatsApp calls on Android without having to switch to the loudspeaker mode.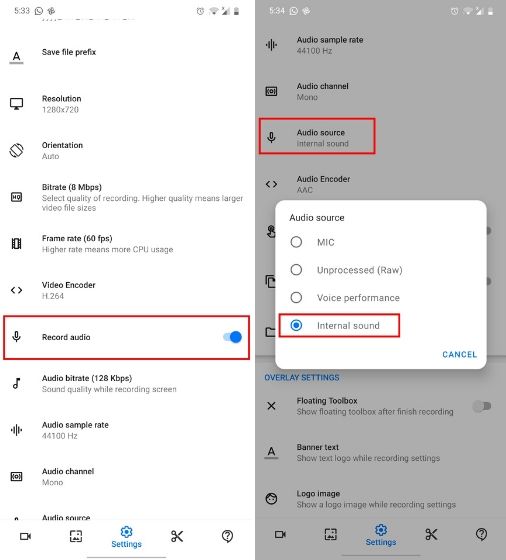 3. If you are not running Android 10 then choose "microphone" as the audio source. Keep in mind, you will have to enable the speaker mode on WhatsApp to be able to record calls.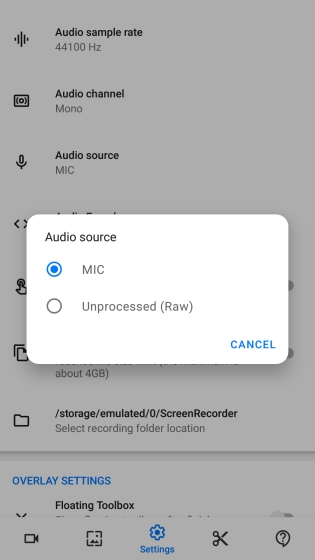 4. Having done that, start screen recording and place a call on WhatsApp. Now, enable the speaker if you are running older versions of Android. The screen recorder will start recording the audio conversation from both sides. After you are done with the call, stop the recording, and there you have it. Easy peasy!
Note: If you are running Android 10 and "internal audio" is not recording your calls then switch the audio source to microphone. This way, you will have to use the speaker mode which is sure not the best solution, but you will be able to record the call.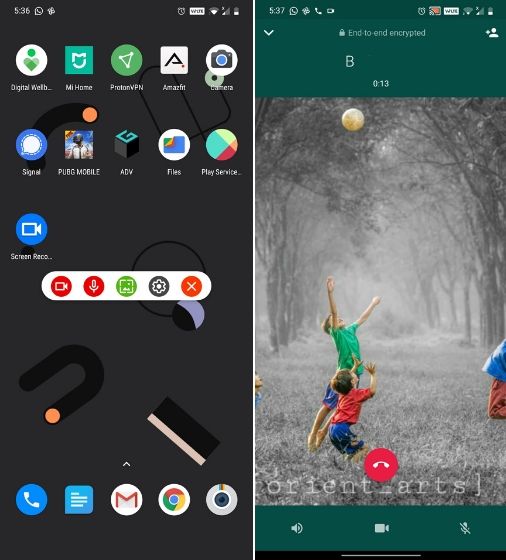 Record WhatsApp Calls on Android (Old Method)
WhatsApp call recording doesn't work on every Android device. Some devices have VoIP call recording enabled and some don't. Just follow the steps and you will know if your phone is supported or not. Also note that devices running on Android Pie may prevent the recording due to restrictions at the OS level.
1. Install Cube Call Recorder app (free, in-app purchases) and open it. Grant all the necessary permissions and you are good to go.
2.  Now, open WhatsApp and make a call, a widget should appear on your screen indicating it's recording your WhatsApp call. If the widget doesn't appear then manually tap on the microphone icon in the Cube Recorder app. It will start recording your call thereafter.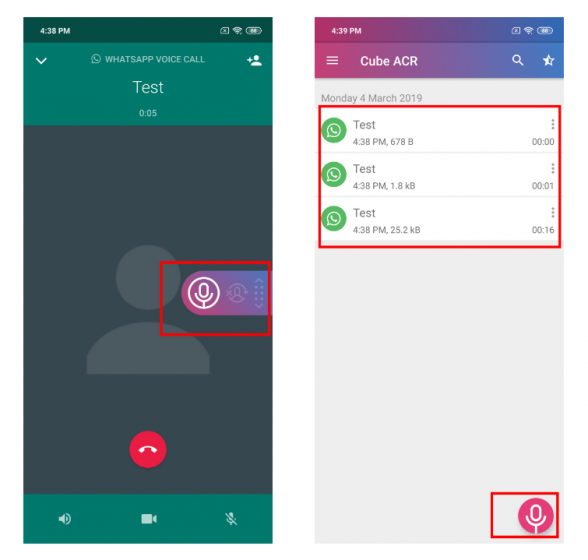 3. In some cases the recordings don't have audio from the other side. To fix this issue, tap on the hamburger menu and open "Recording". Change VoIP recording audio source to Microphone. Note that it will turn on the loudspeaker as well.

Besides WhatsApp calls, you can use this app to record cellular calls as well. In our testing,  WhatsApp call recording worked flawlessly, both on Mi A1 and Redmi Note 6 Pro, without changing the default settings.
Record WhatsApp Calls on iPhone
iOS is pretty strict when it comes to privacy, so there is no easy way to record calls be it WhatsApp calls or cellular calls on iPhone. However, there is a hack which accomplishes the task but it takes a lot of work. It's a tedious process where you will need a Mac, an iPhone, and a secondary smartphone with WhatsApp account. The secondary device can be either Android or iPhone. We need a secondary device as your primary device will remain connected to your Mac for recording.
1. Connect your iPhone to Mac and give necessary permissions. Now, open QuickTime and click on the File menu. Here, choose "New Audio Recording", select your iPhone as the source, and click on the record button.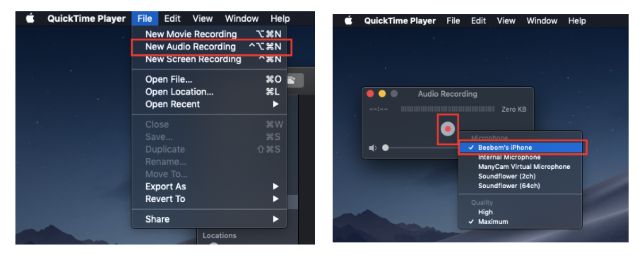 2. From your iPhone, make a WhatsApp call to your secondary WhatsApp device. Once connected, use the WhatsApp's group calling feature to add the person you want to talk to.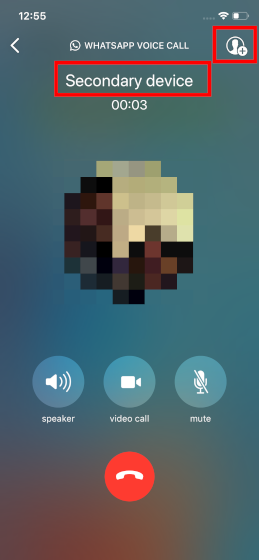 3. Now continue the conversation using the secondary device. After you are done with the conversation, stop the recording on Quicktime and save it on your Mac.
Note: Keep the iPhone connected to the Mac all through the conversation. Also, all three WhatsApp numbers should be active in the group call. Disconnection of any of the device will prevent the recording.
That's it, I hope that this tutorial was able to help you record your voice calls on WhatsApp.
Record Your WhatsApp Calls on Android and iPhone
As you can see it is not easy to record WhatsApp calls. With the ongoing tighter privacy controls, we can only assume that it is going to be even harder in the future. iOS already makes it next to impossible to record calls and Android is slowly moving in the same direction. Let us know if you were able to use our methods to record WhatsApp calls or not. Also, what do you feel about these new privacy standards which are preventing users from recording your calls? Drop your thoughts in the comments section below.
---
Load More