The Oppo powered Realme 1 is here and it comes with some pretty decent specs for the price. While we've individually covered the Realme 1 in terms of its camera and the performance from its Helio P60 processor, the phone also packs in a 3,410 mAh battery and if you're wondering how long that battery lasts in a phone with a relatively big 6-inch LCD display, well, we've done the testing for you.
Note: The Realme 1 starts at ₹8,990 for the 3GB/32GB variant. We have the 6GB/128GB variant of the phone that costs ₹13,990. All of the phones feature the same specs, except for the RAM and storage, obviously.

Charging Test
We started off with the charging test, because on a phone with a 3,410 mAh battery in this day and age, we were expecting some kind of fast charging support. However, since the company didn't mention it anywhere on its marketing materials, it raised some concerns.
The phone charges quite slowly, to be honest, and it's no surprise that Realme didn't talk much about the battery other than the backup it can offer (we'll get to the battery backup later). Charging the Realme 1 from 10% to 100% took us a little over 2 hours, which honestly is quite a poor charging speed. To compare, the Redmi Note 5 Pro, which is in the same price ballpark and comes with a much bigger 4,000 mAh battery, takes around the same time as the Realme 1. Heck, the ZenFone Max Pro with its humungous 5,000 mAh battery takes almost 2 hours to charge as well. By those standards, the Realme 1 is lagging far behind.
Battery Life
After the mediocre to mildly disappointing charging speed on the Realme 1, I was kind of prepared for a similarly mediocre battery life on the phone. However, the Realme 1 is really quite good at battery life.
Starting the day off at 8 AM with a full 100% charge, I found myself not needing to recharge it through the day and only plugged it in once I was about to go to bed around midnight. My usage of the Realme 1 mostly involved gaming (including PUBG Mobile, and Skyforce), watching videos on YouTube, and the usual WhatsApp messaging, phone calls and general web browsing.
That's a decent battery life from a 3,410 mAh battery, and I don't think I can complain about it especially considering that I used it like I would normally use a smartphone, which means somewhere between medium to heavy usage throughout the day.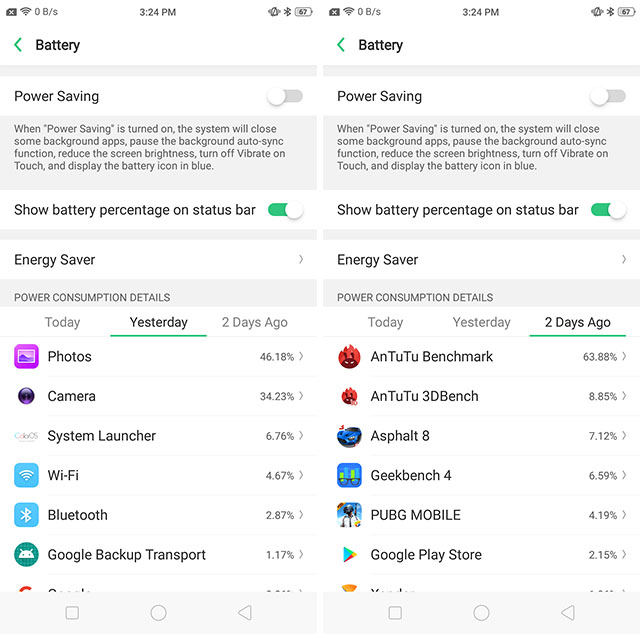 While most phones show a graph of how the battery charged/discharged over time, along with information like the screen on time and more, the Realme 1, for some reason, doesn't show any of this information.
Realme 1 Battery Test: Good Enough
All things considered, the Realme 1's battery performance is just fine. It's not nearly as good as the Redmi Note 5 Pro with it's comparatively bigger 4,000 mAh battery, but it doesn't disappoint either, and it will not surprise you in the middle of your day with a low-battery warning. It does charge awfully slowly, so I think you'll find yourself mostly charging it overnight to ensure a proper full day of usage while you're out and about. Having said that, its base variant goes at ₹8,990, and at that price, I think the battery performance of the Realme 1 is good enough.