Razer is one of the biggest names when it comes to gaming peripherals, and the brand continues to grow strong. After using almost every mechanical switch out there, it seems like Razer has grown bored of them, and has decided to launch a new type of mechanical keyboards that, at least on paper, seem to be way better than most switches out there.
Razer has announced its all-new keyboards, the Razer Huntsman and the Razer Huntsman Elite. The highlight of the keyboards is undoubtedly the all-new opto-mechanical switches, which actually make use of laser lights to activate keys.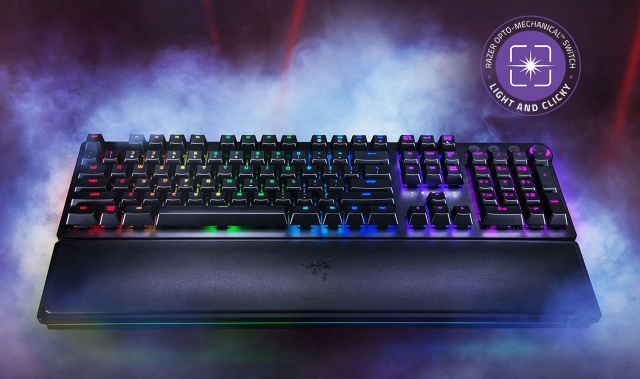 Specifically, underneath each switch is an infrared light beam that is claimed to precisely detect the actuation of key presses at a 1.5mm actuation point, as opposed to most other gaming keyboards that use moving parts to do the same thing.
Razer says that, because these switches actuate at 'the speed of light,' they're 30% faster than traditional mechanical key switches. Additionally, Razer says that these keys require a lighter actuation force of 45g than the previous Razer Green mechanical switches. Owing to the fact that these switches feature fewer moving parts, the opto-mechanical switch is rated for up to 100 million key presses, which is just double the reliability of proper mechanical switches.
"We have amassed years of experience developing and manufacturing our very own RazerTM Mechanical Switches designed specifically for gamers. This focused expertise has now expanded upon our brand's legacy with the new Razer Opto-Mechanical Switch that delivers an all-new level of performance that is optimized for top-tier esports competition," – Razer CEO and Co-Founder Min- Liang Tan.
Apart from the switches, both the keyboards look almost the same, with the Huntsman Elite offering a couple of more bells and whistles, as the name would suggest.
These extras include a magnetically detachable, leatherette wrist-rest, built-in Chroma LED lighting. It also features a robust set of media keys on the upper right corner which Razer say can easily be remapped for other functions, along with a function / volume dial and under-glow to the whole keyboard.
The Razer Huntsman and Huntsman Elite are available now via the Razer Store for a price of $149.99 (Rs. 10,280) and $199.99 (Rs. 13,700) respectively.
---