PUBG Mobile is following the Fortnite strategy and no, I don't mean breaking the island every couple of months. Instead, I'm talking about the steady flow of fresh content and game modes that keep the users glued to this ever-growing mobile game. Well, after a long week of teasing, PUBG Mobile 0.14.0 update has arrived today and it brings a new zombie mode in tow.
Yes, PUBG Mobile still continues to build on its zombie narrative. The 'Survive Till Dawn' zombie mode that has been around for quite some time is now complemented by a new Walking Dead-style Infection mode. If you're still not tired of running and gunning down zombies, then this is just the mode to double the fun for you.
Note: PUBG Mobile update 0.14.0 is now live. The download size is around 730MB on Android.
The new Infection mode is an asymmetrical player vs player (PVP) mode, which will see players bring split into two groups – zombies and defenders. Oh yes, once all the players join in, some players will randomly be converted into zombies while the remaining ones will be clubbed together in the human defender group.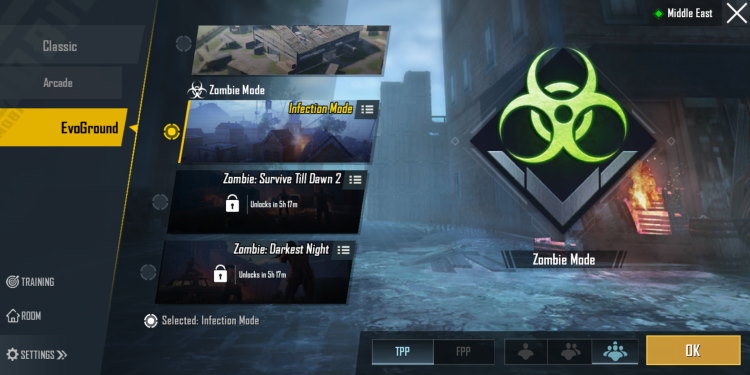 Now, the human defenders have access to the armory and medical supplies whereas the players transformed into zombies can only execute melee attacks. The zombies are also assigned special abilities, which are activated after short durations and have a cooldown time.
The objective of the zombie group is to convert all defenders into zombies. They will be victorious once all defenders are turned into zombies. However, the defenders are your winners even if one player manages to survive the duration of the assault. All this action will unfold on a new map with a number of houses for cover and action-packed Walking Dead-style scares.
Apart from the new zombie mode, the developers have reduced the size of PUBG Mobile installation package. Users will no longer be burdened with massive download sizes as a Resource Expansion pack is being introduced into the mix. This covers some of the most rarely used equipment and resources. You will see a placeholder icon for the same in the game until you choose to download it.
PUBG Mobile has also bagged a myriad of UI refinements and optimizations with this new update. You will see a redesigned Mode Selection and Daily Missions interface, which now looks pretty cool, along with zooming capabilities to get a closer look at your character.