Google has a weird strategy of revealing all the details about their devices to the public before they're even launched, and it works surprisingly well. The hype around this year's Pixels and Pixel Watch 2 far exceeds that of previous Pixels or arguably since the "Pixel" brand's first rebirth. If you're keen on buying the new Pixel 8 series but can't decide if it's worth settling for the Pixel 8 or going for the Pro variant, in this article, let's look at all the differences between Pixel 8 and Pixel 8 Pro.
Pixel 8 vs Pixel 8 Pro: Build, Size, and Displays
The biggest difference between the Pixel 8 and Pixel 8 Pro comes down to the size. The Pixel 8 boasts a 6.2-inch 120Hz display and has a smaller footprint compared to the Pro's massive 6.7-inch screen. In fact, the Pixel 8 is smaller than the Pixel 7 which has a 6.3-inch screen, making it a great option for people who need a relatively smaller device. The Pixel 8 has an FHD+ display whereas the Pixel 8 Pro's display is "technically" 2K still, but has fewer pixels compared to the Pixel 7 Pro's display.
One of the other changes to the Pro model this year is the exclusion of a curved display in favor of a flat one. For one, the curved display did introduce accidental touches but most people often associate curved displays with premium-ness; hence, a group of people will be disappointed
The fronts of both devices are protected by Corning's Gorilla Glass Victus 2 and the chassis of both are made of Aluminum. Another feedback that Google took into consideration this year is the elimination of glossy backs in favor of matte texture, which should improve the in-hand feel. Overall, if you're buying a Pixel by considering just the size, the Pixel 8 makes sense if you need a small form factor whereas the Pixel 8 Pro is for all the big screen aficionados.
Both the Pixel 8 and 8 Pro have 120Hz AMOLED displays that Google's calling Super Actua displays. The 8 Pro display is a flat LTPO panel, meaning the phone can automatically adjust its refresh rate and go as low as 1Hz to save power. This means the Pixel 8 Pro AoD will save more power than Pixel 8 which also has a dynamic panel that goes to 60Hz. The Pixel 8 and 8 Pro have FHD+ display resolutions.
Battery Life Comparison
Pixel 8 boasts a 4575mAh battery whereas the 8 Pro comes with a larger 5050mAh battery. What's also been bumped up, besides the battery capacities, are the charging speeds. The regular 8 now supports 27W charging whereas the Pro can take 30W. The wireless charging speeds are also bumped to 18W and 23W, respectively, which is great since Pixels are probably still the slowest in terms of charging.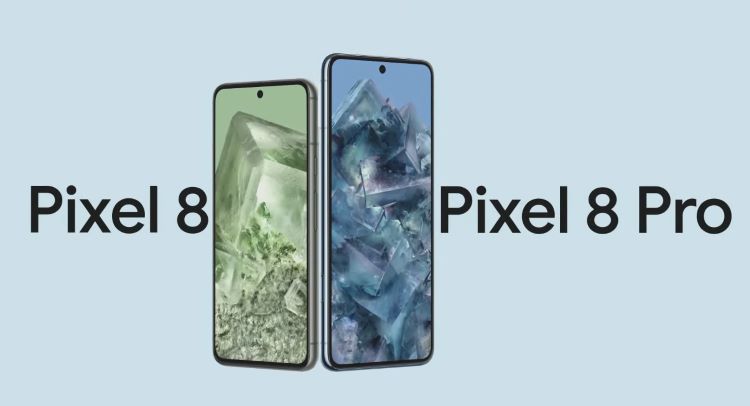 According to many reports, the Tensor G3 is "supposed" to run much cooler, which probably also means that it is much more efficient (4 nm Samsung Process). Hence, we should see a boost in the battery life of both devices.
Pixel 8 vs Pixel 8 Pro: Cameras
Another major difference between the Pro and non-Pro models is the cameras. The Pixel 8 has a dual-camera setup with the primary sensor being a 50 MP wide-angle f/1.9 and the secondary being a 12 MP Ultra-wide f/2.2 lens. The Pixel 8 Pro, on the other hand, has a triple camera setup with the primary lens being the same as the Pixel 8, 50 MP Wide f/1.9 lens, a secondary Telephoto 48 MP f/3.5 with 5 x optical zoom camera (30x Zoom by Google's software trickery), and finally a 48 MP Ultrawide f/2.2 lens for Macros.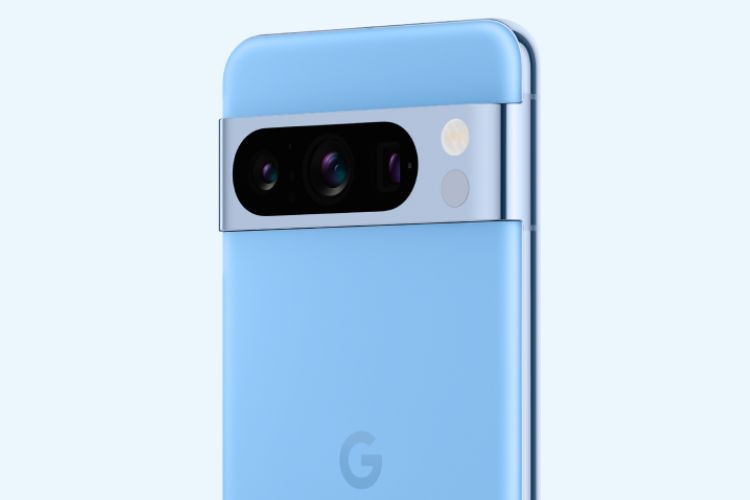 The primary sensors on both phones should perform similarly; the lack of Telephoto on the Pixel 8 still hurts. The Pixel 8 Pro's second camera, which is a 48 MP Telephoto, can take 5x Optical Zoom photos with the software trickery Google introduced last year in the Pixel 7 Pro but this time around, thanks to the improved AI processing, Google claims the 8 Pro can take crisp shots from afar. Here are all the new camera features:
AI Face Swap for photos
Magic Editor for photos
Pro Mode for photos
Video Boost for videos
Night Sight for videos
Audio Eraser for videos
The 8 Pro gets a temperature sensor that can, well, measure the temperature of objects or your skin (coming soon). You should be able to measure temperatures of, say, a Pan you want to cook in or a warm bottle of milk.
If you like Pixel photos but don't need the extra telephoto lens, Pixel 8 will do just fine. However, if you often find yourself zooming in the camera to capture far-away objects, you may want to consider the Pixel 8 Pro. Since most of the aforementioned software features are available on both devices and some of them will also make their way to the Pixel 7 series, it all comes down to if you need the extra telephoto lens.
Performance: Tensor G3 and UFS 3.1
Tensor G3 is the result of Google's latest collaboration with Samsung. Google claims the G3 runs far cooler than the G2 and has more AI processing power. For all the nerds out there, the G3 uses a 1+4+4 layout — one prime, four performance, and four efficiency cores.
The SoC is built on a 4 nm process and uses the Cortex-X3 as the Prime Core clocked at 2.91 GHz. The performance cores are Cortex-A715, which is clocked at 2.37 GHz, and the efficiency cores are Cortex-A510 clocked at 1.7 GHz. The GPU is a Mali-G715. Given Google's claims about the G3 running cooler than G2, they may have added a beefy cooling chamber or Samsung's done it this time. Either way, it should be interesting to see once we get the devices.
The Storage and RAM remain unchanged from last year. Yes, the Pixel 8 series still uses UFS 3.1 (Boos from our end), while the competition has already moved to the faster UFS 4.0 storage and UFS 4.1 is just around the corner. Google should've opted for UFS 4.0 at least on the Pro model and made the 256GB version as standard, but here we are. Hence, it doesn't matter which Pixel 8 you're buying; the performance should be identical.
Pixel 8 vs Pixel 8 Pro: Connectivity
Both the devices have Wi-Fi 7, Bluetooth 5.3, NFC, and USB Type-C. The USB-C port this time around is not just any regular Type-C port that charges and has slow data transfers but a USB 3.2, meaning Pixels can now output a display signal that users can use to connect their devices to external displays or even external accessories like AR Glasses.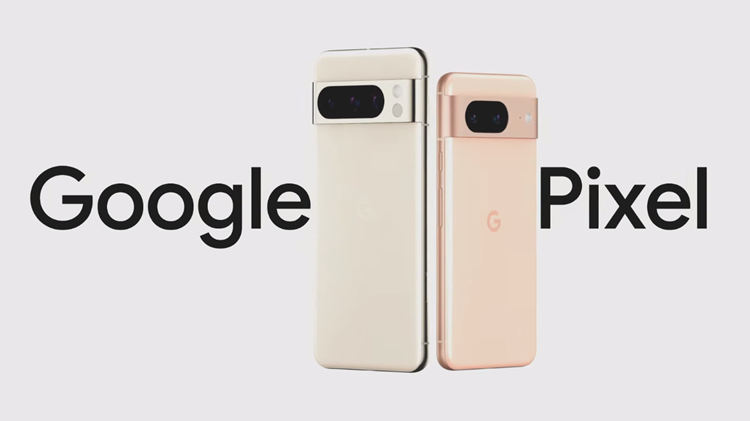 Google was also found testing a desktop mode for Android just like Samsung DEX but we don't have enough info to lay down all the details about the same. Here's to hoping they do it right. Both the standard and pro models come with USB 3.2, unlike some other manufacturers (Appl.. *Cough)
Pixel 8 vs Pixel 8 Pro: Specifications
Specification
Pixel 8
Pixel 8 Pro
Dimensions
154.8 x 75.1 x 13.4 mm
167 x 80.9 x 13.4 mm
Display
6.2-inch 1080 x 2400p 60-120 Hz AMOLED (Actua) display with Corning Gorilla Glass Victus. 2000 nits peak brightness.
6.7-inch 1344 x 2992(Check) 120Hz LTPO (Super Actua) AMOLED with Corning Gorilla Glass Victus 2. 2400 nits peak brightness
Build
Aluminum chassis, Flat Glass Front, Matte texture at the back. IP68 Water resistant
Aluminum chassis, Flat Glass Front, Matte Back Texture. IP68 Water resistant
Processor
Tensor G3
Tensor G3
RAM, Storage variants
8/128GB, 8, 256GB UFS 3.1, LPDDR5x
12/128GB, 12/256GB, 12/512GB UFS 3.1, LPDDR5x
Connectivity
Wi-Fi 7, Bluetooth 5.3, NFC, USB Type-C 3.2
Wi-Fi 7, Bluetooth 5.3, NFC, USB Type-C 3.2
Battery
4575mAh with 27W Wired charging and 12W Wireless/Reverse Wireless
5050mAh with 30W Wired Charging and 23W wireless charging
Cameras
50 MP Primary f/1.9 Wide, 12 MP f/2.2 Ultra-Wide rear cameras. 10.5 MP f/2.2 Selfie Camera
50 MP f/1.9 Wide Primary Camera,
48 MP f/3.5 Telephoto lens, 5 x optical zoom (30 x by Software)
48 MP Ultra-wide for Macro
Audio
Stereo Speakers, Audio via Type-C
Stereo Speakers, Audio via Type-C
New sensors
Under display optical Fingerprint Scanner
Under display optical Fingerprint Scanner, Temperature Sensor
Software Features
Magic Editor, Face Swap, Video Boost, Audio Eraser for Videos, Magic Eraser, Photo Unblur, Face Unblur, Real Tone
Magic Editor, Face Swap, Pro Mode, Video Boost, Audio Eraser for Videos, Magic Eraser, Photo Unblur, Face Unblur, Real Tone
Colors
Rose, Hazel, Obsidian
Sky Blue, Porcelain, Obsidian Black
Price
$699/~Rs 75,999
$999/~Rs 1,06,000
Pixel 8 Vs Pixel 8 Pro: Final Verdict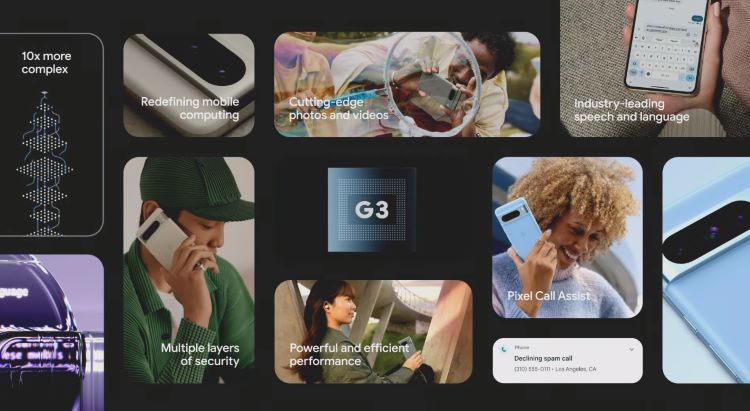 The Pixel 8 received a $100 price bump this year and now costs $699 which will make people consider the Pixel 8 Pro which costs the same as last year's Pro model, i.e., $999. Google played well this time around since the price difference is just $200 and for the same you get an extra capable camera, a bigger battery with faster charging, more RAM, and more importantly a larger LTPO AMOLED that's more efficient and brighter.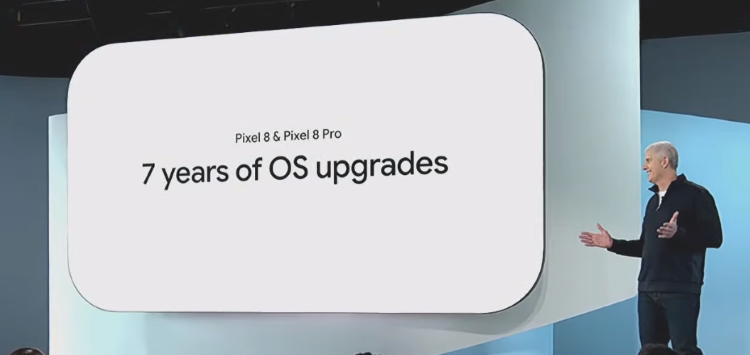 And did we mention that amazing Sky Blue variant that looks, unlike any Pixel we've seen so far? Hence, it makes more sense to get the Pixel 8 Pro if you can afford it, or else, the Pixel 8 will do just fine.
---
Load More