Google launched the Pixel Watch last year which marked its entry in the wearables segment, expanding the Pixel ecosystem. According to a report, the Pixel Watch sold surprisingly well for a first-gen product with over 880,000 units sold in Q4 2022. Today, the search engine giant finally launched the Pixel Watch 2 alongside the Pixel 8 series and there are a few things that stand out and other things they should've improved over the previous generation. In this guide, let's look at the Pixel Watch 2 vs. Pixel Watch and decide if the successor is worth your hard-earned money.
Build Quality and Dimensions
The Pixel Watch 2 and the Watch have the exact dimensions and a similar build quality (Stainless Steel). Both feature Corning's Gorilla Glass 5 protection at the front and have stainless steel chassis. One of the things users wanted from Google in the Pixel Watch 2 is a bigger dial but unfortunately, the Watch 2 has the same bezels and has only one size as the Pixel Watch. A larger 44 mm version would've helped Google include a bigger battery, but it is what it is.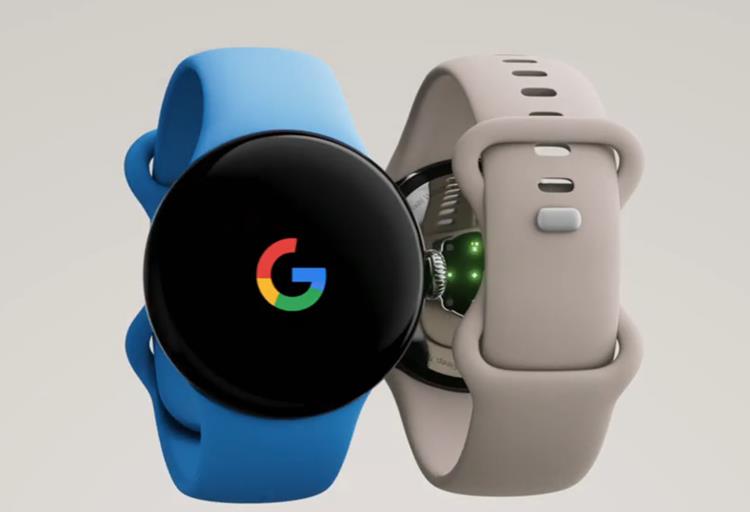 While it's almost impossible to tell them apart from the front, the back of the Watch 2 has a different look where instead of the sensors being beside each other are now spread out across a circular section. There are also new and different color straps this time around which look pretty good.
Pixel Watch 2 vs. Pixel Watch: Display
The Displays on both the Pixel Watch 2 and Watch are the same size, i.e., 1.2 inches however, what's different are their resolutions. The Pixel Watch 2 boasts an AMOLED 384 x 384 pixels display with a 320 PPI pixel density which maxes out at 1000 nits of peak brightness. The Pixel Watch, on the other hand, has an AMOLED 450 x 450 pixels with a pixel density of 453 ppi and a peak brightness of 1000 nits.
Since the resolution of the Watch 2 is a tad bit lower, the overall performance of the same should also get a teeny tiny boost while increasing the battery life since the battery now has to power significantly fewer pixels. We'll get to the performance in a bit but since we're also getting a new processor, which is built on the 4nm architecture, the overall battery life should also receive a significant boost alongside performance.
Pixel Watch 2 or Pixel Watch: Performance
The Pixel Watch 2 features a much more recent Qualcomm Snapdragon W5 Gen 1 processor which, as we mentioned earlier, is built on a 4nm process. It's a significant upgrade both in terms of performance and efficiency compared to Pixel Watch's Exynos 9110 which is a 10nm chip that was originally used in the Galaxy Watch in 2018.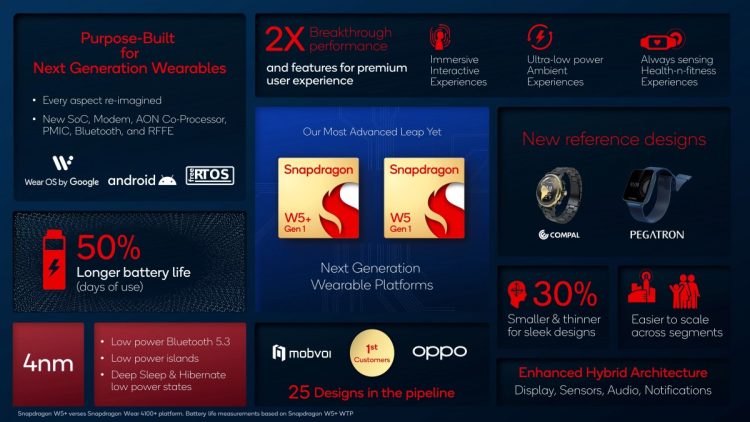 For all the nerds out there, the W5 Gen 1 is a Quad-core SoC with Cortex-A53 cores all clocked at 1.7 GHz and an Adreno 702 GPU. It comes without the co-processor found in W5+ Gen 1 which is used for ultra-low powered tasks like a secondary low powered display for AOD like the TicWatch Pro 5.
Battery Life Comparison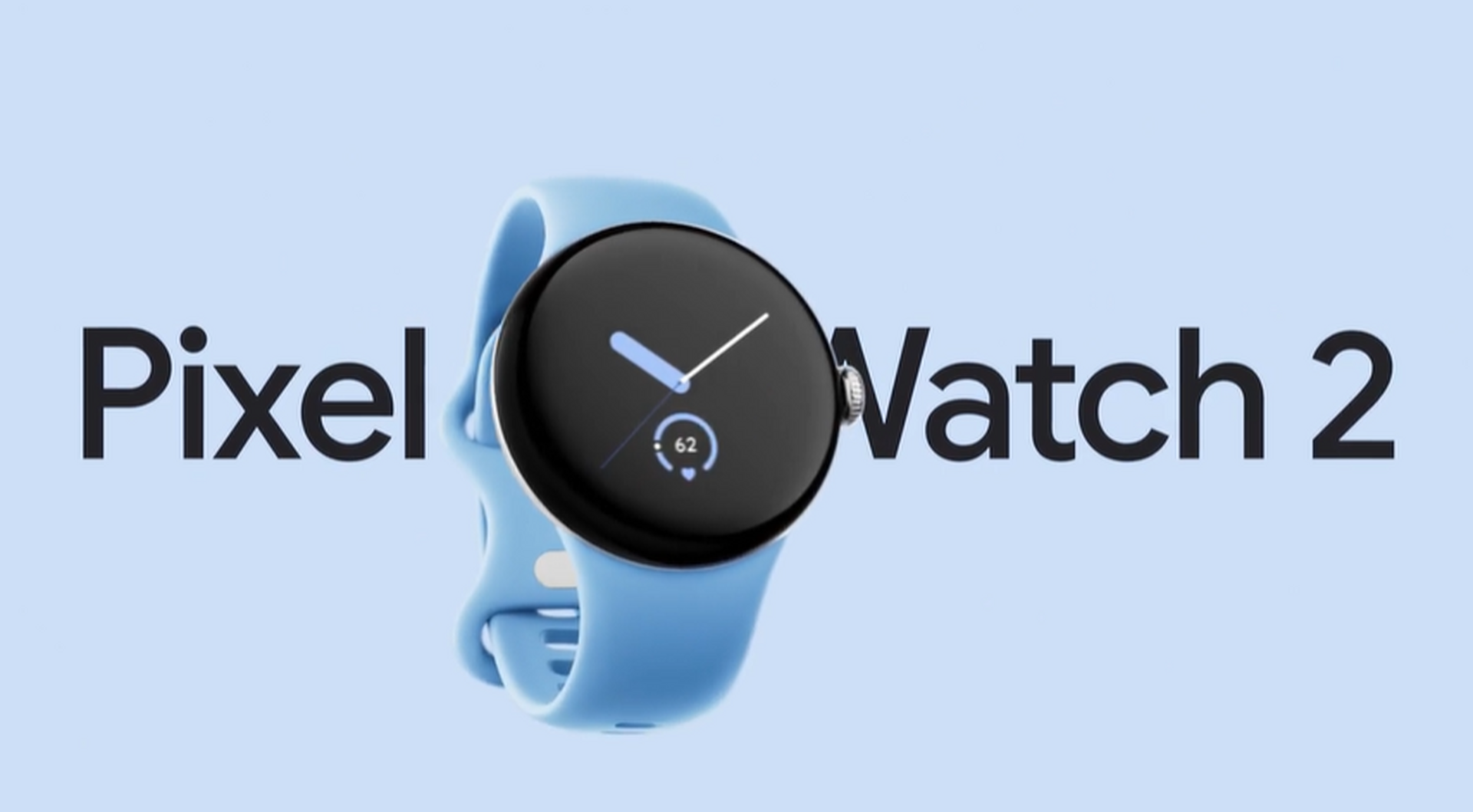 The slightly bigger battery and lower resolution screen should give the Pixel Watch 2 battery life a significant boost compared to the Pixel Watch. Paired with the Snapdragon W5 Gen 1 which is Qualcomm's latest 4nm SoC for wearables, the Pixel Watch 2 should more align with Google's claims about a 24-hour battery life, unlike the Pixel Watch which clearly lasted way less than 24 hours.
Pixel Watch 2 vs. Pixel Watch: New Features
Some of the noteworthy new Pixel Watch 2 features include a Skin Temperature sensor, Stress Level indicator, tracking pace, heart rate zones, and new safety features. While the first three features are hardware-dependent, users can expect the latter two features to arrive on the Pixel Watch with Wear OS 4. The new multi-band Heart Rate sensor is now much more efficient and more accurate than the previous generation.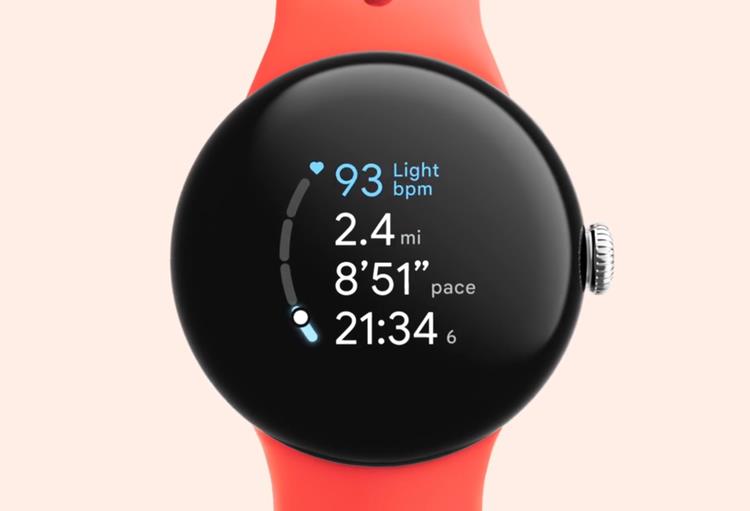 For those who really care about temperature sensors and stress levels, and there are a lot of people who do, the Pixel Watch 2 clutches this round of comparison.
However, if you don't care about the aforementioned features, most of the software tweaks showcased during the Pixel Watch 2 launch should make their way to the Pixel Watch in future updates.
Pixel Watch 2 vs Pixel Watch: Specs Comparison
Specification
Pixel Watch 2
Pixel Watch
Watch Dimensions and Dial
41 x 41 x 12.3 mm 41 mm
41 x 41 x 12.3 mm 41mm
Display
384 x 384 pixels 320 ppi, 1.2-inch AMOLED with Corning Gorilla Glass 5
450 x 450 pixels, 1.2-inch AMOLED with Corning Gorilla Glass 5 (Non-replaceable)
Battery
306 mAh
294 mAh
Processor
Snapdragon W5 Gen 1
Exynos 9110 (10 nm)
Build
Stainless Steel
Stainless Steel
Storage and RAM
16GB eMMC and 2GB
32GB eMMC and 2GB
Software
Wear OS 4.0
Wear OS 3.5
Sensors

Improved four-band Heart Rate sensor, Skin Temperature, Altimeter, Compass, Accelerometer, SpO2
Heart Rate, SpO2, Accelerometer, Gyroscope, Altimeter, and Compass
Noteworthy Features
Stress Management, Fall detection, Emergency SOS, Heart Zone Training, Safety Features, six months of free Fitbit Premium
Blood oxygen sensor
Optical heart rate sensor
Haptic crown

Colors
Polished Silver/Bay, Matte Black/Obsidian, Champagne Gold/Hazel, and Polished Silver/Porcelain
Matte Black, Champagne Gold, and Polished Silver.
Pricing
$350
USA, Canada, Japan, and Europe
Availability
USA, Canada, Europe, Japan, and India
USA, Canada, Japan and Europe
Pixel Watch 2 vs. Pixel Watch: Which One Should You Get?
The Pixel Watch 2 costs $350 which is a $50 bump in the price compared to last year's Pixel Watch. For that, you get a slightly bigger cell, considerably faster and more efficient SoC, and new sensors to measure skin temperature and stress levels. It's worth upgrading unless you don't care about the new sensors and already get a decent battery life out of your Pixel Watch. Although, for those who waited for a year for the Pixel Watch 2, because we know there are lots of you out there, reap your fruits of patience; the Pixel Watch 2 is a WearOS device worth checking out if you're into the Pixel ecosystem.
For those who couldn't care less about the Pixel ecosystem, Samsung offers great smartwatches too. The Galaxy Watch 6 or even Watch 5 are still great smartwatches that you can get for a great price, especially the Watch 5 which now costs $200 for the 44 mm variant as of writing this.
---
Load More