Google itself revealed the Pixel 4's design in an official leak, sort of, earlier this year. The company has even shown off what its flagship will look like on the front, flush with many new sensors for hands-free use via gestures. Well, the interest in Google's flagship series that will launch in October has since waned, with a few leaks here and there.
Now, real-life hands-on photos of the Pixel 4 and Pixel 4 XL have started appearing online. They show off both the devices in their entirety, from all angles to give us a complete idea of what Google is going to launch soon. You can see attached above the front panel of the Pixel 4 (on the left) and the white rear panel of the Pixel 4 XL (on the right). These photos have appeared on Weibo in a now-deleted post.
Firstly, we turn our attention to the Pixel 4, whose display may be protected with a screen guard, but we can still make out the huge top bezel that contains sensors for Face Unlock, Soli chip for Motion Sense gestures, and the selfie camera. There's also a tiny bezel at the bottom, which is okay. The same wallpaper we saw in previous leaks is present on here as well, along with dogfood apps, which means the device runs beta Android 10 software.
As for the bigger Pixel 4 XL, it has today shown up in the white finish (with no dual-tone finish) with an orange power button and a square camera bump. The new Pixel lineup is expected to feature a 12MP primary camera and a 16MP telephoto camera. It will be the first time that a Google Pixel will feature more than one rear camera. There's no physical fingerprint sensor on the rear, so it will finally be moved under the display on the Pixel 4 lineup.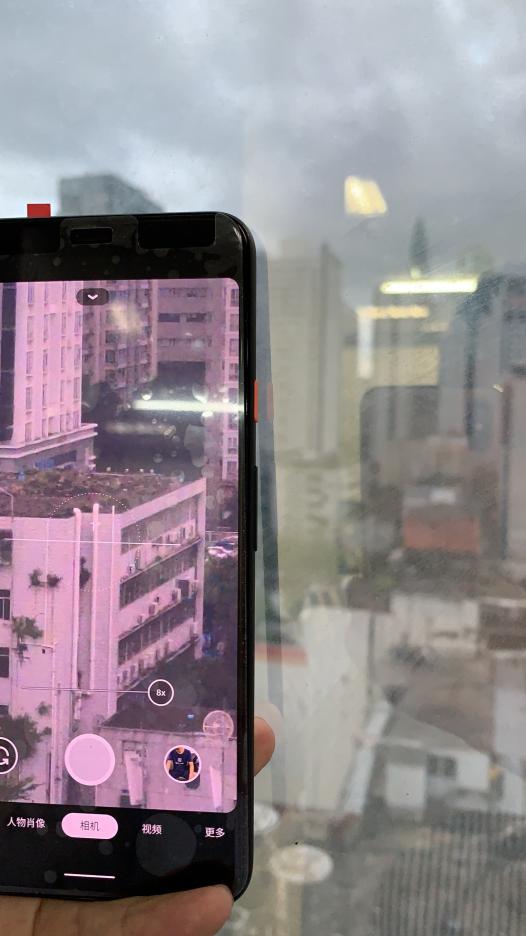 In addition, you can see the new Google Camera app in the leaked image above. It not only shows us how the company is fixing the reachability issue with its current Camera app, simply by moving the camera modes options under the shutter button. But, it also revealed that Pixel 4 will feature 8x zoom capability – which won't be optical zoom, instead a mix of optical and Google's Super Res Zoom technology.
If we talk about the specs, the Pixel lineup is rumored to sport a 90HZ display and is going to be powered by the flagship Snapdragon 855 chipset, with up to 6GB RAM (yes, Google is finally moving past its 4GB RAM obsession) and up to 256GB storage. While it seems like the smaller Pixel 4 will sport a 5.7-inch Full-HD display, the Pixel 4 XL could feature a 6.3-inch 1440p OLED display.