OnePlus' entry into the tablet market is a pretty solid one. The new OnePlus Pad seems to stick to a playbook that OnePlus mastered back in its heyday — great specs at a reasonable price. But it falls short of making itself an iPad-beating Android tablet that we've all been waiting for…
OnePlus Pad: Great… on Paper
The Pad comes with specs that, on paper, make it extremely appealing. There's the flagship Dimensity 9000 chipset, 12GB LPDDR5 RAM and 256GB UFS 3.1 storage (on the top model), and an 11.6-inch, 2800×2000 pixel, 144Hz LCD display. All of that, for a starting price tag of ₹37,999 (~$460).
An Unmatched Experience?
If you look at the OnePlus Pad in a vacuum, it's a really good tablet. The design, though in some ways similar to that of the new iPads and the Galaxy Tabs, is ever so subtly different in meaningful ways. The edges are slightly rounded, which makes it easier to hold, the front camera is mounted along the long-bezel, which makes it better for video calls and meetings, and the bezels themselves are thin, as far as tablets go.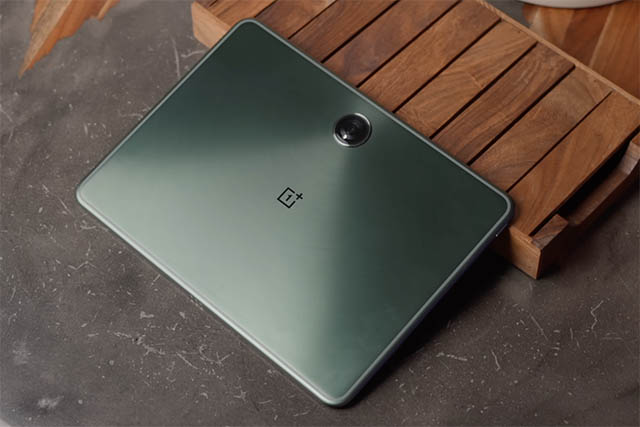 It also has support for a stylus that charges magnetically, and a keyboard case (as well as a simple folio case) that connects magnetically and powers itself through pogo connectors.
The display is great too. Even though it's an LCD panel, it's pixel dense, and the colors, 500 nits of brightness, and viewing angles are all wonderful. The experience of using the display (and, by extension, the OnePlus Pad itself) is further helped along by the 144Hz refresh rate — higher than what is offered by the most powerful (and expensive) iPad Pros.
However, we're not here to judge the OnePlus Pad in a vacuum, and though the Pad might be one of the best (and more value for money) Android tablets out there, it can't beat the iPad; not yet.
Beating the iPad
There are many aspects in which you can consider a tablet to be an iPad competitor, and the OnePlus Pad fails in almost every single one of them; at least in my opinion. And since I am talking about my personal thoughts here, let me walk you through them.
Note: I'm comparing the OnePlus Pad with the 9th-gen iPad because they are both priced similarly. However, I will compare things with the 10th-gen iPad in some cases as well.
App Selection
Starting off with apps — one of the most important aspects of a smart device, whether it's a smartphone, or a tablet. Now, Android tablets have, for long, been held back primarily because of the poor app support. Sure, there's the Play Store, which offers millions of apps that you can download on your Android tablet, but honestly, not many of them are optimized for a large screen, or for a high-refresh rate display.
Even Google apps are to be blamed here. YouTube, for example, runs at 60Hz on the OnePlus Pad, and the Play Store runs at 90, which is better, but definitely doesn't feel as smooth as the rest of the UI (which also, weirdly, runs at 120Hz).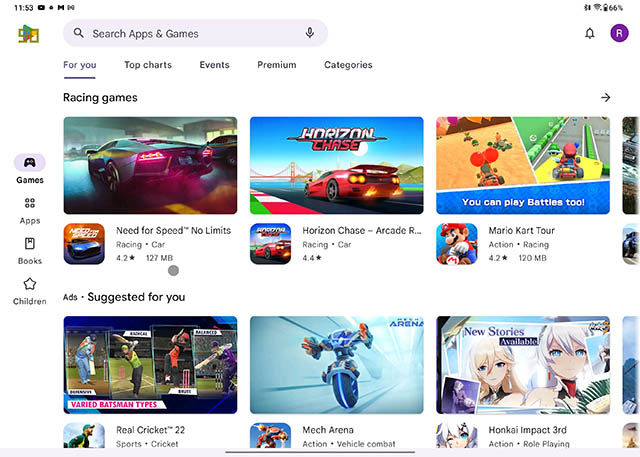 On the other hand, iPad apps are usually well optimized. At the very least, most iPad apps make better use of the larger screen than apps on Android tablets.
Productivity
On the productivity front, things aren't too different. The iPad has always been positioned by Apple as a potential laptop replacement, and something that users use for productivity oriented tasks as much as for entertainment.
In that regard, the iPad comes with a bunch of productivity oriented features — there are multitasking gestures, split screen viewing and even an overlay of sorts (Slide Over) to allow users to access information from multiple apps at the same time.
Moreover, there's Stage Manager (on some iPads), and there are actual keyboard shortcuts.
The OnePlus Pad does have a keyboard that is miles ahead of the silly keyboard you get for the regular iPad (the iPad Smart Keyboard). However, Android doesn't like to behave well with keyboards, which means you get a barebones shortcut system on the OnePlus Pad. There are the basic ones for going to the home screen, locking the tablet, and others. However, you don't get the kind of keyboard shortcuts you'll see on iPadOS.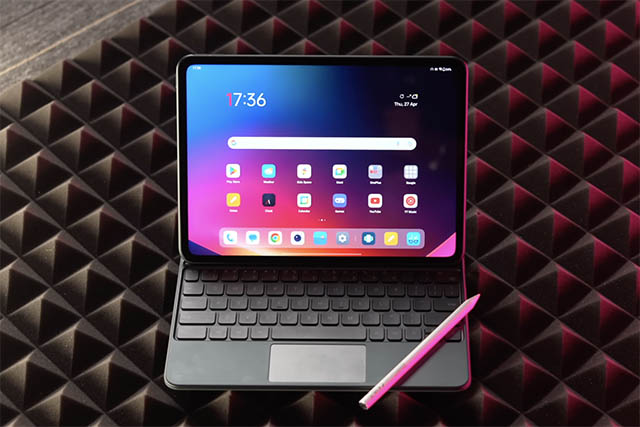 Nor do you get productivity features that you'll find on tablets like the Galaxy Tab S7 FE. I'm talking specifically about DeX here, which allows you to use your tablet (connected to a monitor/TV) as pretty much a laptop. Considering how powerful the OnePlus Pad is, not having a DeX-like feature feels like a missed opportunity, and makes the OnePlus Pad lag behind in productivity.
Accessories
OnePlus has done a good job with the accessories on offer for the OnePlus Pad. There's the simple folio case, but you can also buy the OnePlus Stylo for ₹4,999 (~$61) and the OnePlus Magnetic Keyboard for ₹7,999 (~$97)to get more out of your tablet.
Both of these accessories are really good, and using them is a breeze, much like on the iPad.
What's more, OnePlus has done a way better job with its keyboard than the Smart Keyboard you can get for the iPad (9th-gen). The OnePlus keyboard is much better than the iPad's Smart Keyboard in both its look and feel, and the typing experience. Where the iPad's keyboard offers mushy keys and is actually annoying to use, the OnePlus Magnetic Keyboard offers a nice, tactile feel, good quality keycaps, and there's support for adjusting the brightness, volume, and more, straight on the keyboard. There's also a trackpad, with support for some basic gestures.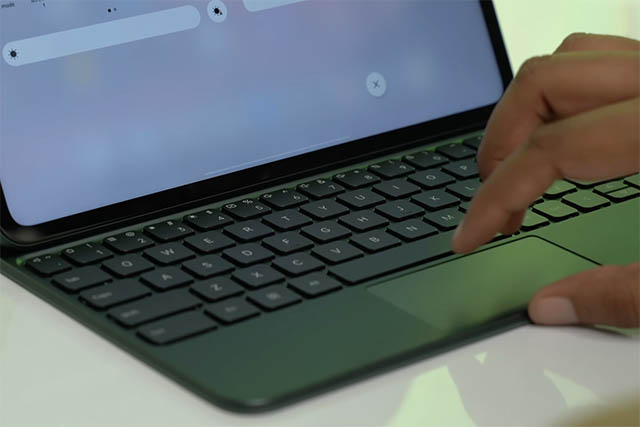 That's something you'll miss out with the Smart Keyboard. However, if you choose to go with the 10th-gen iPad, you can get the Magic Keyboard Folio which comes with shortcut keys for similar functionality as well, and a trackpad. However, it also costs ₹24,900 (~$300).
Performance
The Dimensity 9000 that's inside the OnePlus Pad is a solid performer. It's a flagship chip after all, and performs as such. Paired with LPDDR5 RAM and UFS 3.1 storage, it results in really good performance on the tablet.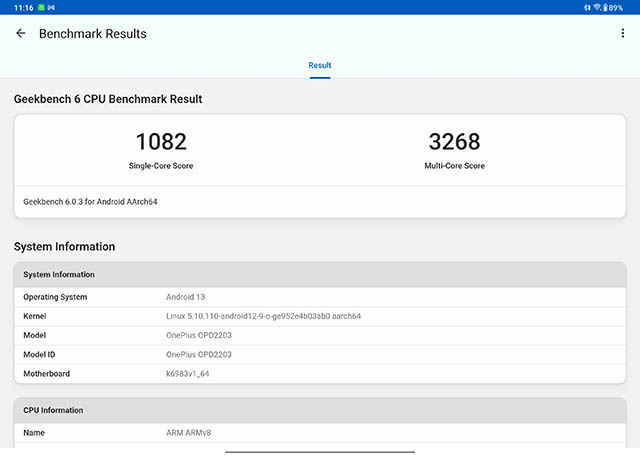 Apps launch quickly, and the performance is snappy all around, barring the apps that don't support a high refresh rate, resulting in a weirdly sluggish experience.
Even in gaming, the OnePlus Pad is quite good. Whether it is shooting games like COD: Mobile or PUBG: New State, or incredibly graphically intensive games like Genshin Impact, the OnePlus Pad handles them well.
It's quite similar in performance to the 9th-gen iPad. In fact, thanks to its high refresh rate screen, the OnePlus Pad appears noticeably faster in most cases.
Ecosystem
Possibly the biggest issue with the OnePlus Pad when compared with the iPad, or even the Galaxy Tab S7 FE, is the ecosystem, or lack thereof.
To be fair, OnePlus has incorporated some basic ecosystem functionality here. You can share your OnePlus phone's 5G data with your tablet for quick internet access. Taking a picture from your smartphone automatically pushes it to the OnePlus Pad as well, allowing you to utilise the larger screen for better editing and annotation. You also get support for notification mirroring, and the OnePlus Pad can control your OnePlus TV (India only).
That's great, but it's missing a lot of the ecosystem features one gets with something like an iPad. Shared clipboard between all your Apple devices (this is available on the OnePlus Pad as well), Handoff features allowing you to start working on your iPhone, iPad, or MacBook, and pick up where you left off, on any device, Continuity features such as using the same keyboard and mouse on your Mac and your iPad, along with support for dragging and dropping files and more, using your iPad as an external monitor for your Mac. And, of course, calls and text messages across all Apple devices with the same Apple ID.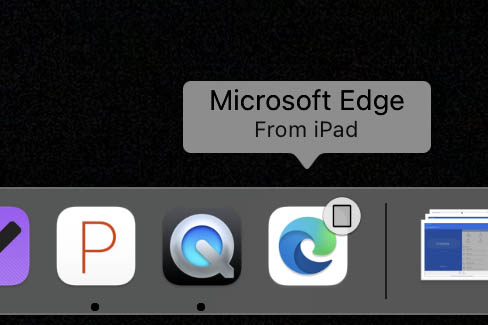 All of that makes the OnePlus Pad appear strangely left-behind in a world full of Apple and Samsung tablets that offer multiple ecosystem and productivity features that really elevate the experience.
OnePlus Pad: Worth the Money?
The OnePlus Pad makes a compelling case for its price tag of ₹37,999 (~$460). After all, you are getting a solid Android tablet, with flagship specs, and great performance to boot. However, it's really only good for basic tablet tasks. Reading books, watching movies on Netflix, and some gaming.
If you're thinking of using your tablet for productivity-oriented tasks, the OnePlus Pad falls short in more ways than one, and you'd be better off with an iPad, or something like the Galaxy Tab S7 FE; both of which offer features that make them more useful and enticing for work-related tasks.
---
Load More