Gaming phones are popping up at a steady pace, and being a gamer myself, I have no complaints. More competition is always good since it pushes manufacturers to create better-performing devices at cheaper price tags. After the Razer Phone and Xiaomi's BlackShark, Chinese giant Nubia has come up with its own gaming phone. Introduced as part of its gaming smartphone lineup, the Red Magic is the company's latest gaming phone priced at $399, which features an aesthetically designed body and hardware to well suit the mobile gamers. But is the device actually that good? Let's find out, as we review the Nubia Red Magic:
Note: Our review unit was provided to us by Red Magic as part of the Indiegogo campaign. The product is yet to be released for global purchasing.
Nubia Red Magic Specifications
Before starting off with the actual review of the device, how about we discuss the kind of horsepower that the Red Magic device comes with. The Nubia Red Magic, despite featuring a yesteryear's flagship processor, comes with top of the line hardware, which you can check out below:
| | |
| --- | --- |
| Dimensions | 158.1 x 74.9 x 9.5 mm |
| Weight | 185 g  |
| Display | 6.0-inch Full-HD+ LCD IPS |
| Processor | Qualcomm Snapdragon 835 |
| GPU | Adreno 540 |
| RAM | 6GB/8GB |
| Internal Storage | 64GB/128GB |
| Primary Camera | 24 MP (f/1.7) |
| Secondary Camera | 8 MP (f/2.0) |
| Operating System | Android 8.1 Oreo-based RedMagicOS 1.0 |
| Battery | 3,800mAh |
| Sensors | Fingerprint, Accelerometer, Proximity, Compass |
| Connectivity | Hybrid Dual Nano-SIM, Wi-Fi 802.11 A/b/g/n/ac, Bluetooth 5.0, -GPS, GLONASS |
Now that we've got that out of the way, let's get on with the actual review of the device.
What's in the Box
The Red Magic comes in a nice and premium looking black colored box with red accents, featuring simple and decent packaging. The box has almost everything you'd expect from a device at this price point, including: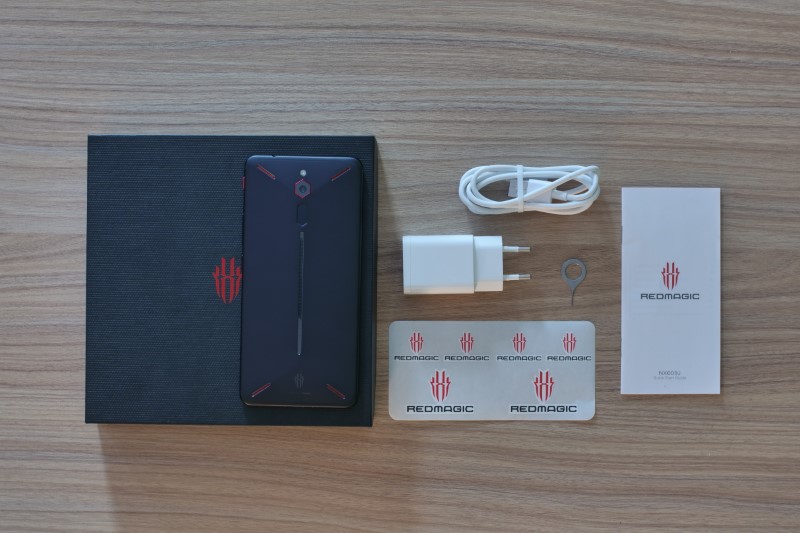 Nubia Red Magic
Power Adapter
USB Type-C Cable
User Manual
Red Magic Stickers
Design and Build Quality
Right off the bat, the Nubia Red Magic is one of the best-looking devices I've used in recent times. For anyone in the field of smartphones, the front design of smartphones comes in only 2 variations – with or without a notch. Thankfully, the Red Magic is one of those devices that doesn't feature a notch and manages to look aesthetically beautiful.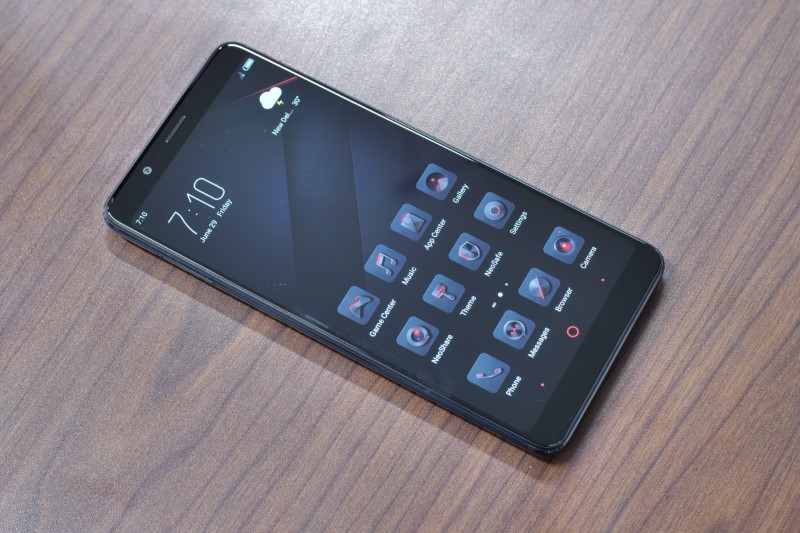 However, it is once you move to the rear end of the device that you actually start admiring the beauty of this thing. I've used plenty, and I mean plenty of smartphones, but honestly, I'd rate the Red Magic's body as one of the best in the business. It is just perfectly designed, and despite a slippery smooth surface, features just the right amount of grip.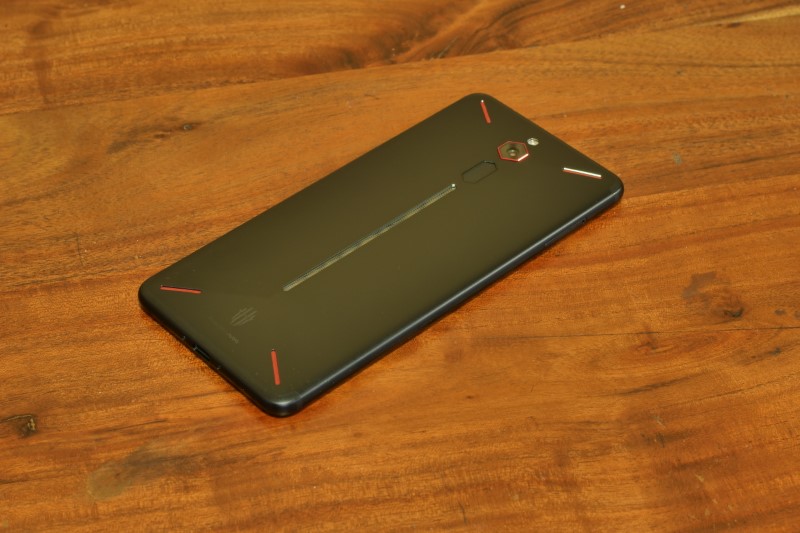 The speakers and the fingerprint scanner are perfectly placed, all surrounding the RGB LED strip. The camera on this thing has just a single sensor, but the hexagonal shape really gives it a great appeal.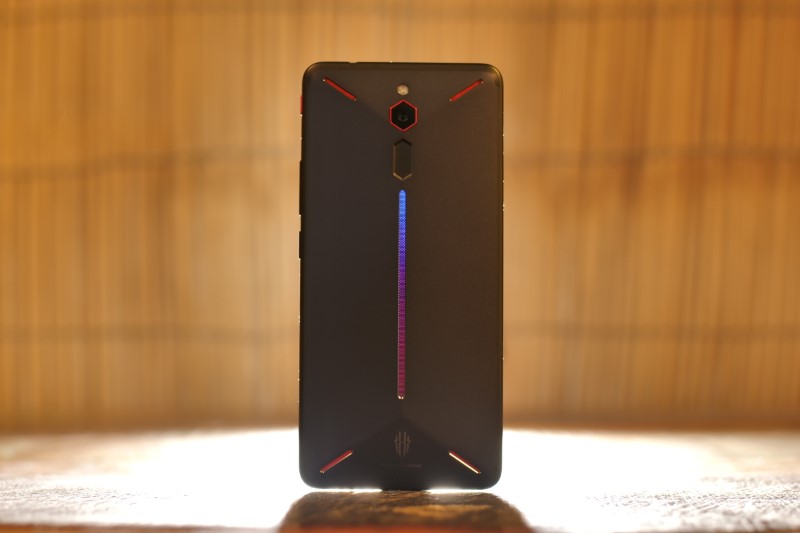 The left side of the device is pretty minimal, with just the SIM tray over there. On the right side, you get the "Compete Button" key, followed by the volume rockers and the power button. Up top, you get the 3.5mm audio jack, while on the bottom you get the newer USB Type-C port, which is always welcome.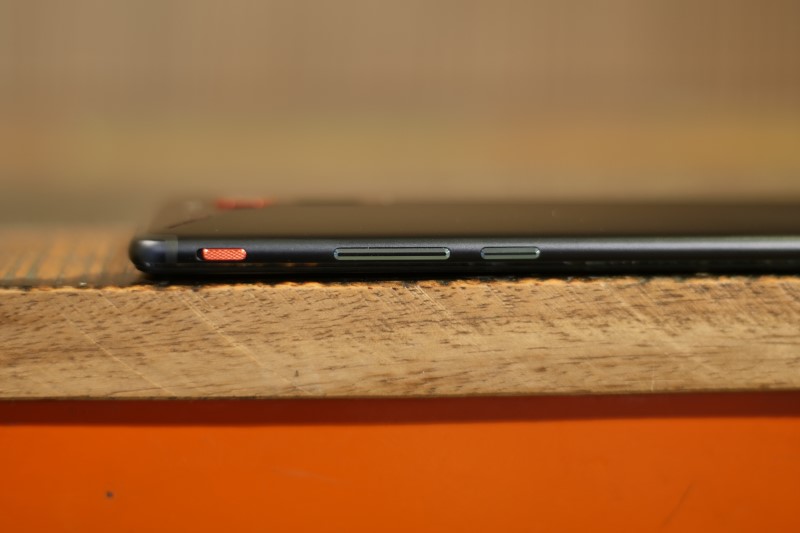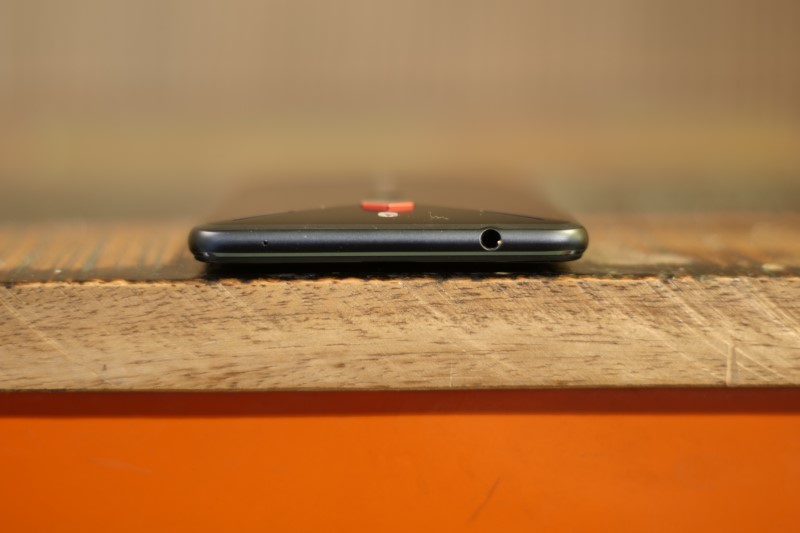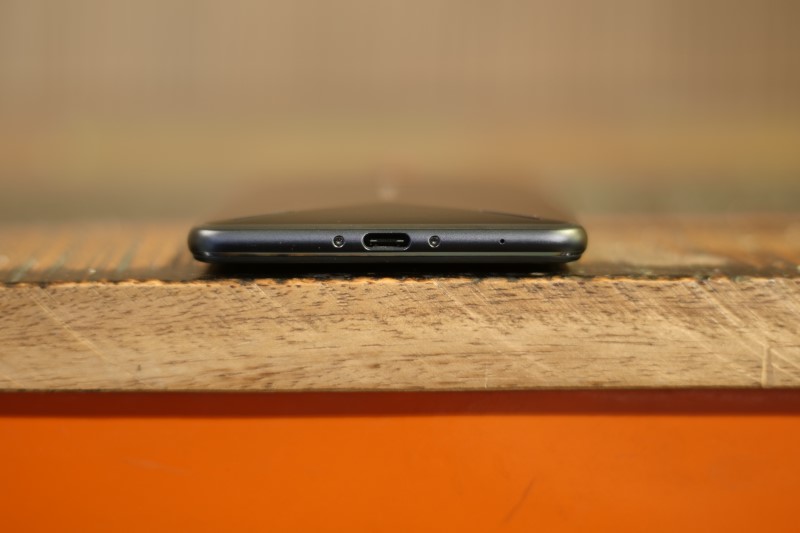 All in all, the Red Magic has been magically crafted for perfection. It has just the right amount of curves, is neither too light nor too heavy, and every port and button is just located in its natural position. The overall build quality in itself is pretty admirable, and the device feels pretty premium.
Display
The Red Magic features a 6-inch 18:9 display with a Full HD resolution of 1080 x 2160 and a 402 PPI density. Honestly, if the specs weren't enough to impress you, just take my word for it, and believe me when I say that this device has one of the best screens out there, with just one minor flaw.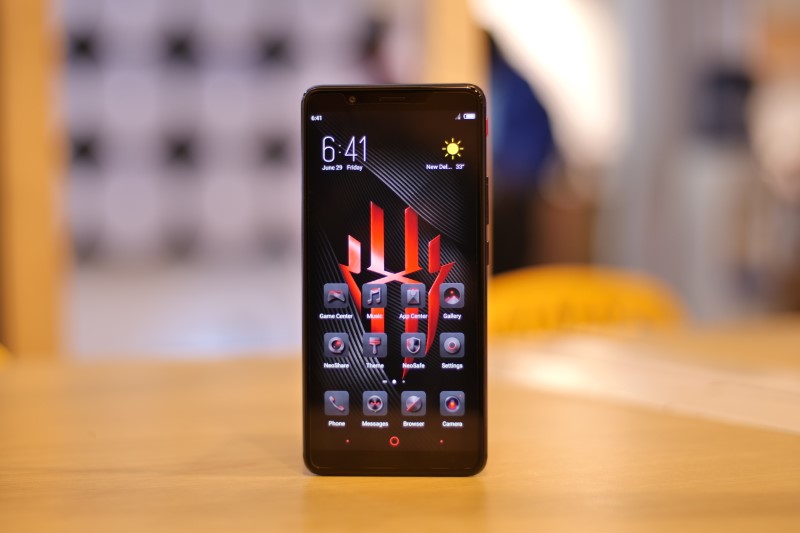 Despite boasting of an LCD IPS panel instead of the fan favorite AMOLED screens, the Nubia Red Magic manages to produce stunning visuals. The colors are highly accurate, and the levels are perfectly balanced. There is a wide color gamut, and the screen feels great to use while normal usage as well as while gaming.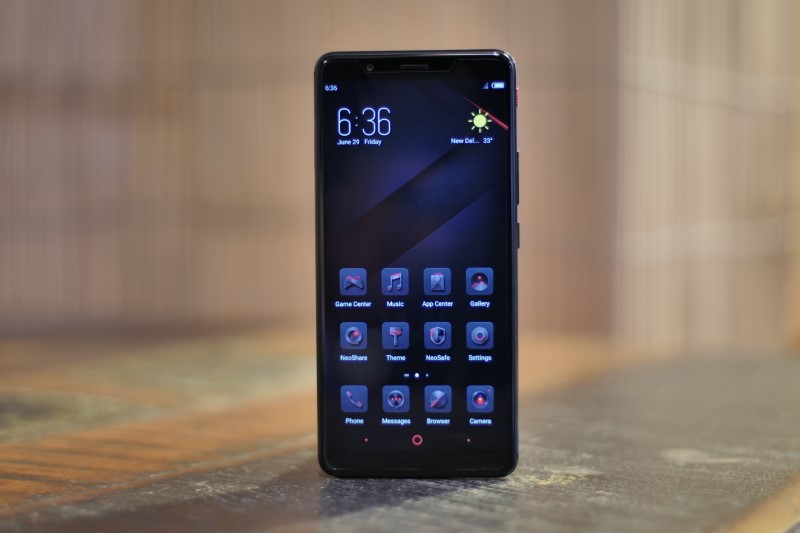 However, my only complaint with the display has to be the overall brightness level. Yes, it is usable under the sun, but I would have still preferred a slightly brighter panel. Nonetheless, the display still scores very high and makes the Red Magic all the more appealing.
User Interface
Coming to the User Interface, I just hate the custom Android skin called the RedMagicOS that Nubia has put together. The notification menu is very badly designed, and the settings menu is a hassle to go through. The whole UI screams of iOS wannabe but ends up resulting in a poor experience. The UI does come with its own themes as well, though I reckon you'll find anything to suit your interests.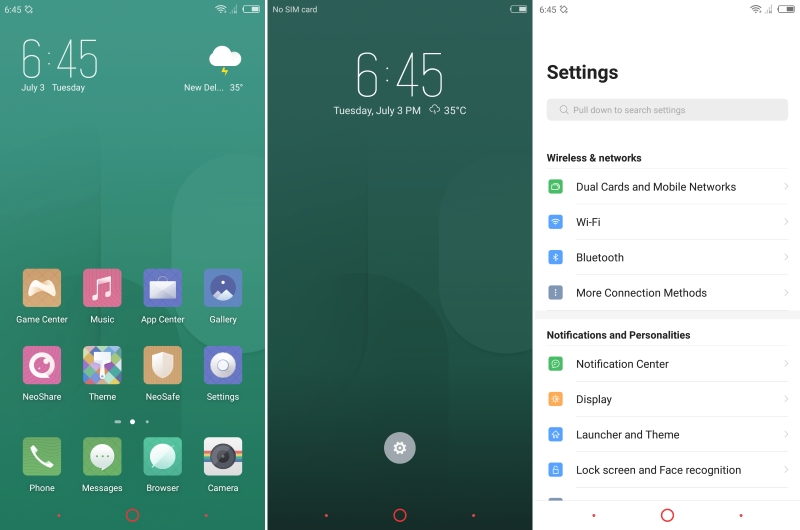 Also, the RGB strip on the back can be enabled only once you toggle the Compete button on the right side of the device. Now, while playing a game, it's great, since it boosts your game and also enables the RGB strip. Sadly though, you cannot have that strip on while operating the device otherwise, since you'll be constantly notified of "Compete button is on" every 10 seconds. And trust me, it's super annoying.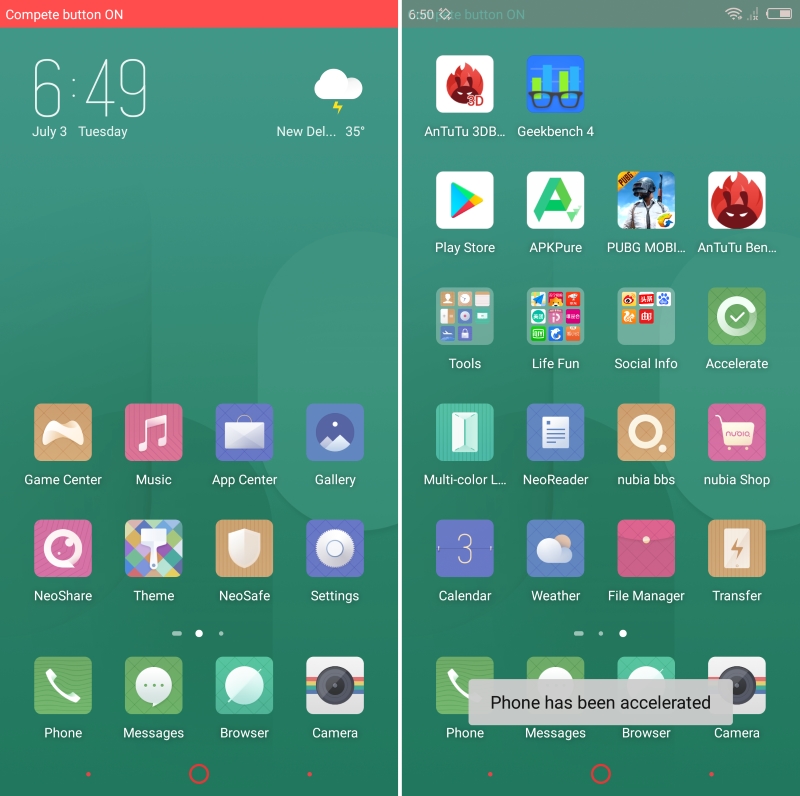 All in all, as much as I love the overall aesthetics and ergonomics of the device, I absolutely hate the custom Android skin on this device.
Performance
Ah, the performance section. Despite packing in a processor from last year, the Nubia Red Magic is no couch-potato. I mean, it has a Snapdragon 835 coupled with 8GB of RAM. I threw a ton of apps and games at this device, and the device was able to handle them like magic!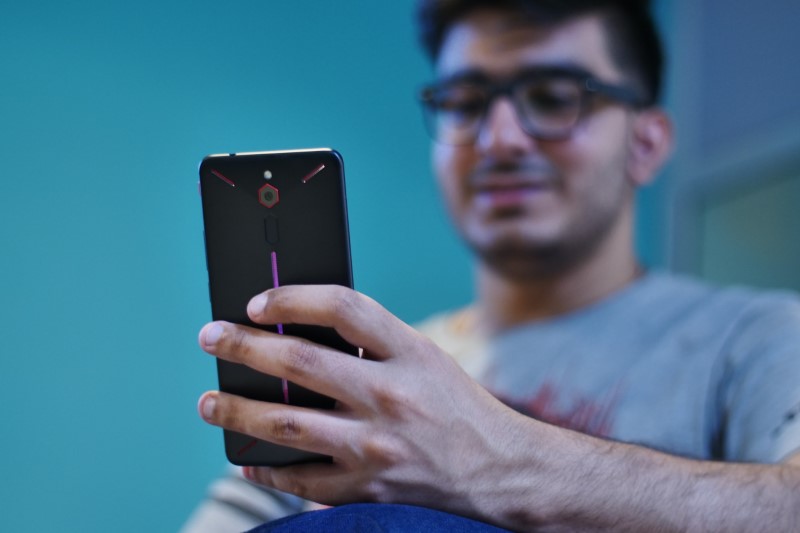 Let's not even get into the normal day to day activities such as social networking apps and calls and stuff, since they are a mere cakewalk for this device. Moving on to more demanding applications such as the fan- (and my personal too) favorite PUBG, the device was able to run the game easily at the highest settings with no lags whatsoever. Then there were other titles such as Shadow Fight 3, PES 2018, Asphalt 8, but the device was able to handle them all with ease! Oh, and thanks to the humongous 8GB RAM, I had complete freedom to switch back and forth between these games without having to clear my memory.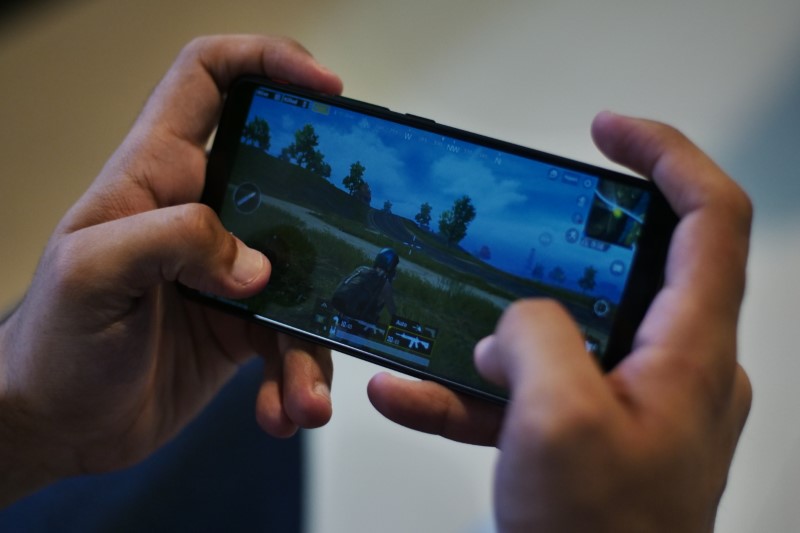 As for benchmarks, the Snapdragon 835 is a flagship processor, so what else would you expect? The Nubia Red Magic scored a massive 2,16,280 on Antutu Benchmark and attained a multi-core score of 6,638 on GeekBench.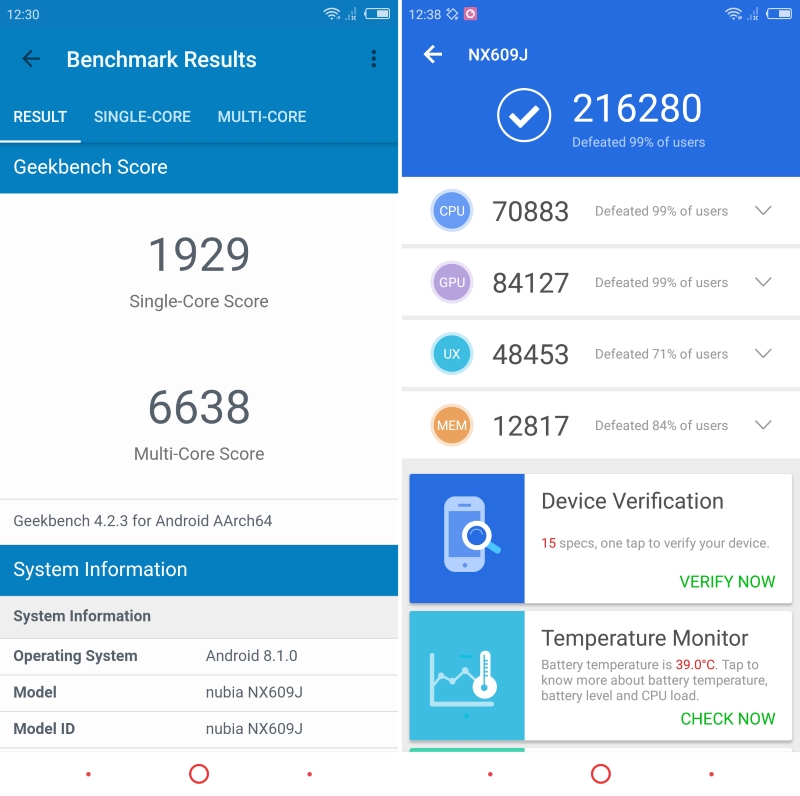 In gaming devices, cooling plays an essential role. While the Nubia Red Magic doesn't have the liquid cooling technology of the Xiaomi BlackShark, it does come with the company's own GameBoost technology, which apart from just boosting the overall game, also helps in keeping the overall temperatures down.
The Nubia Red Magic has the perfect mixture of aesthetics with performance!
Cameras
The Nubia Red Magic comes equipped with a single 24 MP (f/1.7) rear camera setup, which, thanks to its high aperture, "should" promise great low-light performance. However, in my testing of the device, the camera quality is decent at best, and nothing to boast about.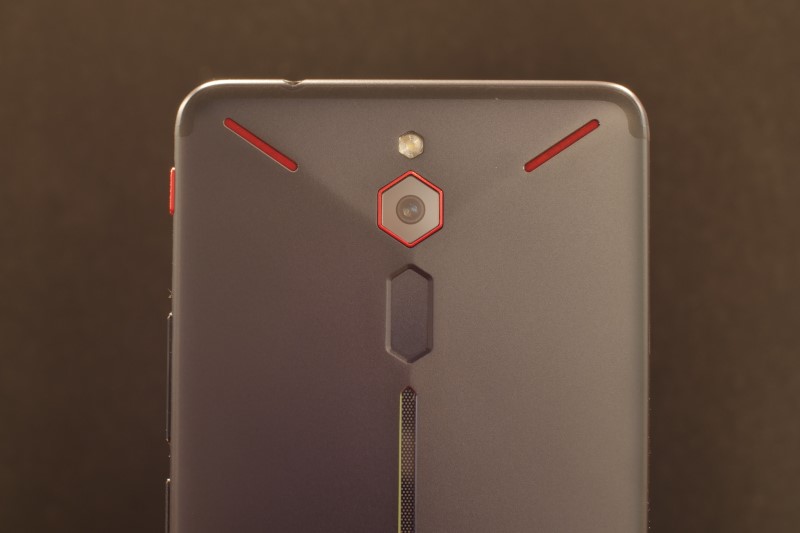 The camera on the Nubia Red Magic manages to capture and reproduce color-accurate images in proper daylight. There is a sufficient amount of detail to them and barely any noise or graininess. They are not saturated as many of the cameras out there tend to create, so you might wanna add a filter before posting these snaps to your social media.
There is no portrait mode on this device, which was sort of expected, and I'm not really complaining. On the other hand, the Camera App comes with plenty of useful modes to capture images and videos, such as Multi-Exposure, Light Drawing, Time Lapse, and many more. However, do keep in mind that the overall quality of the image or video does take a minor toll in these modes. There's also a Pro mode for the photographer inside you.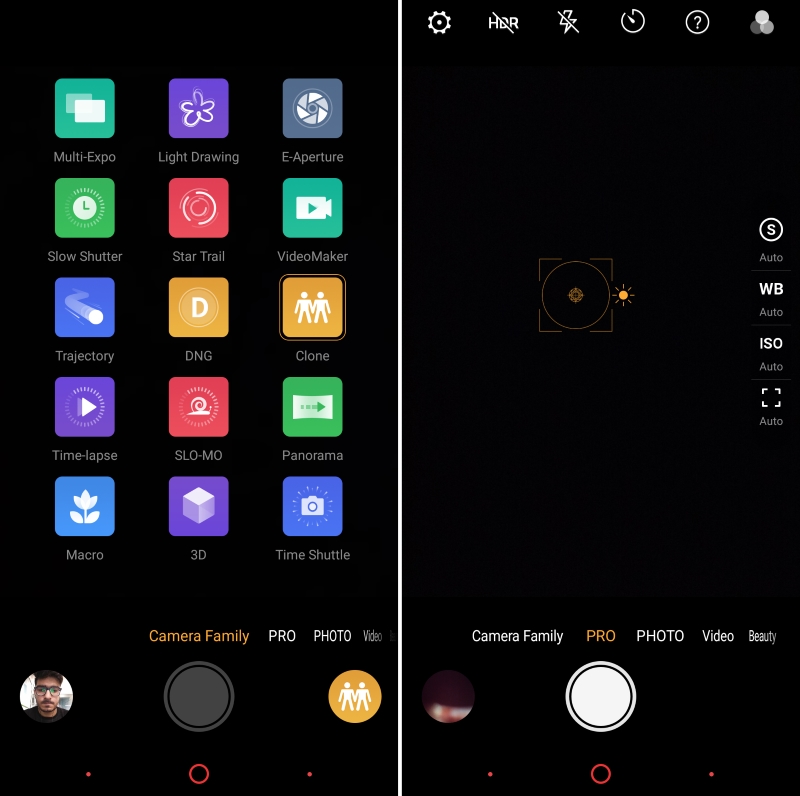 However, in low-light, the camera did struggle, despite the f/1.7 aperture. There just the bare minimum amount of light existing there and most of the images are quite soft. I don't quite understand the deal with most Chinese phones out there, and their love for soft images and the Nubia Red Magic is just one of those.
As for the front camera, the Nubia Red Magic comes with an 8 MP (f/2.0) shooter, which manages to disappoint a lot. Even in decent lighting settings, the results produced are super soft, and the noise is quite evident. Also, there is no portrait mode available on the front camera, which could be a disappointment to some.
For me, the camera experience on the Nubia Red Magic was clearly better than the Xiaomi BlackShark, but then again, true to their gaming nature, both the devices are meant for performance and not camera enthusiasts.
Telephony and Audio Quality
Considering the call quality, there was hardly anything to complain about with the Nubia Red Magic. Calls sounded clear on both sides as the phone brings very good noise cancellation. Additionally, the speakers on this thing are pretty loud as well and are good for loudspeaker calls as well as decent media consumption.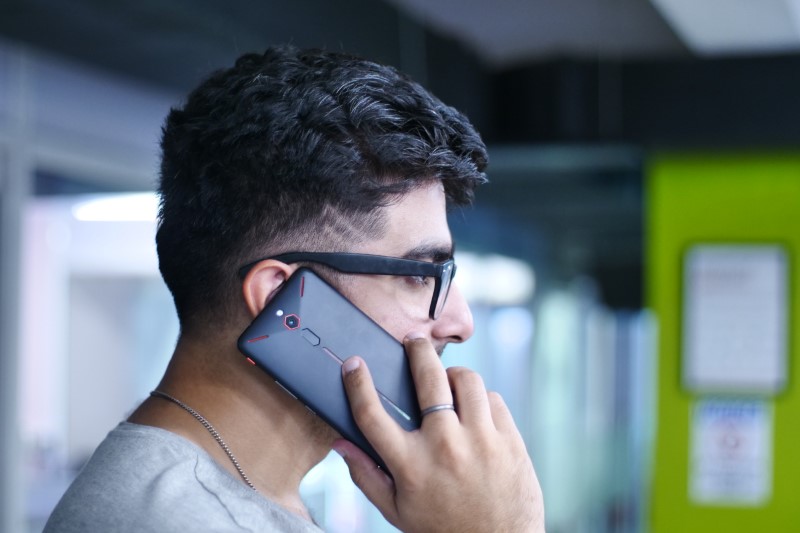 I've had a weird experience with most Chinese devices out there, experience call drops from out of nowhere. Thankfully, I experienced no such issues with the Red Magic.
Connectivity
The Nubia Red Magic features everything you'd expect from a 2018 device but also from a gaming smartphone. It does follow the 2018 trend of featuring a USB Type-C port but also retains a 3.5mm headphone jack, which is always a plus.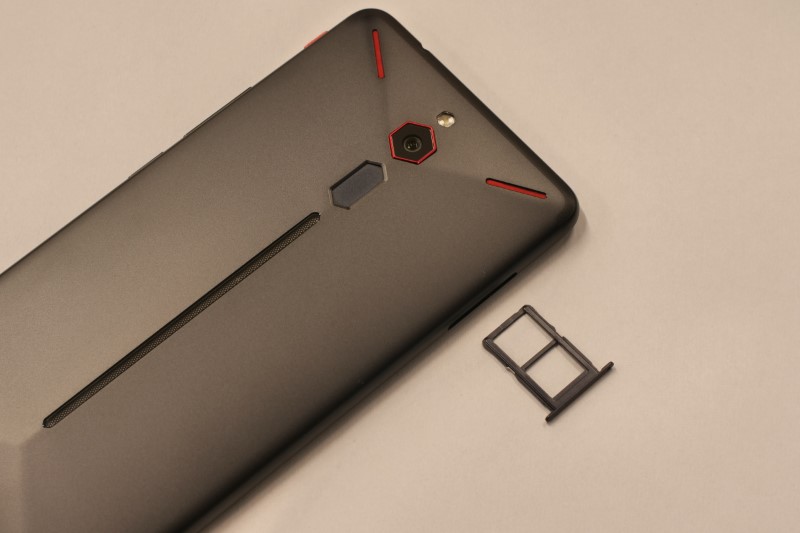 Apart from that, as for the SIM tray, the Nubia Red Magic sports a dual SIM tray, which supports 2 nano-SIM cards.
Battery
The Nubia Red Magic packs in a non-removable 3,800mAh battery, which is great for a device that's meant for heavy usage. In my testing, I was able to push through an entire day of heavy usage, which involved playing a lot of PUBG, checking my emails, adding loads of stories on Instagram, watching videos on our Beebom App, and listening to some music on SoundCloud.
Furthermore, the Nubia Red Magic comes with a USB Type-C port with support for fast charging. In my experience, it took me a little above an hour to completely charge the device, which is pretty damn good.
Nubia Red Magic Review: Should You Buy It?
At $399, the Nubia Red Magic appears to be a bang for buck device. Despite featuring an older flagship processor, the device is a beast in terms of performance and comes with a choice of 6/8GB RAM model. The camera performance is decent, but then again, it is a gaming smartphone, and that is something that the device can handle easily.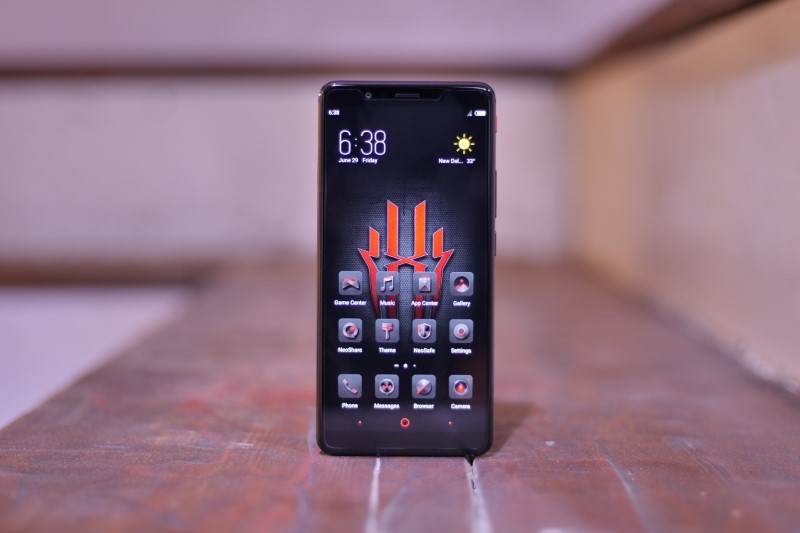 The Xiaomi BlackShark, which is the device's direct competitor, comes at $448 and offers a better processor and liquid cooling as well. However, if you're living outside of China, buying that device can be quite a hassle. On the other hand, once the Nubia Red Magic is available, it will be easier to purchase, even in foreign markets.
Pros:
Great Display
Exquisite Design and Rich Build Quality
Flagship grade performance
Great Battery Life
Cons:
User Interface is bad
Cameras are average
SEE ALSO: Xiaomi BlackShark Review: The One For Gaming Enthusiasts
Nubia Red Magic Review: More Than Just RGB
The Nubia Red Magic is a gaming smartphone, which comes in a great shell that is ergonomically designed for the best user experience. It feels super premium, and the design is just great. The performance? It is even better! The Qualcomm Snapdragon 835 paired with 6/8GB of RAM makes the device feel super snappy and can handle pretty much anything you throw at it.
At $400, my recommendation is to go for it, install Nova launcher, and bear the irritating UI elements, for you won't get a better value for money performance device than this one.
---
Load More