The Nokia 6.1 Plus has been launched priced at Rs. 15,999 and yes, it's the Nokia X6 rebranded for the global market. The phone comes with a Snapdragon 636, 4GB of RAM, and among all the other specs, features a 3,060 mAh battery. That number, on paper is definitely not a really great one (even for the price range), so we tested the battery on the Nokia 6.1 Plus to see how long it lasts under different types of workloads, and what you can expect from it if you choose to buy this latest smartphone offering from Nokia.
Charging Test
I started off with the charging test because the Nokia 6.1 Plus comes with fast charging support for its 3,060 mAh battery and that's something I want on every single phone out there, no matter the price.
Anyway, connecting the Nokia 6.1 Plus to the charger doesn't immediately put it on fast charging; in fact, it takes 20 seconds or so before the phone starts charging rapidly. That's not a problem, really, more of an observation I made because for those 20 odd seconds I was wondering if there was something wrong with the unit we received.
The phone does charge pretty fast though, although considering it's a smaller 3,060 mAh battery, that was to be expected. Starting off from 10% battery at 9:02 am, the phone took 1 hour and 40 minutes to get fully juiced up to a 100%. While that's nowhere near the fastest speeds I've ever seen a phone charge at (OnePlus and Huawei are still miles ahead), 1 hour and 40 minutes is a pretty decent charging speed, especially when you consider that the phone goes over 50% in 30 minutes so in case of an emergency, you can just quickly top it up and get going.
Battery Life
While testing the battery life of the Nokia 6.1 Plus, I decided to not just put it through its paces under my regular phone usage scenario, but also a scenario with intensive gaming and a single benchmarking run on the phone just to see how the battery fares under drastically different situations.
Normal Workload
When I say normal workload, I mean maybe a game of PUBG Mobile, some browsing on Chrome, with intermittent Twitter browsing, along with the usual WhatsApp messages and some calls peppered throughout the day.
With a use-case like that, the Nokia 6.1 Plus' 3,060mAh battery ended up proving more than enough. Starting off with a 100% battery, the phone lasted me well over 36 hours with a screen on time of 4 hours before it got to 15% and I plugged it back in because my irrational fear of low-batteries was eating me up.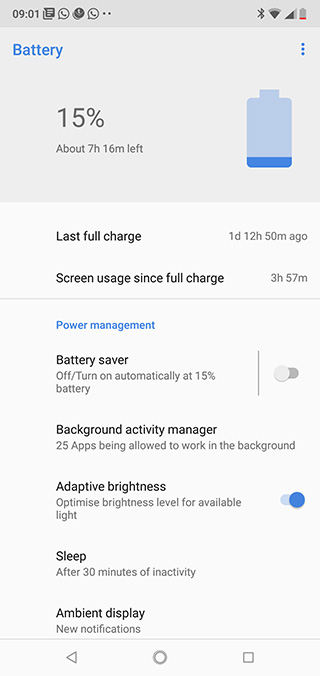 That's honestly quite good, and personally, if your use-case is like mine (light to medium usage for the most part) you can expect the same sort of battery life.
Intensive Workload
Under intensive workload things are, expectedly, different. In this use-case I played a lot of PUBG Mobile, a lot of Asphalt 9, ran AnTuTu on the phone once, and did all the usual WhatsApp and Twitter browsing that I normally do. Obviously with games as heavy as PUBG Mobile and Asphalt 9, the phone drained quite fast. I got a screen on time of 3 hours and 11 minutes before the phone reached 15% charge.
With a workload like this, the phone lasted me around 12 hours, which wasn't really unexpected. I'm sure my OnePlus 5 won't last much longer if used the same way, and I don't fault Nokia for this. In fact, with intensive gaming and a benchmark, 3 hours of screen on time is definitely decent, if nothing impressive.
Nokia 6.1 Plus Battery Review: A Pretty Solid Battery
All things considered, the Nokia 6.1 Plus (Rs. 15,999) doesn't disappoint when it comes to the battery life. I mean, sure, you can get bigger 4,000 mAh batteries on phones like the Redmi Note 5 Pro which come in at around the same price, but the Nokia 6.1 Plus lasts pretty damn long, and it comes with a build and design that I personally like more.
The bottom line is that if your use-case is similar to mine and you don't find yourself gaming for hours on end on your smartphone, the Nokia 6.1 Plus won't disappoint you. However, if you do end up gaming on your phone a lot, or (for some strange reason) benchmark it once everyday (don't do that either), well, you'll need to carry a charger along.
Buy the Nokia 6.1 Plus on Flipkart (Rs. 15,999)