With the release of its Prestige series of laptops, Taiwanese PC maker MSI significantly widened its target audience and it now has a couple of great options in its portfolio geared at professionals who are looking for performance notebooks that don't look as flashy as some of its gaming notebooks.
At the lower end of the Prestige series, MSI now offers a thin and light 14-inch notebook called the MSI PS42 which positions itself as a compelling buy for anyone looking for the perfect combination of portability and performance.
Starting at Rs. 77,990, the MSI PS42 will definitely turn some heads, but is the notebook really all that it's geared up to be? Here, we'll be taking an in-depth look at the MSI PS42 to find out if it actually has what it takes to be your perfect companion on-the-go.
Note: For the purpose of this review we received the MSI PS42 8RB from the company, which is the higher-end SKU with a dedicated Nvidia GPU and is priced at Rs. 99,990 in India.
MSI PS42 8RB Specifications
Lets take a look at the detailed specifications of the MSI PS42 8RB before we proceed with the review. The MSI PS42 8RB packs in an 8th Gen Intel Core i7-8550U clocked in at 1.8GHz with a max boost clock of 2.0GHz. Here's the full specs sheet:
| | |
| --- | --- |
| Dimensions and Weight | 322 x 222 x 15.9mm, 1.19kg |
| Display | 14-inch FHD IPS |
| Processor | 8th Gen Intel Core i7-8550U @1.80GHz |
| Graphics | Nvidia GeForce MX150 with 2GB GDDR5 memory + Intel UHD Graphics 620 |
| RAM | 16GB DDR4 @2666MHz |
| Storage | 512GB NVMe SSD |
| I/O Ports | 2x USB 3.1 Type-C Gen 1, 2x USB 3.1 Type-A Gen 1, 1x SD card reader, 1x HDMI, 1x Kensington Lock, 1x 3.5mm headphone/mic combo jack |
| Connectivity | 802.11 ac WiFi, Bluetooth 4.2 |
| Operating System | Windows 10 |
| Battery | 4-cell 50WHr Li-Polymer |
| Speakers | 2x 2W |
| Price | Rs. 99,990 |
MSI PS42 8RB: Design and Build Quality
Being the company's first laptop geared towards professionals, the MSI PS42 takes a significant step away from MSI's gaming design aesthetic to offer something that would blend quite easily in an office environment. Compared to some other laptops in the segment, the MSI PS42's design seems a bit unimaginative when you first take a look at it, as it features a tried and tested brushed metal design that looks classy but outdated.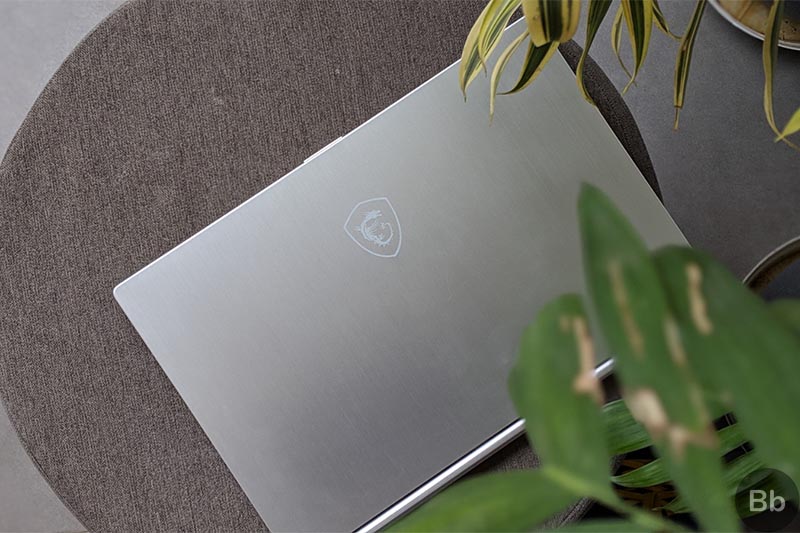 On the inside, the laptop features a 14-inch FHD IPS matte finish display with rather narrow bezels on the top and sides, along with a substantial chin. As with many Ultrabooks with narrow bezels, the webcam on the MSI PS42 rests in the center of the bottom bezel, which isn't the most ideal position. However, it's a trade off you'll have to make if you're looking for a laptop with narrow bezels.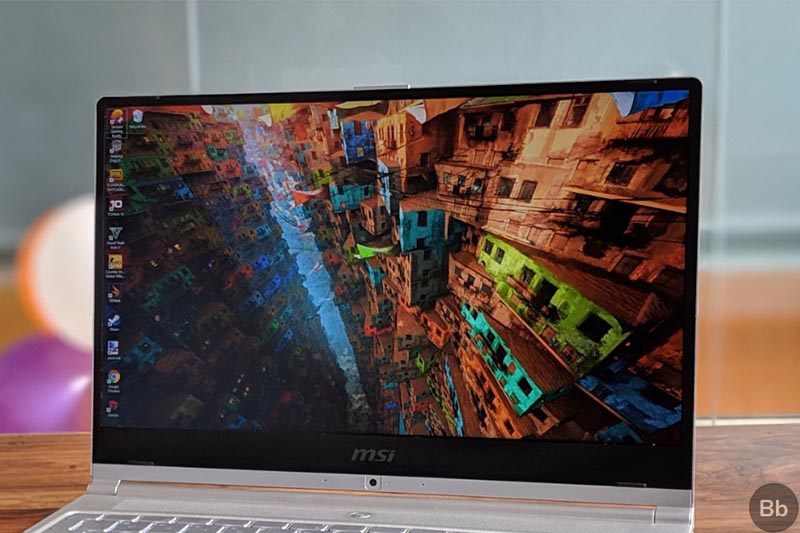 There's a well spaced out backlit keyboard with decent sized keys, along with a rather narrow touchpad with an embedded fingerprint scanner for Windows Hello authentication. The MSI PS42 offers users a decent selection of ports (more on that later) which are evenly distributed on the left and right edges of the device.
There's a large exhaust vent right above the keyboard which houses the tactile power button in the center and all of the laptop's indicator LEDs are positioned to the left of the Tab key, wrapping over the left edge of the notebook. I really like this implementation as it will allow users to easily see the LEDs, irrespective of the lid being opened or closed.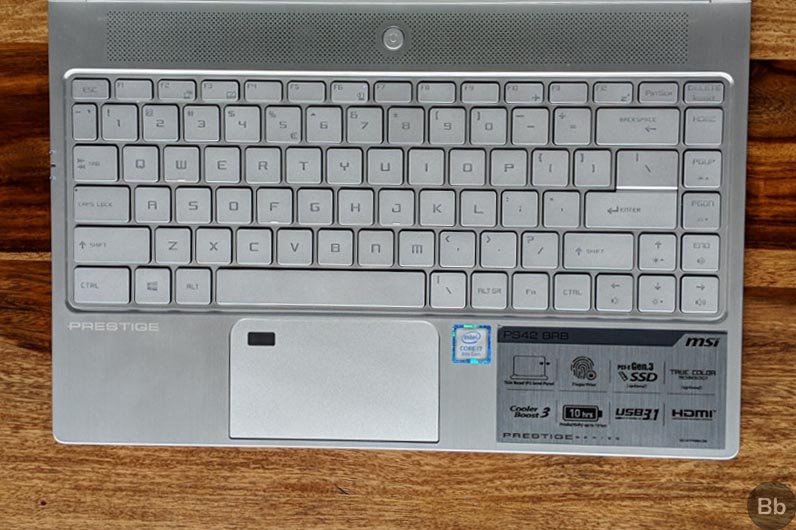 Weighing in at just under 1.2kg, the MSI PS42 is one of the lightest laptops with a dedicated GPU and even though it does feel a bit hollow, there isn't any major deck flex and the laptop feels quite sturdy. While I'm more than satisfied with the design and build quality of the PS42, I'm not a fan of the company's choice of using a white backlight with silver keys, because it makes the legends quite difficult to read while you're using the laptop in a well-lit room, but then again, you have the option to completely disable the backlight which does improve readability.
MSI PS42 8RB: Display
The MSI PS42 features a 14-inch full HD (1920×1080) IPS display with a matte finish and it looks absolutely stunning, thanks in part to the narrow bezels. Unlike other matte panels that I've used before, content on the MSI PS42's display looks vivid and crisp like a glossy screen, without any glare whatsoever. The display also has a decent 1000:1 contrast ratio and colors look fairly accurate, which makes the system quite a decent option for photo/video editors.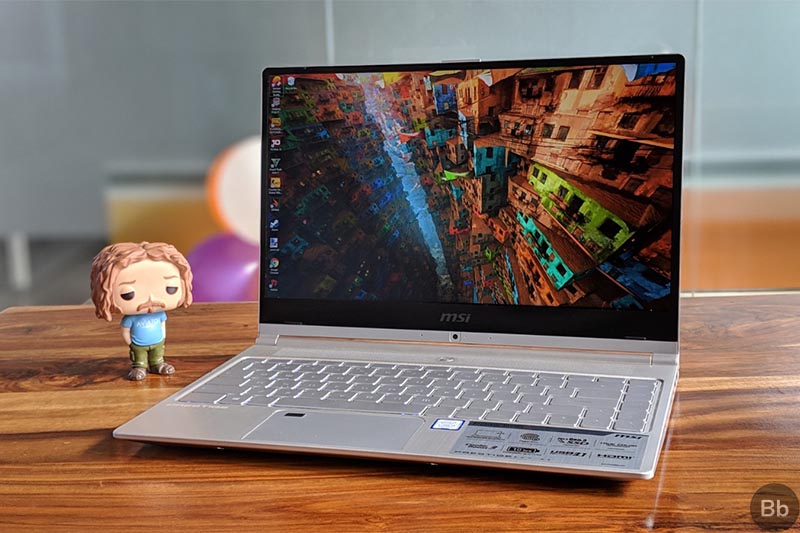 As with all of its other laptops, MSI bundles its True Color software with the PS42, giving users the option to further customize the color reproduction as per their specific needs. And since the laptop covers all of the sRGB spectrum, there's quite a bit you can do to customize the color reproduction to your liking. What prevents the display from being absolutely perfect is the max brightness which, when compared with other laptops in the segment, is just about average. Because of this, outdoor visibility isn't that great and you might have trouble using the laptop in brightly lit environments.
In my opinion, MSI has made use a pretty decent display panel on the MSI PS42 which makes it perfect for content creators who want an editing machine to use on the go. You'll definitely face some issues with the brightness levels but if you think you can overlook that, I can assure you that you'll have a fantastic experience with the laptop's display.
MSI PS42 8RB: Ports and Connectivity
For a 14-inch thin and light notebook, the MSI PS42 features a decent selection of ports, offering users two full-sized USB 3.1 Type-A ports, two USB 3.1 Type-C ports, a full-sized HDMI port, an SD card reader, a 3.5mm headphone/microphone combo jack and a Kensington lock slot.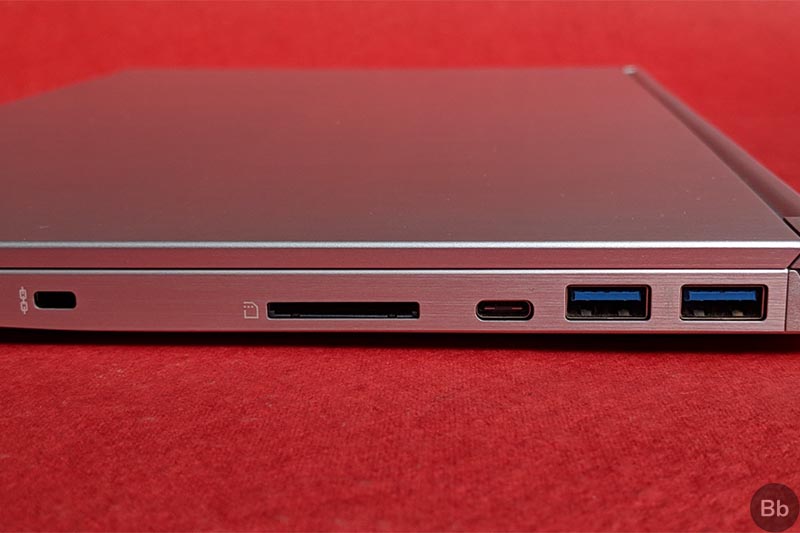 The ports are evenly distributed on the left and right edges of the laptop, with the USB Type-A ports, a USB Type-C port, the Kensington lock and the SD card reader residing on the right, while the rest of the ports are located on the left.
The port selection puts the MSI PS42 a fair bit ahead of the competition, as most notebooks in this segment only offer a USB Type-C port and one other full-sized USB port these days.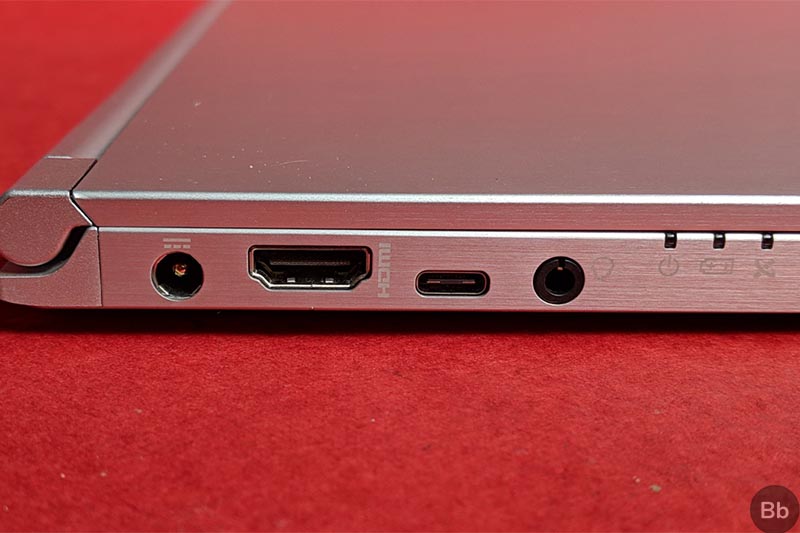 While I have no issues with the port selection, I do have two problems with the placement and the implementation of these ports. Firstly, both the USB Type-A ports are located very close to each other on the right edge of the laptops, which might cause some issues if any of your USB headers are unusually large or weirdly shaped. Secondly, when an SD card is inserted into the SD card reader on the laptop it protrudes a fair bit from the chassis, which might lead to some accidental damage.
MSI PS42 8RB: Keyboard
The MSI PS42 features a spacious keyboard with full-sized, well spaced out keys which makes typing on the notebook an absolute pleasure. The keys feel tactile, have a decent amount of travel and make no rattling noises. With my large hands, typing was a bit difficult at first(especially because of the narrow wrist rest), but I got used to it within a couple of hours and after that typing was a breeze.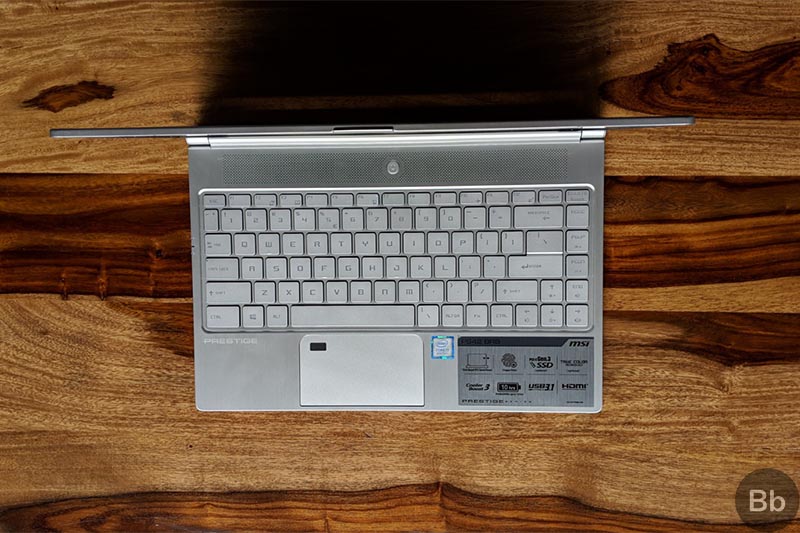 I was glad to see that the keyboard included full-size arrow keys and didn't opt for a weird shrunken design like some other laptops in this segment. The keyboard is also backlit, but the white backlight is only good if you're using the laptop in the dark. In well-lit rooms, turning on the backlight has an adverse impact on the readability, making the legends quite difficult to read against the silver background. Other than that, I had no issues with the keyboard on the MSI PS42.
MSI PS42 8RB: Touchpad
The touchpad on the MSI PS42 is tiny and on top of that the integrated fingerprint scanner eats up quite a bit of usable space. I really wish MSI had put the fingerprint scanner elsewhere (hint: on the power button), which would have easily addressed this issue. I also faced problems while selecting text using the touchpad, because as soon as I reached close to the fingerprint scanner, the touchpad would stop tracking my finger and start moving the pointer down. Also, I don't see any sense in leaving that tiny amount of space to the left and top right of the fingerprint scanner. Wasting precious space on a touchpad of this size is simply beyond me.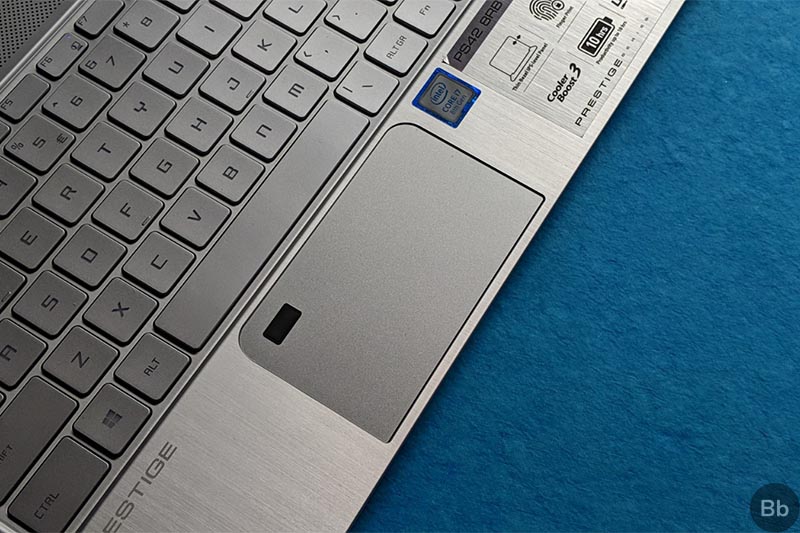 Thanks to the inclusion of Windows precision drivers, the trackpad otherwise felt pretty smooth and accepted all multi-touch gestures without any issues. However, because of the fact that there's barely any surface area to work with, using the multi-touch gestures felt rather unnatural and cramped.
I get that there are significant space constraints when working with laptops in the category, but I think MSI could have made the trackpad slightly wider, which would have addressed most of the issues. Rounding off the poor trackpad experience are the left and right mouse buttons which feel really mushy but, on the upside, have a satisfying click.
MSI PS42 8RB: Audio
At first look, you'd think that the speakers on the MSI PS42 are located within the grill above the keyboard, but that's not the case. The two 2 Watt speakers are located on the underside of the chassis, towards the front on either side and they sound surprisingly good for a laptop this size. The speakers get fairly loud, especially for a laptop this size and they're good quality speakers, no doubt.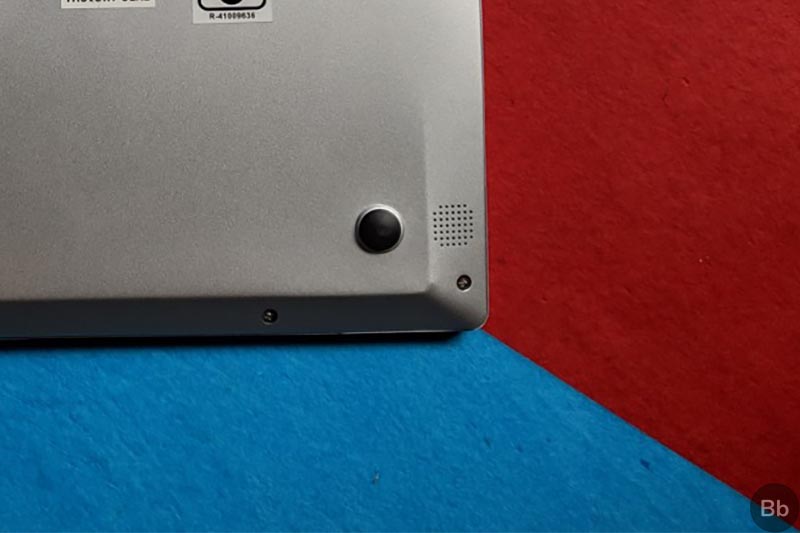 As with most downward firing speakers, the sound can get easily muffled if you use the laptop on your lap but the same is not true when using it on a desk. On the contrary, the sound gets amplified while using the laptop on a desk, with the angled shape of the chassis towards the front playing the role of a passive amplifier.
Audio quality from the 3.5mm combo jack is also pretty great and thanks to the included Nahimic audio software audio through wired headsets is just exceptional. You also get the option to customize the sound output through the software, which is great.
MSI PS42 8RB: Camera
The webcam on the MSI PS42 is just about average, as far as laptop webcams go (why aren't high-resolution cameras on laptops a thing already?), but thanks to its poor placement it isn't really all that usable. While using the laptop on a desk, the webcam is barely able to capture my entire face and when I was using the laptop on my lap it could only manage to capture my chin.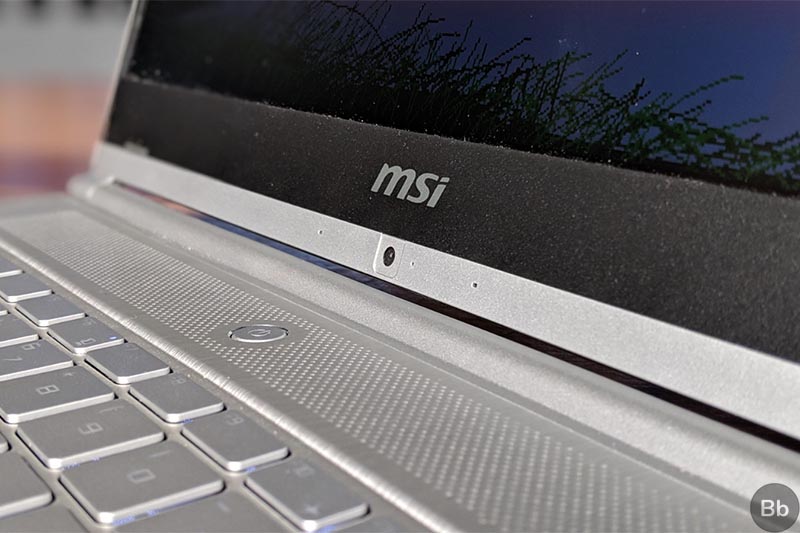 As you can probably tell from the attached sample, the image quality is something most of you might be able to work with, but the angle is just plain bad.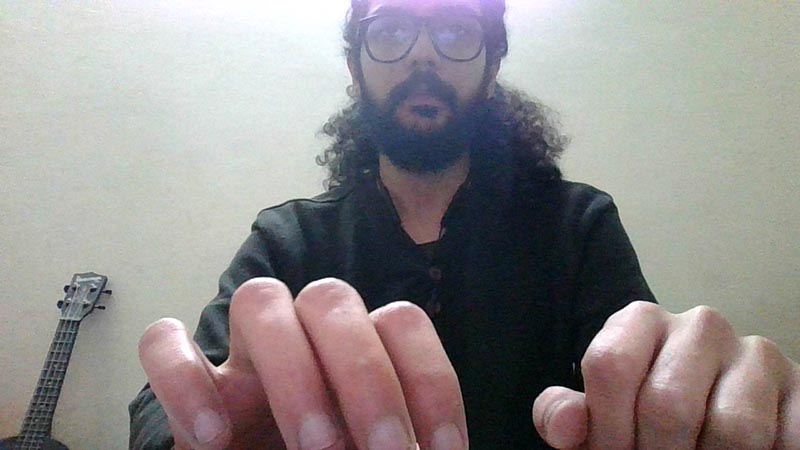 What I did like about the camera, however, is the fact that MSI gives privacy conscious users the opportunity to disable the camera at the hardware level with a simple keyboard shortcut (Fn+F6). This will definitely give you a sense of security and you wouldn't have to tape up the camera and ruin the laptop's aesthetic.
MSI PS42 8RB: Performance
As mentioned earlier, the MSI PS42 packs in an 8th Gen Intel Core i7 U-series processor, coupled with 16GB RAM and a zippy 512GB SSD. On the graphics front, the laptop features both integrated Intel HD 620 graphics and a dedicated Nvidia MX150 with 2GB of GDDR5 VRAM. Much like you'd expect from a laptop of this caliber, the MSI PS42 managed to breeze through pretty much everything I threw at it, including some casual gaming. But before we get to its real world performance, let's take a look at the synthetic benchmark scores.
MSI PS42 8RB: Benchmarks
I ran the usual list of benchmarking applications on the MSI PS42 and the laptop definitely coughed up some decent scores. In PCMark 10, the MSI PS42 bagged a decent score of 3751 which is significantly better than that of the HP Spectre x360, which managed to score 3420 in the same test, even though both of the systems have the same Intel (chip) inside.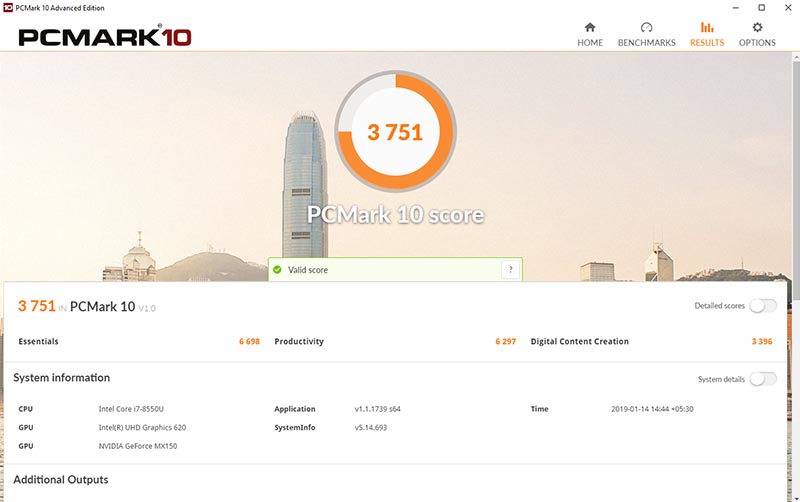 In Geekbench 4, the PS42 managed a respectable multi-core score of 11418, while in Cinebench R15's OpenGL test it scored 85.03 FPS. GPU performance was also quite good, with the laptop managing to bag 1214 in 3DMark's Time Spy benchmark, while securing 10937 in the Sky Diver benchmark designed specifically for gaming laptops and mid-range PCs.
MSI PS42 8RB: Daily Use Performance
Now that we've got the benchmarks out of the way, lets talk about the laptop's real world performance in day-to-day use. In my time with the MSI PS42, where I used it as my daily driver for work and personal use, I was glad to see that the laptop managed to successfully do all that I threw at it without a hitch.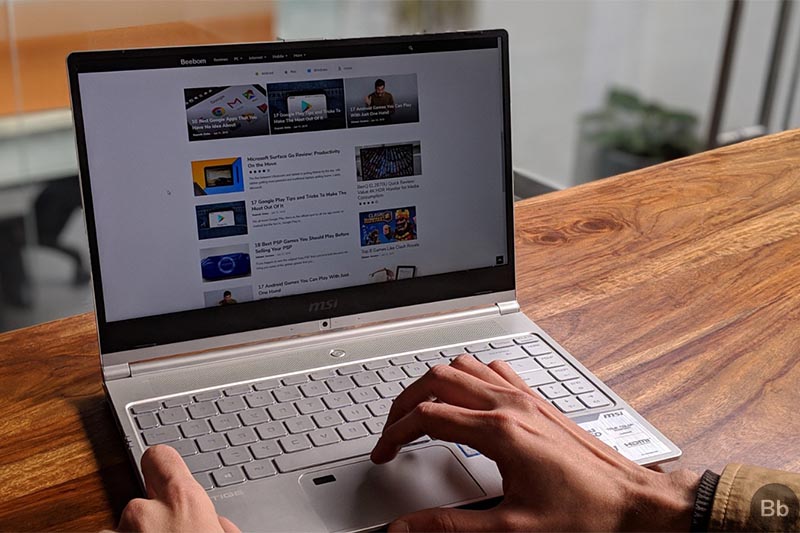 Everything from web browsing to light photo/video editing felt buttery smooth on the laptop and I have absolutely no issues with the laptop's day-to-day performance. If you're looking for a thin and light machine for a light workload, the MSI PS42 won't disappoint.
MSI PS42 8RB: Performance Under Load
Thanks to the dedicated Nvidia MX150 chip, I was also able to play some games on the laptop and I think the gaming experience was pretty good for a laptop that's directed at professionals who'd like to play some casual games now and then. Lighter eSports titles like CS:GO and League of Legends ran without any issues on the MSI PS42, with the laptop managing to push over a hundred frames at 1080p medium-high settings.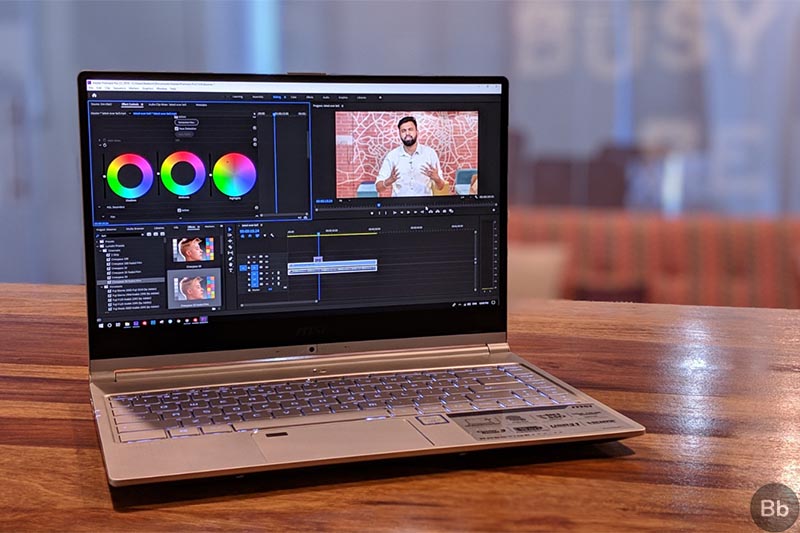 More demanding titles like PUBG were also playable, with the laptop managing to deliver around 30-40 frames at 720p very low settings. Older AAA titles like GTA V and Sleeping Dogs also ran fairly well, but only when the graphical settings were reduced to low and the resolution was set to 720p.
For a thin and light laptop designed for professionals, I think the aforementioned numbers are pretty satisfactory and if you're someone who enjoys an occasional game or two you wouldn't have any problems with the MSI PS42 (only if you're ok with playing games at a lower resolution). The laptop can also be used for 1080p video editing which, thanks to its dedicated GPU, is quite snappy.
MSI PS42 8RB: Thermals
THE MSI PS42 packs in two fans to keep everything running cool and they barely kick in while doing everyday tasks. Temperatures remain under an acceptable range under light load and the chassis doesn't have any hot spots, making the laptop quite comfortable to use on your lap. Even while playing games, none of the components got too hot, with the chassis going up to 55 degrees which isn't all that bad.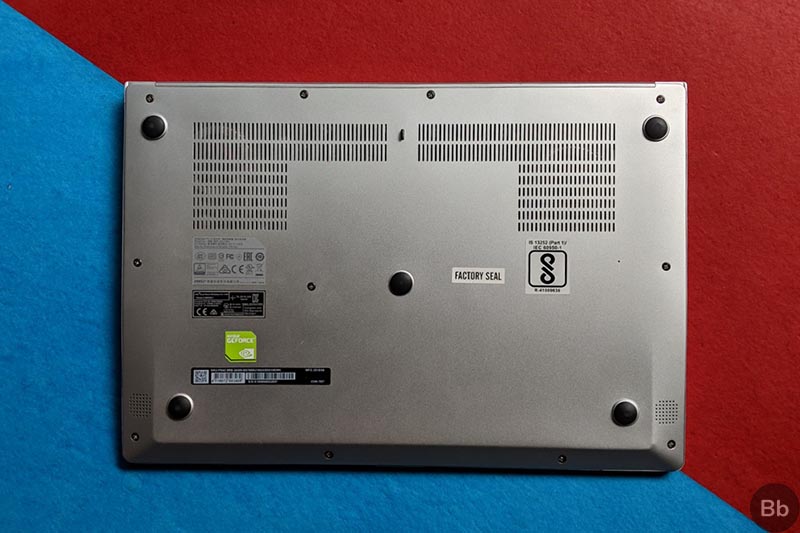 While under stress, both the CPU and the GPU crossed the 80 degree mark several times, but most users will never push the laptop to those limits, so that shouldn't be an issue. Even if you do somehow manage to work the laptop that hard, the fans do their job well and bring the temperature down significantly. However, when the fans do ramp up they make this high-pitched sound which might put off some prospective buyers.
MSI PS42 8RB: Battery Life
MSI claims that the MSI PS42 is capable of delivering up to 10 hours of battery backup on a single charge, but in my testing I didn't even get remotely close to that number. In my day-to-day use case scenario, which included web browsing, a lot of typing, media consumption and some light photo editing, the laptop managed to deliver around 5 hours of backup on a single charge. This was possible only while using the best battery life profile and the brightness set to 40 percent.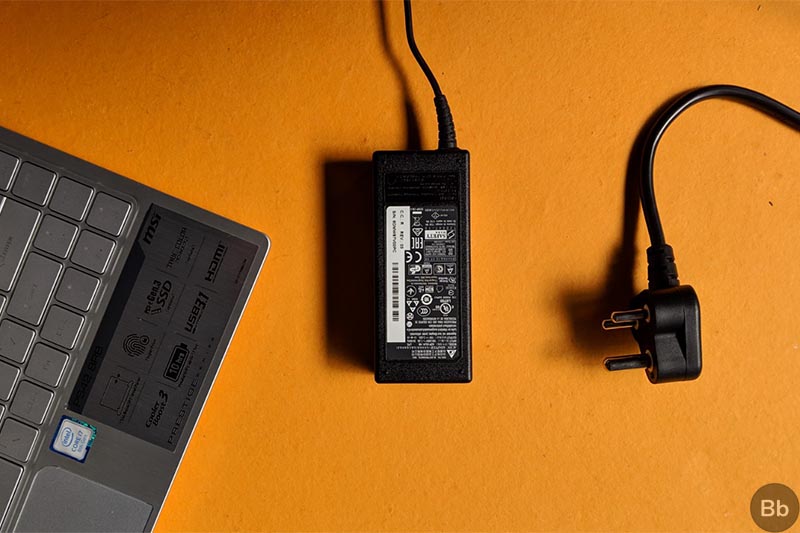 Charging times were also pretty average, with the laptop managing to charge from 10-100 percent in around two and a half hours, while in use. When left idle or turned off, the laptop took an hour and a half to charge up to 100 percent from the same levels. In my opinion, the MSI PS42's battery life is just about average for a Windows laptop and even though you can possibly squeeze out up to 7 hours of battery life on a single charge, it'll probably be under a very light load.
MSI PS42 8RB: Pros and Cons
Now that we've discussed almost everything about the MSI PS42, allow me to give you a quick overview by pointing out its pros and cons:
Pros
Great build quality
Portable yet powerful
Decent performance
Tactile and well spaced out keyboard
Exceptional display
Good port selection
Windows Hello support
Cons
Poor webcam placement
Tiny trackpad
Annoying fingerprint scanner placement
Average battery life
No ethernet port
Lacks USB Type-C charging support
SEE ALSO: HP Spectre X360 13 Review: The Ultimate Premium Experience
MSI PS42 8RB: Should You Buy It?
If you're in the market for a thin and light notebook with a dedicated GPU, you'll notice that there aren't many options to choose from. In that regard, the MSI PS42 is definitely a good buy as it offers a decent combination of portability and performance which is great for most professionals. The laptop not only handles day-to-day tasks with relative ease, it can also be used to play some casual games and edit photos/videos on the go.
Starting at Rs. 77,990, the MSI PS42 is definitely worth checking out, but if you're someone who requires a dedicated graphics card, the higher end variant at Rs.99,990 is a great buy. At this price point, there are hardly any other laptops in the market offering the same specifications in a thin and light package. Sure, there's the Xiaomi Mi Notebook Air (starting at Rs. 74,450) which is definitely a great buy, but you'll have to import it from China, which has its own risks.
The MSI PS42 is a really good laptop and even though it has some shortcomings, it offers a good blend of performance, portability and price which will definitely attract a lot of buyers.
Buy MSI PS42 8M from Amazon (Rs.77,990)
Buy MSI PS42 8RB from Amazon (Rs. 99,990)
---
Load More