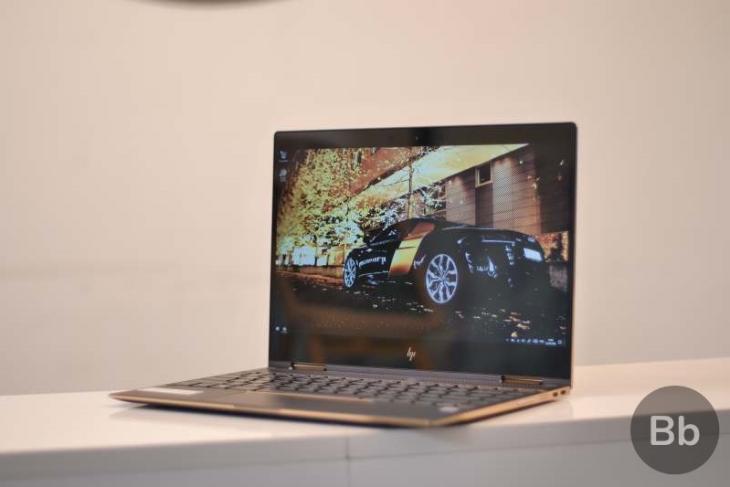 I have been using Windows since 1995, but never have I ever used a 2-in-1 laptop as my primary PC, until the beginning of this last month. I have had the HP Spectre X360 13 (2018) for over a month and I felt it deserved the thorough deep-dive its exorbitant price deserved. This is not a laptop for everyone; it might not even be for those who may be able to afford a MacBook, because the Spectre X360 13 (Early 2018) is actually quite a bit more expensive. It's hella premium, and deservedly so.
Priced at ₹1,70,291 officially (Buy for Rs 1,62,990 on Amazon), the model we reviewed had a Core i7 8550U processor and a super sleek 360-degree spinning display and a great keyboard that actually made you want to stick to the traditional laptop mode. It's a laptop full of bells and whistles such as an included active stylus for doodling and illustrations. Want more? It has a cool privacy screen that blocks out your display from prying eyes next to you.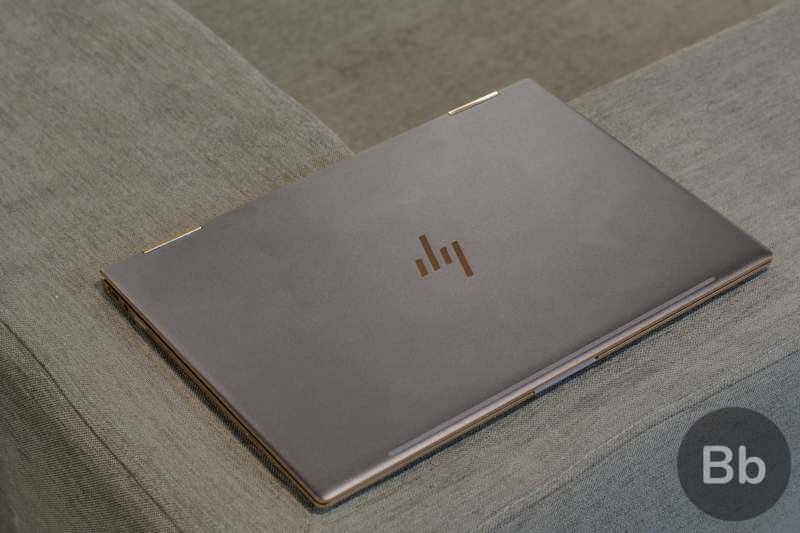 As I discover why this laptop just feels so good, I'll also be understanding where Windows is headed from the point of view of such 2-in-1 laptops. The top-end variant with 16GB of RAM, loaned out to us has been in use since April, HP tells us, so it's not a brand new unit. That's worth noting as that this laptop has held up well in near-everyday use for a few months.
HP Spectre X360 13 (2018): Specifications
We had the top of the line kit from HP but if you are looking for discrete graphics, you are in the wrong review. The 13-inch model simply doesn't have enough room for a GPU. Here are its specs:
Dimensions
30.6 cm x 21.8 cm;
1.36 cm height
Processor
8th Gen Quad Core Intel Core i5-8250U/ i7-8550U processor
Memory
Up to 16GB LPDDR3 2133MHz
Storage
512GB SSD
Display
13.3'' Sure View integrated privacy display; FHD IPS micro-edge WLED-backlit touch screen with Corning Gorilla Glass NBT (1920 x 1080 pixels)
Graphics
Intel UHD Graphics 620
Wireless
Intel 802.11a/b/g/n/ac (2x2) Wi-Fi and Bluetooth 4.2 Combo

Ports
2 Thunderbolt 3 (up to 40 Gb/s, Power Delivery, DP1.2, HP Sleep and Charge); 1 USB 3.1 Gen 1 (HP Sleep and Charge); 1 headphone/microphone combo; microSD Card slot

Weight
1.26 Kg
Operating System
Windows 10 Pro 64-bit
Battery
60 WHr
The HP Spectre X360 (2018) comes with an exciting retail package, that includes the HP Pen, two adapters – one for Ethernet and the other for a VGA adapter – and a much-needed cleaning cloth for the display, which you will touch around with your grubby fingers. You also get a leatherette sleeve with a Velcro flap and a slot for the HP Pen, which is quite cool and something you don't see in most laptops.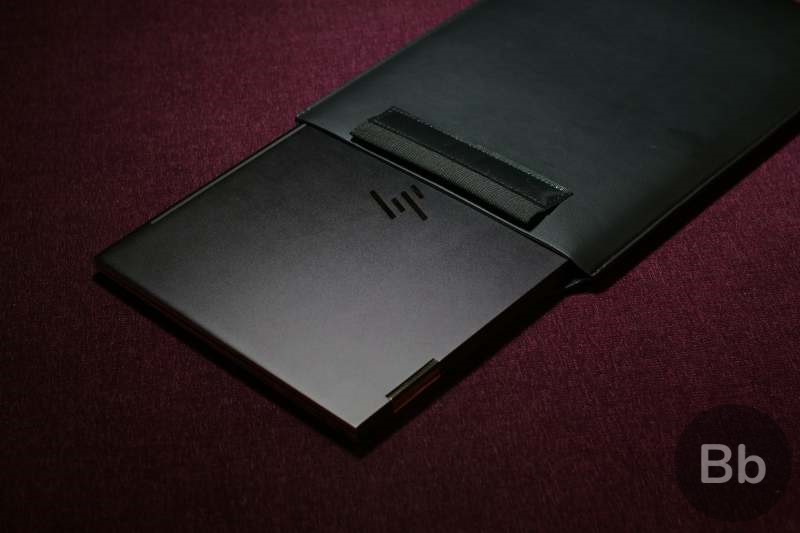 HP Spectre X360 13: Design and Build Quality
I'm still on the corner of the traditional form factor over convertibles. So HP has to do a lot with the Spectre X360 to convert me. The stand-out feature in the X360 13-inch is its flipping display, which goes flat and then some to give you multiple usage modes. It's by far the coolest thing you can do and a great prank to pull on unsuspecting friends as you push the display beyond its usual position. In one word, I would describe this convertible as heady.
There's no mistaking the HP Spectre X360 for any other laptop. HP has ensured that the colors and the design are unique, so much so that it makes laptops such as the MacBook Pro or the Dell XPS series seem boring. A lot of it has to do with the color. The copper-gold shiny accents react delightfully to the light while the dark sometimes-brown, sometimes-gray exterior of the lid and the chassis definitely help the Spectre X360 stand out from the crowd.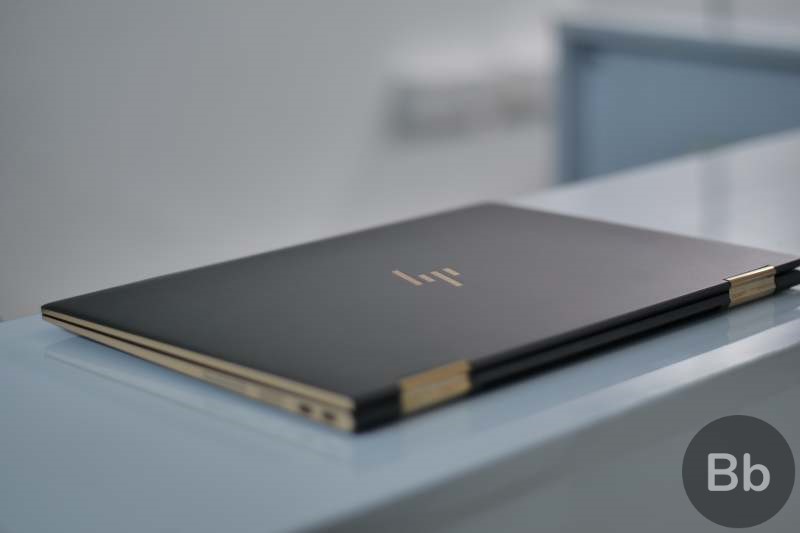 HP opts for a more straight-edged industrial design, which definitely makes it look aggressive. The rounded corners are overshadowed by the sloping but flat edges, and the gently sloping lid with its lovely satin finish is a delight to hold. The dark gold HP logo looks fantastic and I loved how it seemed to disappear into the 'ash gray' lid in certain lighting conditions.
Just 13.6mm thick and 1.26kg, the HP Spectre x360 13 is very light, but I found the ZenBook 13 to be handier in everyday use. The sharply squared-off edges in the front which dig into your hand and make you a little uncomfortable. The cold metal body of the HP Spectre x360 13-inch may put off some users but I loved how it felt. The stand-out feature in terms of design is the 360-degree form factor, which gives this laptop its name. The golden hinge is very sturdy and the lid doesn't wobble around much when under a strong fan, which is definitely a plus.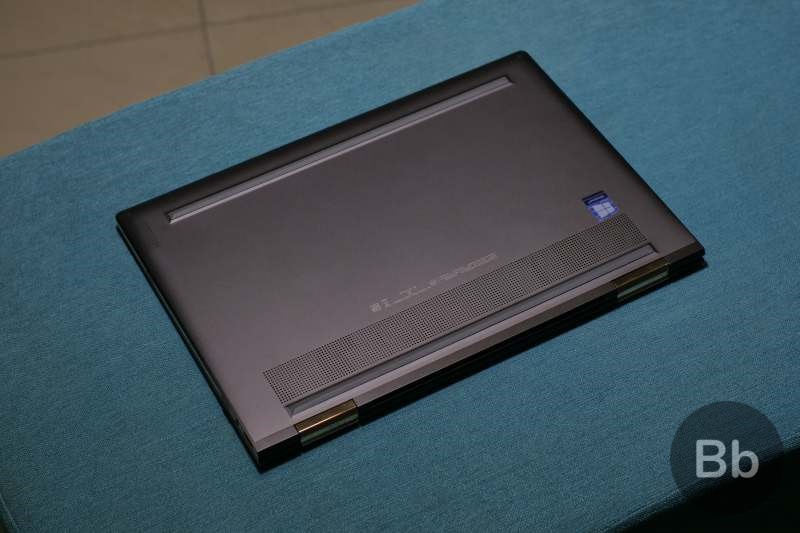 HP, like most other manufacturers, has trimmed the bezels down for 2018 and the Spectre X360 13-inch has a smaller footprint than past 13-inchers thanks to the significantly reduced bezels. The all-aluminum body, the sleek display and the posh colors definitely make the HP Spectre X360 13 feel every bit as premium as its price tag.
The keyboard features large square keys with even spacing and the trackpad is slightly recessed into the main deck, which helps in blind operation. We'll go over these later in the review. Above the keyboard is the speaker grill with a unique retro pattern made of triangular cutouts for the grill. It looks great, in my opinion, and certainly one way to make your speakers look great (they are quite excellent at doing their job, as we will see). Part of the top section is also taken up by the heat dispersal system, which vents out air from under the display.
HP Spectre X360 13: Ports
HP has not gone bold with an all-USB-C layout. There's plenty of room for traditional USB ports on the Spectre X360.
On the left you will find a USB Type-A port, a 3.5mm headphone jack and the power button to turn the display on and off in tablet mode. There's also a microSD slot on the front of the left side. On the right, you will find two Thunderbolt 3 ports, the touch fingerprint scanner and the volume rocker.
HP Spectre X360 13: Keyboard and Touchpad
Even though it looks odd at first glance, the large square keys on the HP Spectre x360 13 make for a great keyboard experience. One big reason is that you don't need to adjust too much when coming from a traditional desktop keyboard. The layout has no surprises; even though the home, delete, page up and page down keys have been shunted to the right side which in turn leaves the up and down direction keys to take the room of what should be one key. Which is to say it's a little cramped on the right.
The backlit keyboard with a single level of intensity, offers a largely positive typing experience. The keys have typical Ultrabook-level of travel – which is to not much – but the overall experience doesn't leave your fingers hurting. There is very little flex on the top deck, which helps in absorbing some shock and also adds the right amount of bounce. I could type at my regular speed in no time.
Below the keyboard is the large touchpad or trackpad – possibly the largest on a Windows machine, besides the Huawei Matebook X Pro. It has a very similar texture to the top deck, but it's recessed in and finding it is no trouble at all. The smooth surface itself has integrated buttons so tapping and clicking on it is seamless. But the same can't be said of double-clicking quickly – get used to using double taps to double click.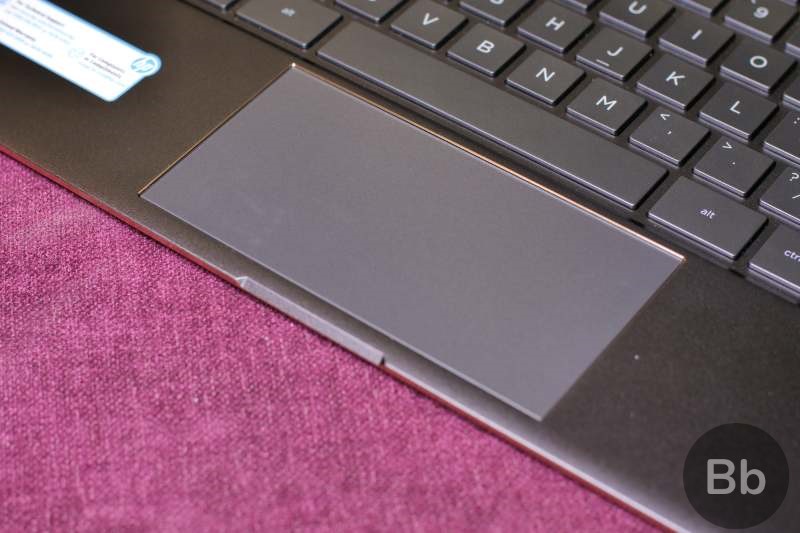 HP Spectre x360 13: Windows Hello
I don't have very good things to say about the fingerprint scanner -on the HP Spectre x360 13. It's flat on the edge and if you are using the laptop on anything other than your lap – such a perfectly reasonable work desk – getting the sensor to recognize your finger is frustrating. It's right on the edge, and as a result your entire finger may never be able to cover it, so you have to be really careful in training it.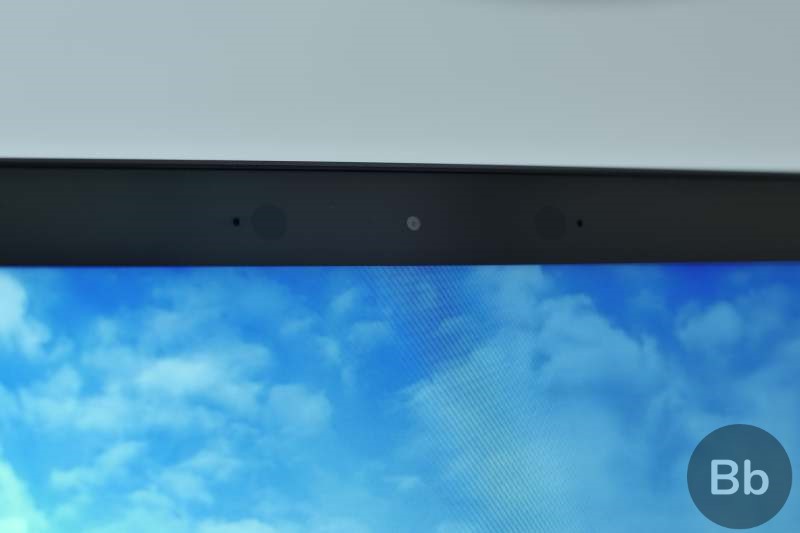 Thankfully, the HP Spectre x360 13 also has Windows Hello face unlock thanks to the IR camera above the display. This works amazingly well and even in minimal lighting, which is just great. As someone who has never used face unlock on a smartphone, I found this to be a novelty and it was so much better than the fingerprint scanner that I rarely ever used anything else.
HP Spectre x360 13: Display
The HP Spectre x360 13 boasts a bright and vivid 13.3-inch IPS LCD screen, which is right from the top shelf. You can get it in 4K outside India, but here HP restricts the top-end model to full HD resolution, which is a shame in my opinion. The whole point of paying over Rs 1,50,000 for any laptop would be for the graphics power or a high-resolution display, but here you have to make do with a 1080P display, which is not bad by any means – just not the best.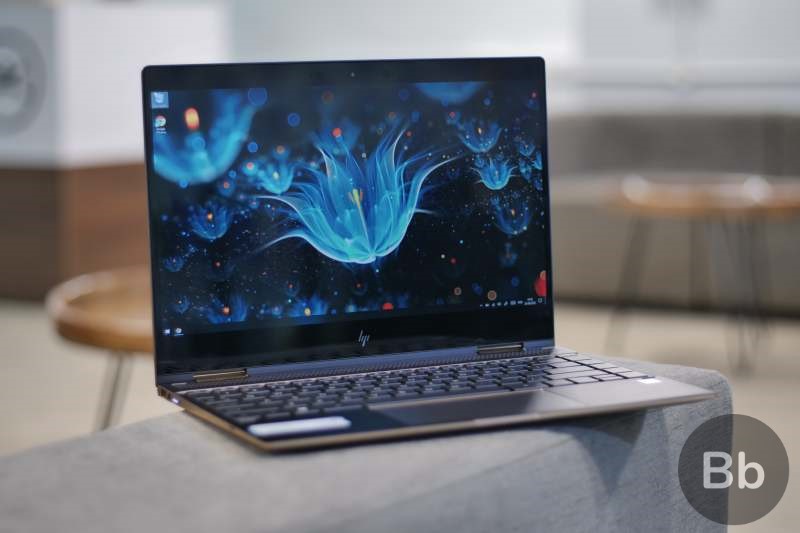 Despite not matching up to the 4K display in terms of resolution and sharpness, this one is still a superb panel. It's super bright and only becomes a nuisance to use when you have bright white lights directly over the screen.
If you work in an office environment with nosy neighbors or just don't want others next to you to see what you are working on, HP has a cool Sure View integrated privacy screen, which brightens the sides of the display to completely wash it out for anyone on your side, but you can still see the display perfectly – albeit with slightly washed out colors. The bonus of this feature is that any glare from tube lights is also mitigated.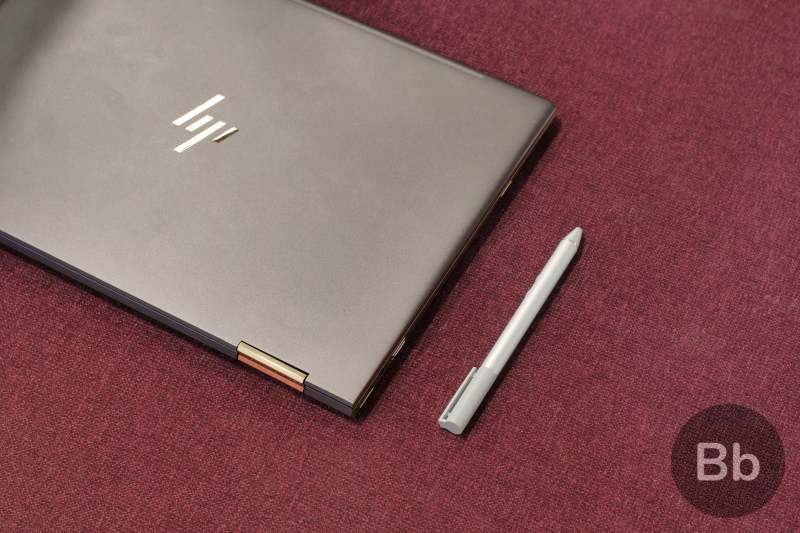 As a hybrid, one of the pre-requisites is a touch display and the HP Spectre x360 13 goes one step further with support for the active stylus or HP Pen, which is included in the box. It offers 2048 levels of pressure sensitivity, which is not the best in the world, but still good enough for entry-level professional or student-level graphics work.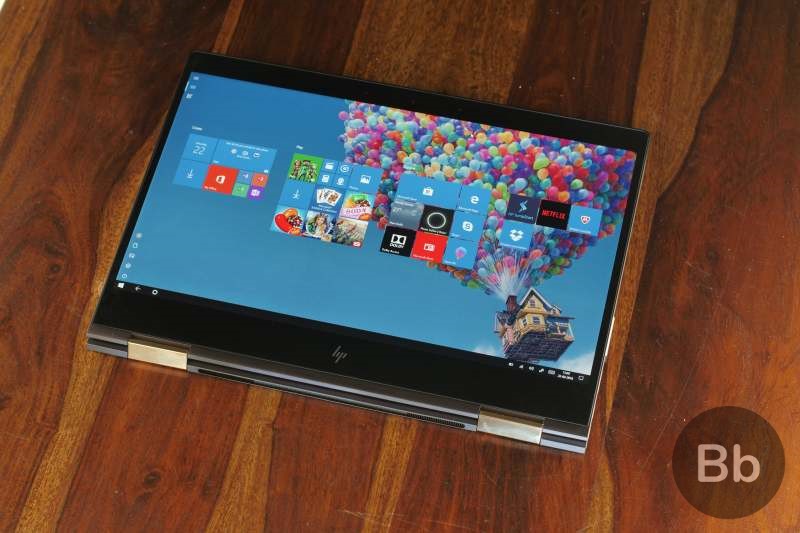 We used the HP Pen without any issues, and even though I can't claim to be an artist, it was fun to take mock notes or the occasional doodle to pass away time. It works just fine and I reckon it's more than most casual users would want so it's a bonus in every sense of the word.
Of course, you can use the display in a number of modes, including the tent mode or in stand mode with the keyboard turned around. Or you could close it the other way to make a bulky tablet. I wouldn't recommend using the HP Spectre X360 13 in that mode for very long as it can get taxing on the hand.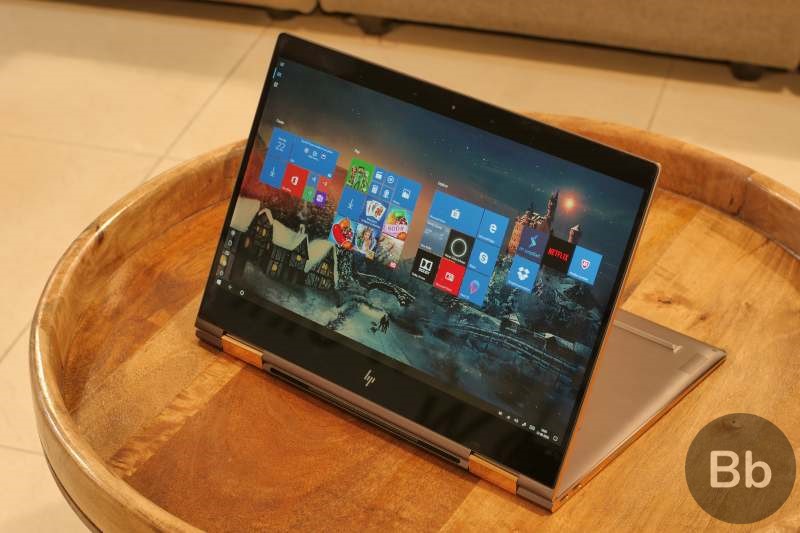 Among all these modes, I found tent and the traditional laptop mode to be the most useful. Tent mode is especially great for watching videos while sitting back on your couch or for listening to music and seeing visualizations while you read a book or go about doing your chores.
HP Spectre x360 13: Speakers
The brilliant display is matched by the well-rounded speaker, which has very good clarity at high volumes and robust mids to make video consumption great. The bass is not that great so you won't find a deep rumble for music sessions, but it gets loud to compensate for this. It's still pretty good for everyday usage, and you won't find yourself looking for a pair of Bluetooth speakers for sure.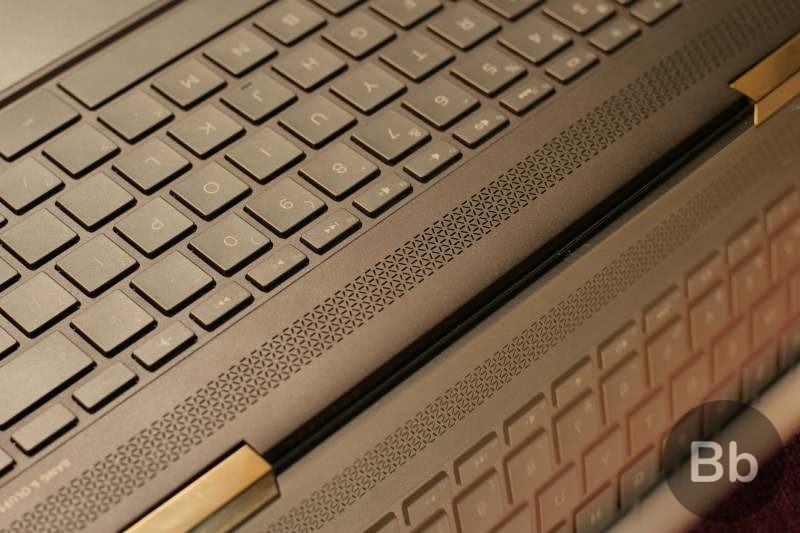 HP Spectre x360 13: Performance
Thanks to the Intel 8th Generation Core i7 8550U CPU, the performance on the HP Spectre X360 13 was amazing. You also have the 16GB of DDR3 RAM at 2133MHz, to thank for that and the 512GB SSD for the lightning fast boot times and the app loading times.
In Geekbench 4 the Spectre x360 13 scores 13610 points, and 3420 in PC Mark 10, which is around the category average of between 13500 and 14500 points in Geekbench 4, and similarly just about average for the Ultrabook category in PC Mark 10.
Adobe Photoshop CC started up in just 10 seconds for me and the average start-up would take around 20-25 seconds. Reboots also hovered around the 25-second mark. You will not find a much faster Ultrabook than this, and despite all the bloatware that Windows saddles you with, you can get everything you want very quickly on the HP Spectre X360 13.
That's not to say it can render 4K videos in a jiffy, because it won't. Not with the Intel HD 620 GPU. That's also why it can't do very well in games. Though let's be honest, if you have upwards of Rs 1,70,000 to splurge on PC that you will use for gaming, there are other options on your mind.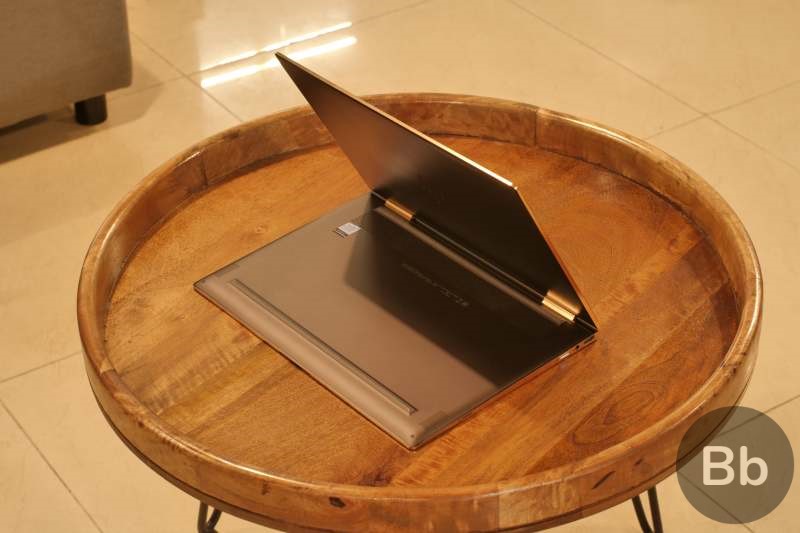 What it does do very well is everyday tasks such as multiple browser tabs and Photoshop, as well as high-res video playing at the same time. There's not much that can bog down the HP Spectre X360 13, and that just adds to the premium experience.
With all that RAM, you can have plenty of applications open, but when the CPU is under load, the internal fans do kick in. They are not loud enough to be distracting, but I could hear them at times and when you want perfect silence to crunch out a piece, it can be annoying. The fans also take a while to slow down or come to a stop after you are done abusing the CPU, which means you can hear them even when you have exited heavy apps, which is quite irritating.
HP Spectre x360 13: Battery Life
The Spectre x360 13 has a 60Wh battery and HP boastfully claims it can go on for over 10 hours, which is what you would see in a typical office these days. The reality is closer to 7-8 hours, which is still quite amazing for most users. But that's with careful calibration of the brightness at around 50% and with nothing too CPU intensive. The battery life is great for media consumption as the laptop can easily last 8-9 hours on a single charge and that's awesome for binge watching. It helps that the display is so good for online content.
HP Spectre X360 13: Pros and Cons
As a premium 2-in-1 laptop, not many rivals can compete with the HP Spectre X360 13. It's truly one of its kind and there are very few flaws in this notebook. Nevertheless, for the sake of balance, let's list them down here along with all the things that impress.
Pros
Elegant build and unique colors
Extremely portable
360-degree form factor
Bright display with thin bezels
Top-notch Ultrabook performance
Active stylus support
Windows Hello IR Face Unlock
Excellent trackpad
Decent battery life

Cons
Glossy display
Awkward and slow fingerprint scanner
Slightly cramped keyboard
Oddly enough, you will not find any competing Windows convertible in this price range, so the HP Spectre x360 13 (2018) is truly in a league of its own.
Having said that if you are looking for more power and higher performance for your work or for gaming, then this is not the laptop for you and at this price you have options such as the Dell XPS 15 (larger display, 6-core CPU and with discrete graphics, but no 2-in-1 form factor) which is retailing for around Rs 1,35,000, but that's not as sleek or portable as the HP machine, and does have some issues around heating.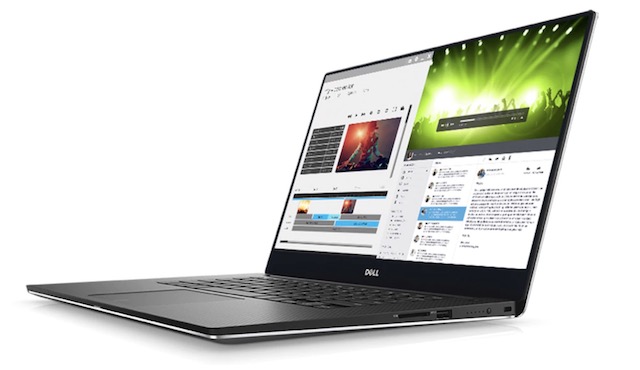 You could go for powerful gaming PCs as well, but the trade-off is a premium experience versus a gaming laptop experience, which is not always as refined.
HP Spectre X360 13: Doesn't Get More Premium
As you can see I have had to nitpick to find flaws in the HP Spectre x360 13 (2018). It is simply one of the best premium Windows convertibles in the market and one which can be used in a variety of modes. It has everything a user would ask for from a premium Windows PC and bonus features such as the active stylus support from the HP Pen, the Sure View privacy feature for the display, speedy performance, and a stunning body and design that truly sets it apart.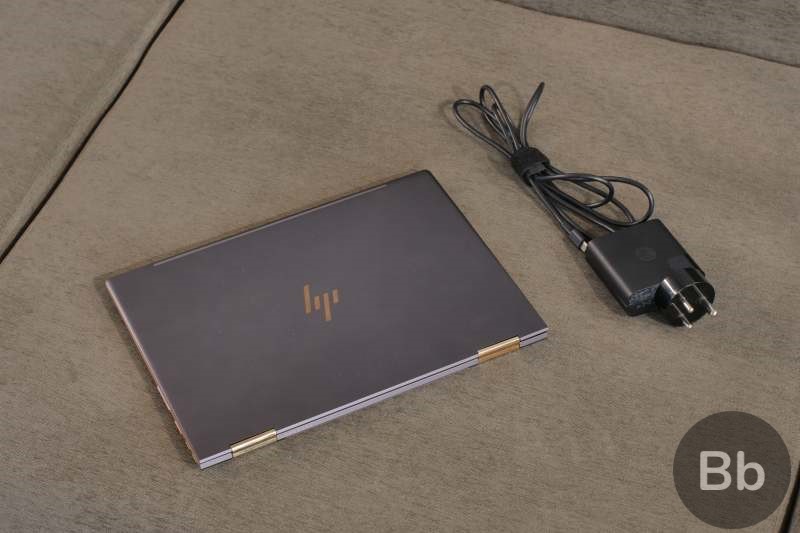 With a price tag of ₹1,70,291 – (Buy for Rs 1,62,990 on Amazon) – the machine we reviewed might be overkill for you, but you can get a slightly lower-end configuration for Rs 1,24,890 which has a Core i5 CPU and less RAM and storage.
In my opinion, the HP Spectre X360 13 (2018) makes great sense if you are not held back by how much you can spend, and are looking to buy a premium Windows PC. I would say it's unrivaled in that regard.