Windows Movie Maker was, indeed, one of the reasons why Video Editing & Video Creation came to be viewed as an easy-to-accomplish task, as the tool allowed users to blend different videos by means of several effects and all! Such intuitive was its interface that almost every user could understand the process in a few seconds. That having said, it's natural that you might find Movie Maker insufficient in several instances, such as when you need additional features or want to edit videos on another platform that movie maker isn't available for. On the other hand, you may need a bit-more-advanced environment for video editing tool. Here, we have a list of top 12 Movie Maker alternatives, which will help you edit videos better, almost everywhere, since we have included solutions for various platforms.
In first part of the list, we shall have some free movie maker alternatives and then move onto premium ones.
Free Movie Maker Alternatives
1. Kdenlive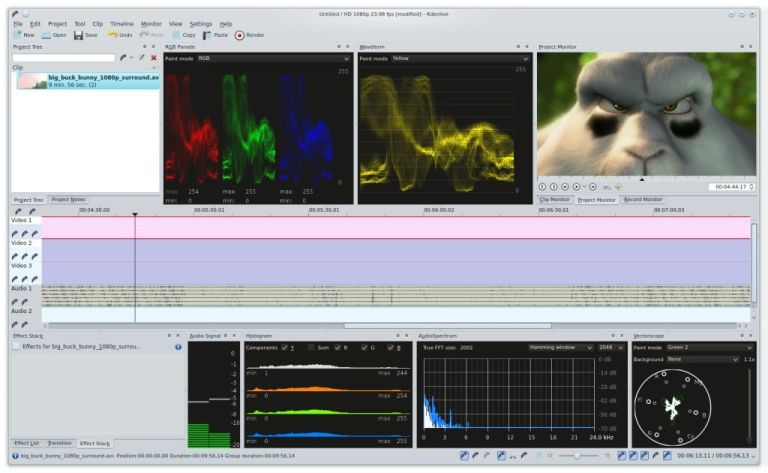 Kdenlive is an open source-based video editor you can have for your Linux or Mac OS X powered device. Being one of the best tools from GNU Foundation, Kdenlive is absolutely free and it has all the superb features such as multi-track video editing and support for trending video technologies that are in use. Interface of Kdenlive is so professional that you can compare Kdenlive with almost every premium video editor that is available in the industry. Some of the best features of Kdenlive include advanced editing of video such as cropping, a wide range of effects such as blue-screen, distortions, blurring, volume adjustments etc, ability to pause and resume rendering of video etc. also, the interface can be tweaked in order to meet your preference and comfort. So, we would say that Kdenlive isn't only an effective alternative to movie maker but also a powerful-enough competitor to a lot of professional video editing software in the market.
Price: Free
Available: Linux, FreeBSD and Mac OS X
2. AVS Video Editor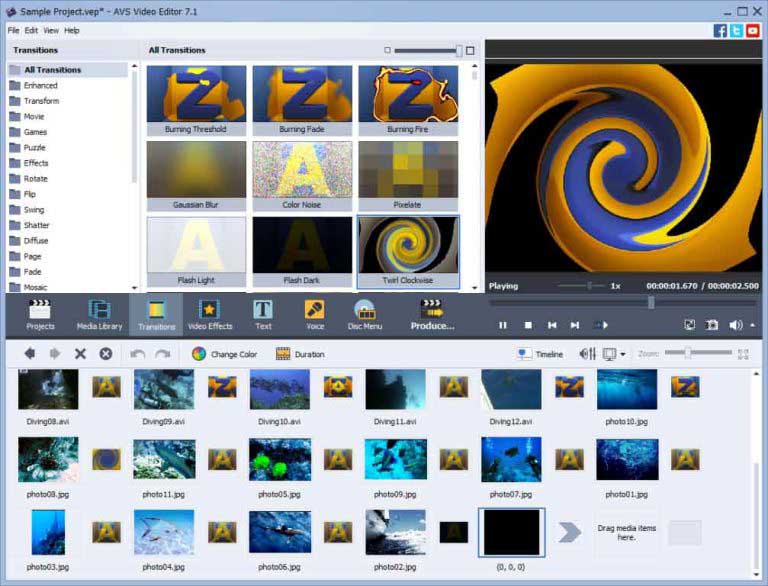 AVS Video Editor can be an optimal alternative to Windows movie maker, given that you prefer a solution that lacks professional features but lets you perform the video creation task in a few minutes or so. AVS Video Editor supports a wide range of media formats, as both input and output and there is a wide codec support too. The interface is very similar to movie maker that you can start editing videos without any kind of preparation or related stuff. It also has a good level of support for native media formats and you can work well with your popular cameras and devices. It also helps you to share your output videos through several platforms such as Facebook and Flickr. Going further, you'd find multi-lingual support, Blu-ray video authoring, etc. In short, it's good to go for AVS Video Editor.
Price: Free
Available: Windows 8.1, 8, 7, XP, 2003
3. Lightworks 12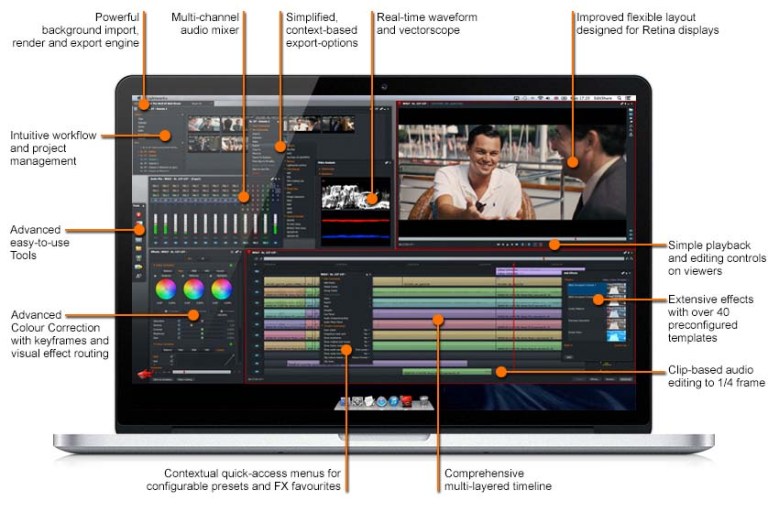 Lightworks 12 brings professional video editing features, which is suitable for professional, educational & other sort of purposes. It comes with non-linear editing capabilities and other features. It is to be noted that two versions of this tool is available — free and paid, and there are major differences in the availability of features. For instance, the free version does not support full HD video export, timeline rendering and some other related features. Lightworks 12 comes with deep support for native formats, I/O support from popular hardware, background import and export of videos, availability of dedicated editing console, a huge set of in-built effects, dedicated web export feature and a customizable user interface as well. Lightworks 12 is, in simpler words, a professional-friendly solution, we believe.
Price: Free; Pro version for $174 – 1 year license.
Available: Microsoft Windows, Mac OS X and Linux
Update: Lightworks Version 12.5.RC5 beta is now live.
4. Avidemux
Avidemux is a minimalistic video editing solution and movie maker alternative for you, when you need your editing tasks completed in a shorter time-frame. It gives you all the impressive features such as non-linear editing and a big collection of visual effects. Also, there is an option for subtitle processing, which would be great when you want to create videos in professional quality. Considering all these capabilities, including the one to process audio and video at the same time and support for AVI, MPEG and NUV, Avidemux makes enough sense for you. You can count in this tool when you need a good movie maker alternative for Linux.
Price: Free
Available: Windows, Mac OS X, Linux
5. Pitivi
Pitivi is a part of an open-source initiative to allow everyone to express themselves through filmmaking, as they put it. The editing interface is professional at the same time intuitive, in such a way that you can use Pitivi regardless the level of expertise in video editing. It has all the capabilities you'd expect from a typical one, through the support for GStreamer framework, and there are options for trimming, splitting etc. there is also a showcase, where you can find videos that have been done using Pitivi, and they're impressive too. So, you can go for Pitivi when you need a good-to-go video editing software for your Linux device. In short, Pitivi is a great movie maker alternative for Linux, we assure.
Price: Free
Available: Linux
6. Jahshaka
In its tagline, Jahshaka says: Reinventing Hollywood! In simpler words, Jahshaka is your gateway to content creation, by depending upon the shoulders of open source. Jahshaka is a module-based solution and you can use the module you really need when it's the time to. Core features of this video content creation tool include support for 2D & 3D animation, colour correction, video editing and support for effects. Regardless the module, the user interface of the tool looks professional at the same time simple, and there is a Jahshaka community, where you can seek help from fellow content creators — thanks to Open Source. In short, we would say Jahshaka is a multipurpose tool.
Price: Free
Available: Windows, Mac OS X and Windows
Premium Movie Maker Alternatives (Paid)
7. Pinnacle Studio 18.5
First in our premium list, Pinnacle Studio 18.5 is a premium video editing suite, which is, apparently, an effective alternative to Windows Movie Maker. The tool comes with a fully-fledged editing environment, but the process of editing videos is an easy task, considering the Drag-and-Drop interface, easier importing of data, ability to save favourites etc. Coming to the performance aspect, Pinnacle Studio 18.5 offers 64-bit performance, 6-track-frame accurate editing, etc. Other noticeable features of Pinnacle Studio 18.5 include the availability of more than 1500 effects & transitions, addition of tiles and overlays, 17 royalty-free tracks, stop motion, green screen feature etc. Plus, you'd be able to create photo slideshows using the same tool. Also, a dedicated iPad app of Pinnacle Studio 18.5 is there, which you can use for on-the-go editing.
Price: $59.95 [For Basic Version — there are Plus & Ultimate versions available]
Available: Windows 10, 8.1, 8, 7
8. Adobe Premiere Pro CC
Well, we have one from Adobe Inc — and, Adobe Premiere Pro CC is a fully-fledged, premium & professional tool to be considered when you need a true video editing experience. The tool comes with timeline-based video editing and it was used for editing films such as Gone Girl. Adobe Premiere Pro CC is available as a part of Creative Cloud suite. It is a good decision to go with the professional software if you use other Adobe solutions for related stuff. You can get all your Photoshop files imported to Adobe Premiere Pro CC if you need something — simple as that. Features we'd loved in Adobe Premiere Pro CC include support for native camera formats, support for a wide range of plug-ins, the deep-level integration with After Effects, Photoshop & other Adobe tools, enhanced audio control, multi-cam editing and a lot more.
Price: $49 per month, with 20 GB Cloud Storage
Available: Windows and Mac OS X
9. VideoStudio Pro X8.5
Despite the free trial, VideoStudio Pro X8.5 is a premium video editing software when your purpose is professional in nature. Even when it has all the professional features you'd expect from a typical video editor suite, VideoStudio Pro X8.5 has kept the UI as minimal as possible. It offers support for 4K video and other popular media formats, letting a hell of your productivity unleash. As we said, it has some smart features to make the task easier, such as the flexible management of resources, easy-to-use transitions, in-built screen-capture feature, complete disk authoring etc. The few other features of VideoStudio Pro X8.5 are support for impressive 2D & 3D titles, hardware acceleration to give best performance in supported configurations, FastFlick editing, motion-tracking settings, multi-track editing at best level etc. You get everything you should get for what you pay.
Price: $5.99
Available For: Microsoft Windows
10. iMovie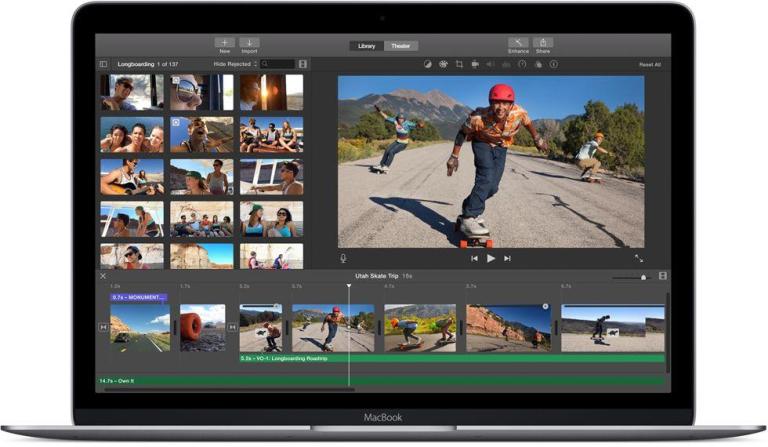 Here comes the best alternative to Windows Movie Maker as far as Mac users are concerned — iMovie. Apple has done its best to make iMovie as impressive as possible and the interface is truly professional that you would love the art of video editing. Being an Apple-made software, there is a lot to talk about iMovie, especially given its multi-device editing capabilities and availability of content in various devices through iCloud. When you're about to make a movie using iMovie, there is a lot of tutorials you can depend upon, just in case if the simple-enough UI fail to make sense to you. Some new features in iMovie include iMovie Theatre, Integrated sharing, App Preview creation etc. It's to be noted that there is an entire section for iOS version of iMovie. In the long run, iMovie is pretty much of a video editor, we'd say.
Price: $14.99
Available: Mac
11. Sony Vegas Pro 13

Sony Vegas Pro 13 is yet another blend of easy-to-use User Interface and powerful capabilities! You can use this tool to edit videos with professional-level quality and get them ready for your purpose, quite seamlessly. The non-linear editing suite has been there in the industry for a long while and the latest version has a lot to offer. Sony Vegas Pro can conveniently be used for audio editing and DVD authoring. Along with standard features like 4K support, GPU acceleration, support for native media formats etc, there are some advanced features as well. For instance, Sony Vegas Pro 13 lets you import project files from other editing suites such as Final Cut Pro and Adobe Premier Pro. As it comes to the video editing aspect, shape masking tools, colour match, OpenFX architecture etc will be useful, we do bet. There is also a collaboration enhancement app of Sony Vegas Pro 13 available for iPad, in case if you needed to work on-the-go. It's a professional-level alternative, by the way.
Price: $599.95
Available: Windows 7, 8, 8.1 and Windows 10
12. Avid Media Composer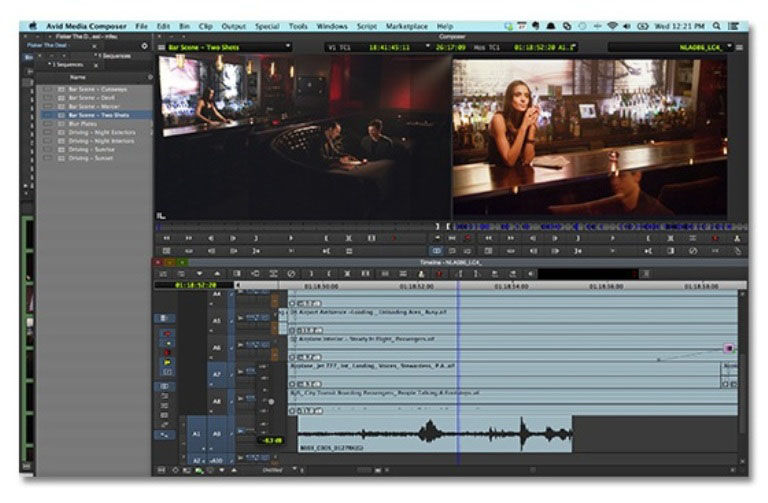 Avid Media Composer is yet another professional-friendly video editing suite that can be a good alternative to movie maker, from many perspectives. Avid Media Composer has a fully-fledged editing interface that does never limit the creative aspect of yours while editing movies, videos or something else. Avid Media Composer is an advanced tool in the sense that it can be extended in terms of productivity if your projects need something more. For instance, there is availability of plug-ins, which can bring extra features. Also, there is a collection of software and hardware that can be connected to Avid Media Composer in order to have a better workflow management and easier controlling of the editing process. Other features include support for 4K Video, GPU acceleration, support for editing stereoscopic 3D material, a huge collection of visual effects etc. Also, it has a customer care section, where you can find answers for all your doubts and queries.
Price: $49.99/month for subscription and $1299 for Own License
Available: Windows and Mac OS X
SEE ALSO: 10 Best Video Players For Windows
We end our list with these twelve superb video editing suites, which are feature-rich enough to be good alternatives to windows movie maker. Do you use any other tool? We would love to know.